Erica and Sean... where to begin! Erica is friends with my brother and sister-in-law and got in touch last summer about her wedding... her excitement about marrying Sean was palpable, and I couldn't wait to see all her awesome ideas come to fruition on the wedding day! We finally got to meet in person for a planning session at Simply Crepes... which lasted almost four hours! Ah, my job is so hard! Erica, her mom and my friend and coordinator extraordinaire, Cyd, talked business for about 20 minutes and spent the rest of the afternoon eating amazing crepes and talking about fun wedding stuff and silly stories. Good times! I finally got to meet Sean when I was down in Jersey visiting Matt and Kerri this summer. We had a delicious Mexican fiesta and Sean arrived with some incredible IPA's which pretty much made us instant best friends. Sean knows everything about beer, I don't know all that much but I love hops! So with all that to go on, I knew it'd be a great day! I showed up to the salon and Erica was having her makeup done. I'm a flincher, so I totally understand why Erica had to take the reigns for some of the eyelining!
What a pretty profile this girl has!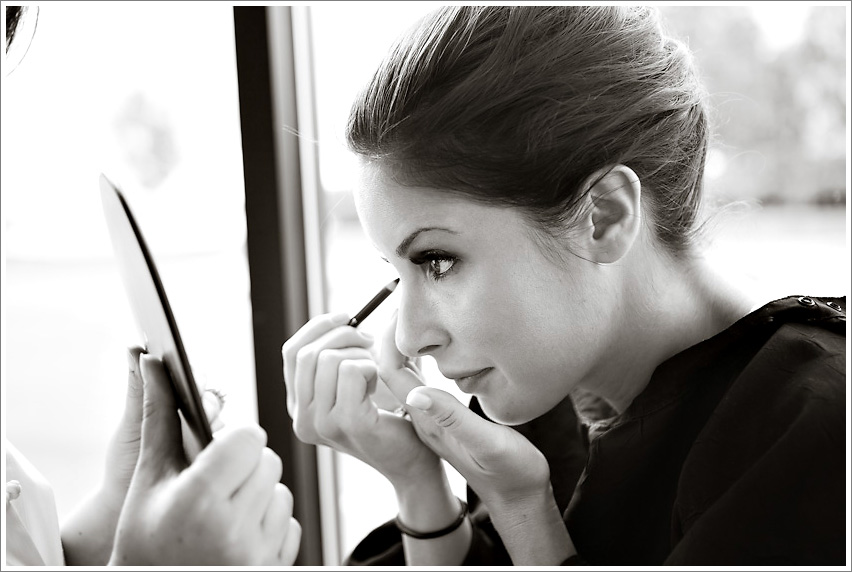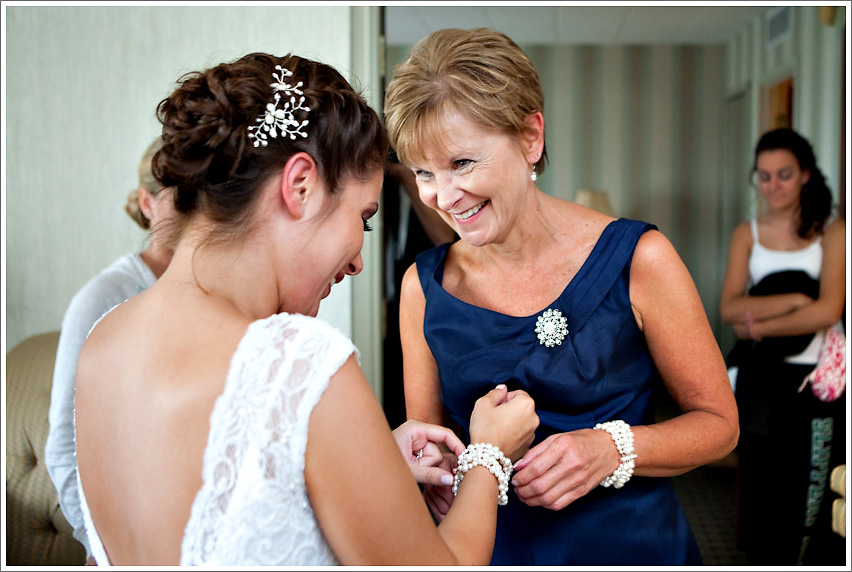 I love first sights!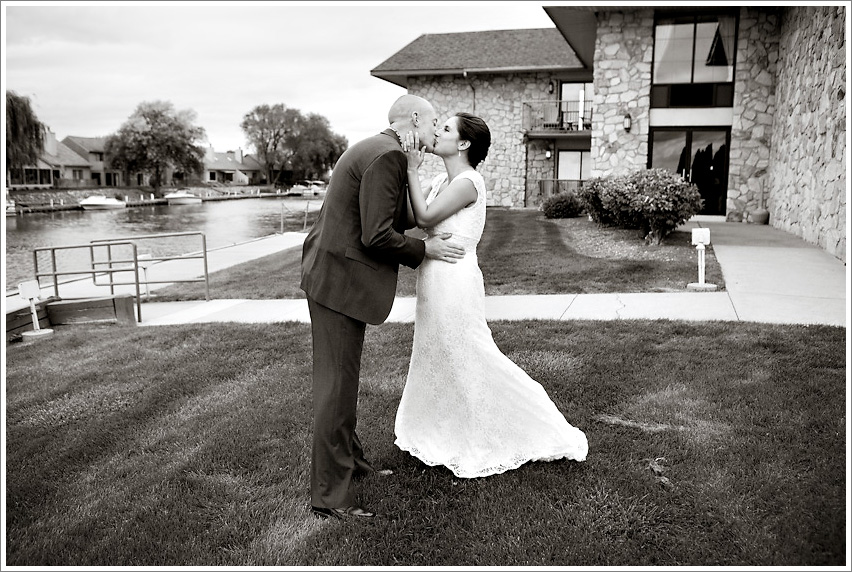 Obviously have to include this one... Erica of course had some major shoes (did anyone watch that tv show about Posh and Becks coming to the US? If so, did you not looove how she called everything "mayyjahhh"? I'm so sad that didn't turn in to a thing. It was awesome. Anyway...) When I sat them down for some portraits, I noticed Sean's awesome socks, so I had to get a shot of both!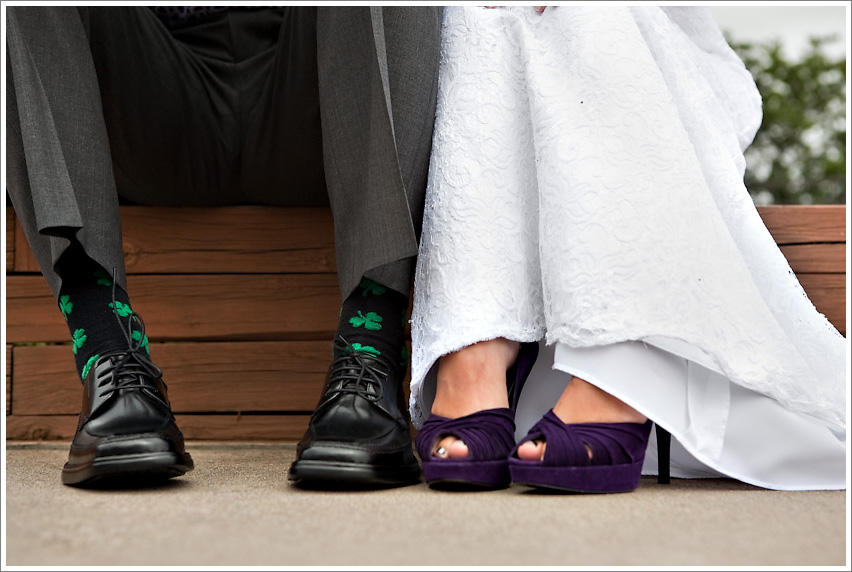 Bridal party awesomeness. I love the different shades of purple!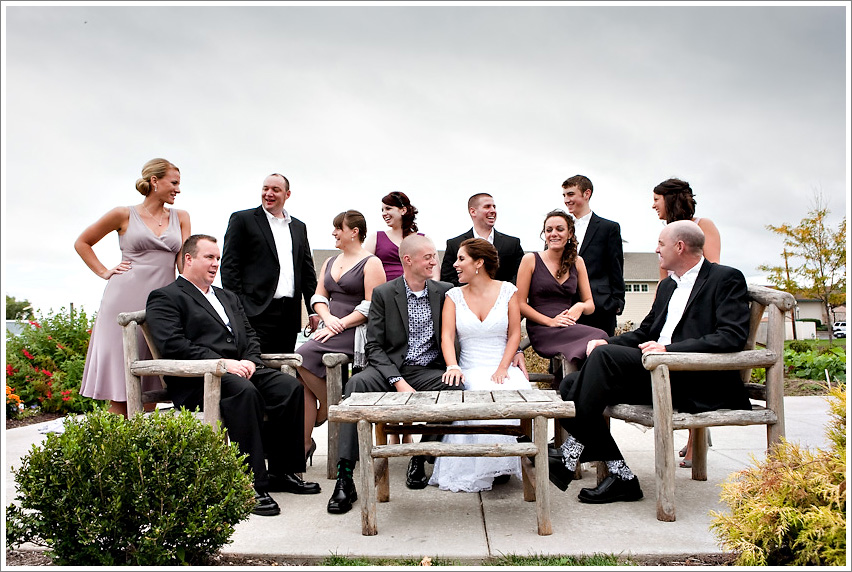 Right after we finished up the portraits, Erica told Sean she wanted to get a sneak peak of the tent. Erica had a special surprise waiting for him...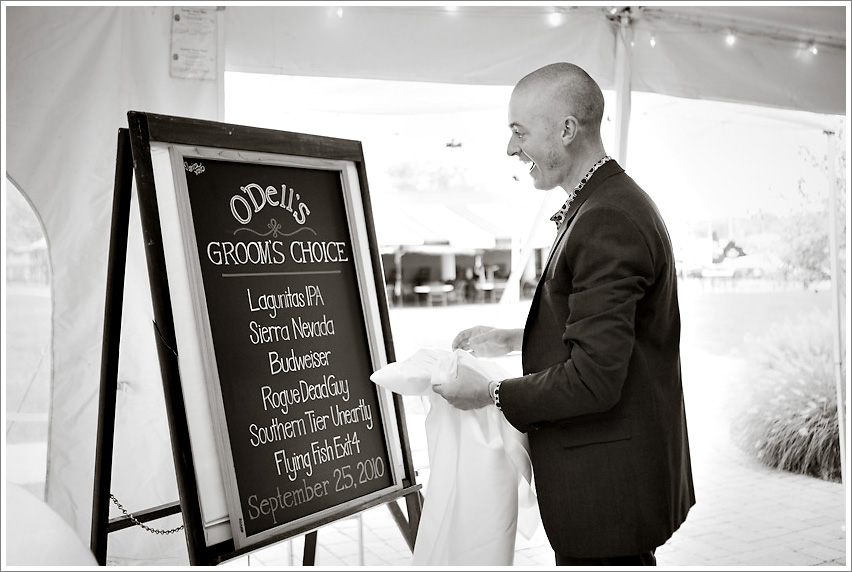 Oh my deliciousness! Sean was totally shocked, it was cute.
And to the ceremony... Erica was so cute coming down the aisle with her mom!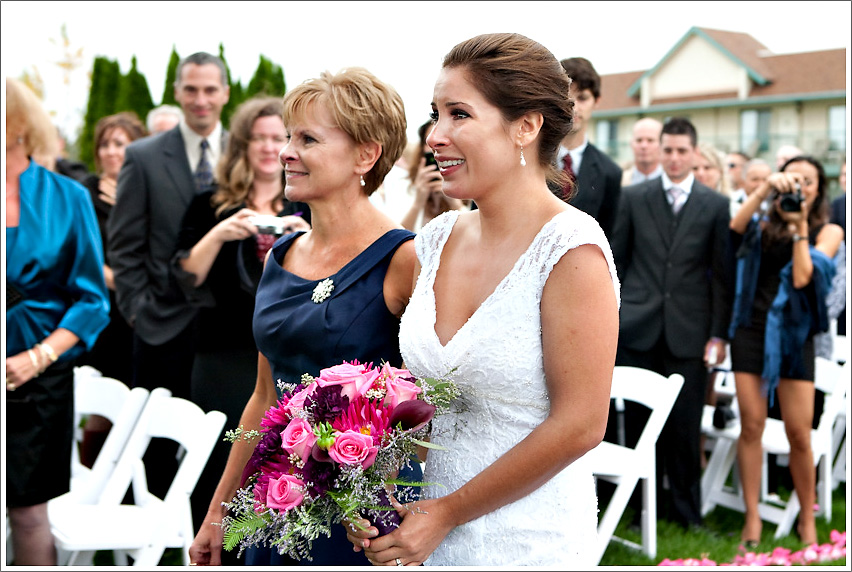 The ceremony was short and sweet... just the vows. 🙂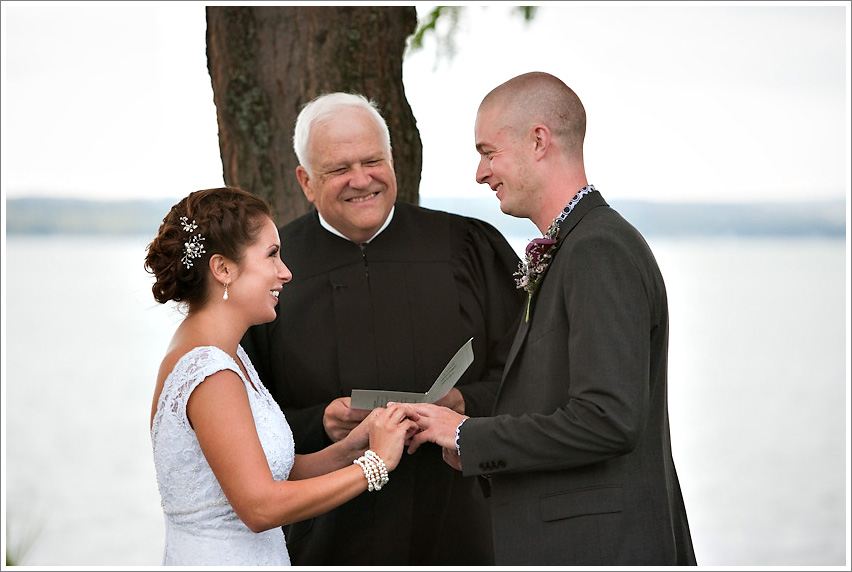 The tent looked utterly fabulous. I loved the colors and all of Erica's details!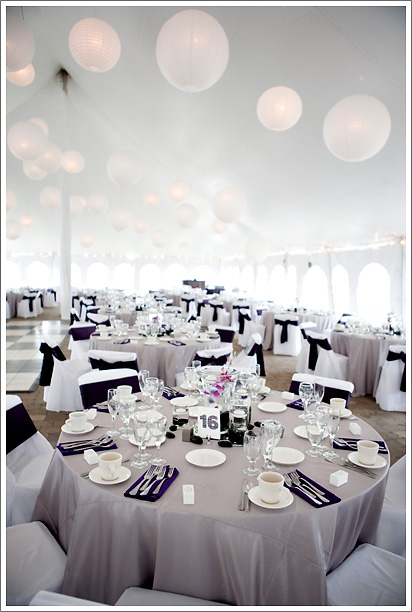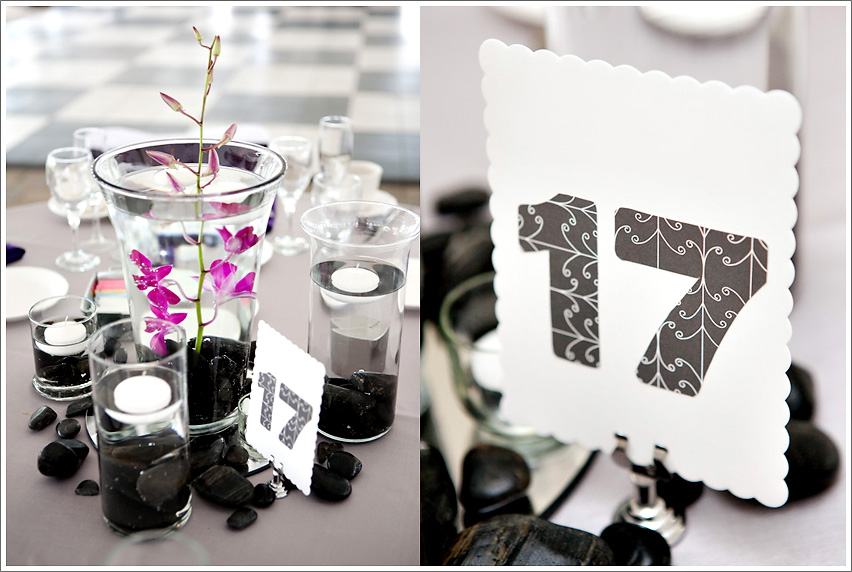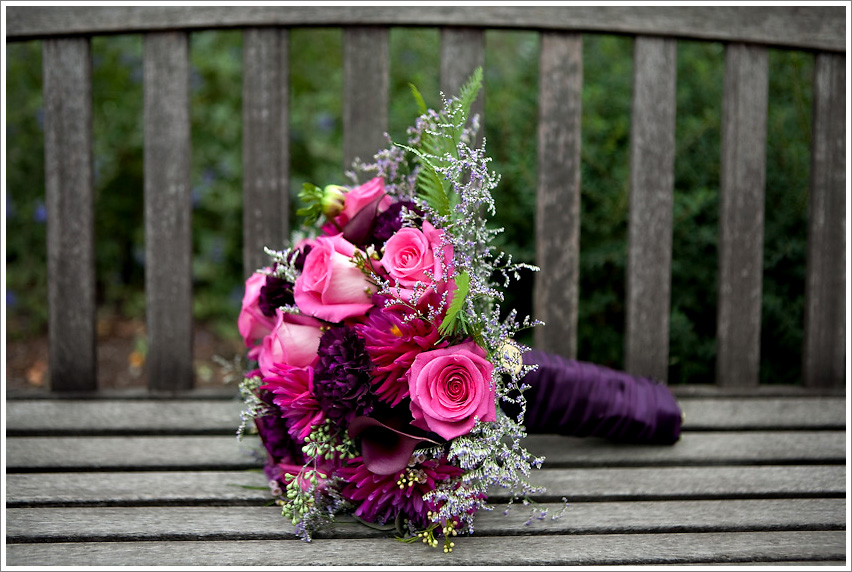 Damn they are cute together!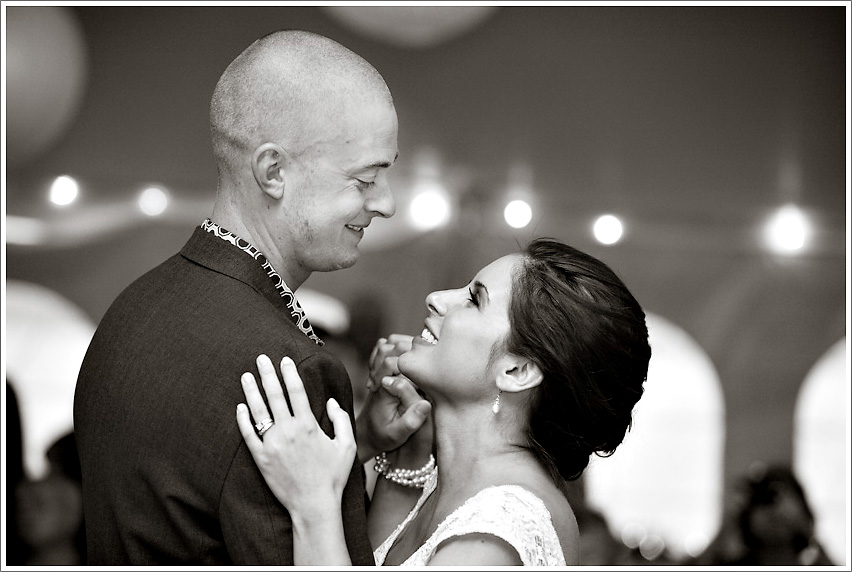 So happy...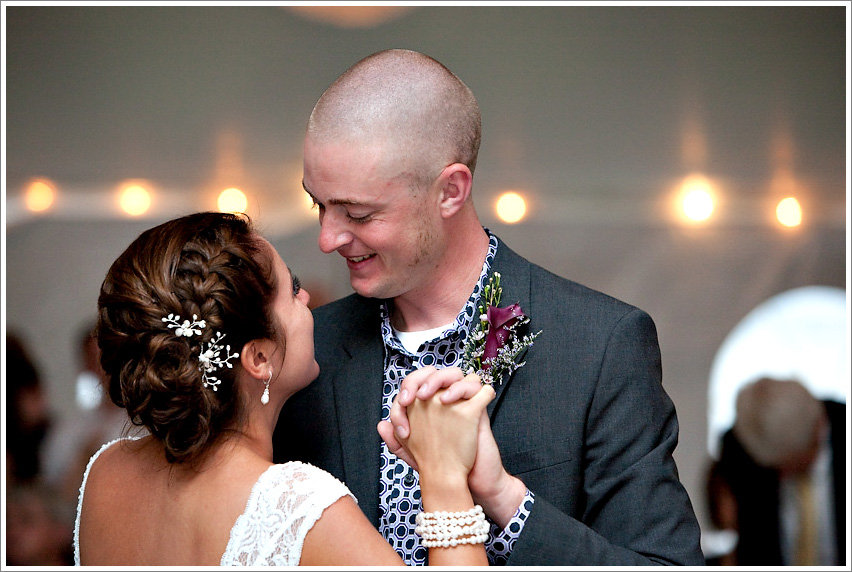 Party time! I have to start things off with this picture, I just can't wait anymore! This is Sean's dad, he is super awesome. Cyd, Becky and I spent pretty much the whole evening discussing said awesomeness: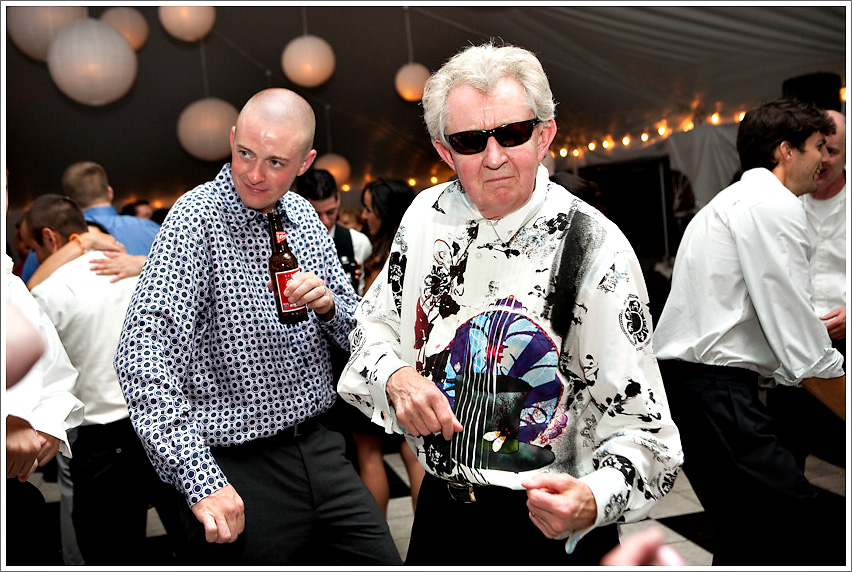 He owned the dance floor!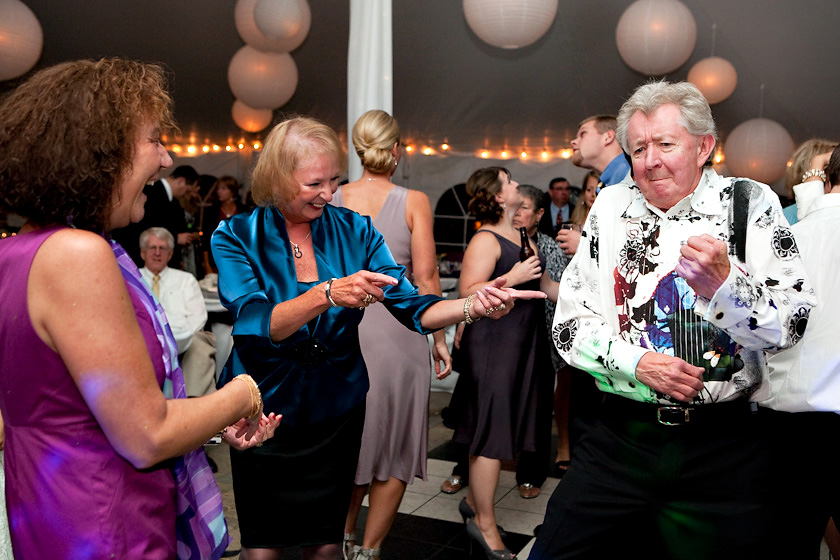 Yes, I did take pictures of other people at the party, ha ha!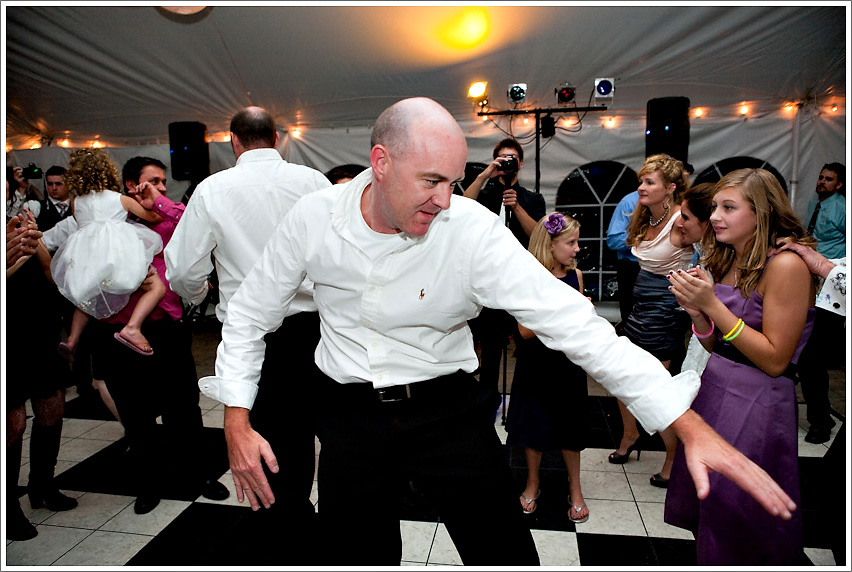 I love dance-offs!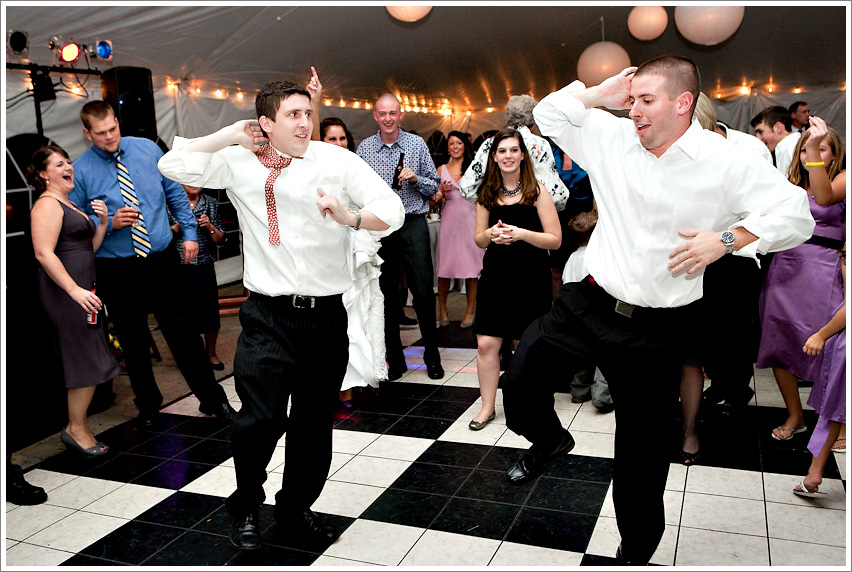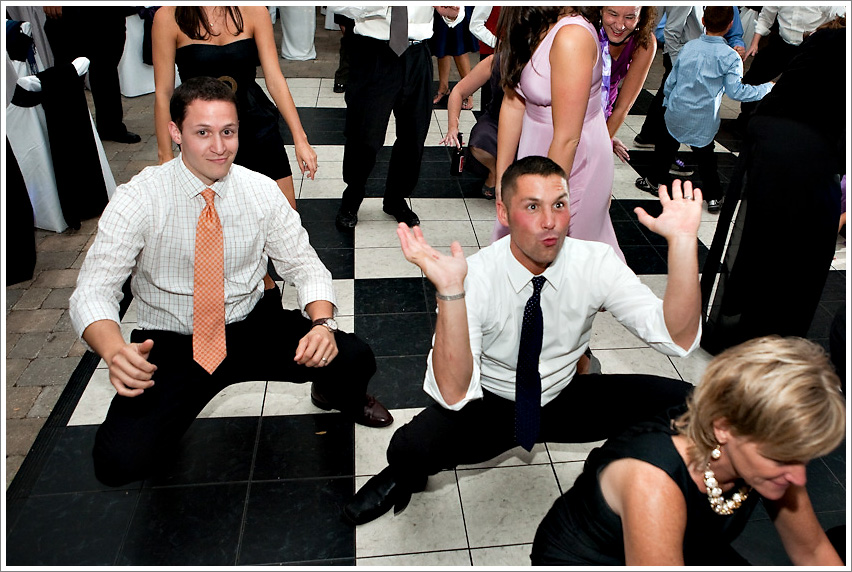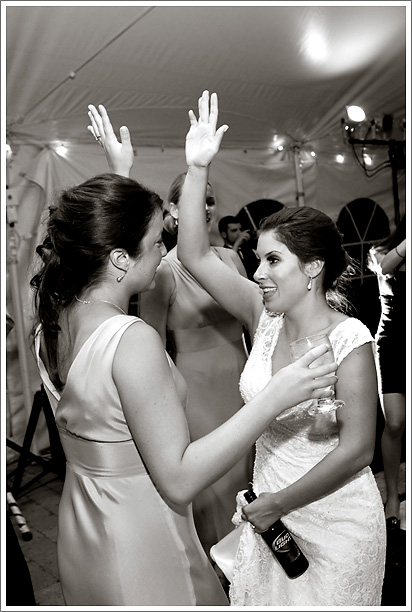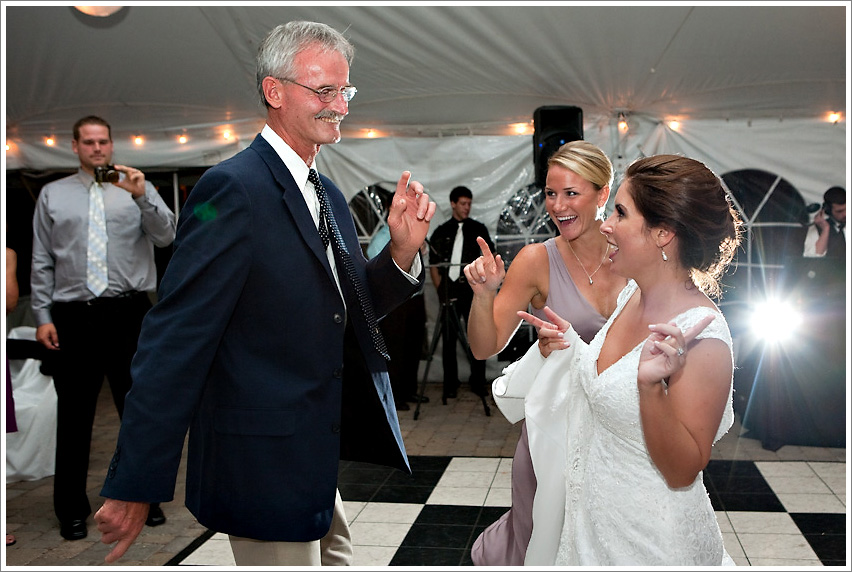 Matt and Kerri cuteness!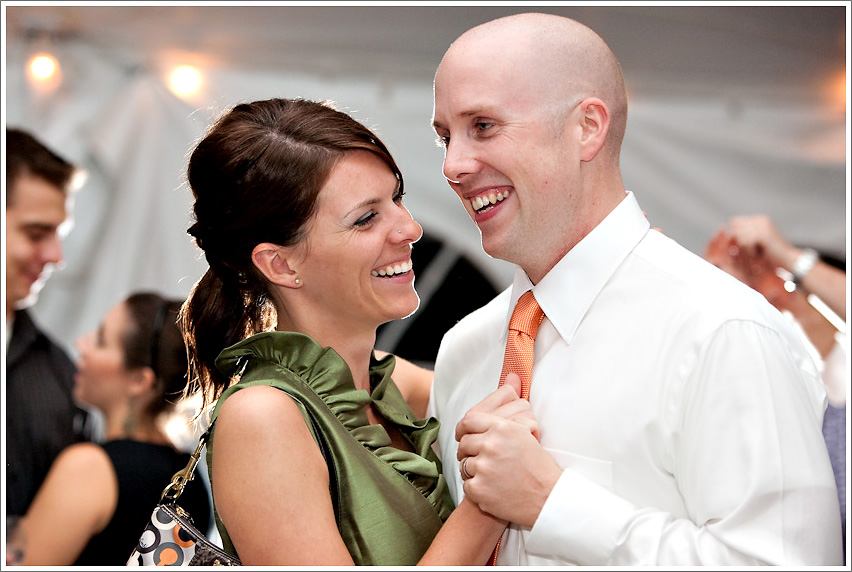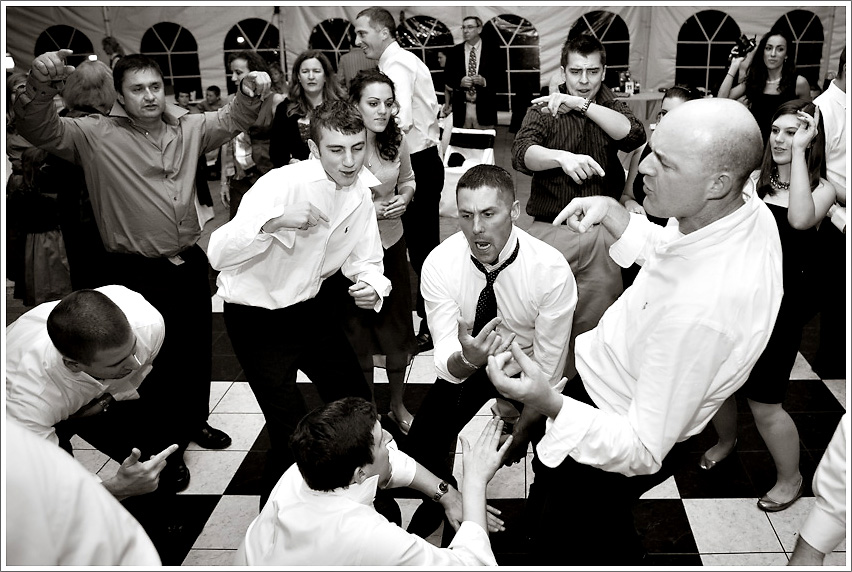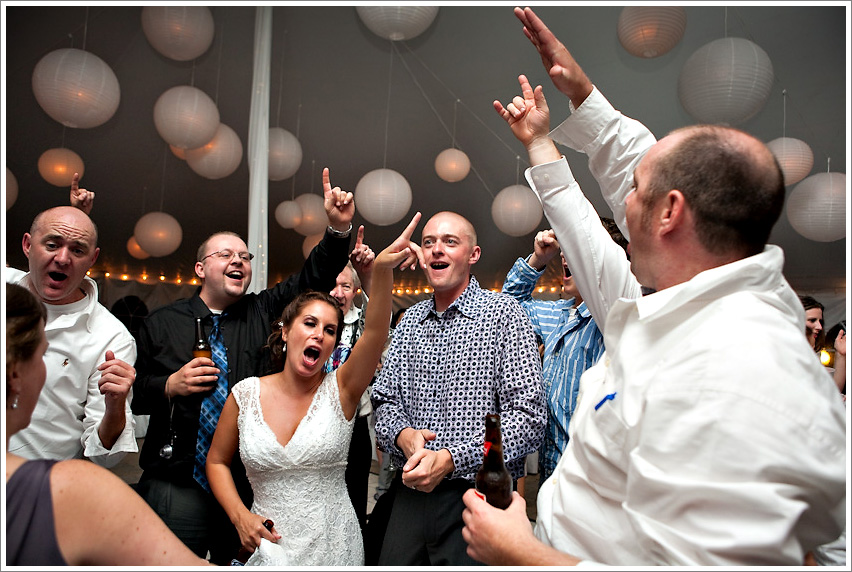 Saturday happened to be Matt's birthday, and Erica turned to Kerri and I for ideas on how to celebrate. Matt didn't want anything taking attention away from Erica and Sean on their big day so he was not very cooperative and Kerri and I feared reprisal if we got involved. So Erica kept it low key and just grabbed the DJ's mic to say "Happy Birthday" during the dancing. Here is a magical .gif where we can see Matt go from not having a clue what was going on, to the realization dawning, to begrudgingly accepting birthday wishes from everyone. Muuahahahahaha!

Portrait time!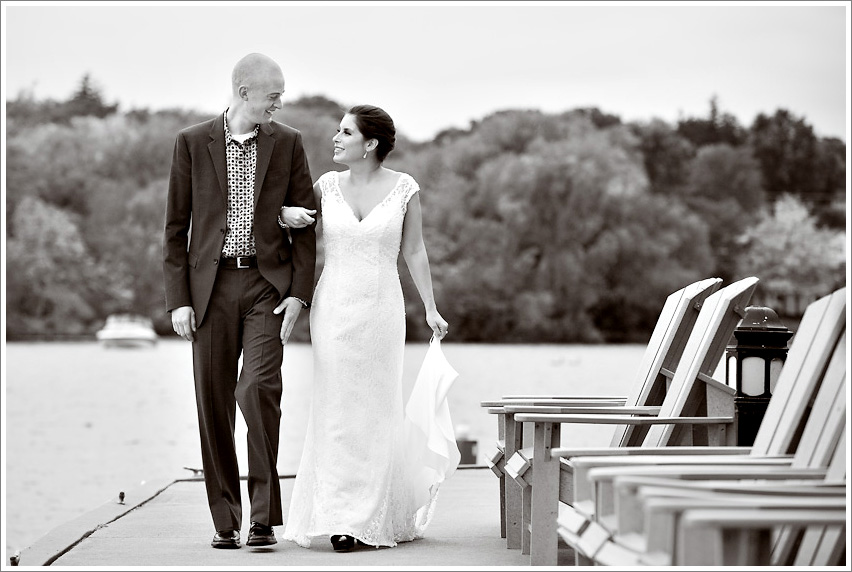 There were lots of jokes about how much I made them kiss during the portraits, but I didn't even do this one! So cute.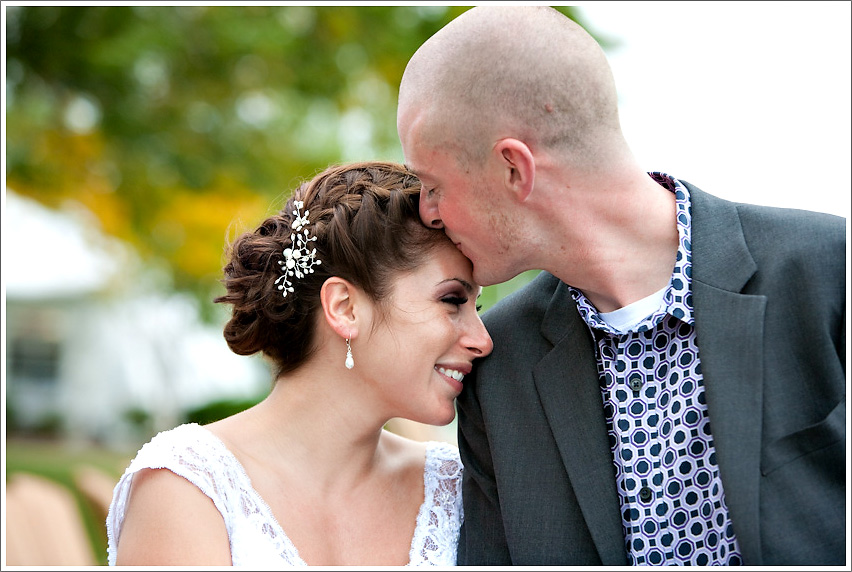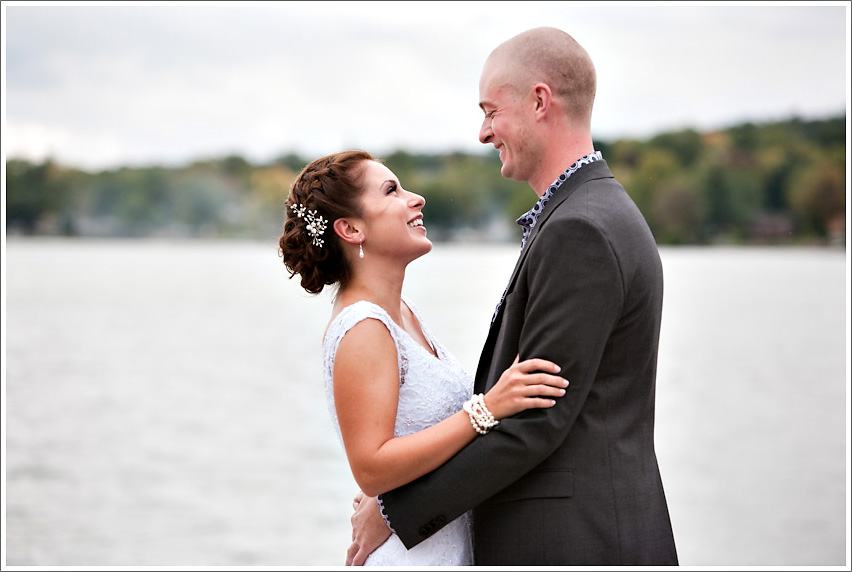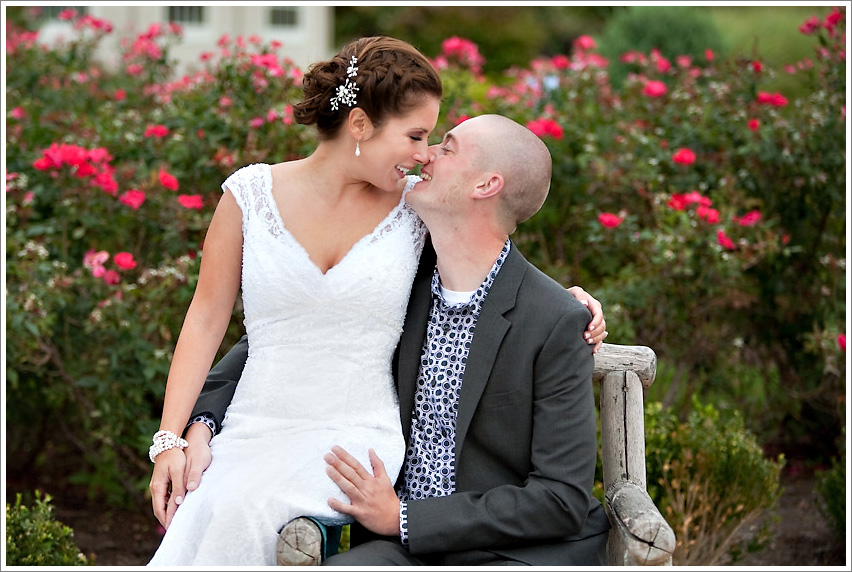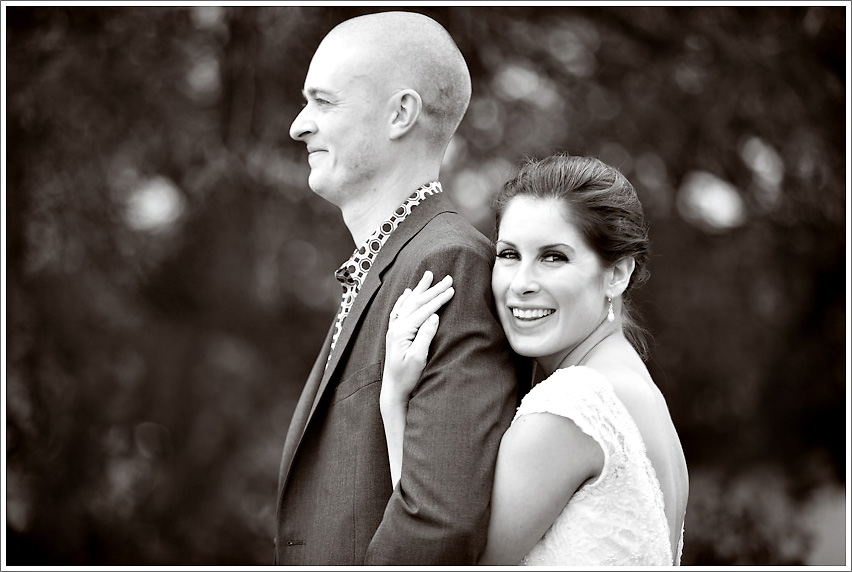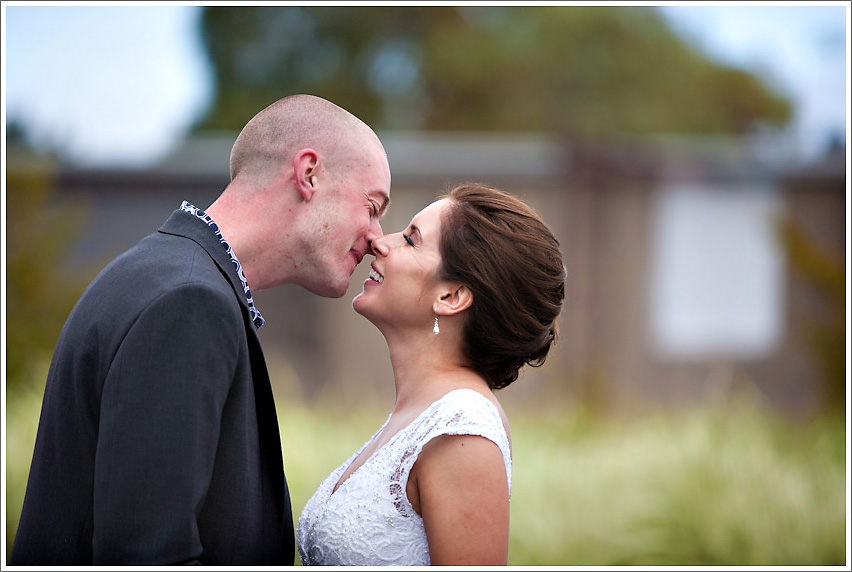 Pretty!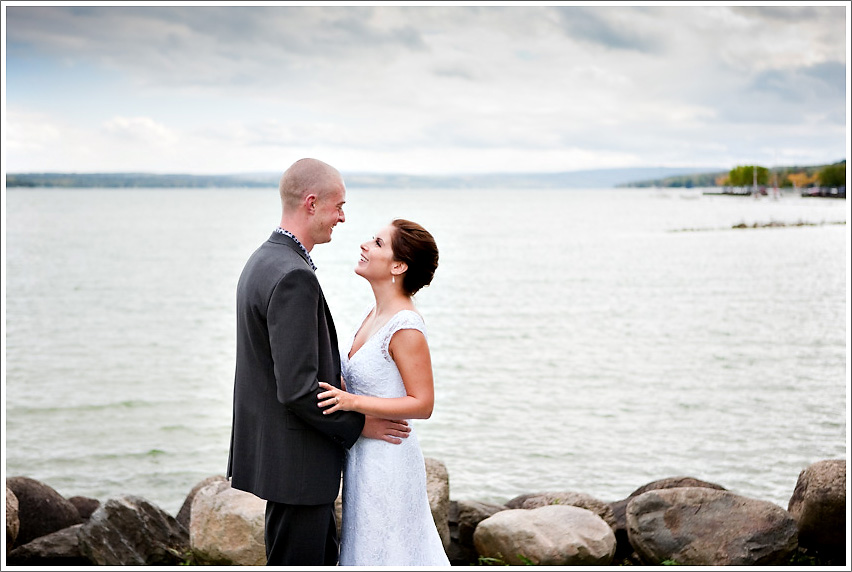 And, finally, a sparkler exit!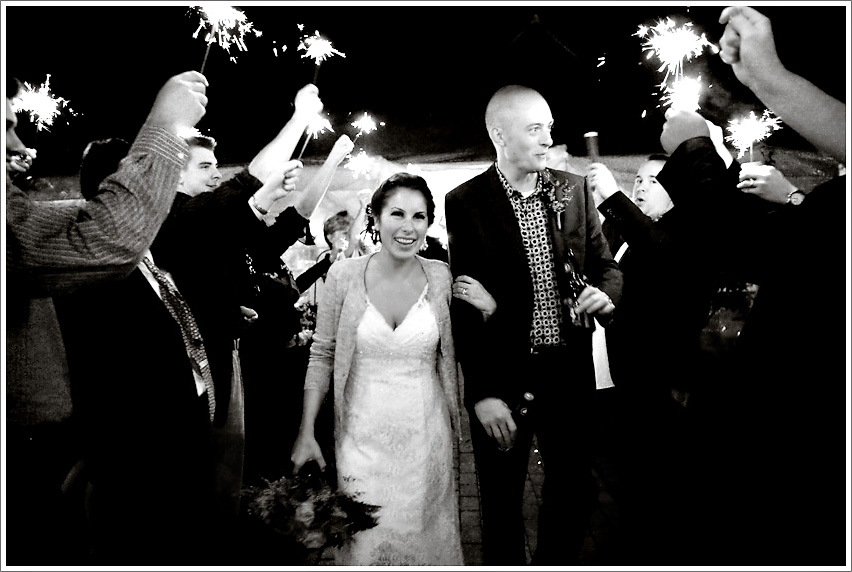 What a spectacular wedding... I had so much fun photographing you guys and your family and friends! Erica, thanks for making me dance, even though Thriller was cut off right before the dance part, I think Paula and I repped pretty well 😉 Sean, thanks for the Unearthly! I hope you're having the best time in Vegas!!!