Time to get these babies posted!
At the end of the last post, we left off after the amazing whale watching trip in Husavik. From there we had planned to see the biggest waterfall in Europe, Dettifoss, but sadly discovered that it was only accessible by plane. The destination for the day was Lake Myvatn (myvatn is the Icelandic word for "midge"... apparently at certain times in the year the clouds are so thick... well, I don't even want to think about it. We were lucky and only saw a few.) which is an area filled with beautiful lava formations. It was kind of rainy when we got there, but we headed out to Dimmuborgir, which I think translates to "Dark Castles." Local folklore claims it is the place where satan landed when he was cast from heaven. I had a really hard time photographing it, the formations were so amazing in person but they just weren't translating. We hiked around for a while and climbed through this cool formation: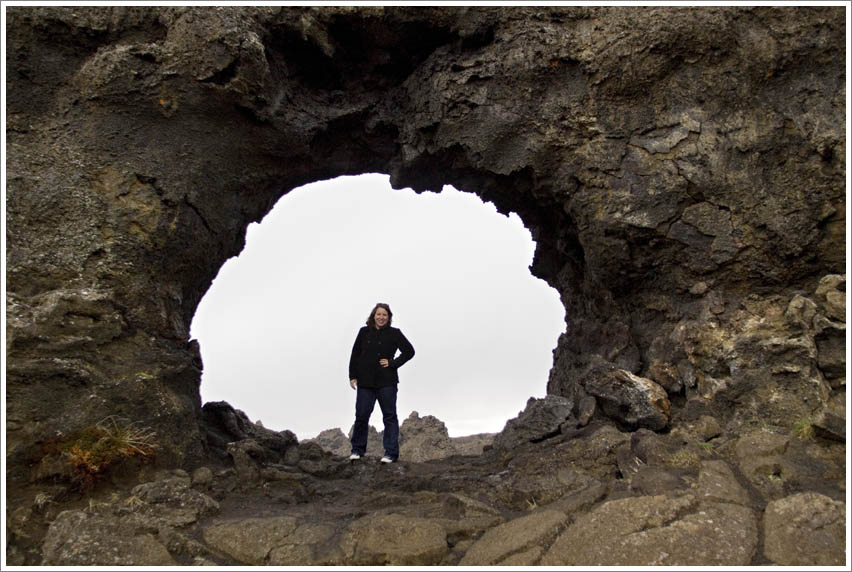 We drove around the lake and stopped at these beautiful pseudo-craters in an area called skútustaðir. The pseudo-craters are formed by steam explosions when hot lava hits water. We got to walk up one and this was the view...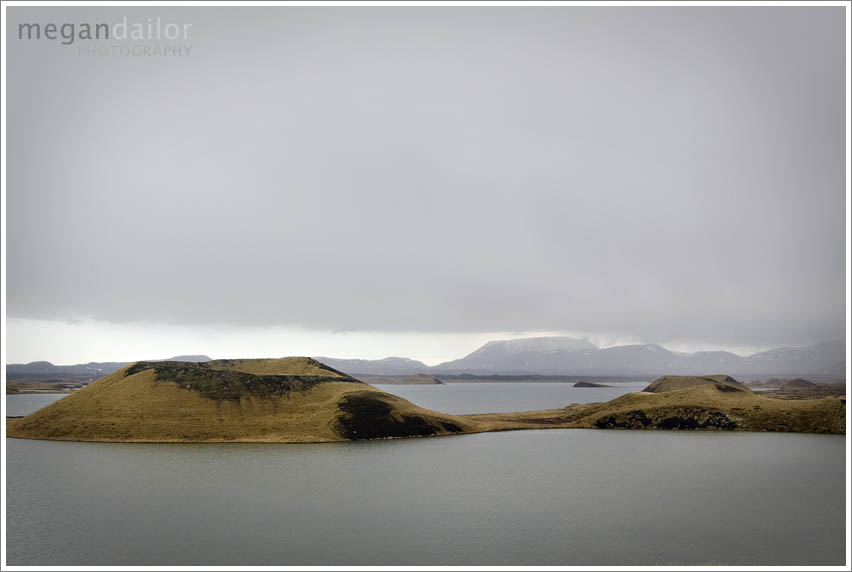 We stopped to check out some of the beautiful lava fields and I loved this view... our guesthouse is the big white building all the way on the left.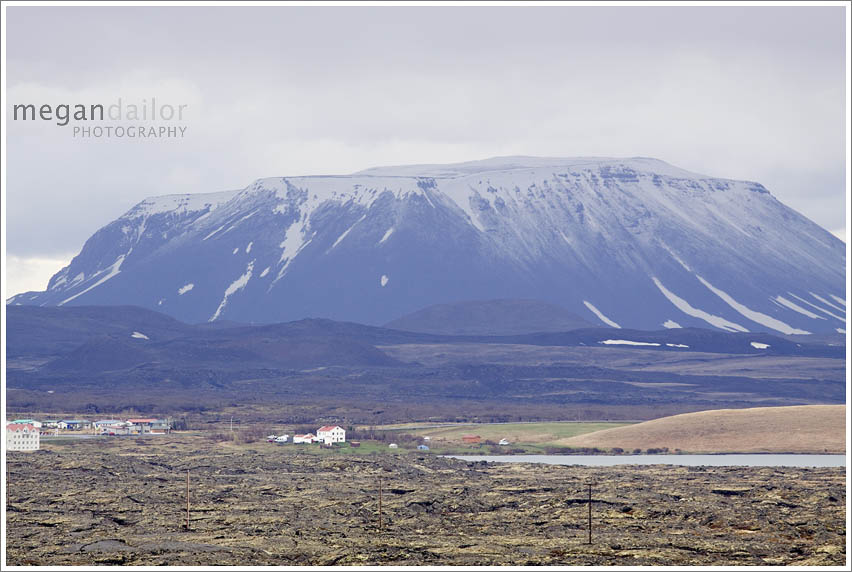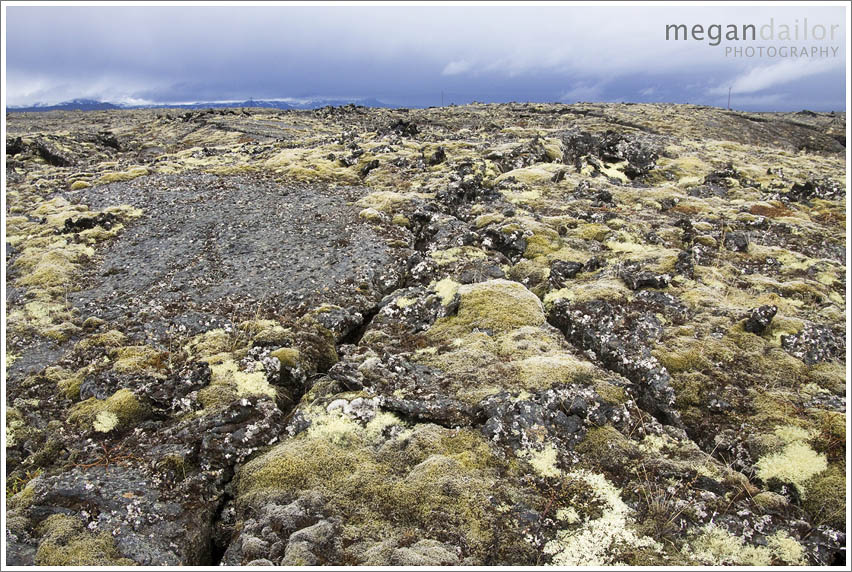 Back at the guesthouse we stopped in their restaurant for one of the best meals of the trip, couscous with stuffed peppers, and a complimentary traditional Icelandic dessert called Skyr. It's kind of a cross between cream cheese, sour cream and yogurt... with lots of protein, only a few calories and really tasty too! It was fabulous. My cousin retired to the room and I went out on the balcony to watch another unbelievable sunset. This was my other favorite night... this low bank of clouds rolled in along the horizon and covered the mountain like a blanket. I have never seen anything like it in my life, it was stunning.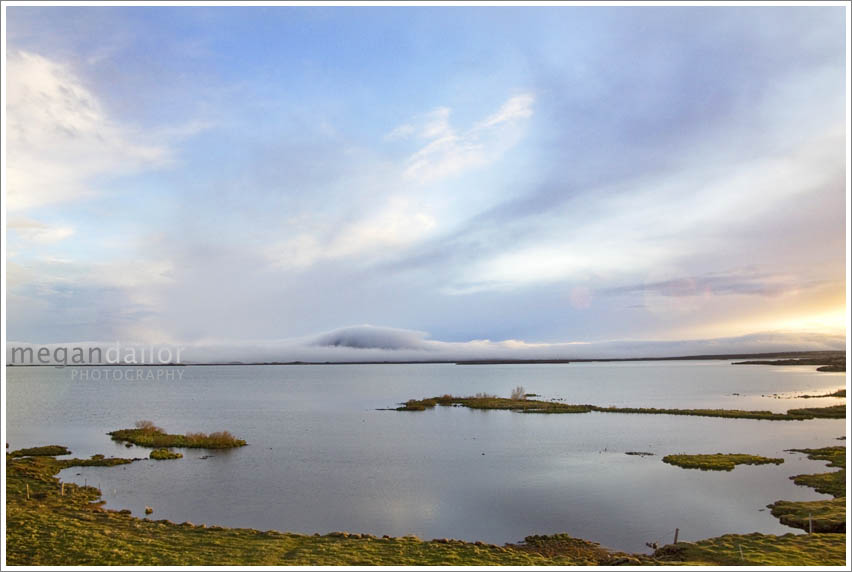 A closer shot of the mountain...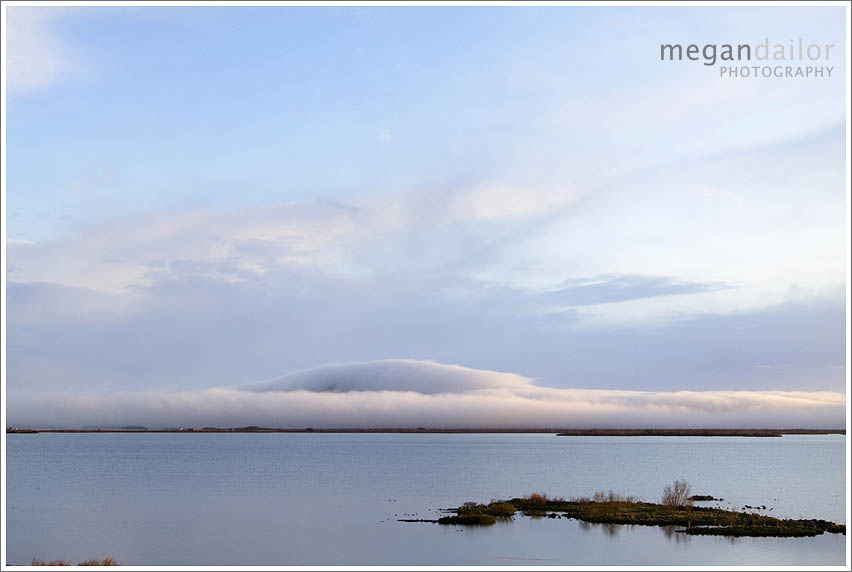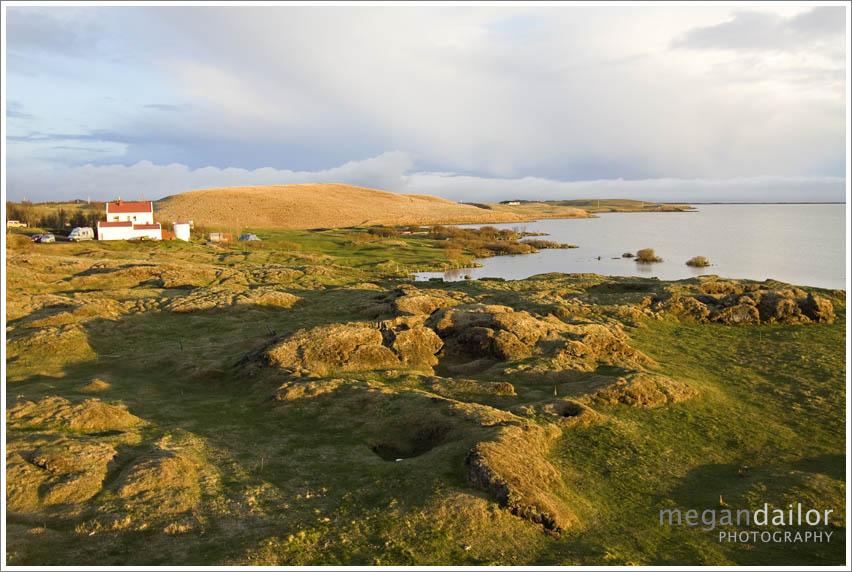 Again I had the view all to myself, so I had to be a dork and do a self portrait.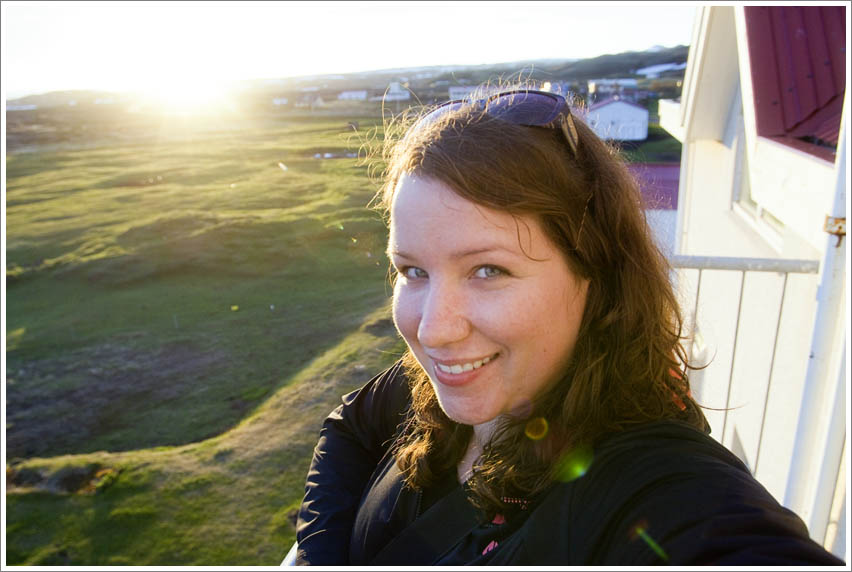 The next morning we got started on the longest drive of the trip, but took another loop around the lake before heading out of town. A little while after heading out of Myvatn, we came upon the sulfur vents at Námafjall. The steel grey sky was perfect for the mood of this place... it was hot and so smelly and really looked like another planet.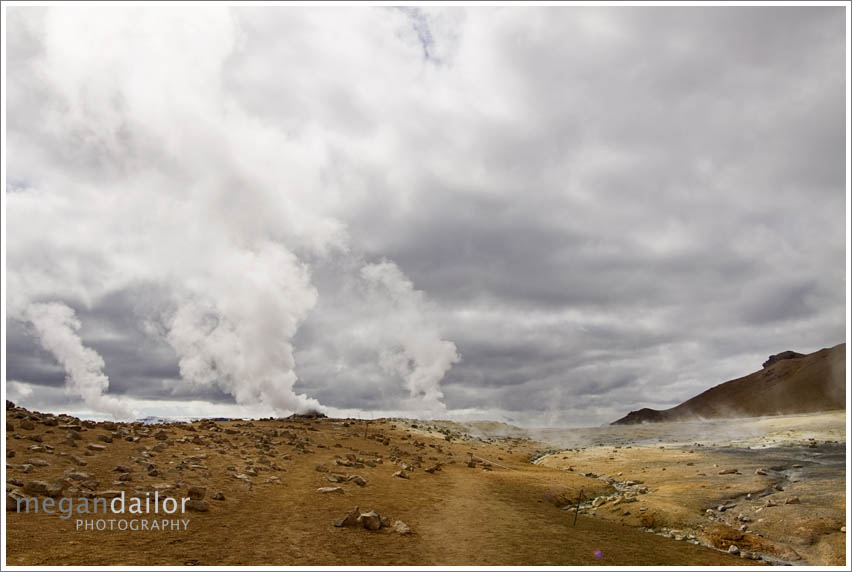 Mud pots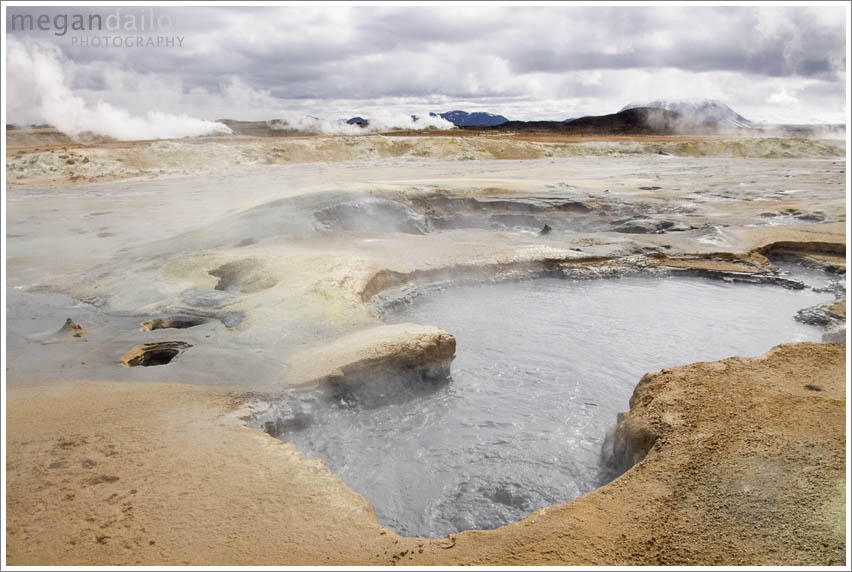 This is a fumarole, the steam coming out is apparently 80 degrees celsius... steamaaaay!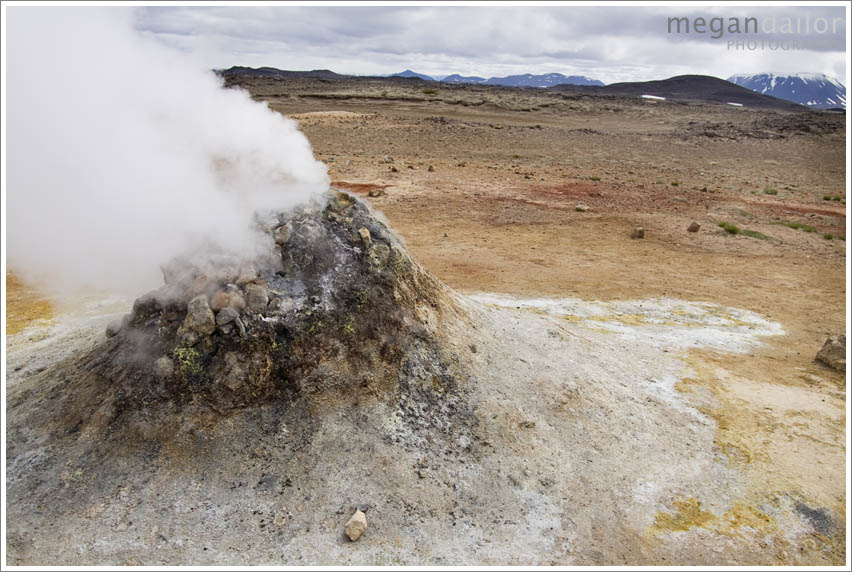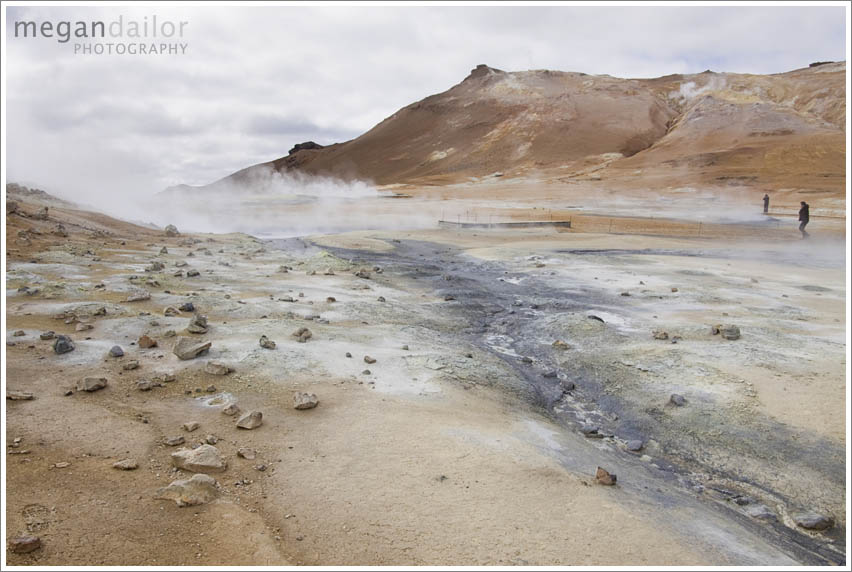 We took a shortcut in the east fjords on route 939... it was really treacherous. A narrow dirt path with blind hills, blind curves and blind hills on blind curves leading up to one lane bridges. Someone else must have thought it was pretty intense... it has its own youtube video! One car kept following us and it would stop when we stopped because it didn't want to be in the lead! I was in first gear for about an hour. Here's a view from one of the places we pulled over.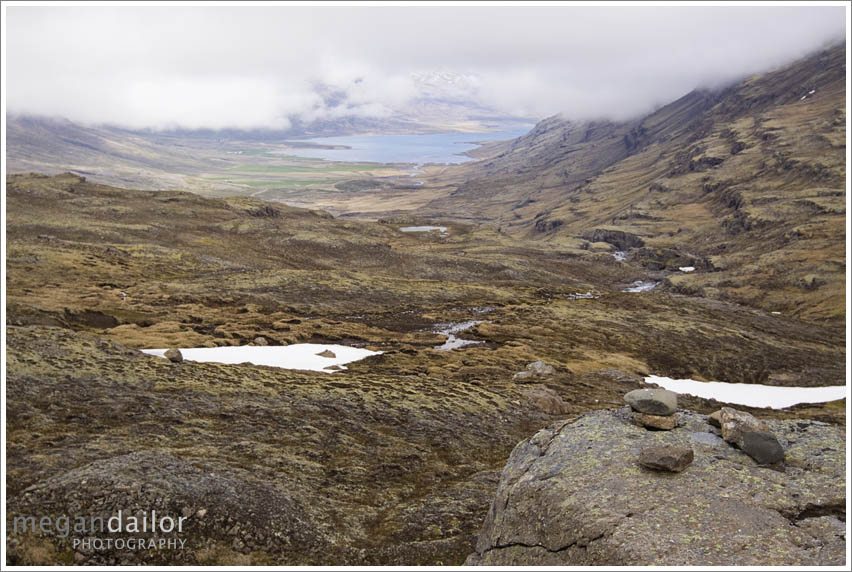 Pulled over for a great view.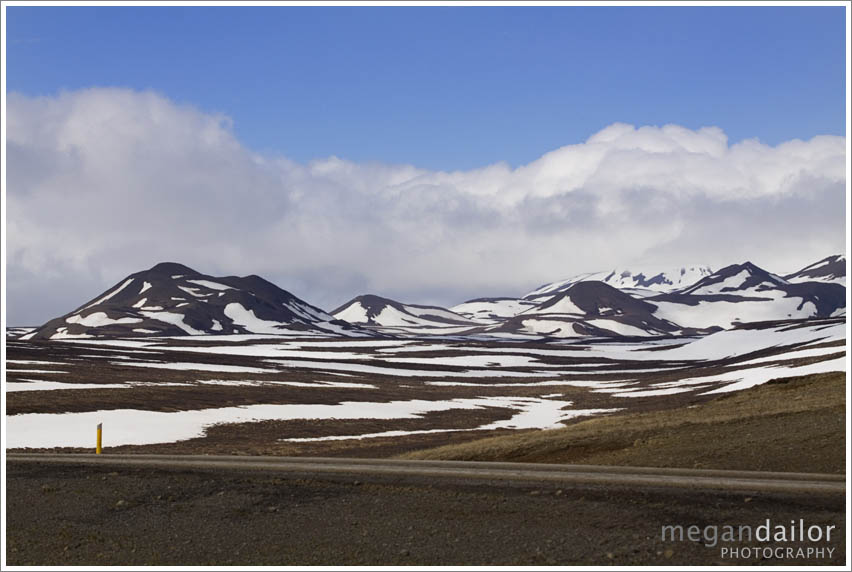 I was pretty excited about it. I REALLY LIKE ICELAND. Ha ha.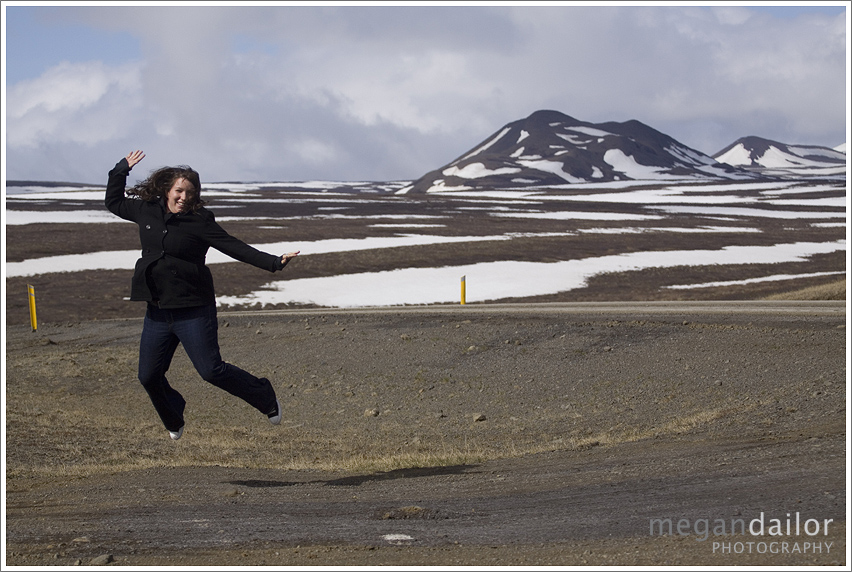 Oh Iceland, you're so pretty.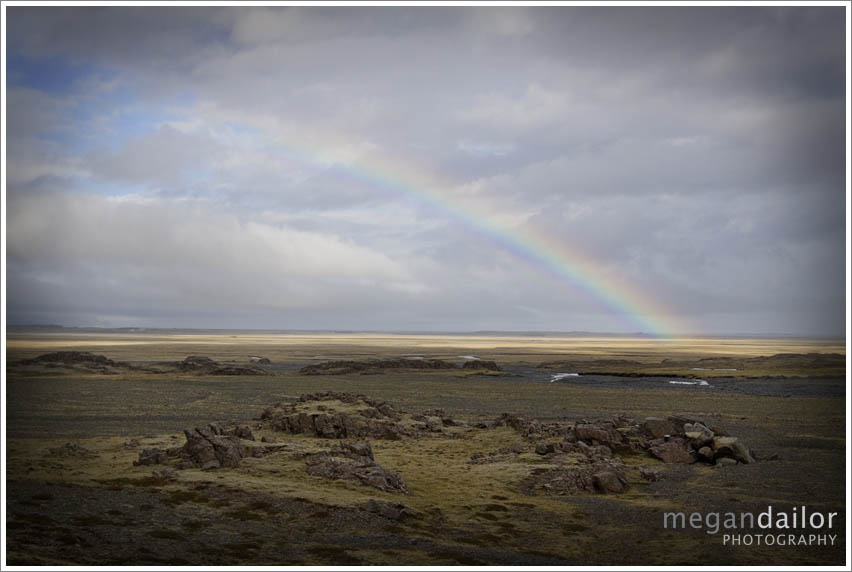 The view was awesome... I wish I knew how high those mountains went, but the clouds hung around the whole time.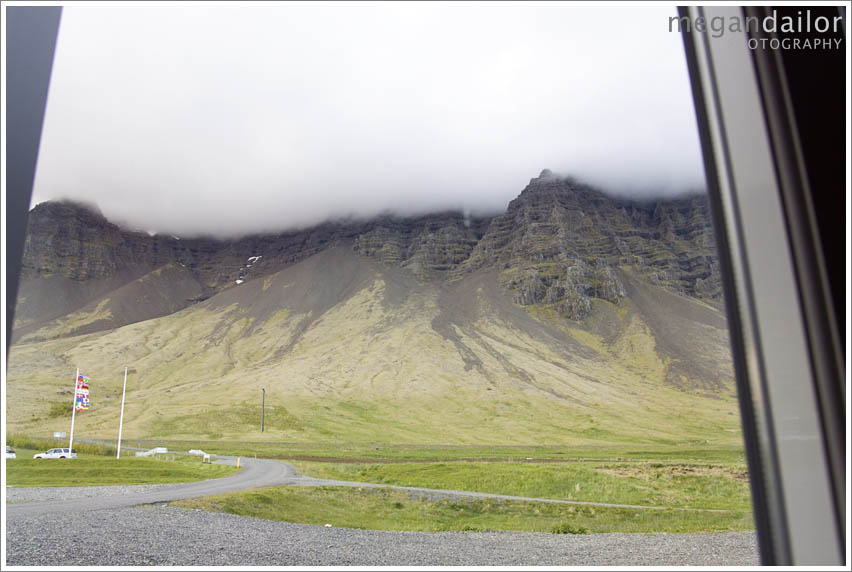 The destination this day was Vatnajökull glacier. The scenes in "Tibet" at the start of Batman Begins were actually filmed here!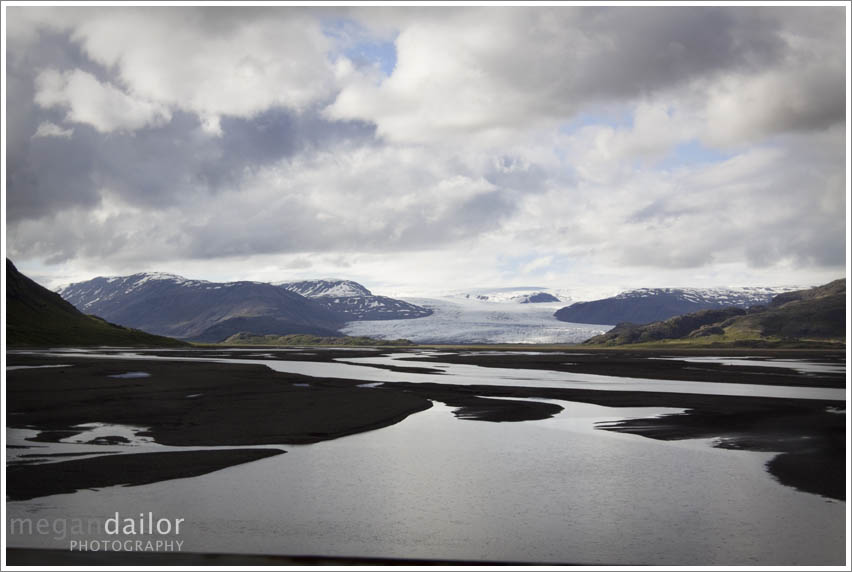 The glacier lagoon Jökulsárlón is so stunning... (remember, this is still the same day as the sulfur vents! Hard to believe isn't it?)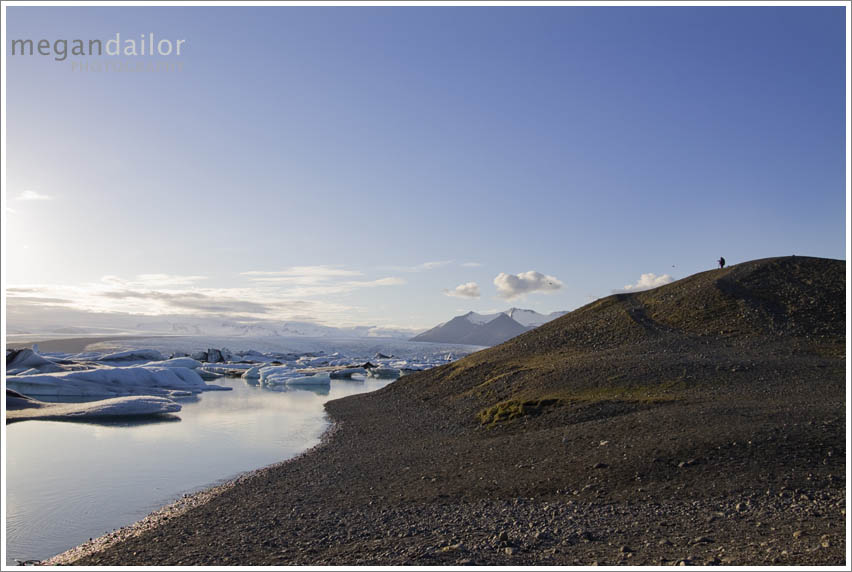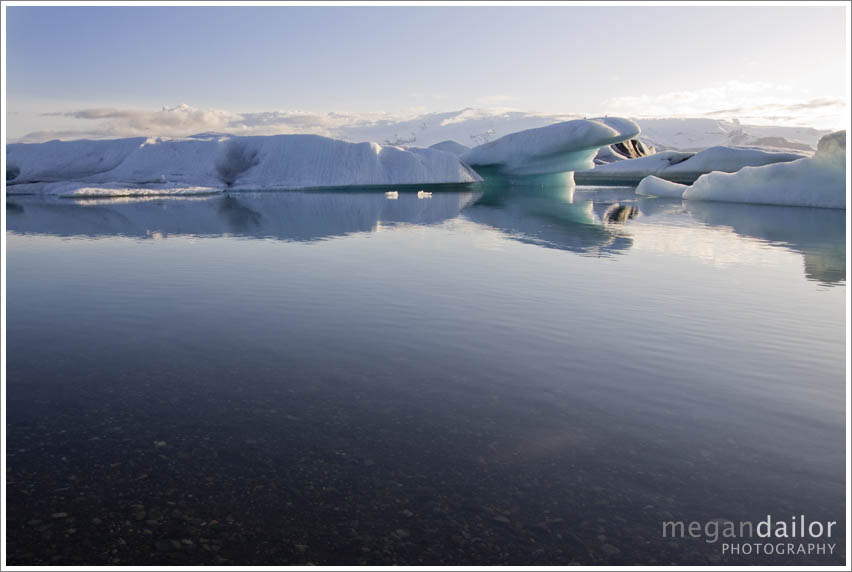 There were a few shy seals swimming around 🙂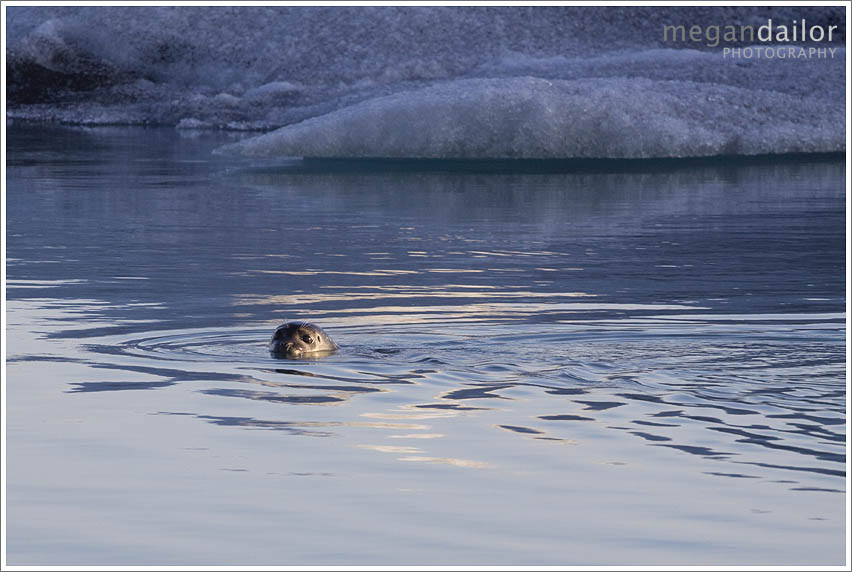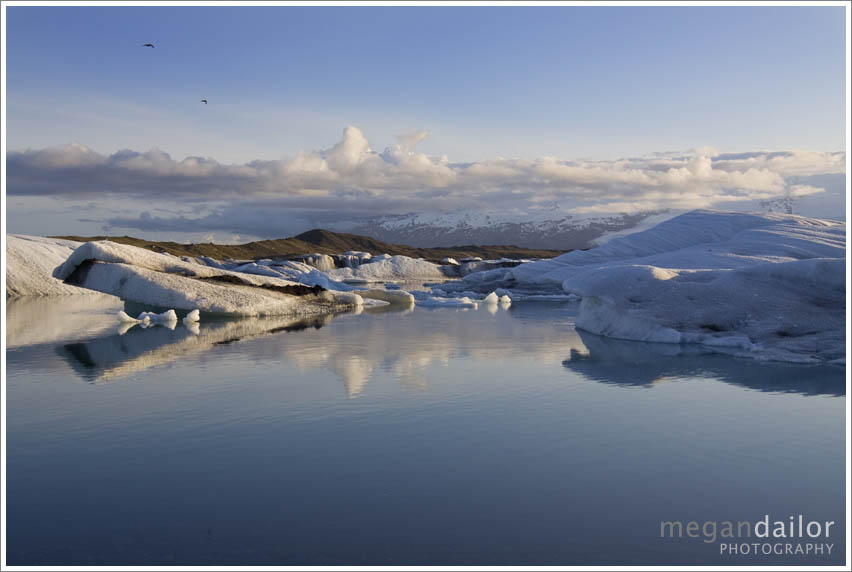 Cousin Kelly and I.

We climbed the giant hill from the first picture for a different view.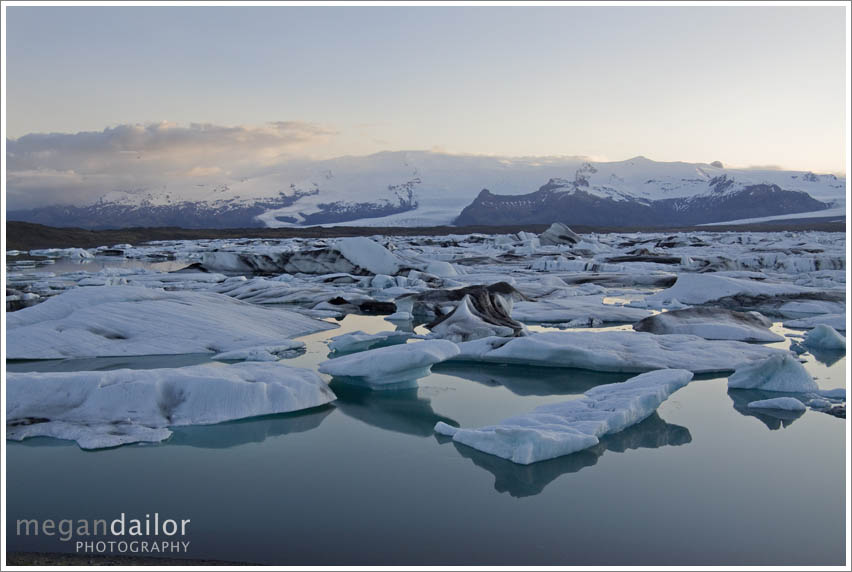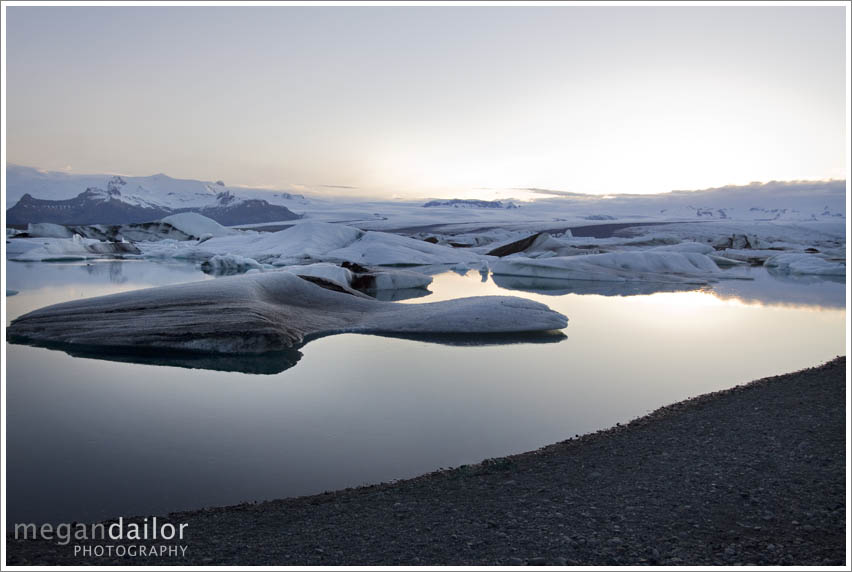 The next day we went back and it was raining pretty hard so everything looked different. We went out on an amphibious boat tour and got to eat chunks of 1500 year old iceberg! I left the camera in the car. 🙂
On the way Vatnajökull National Park we stopped at this random waterfall. Climbed up a little mountain for this view (you can see a tiny guy down in the bottom.)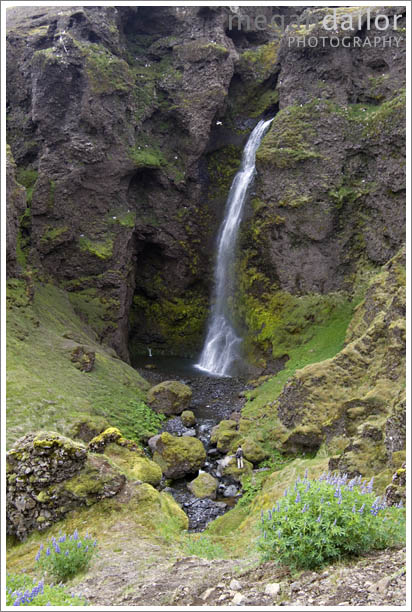 At the park we hiked down to the glacier, which I was determined to touch! Turns out glaciers are pretty dirty up close... (this is not a black and white picture)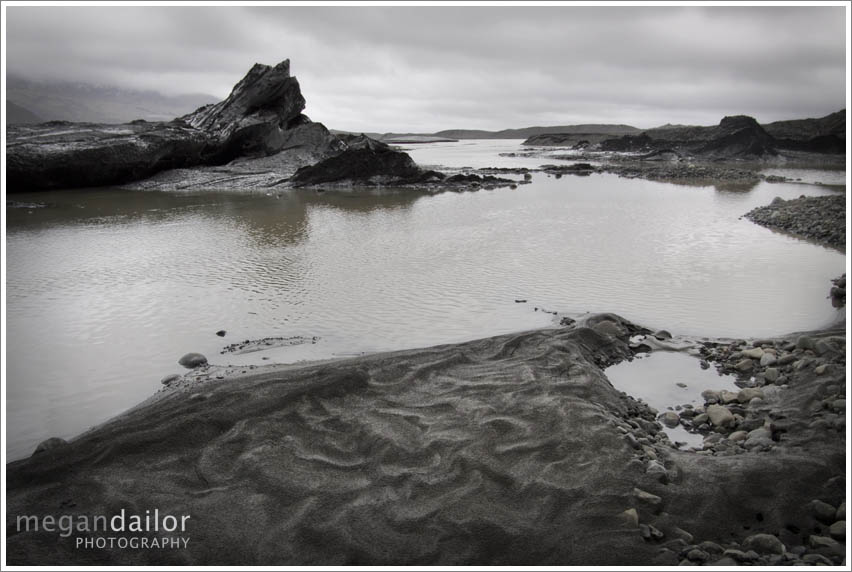 But when it melts, the water still has that brilliant turquoise color that you always see in Icebergs.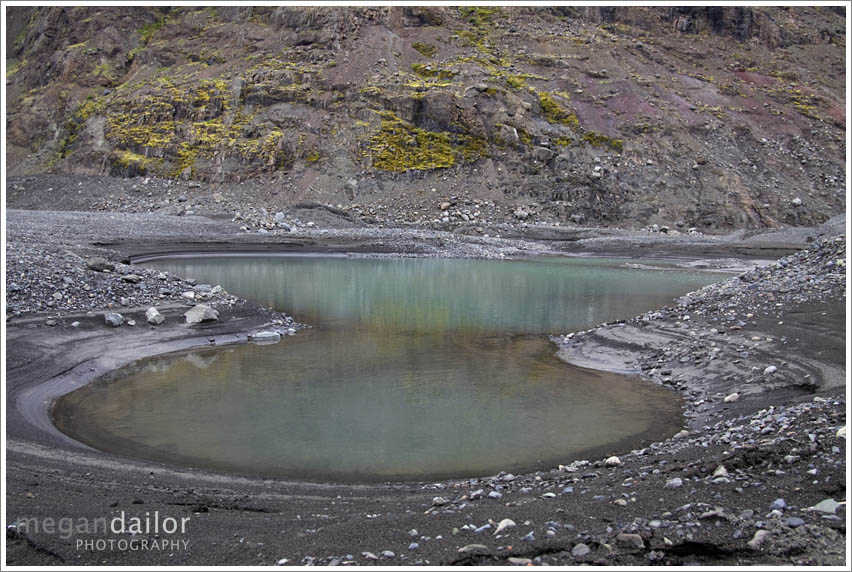 And on the 7th day (ha ha), we headed to Vik... stopped at the Dverghamrar Cliffs (the Dwarf Cliffs) to look around at some basalt columns.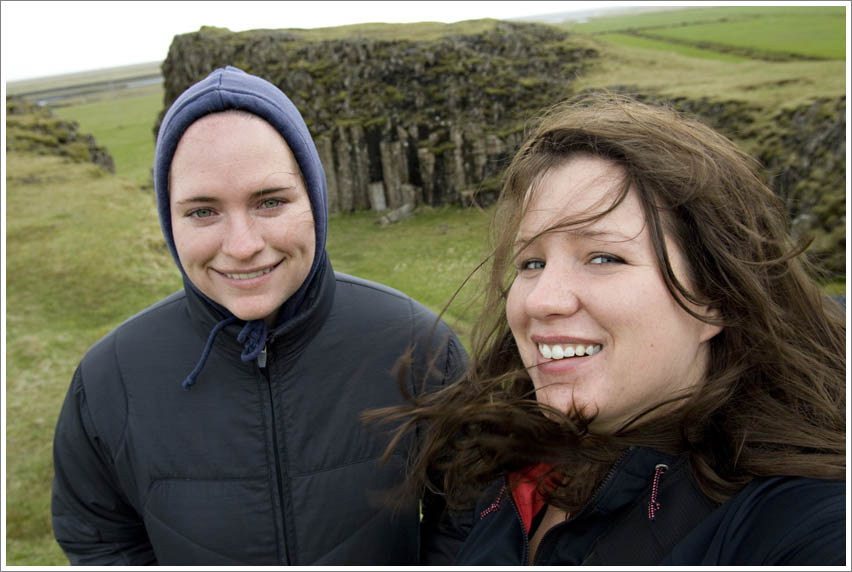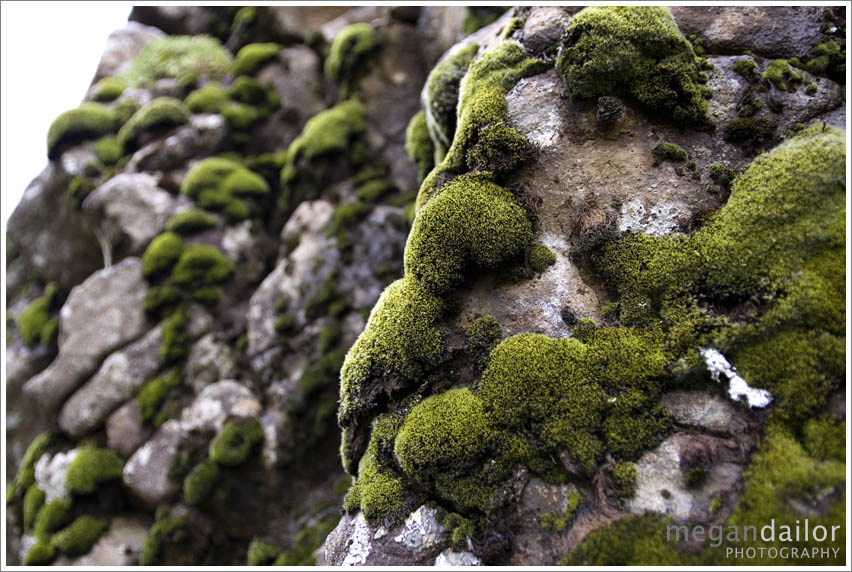 Their waterfalls...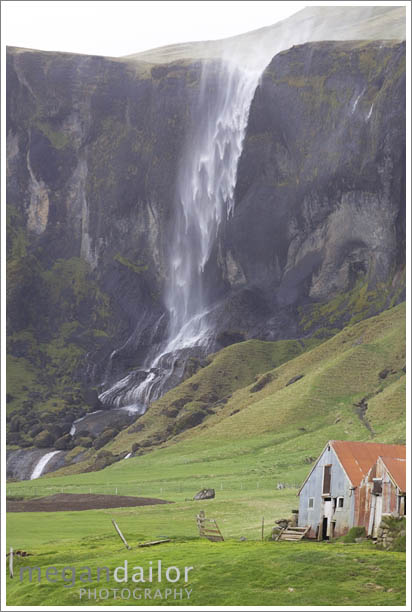 ...fall UP!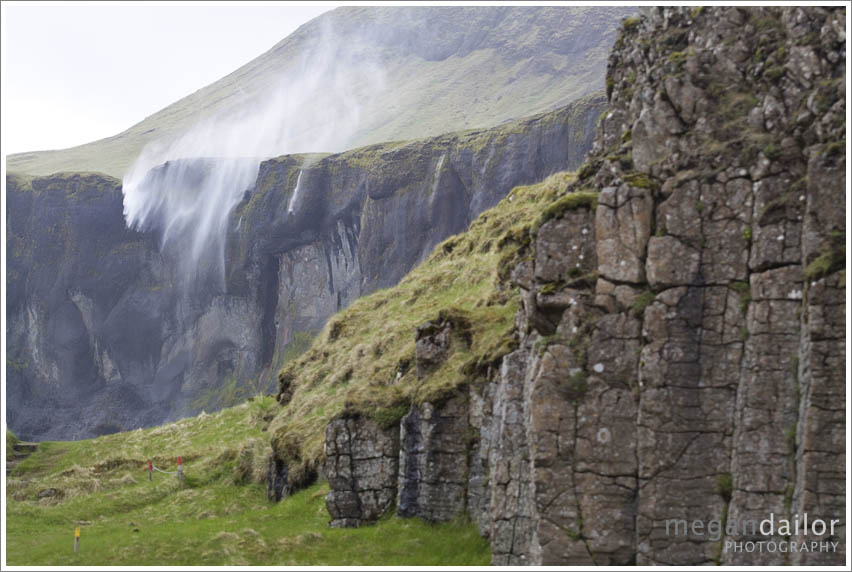 Reynisdrangar black basalt stacks in Vik. The water is dark because it's a black sand beach.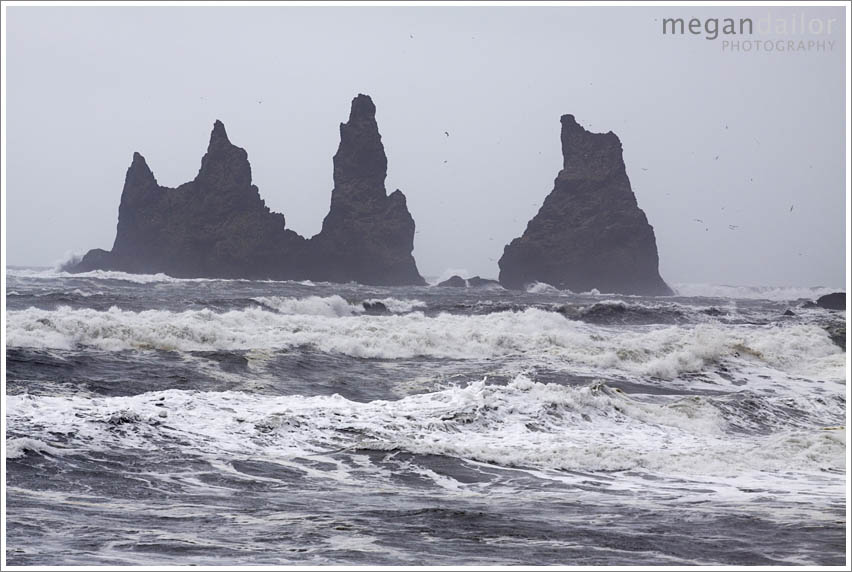 Black sand is cooler than all other sand combined!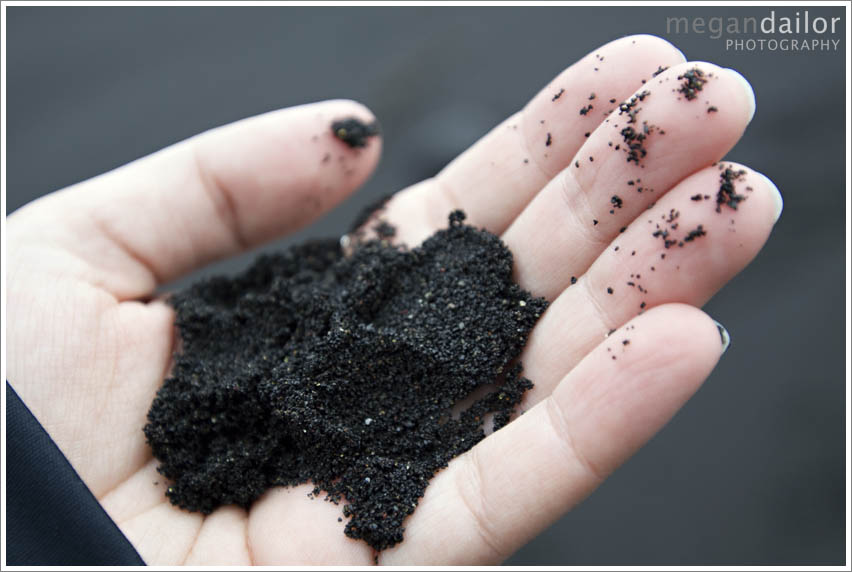 About 3 seconds after this shot, a rogue wave came up and nearly took my camera (which was balanced on a rock) and bag... we grabbed them just in time!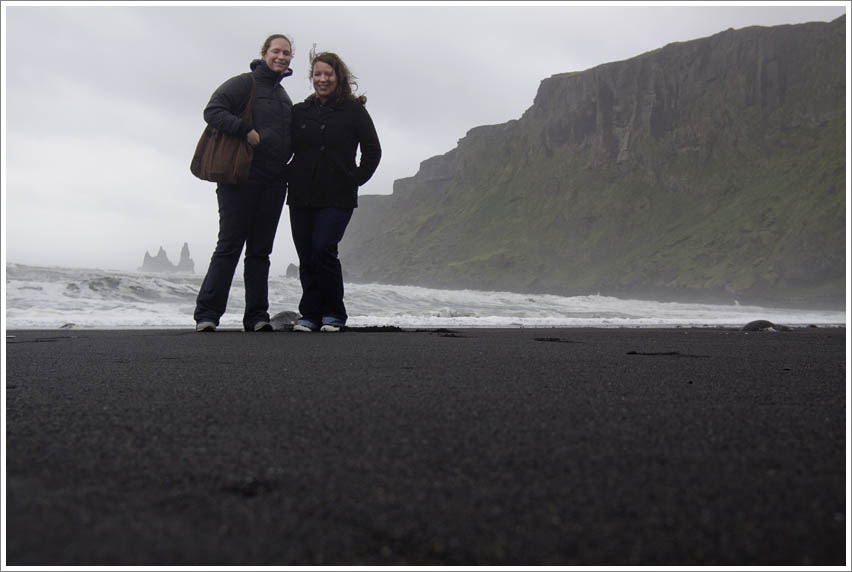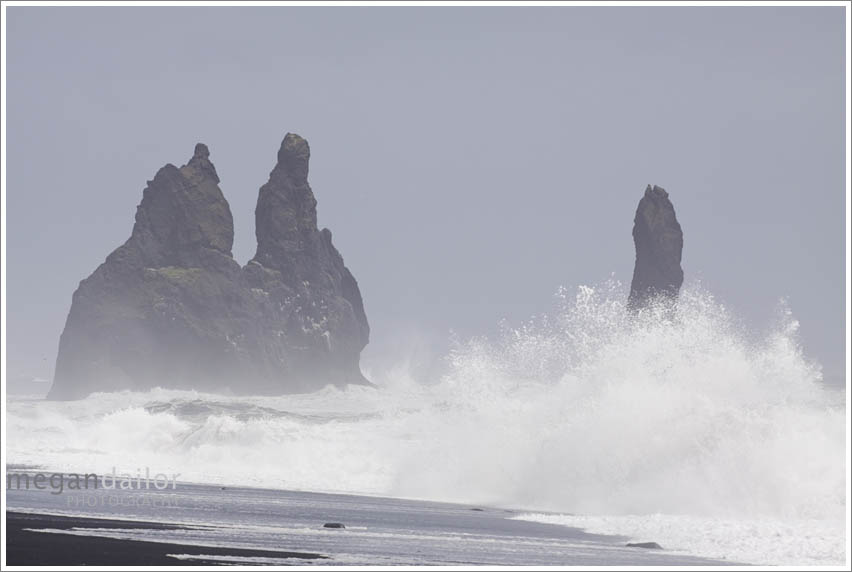 I had really wanted to see the basalt columns at the Giants Causeway when I was in Ireland a few years ago, but couldn't fit it into the trip... thankfully Iceland obliged. 😉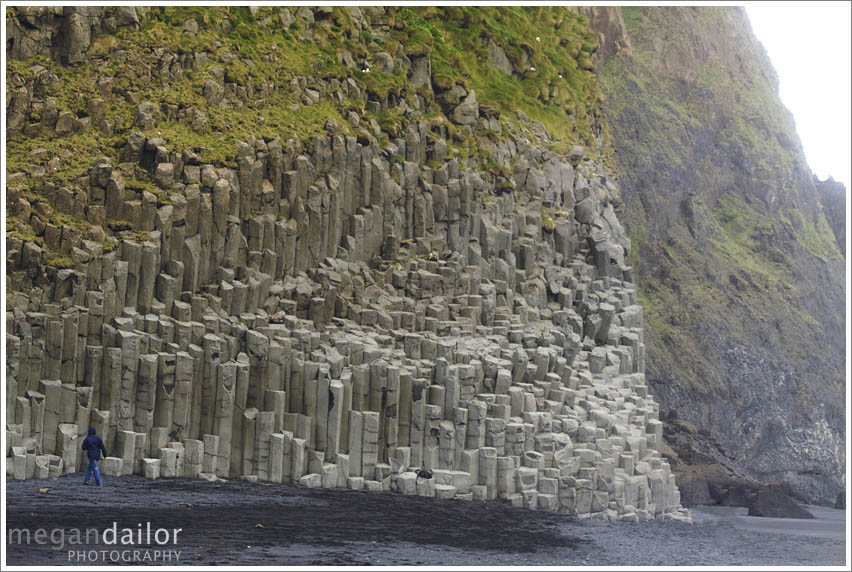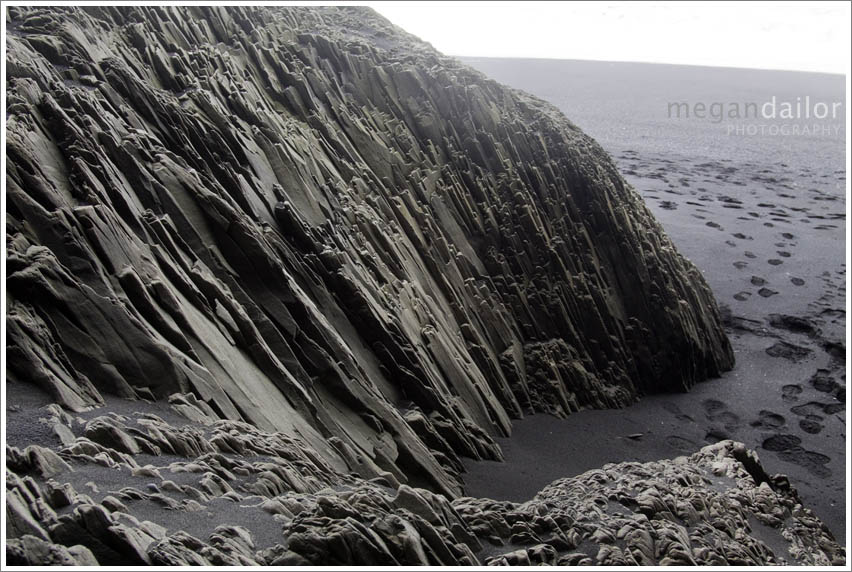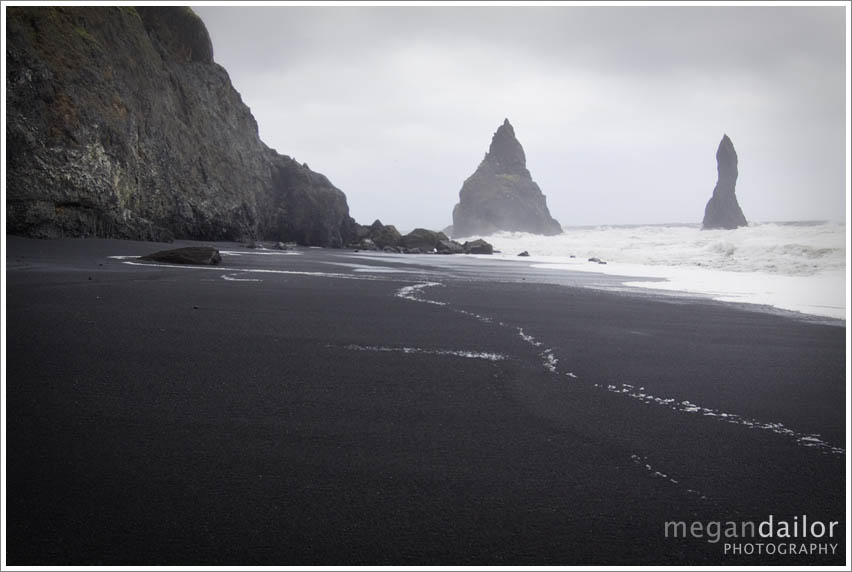 So cute!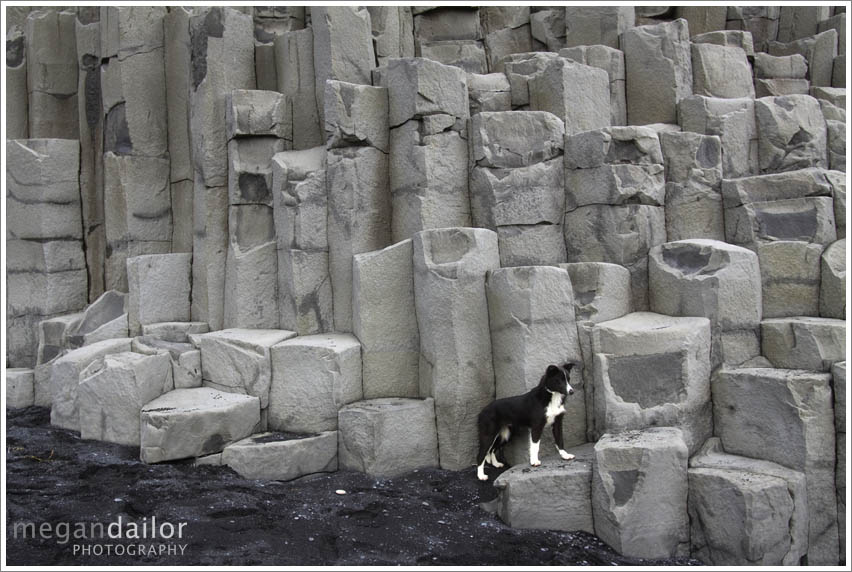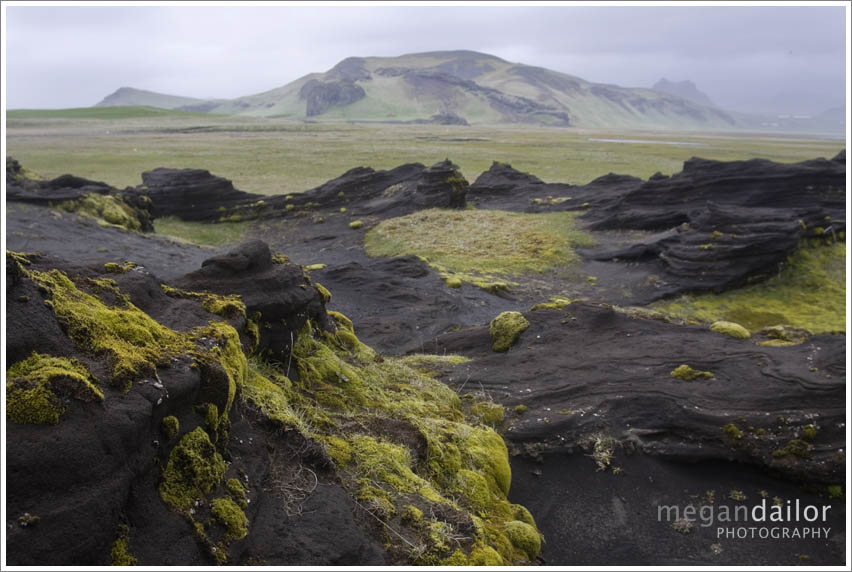 That evening I went out to the beach again to chill by myself, there were a few other people out there but it was pretty empty. I saw this cool white feather sitting on the sand and kicked myself for not bringing my camera (sometimes we just need time apart!) but when I went back out the next morning it was still there!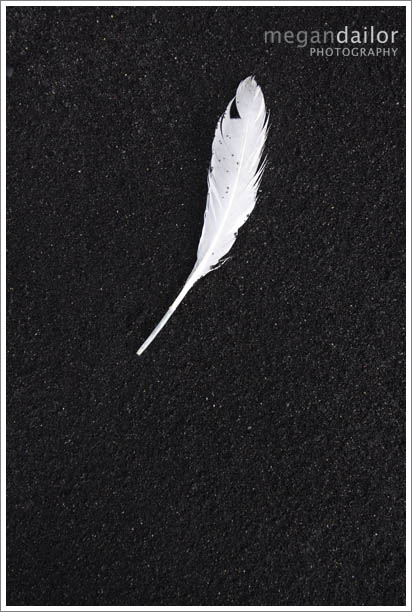 The beach looked really different with brighter skies, too.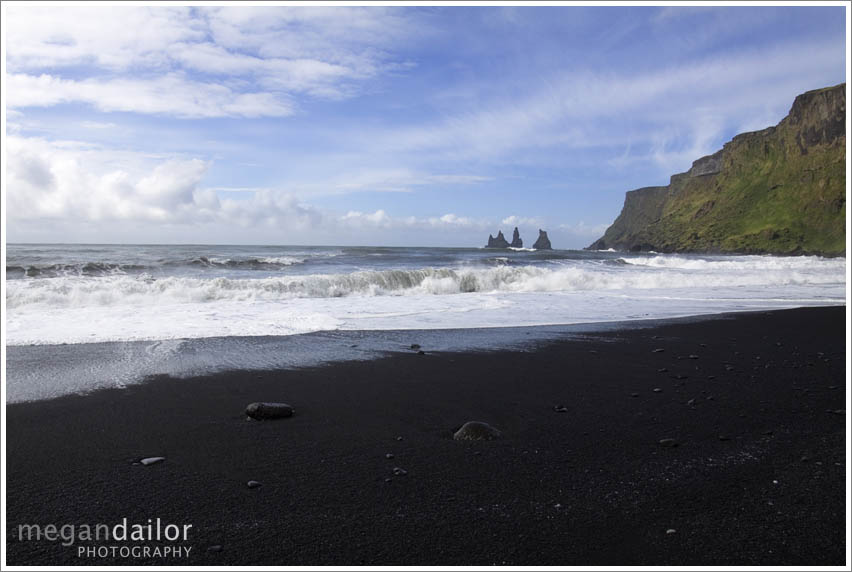 Then we headed back to Reykjavik, and stopped at SKOGAFOSS (say it, it's super fun.)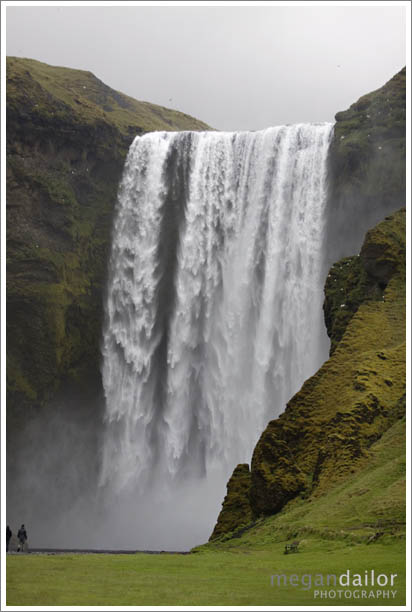 I got drenched and was afraid of returning Gunnar (the car) with a butt print in the driver's seat.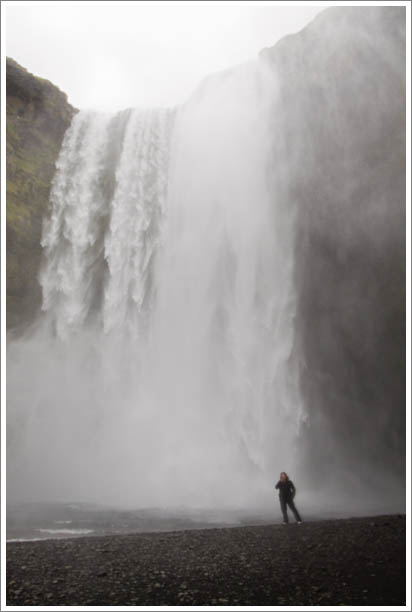 The next few days we spent walking around Reykjavik, and on my birthday we did the Golden Circle Tour, which was a lot of fun.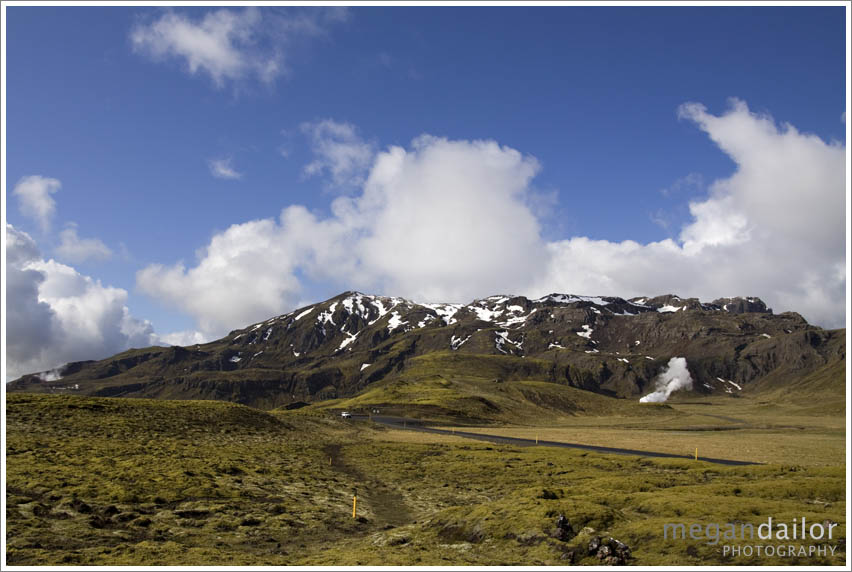 Thingvellir National Park, where Iceland's parliament was founded over 900 years ago!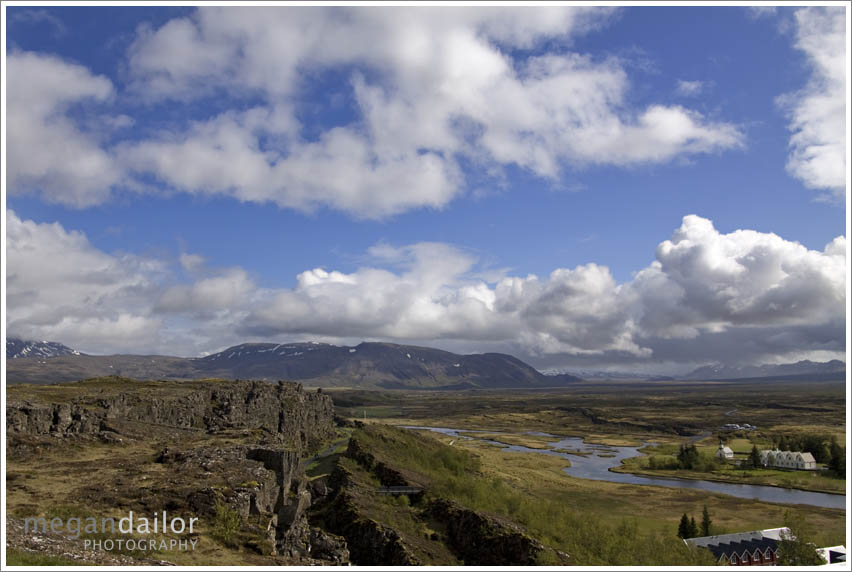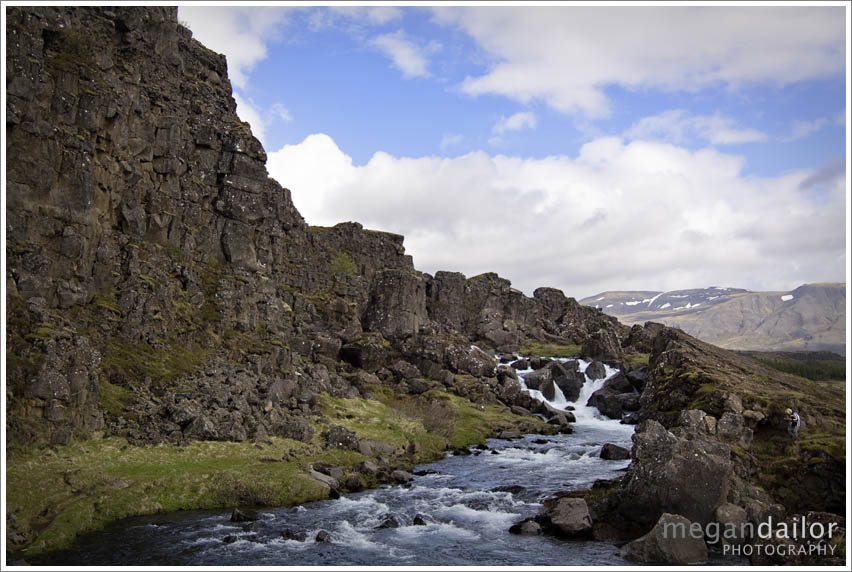 Gullfoss, the Golden Falls. Above the grassy rock on the left in the foreground you can see a dark rock outcropping... there are people on it! They're very very small, can you see them?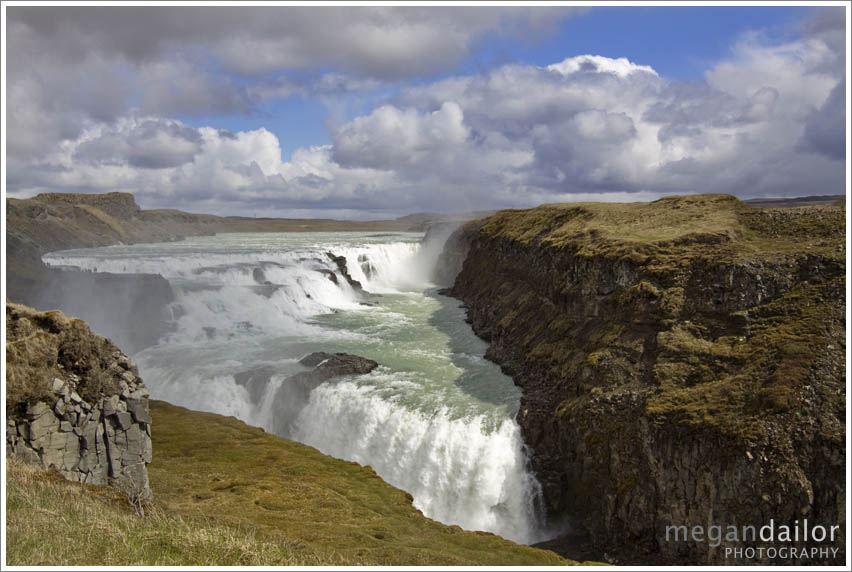 Then we went out there... it was pretty awesome.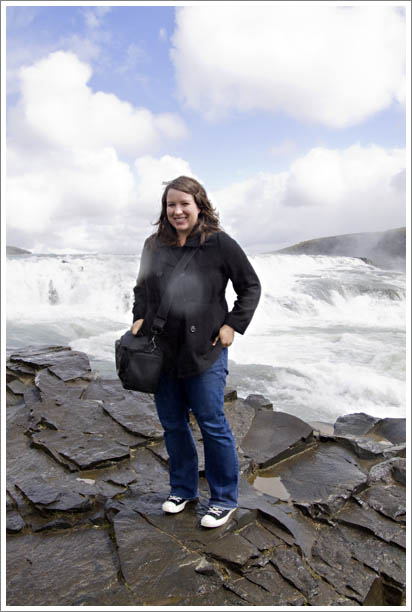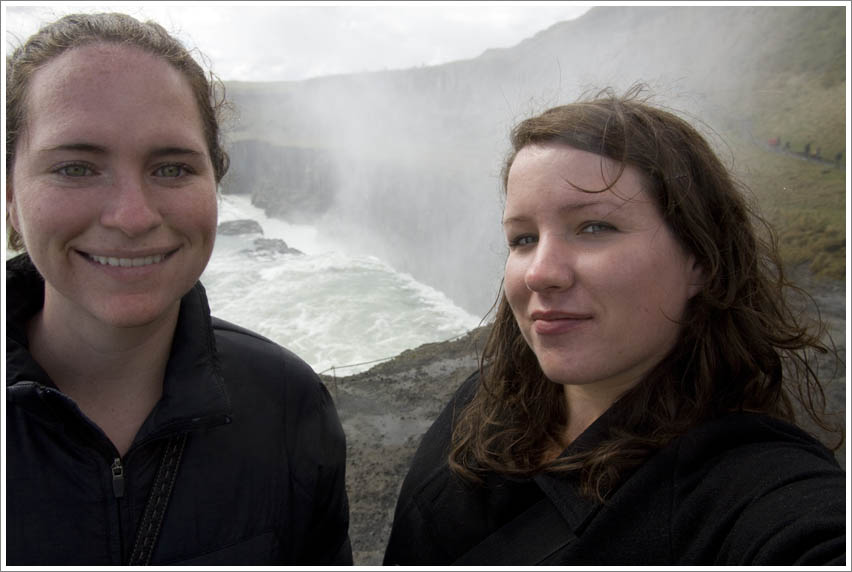 Then we saw some geysers... this one is Strokkur, but right next to it is the original that is named Geysir and that's where they term geyser comes from! It's inactive for now, but who knows when it'll wake up!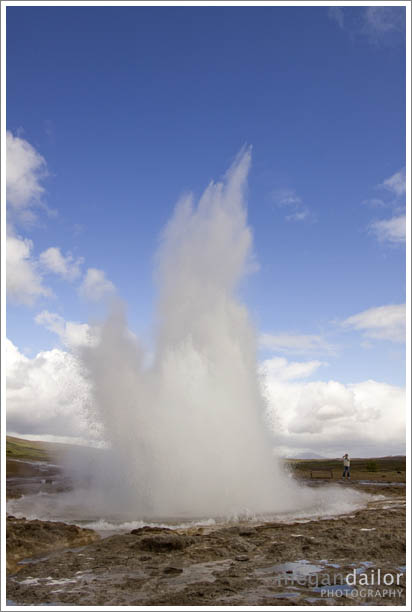 I'll try to figure out how to put the video on here! It was an amazing trip, I had a lot of fun with my cousin and the people couldn't have been nicer and the sights were beyond belief.
If you can make the trip, do it. It's fabulous.