A post for Project 2996, dedicated to remembering individual victims of September 11th, 2001.
Robert Errol Russell, Sr.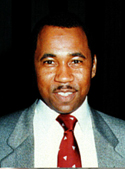 I think my favorite thing, reading about Robert Russell, is the story of how he met his wife at her surprise 16th birthday party. Teresa walked in to her house to see a stranger thumbing through her records, and she asked what he was doing... without skipping a beat, the young man put Smokey Robinson's "Ooo Baby Baby" on the record player and replied, "I'm dancing with you."
Four years later, Robert and Teresa were married.
Robert seemed the definition of a renaissance man- 23 years of active service in the Army as a Sergeant Major (with tours in Germany, Korea and Belgium) two college degrees, budgetary analyst at the Pentagon, remodel-er of a seventeen room historic mansion for his family, and most importantly... a loving father, husband, brother and son.
Oh, and then there was the cooking. Robert's unparalleled culinary skills had people flocking to the Russell home in droves for a chance to enjoy his cooking, and who could blame them when his specialties included Hershey Pound Cake and pineapple ice cream?
The list of people touched by Robert's death can't be quantified, though you can get a sense of how long it is by reading guestbook entries at Legacy.com from coworkers, childhood friends and even complete strangers. His incredible legacy of love, kindness, cooking and laughter will endure, and my thoughts are with Teresa and his children, Cydne, Robert Jr. and Valerie. It was an honor to learn just a bit about this great man.