Bear Ridge Destination Wedding
Emilee and Suzie are just so good together. They are playful and silly and sarcastic and so romantic. This wedding was a celebration of all of those things and more- it was emotional and heartfelt and giddy and an absolute delight. Their wedding was out in Clymer, NY- almost to the PA border, at a new and beautiful venue called Bear Ridge Destination. It is a very grand, Amish-built barn with gorgeous chandeliers (and, most important of all, lol- air conditioning.) The grounds are gorgeous, too!
An epic wedding dresses shot for an epic wedding!
Emilee is such a warm and kind person and was such a puddle of emotions (mostly tears) all day, it was so so cute!
Suzie and Emilee's first look was beyond adorable, those reactions!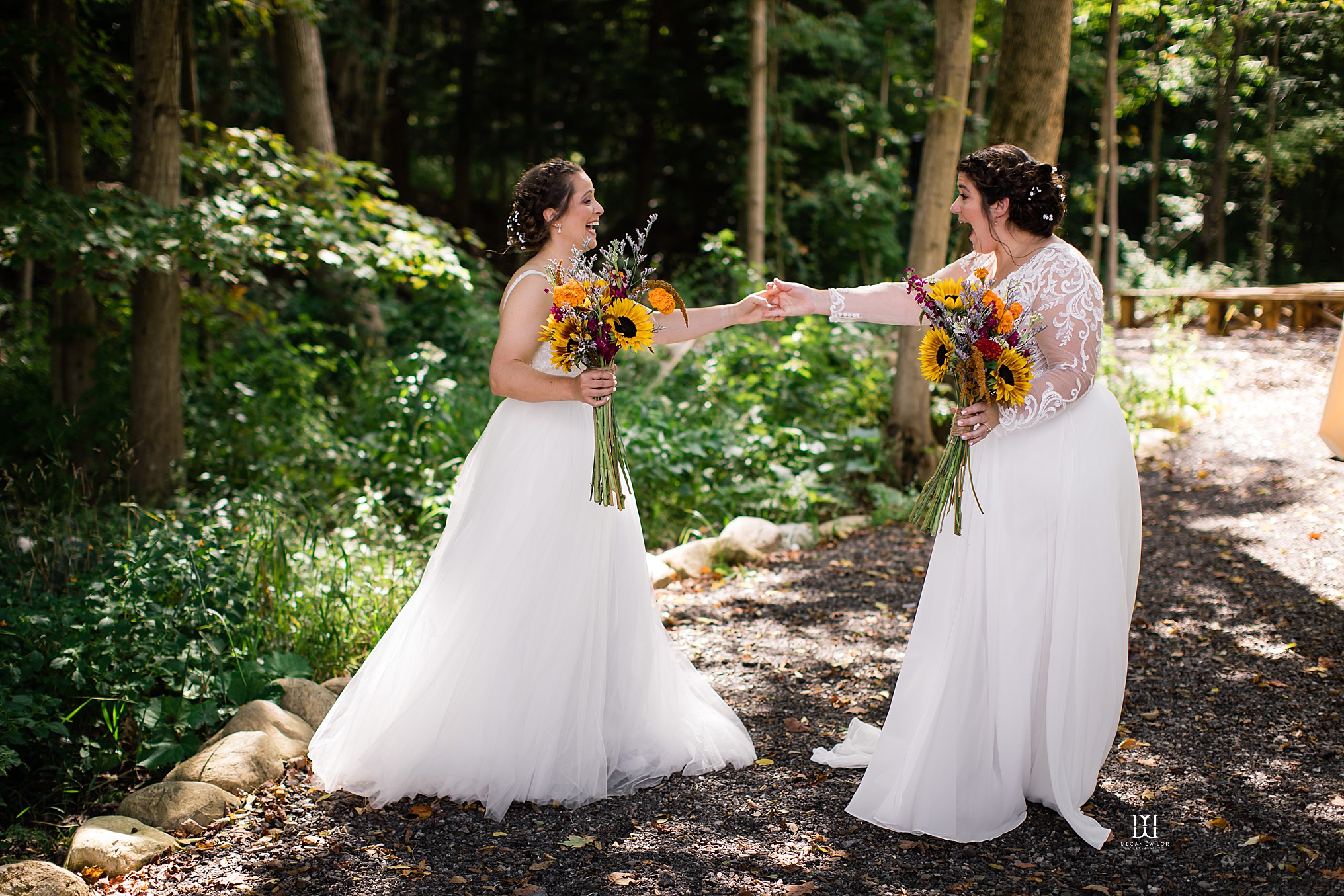 And some more Emilee tears, you know I love 'em.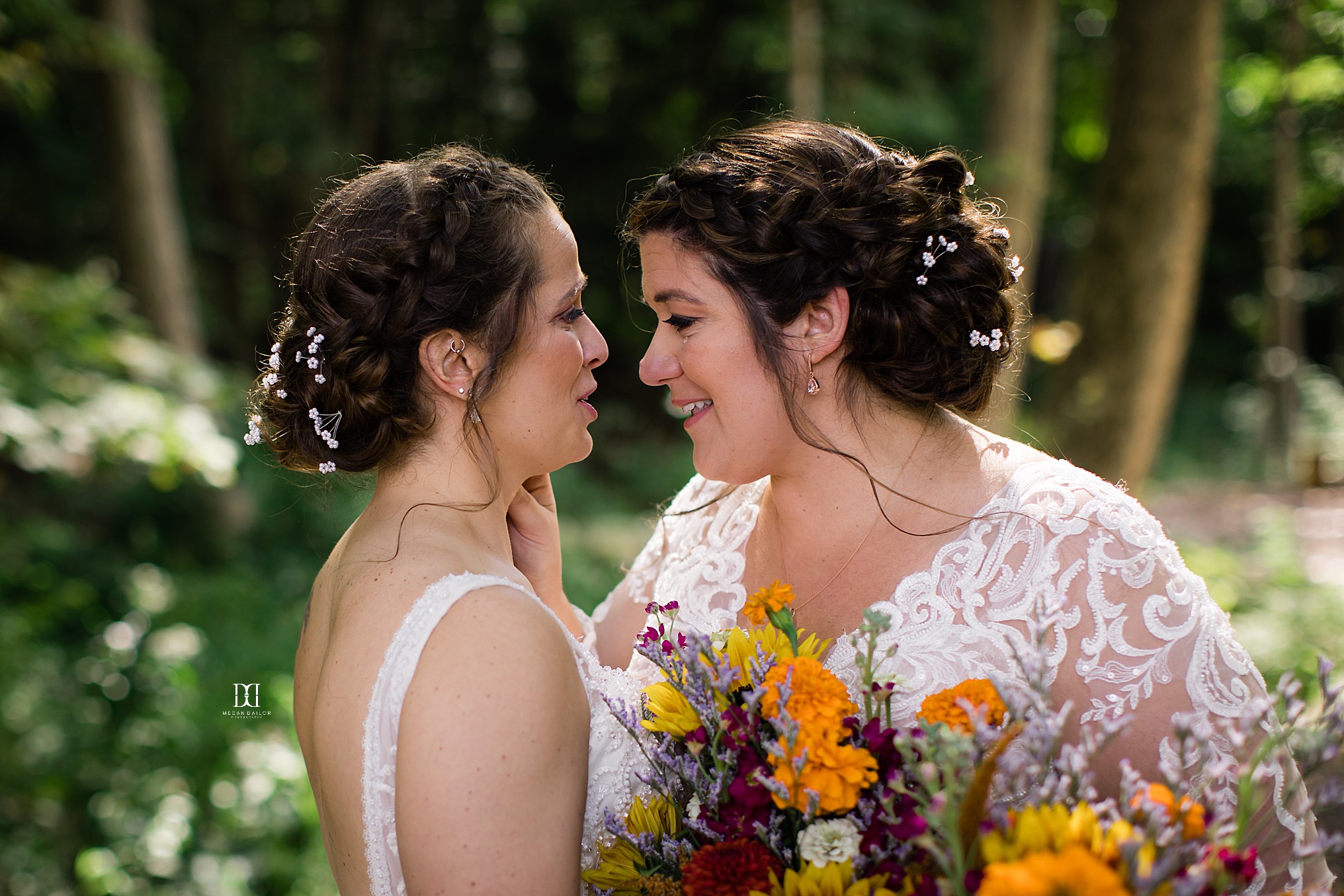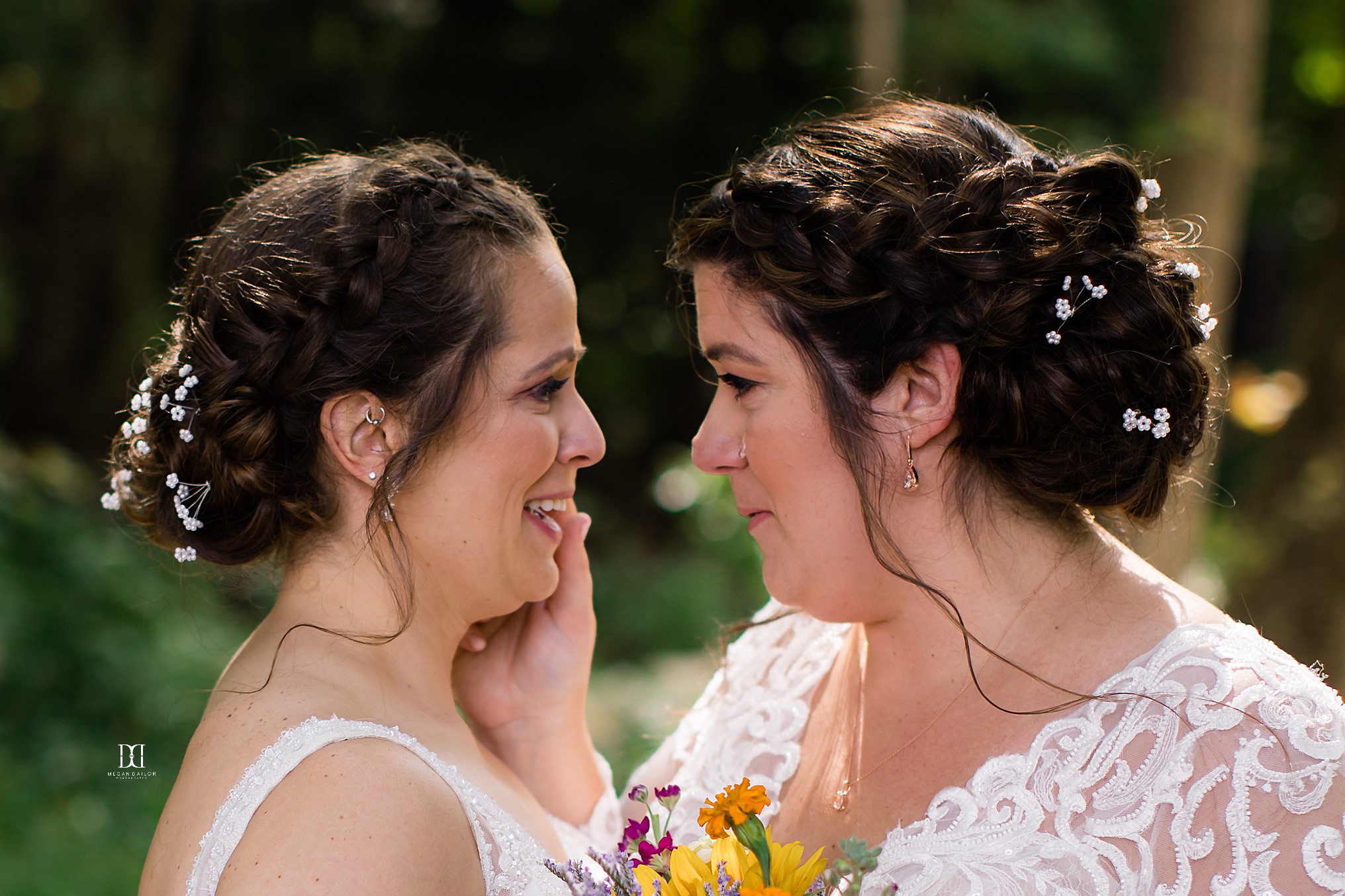 Suzie's little happy dance was so hilarious.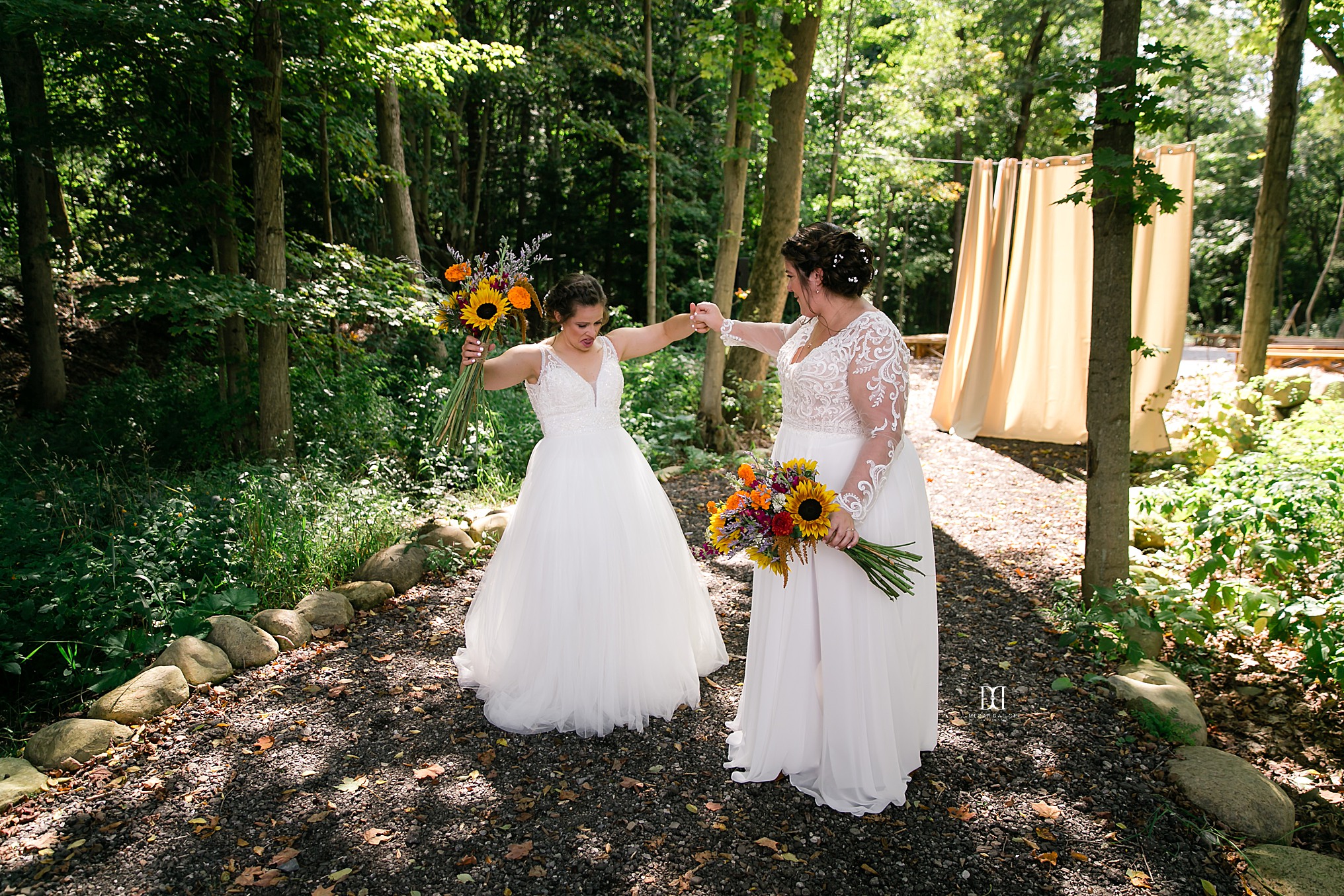 So much family love on this day. Emilee's first look with her dad was so precious.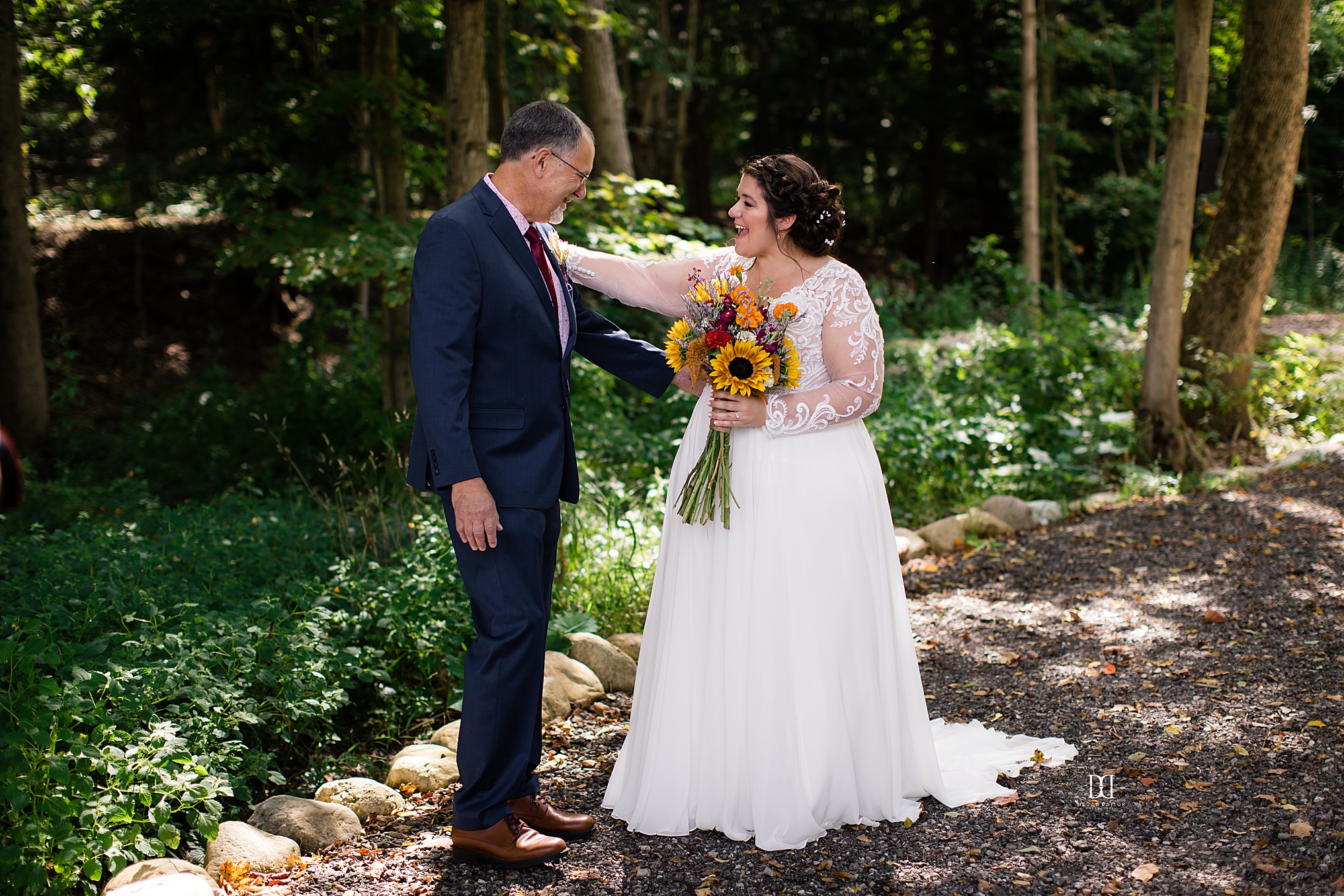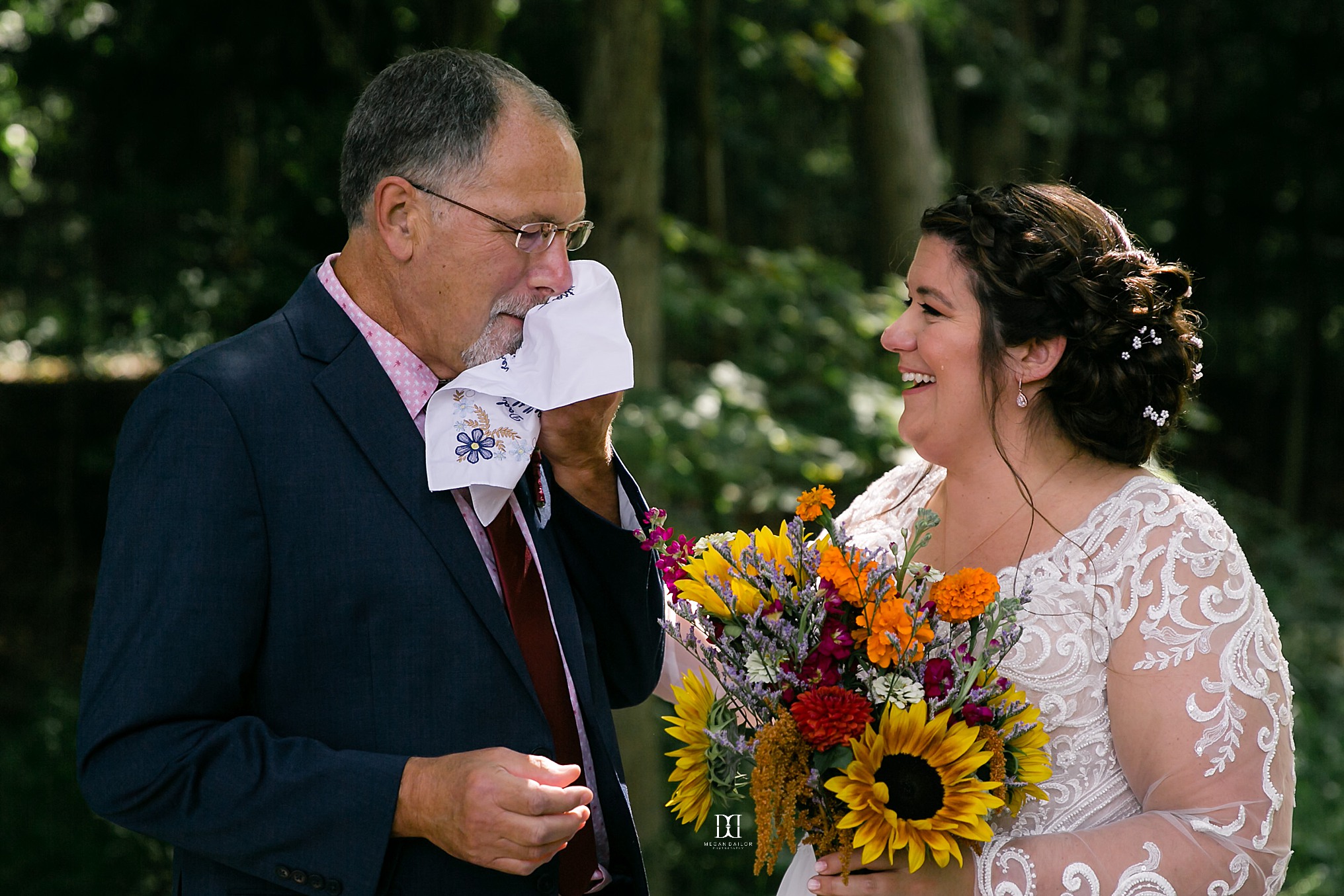 As was Suzie's. These fathers of the brides were so blown away by their gorgeous daughters.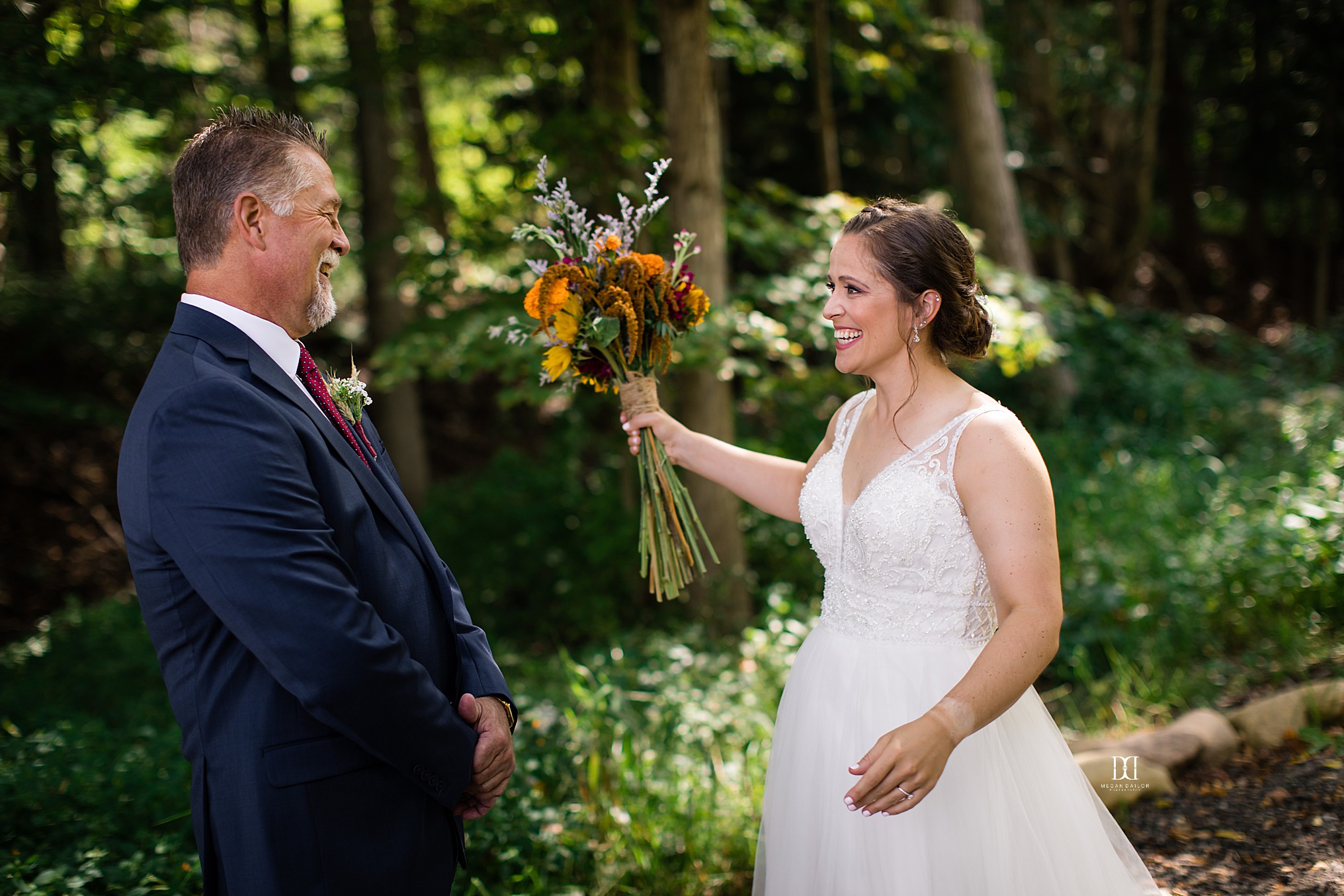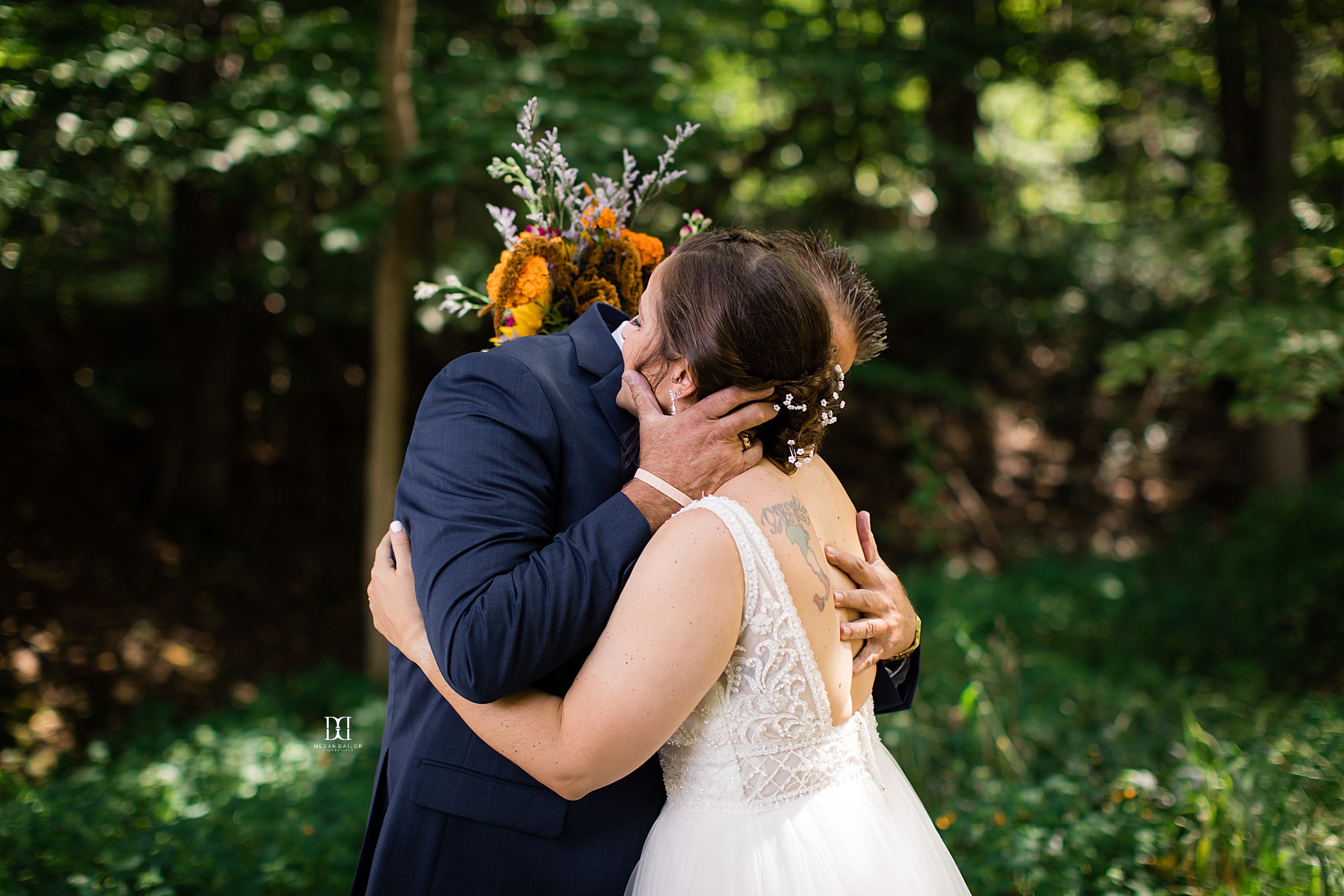 Portrait time was an absolute blast. They are so fun and funny and affectionate, it was so delightful to photograph their love!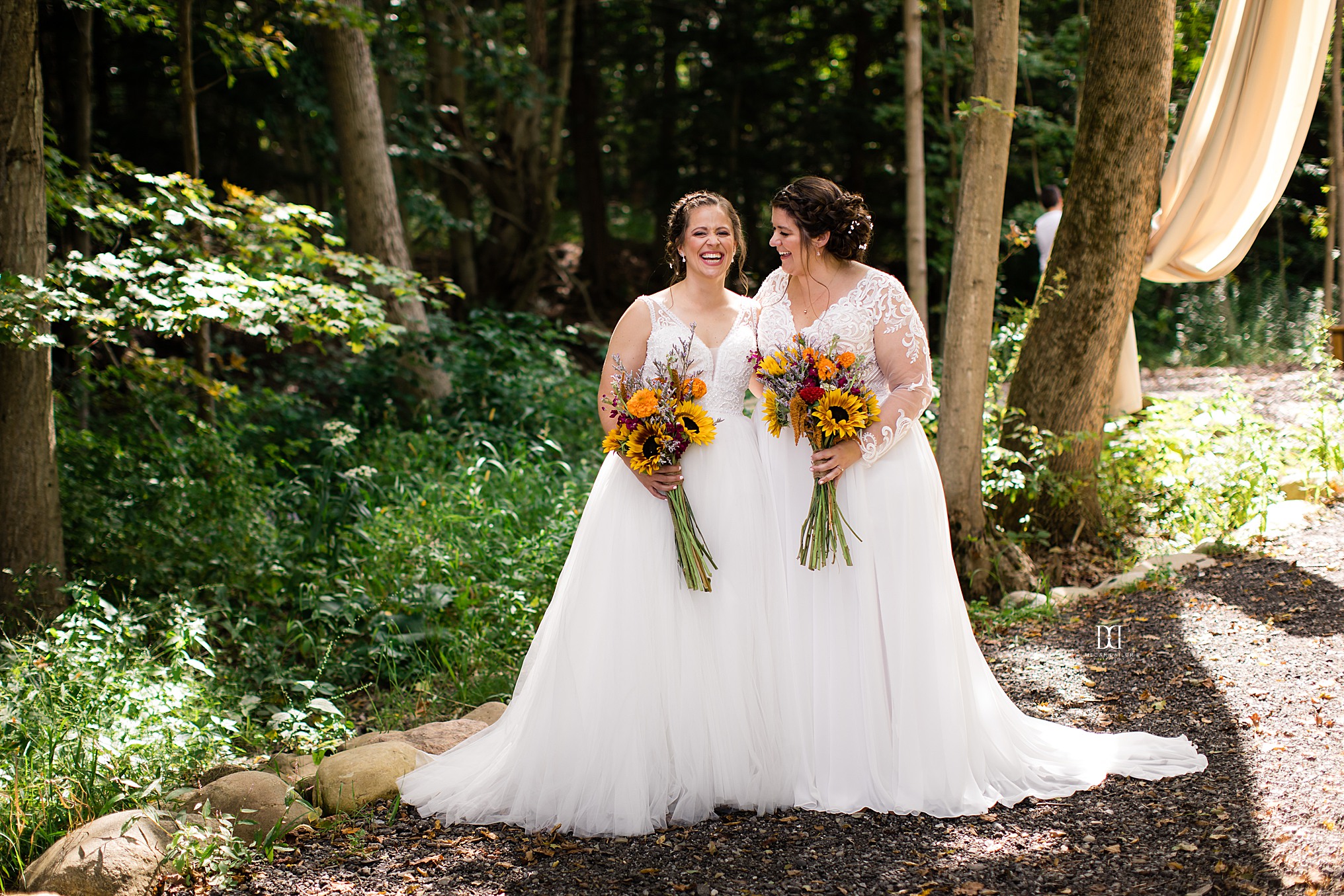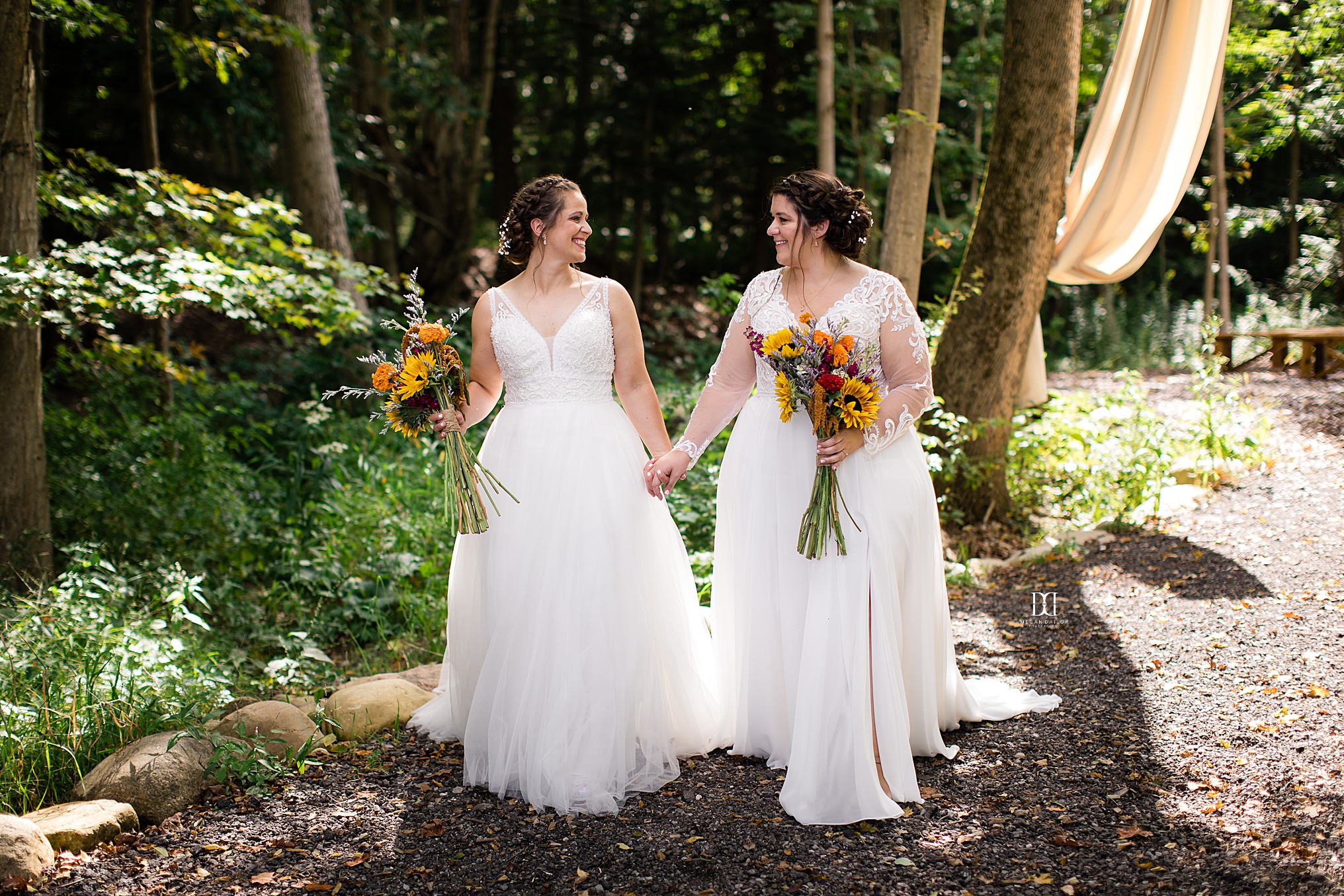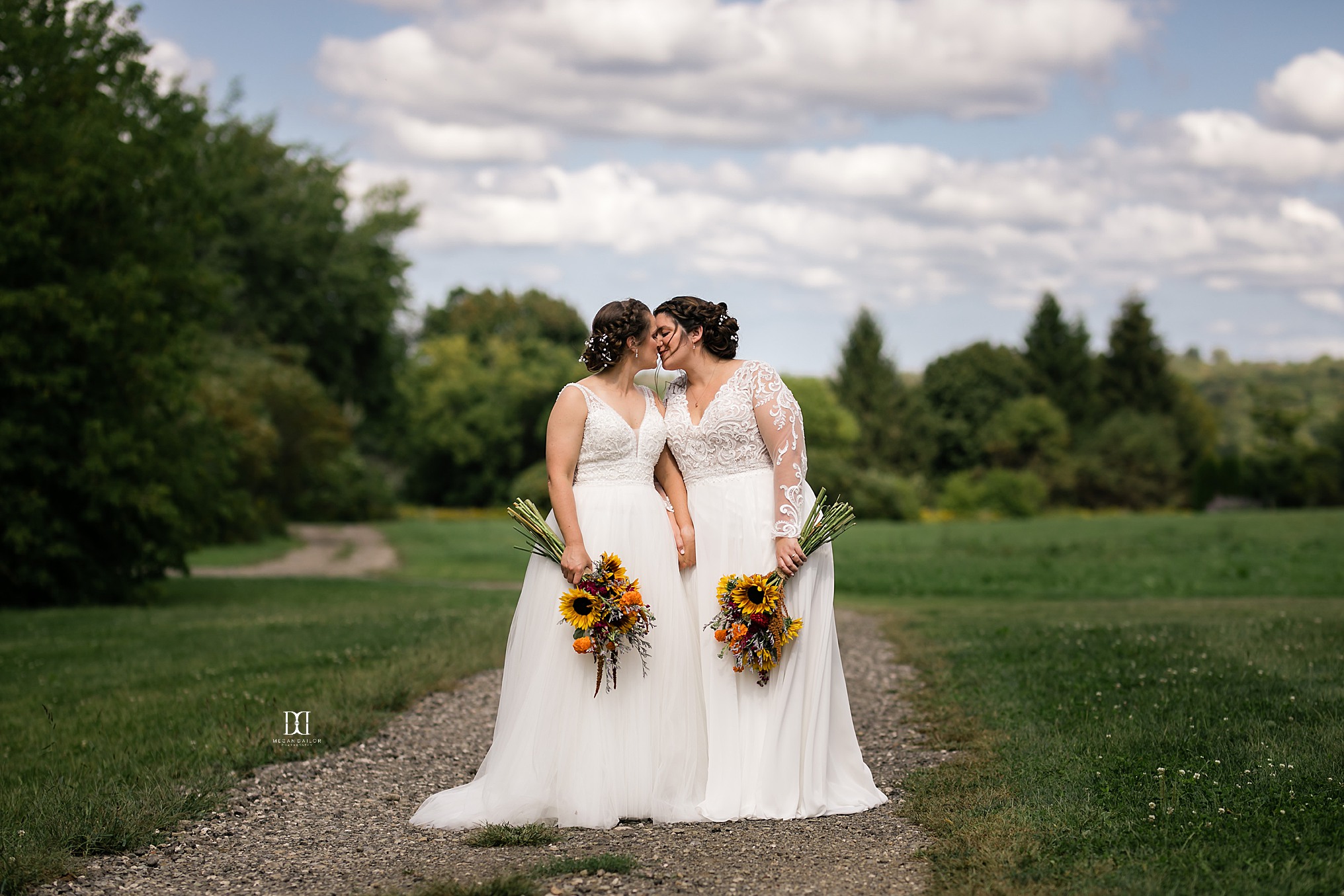 So romantic.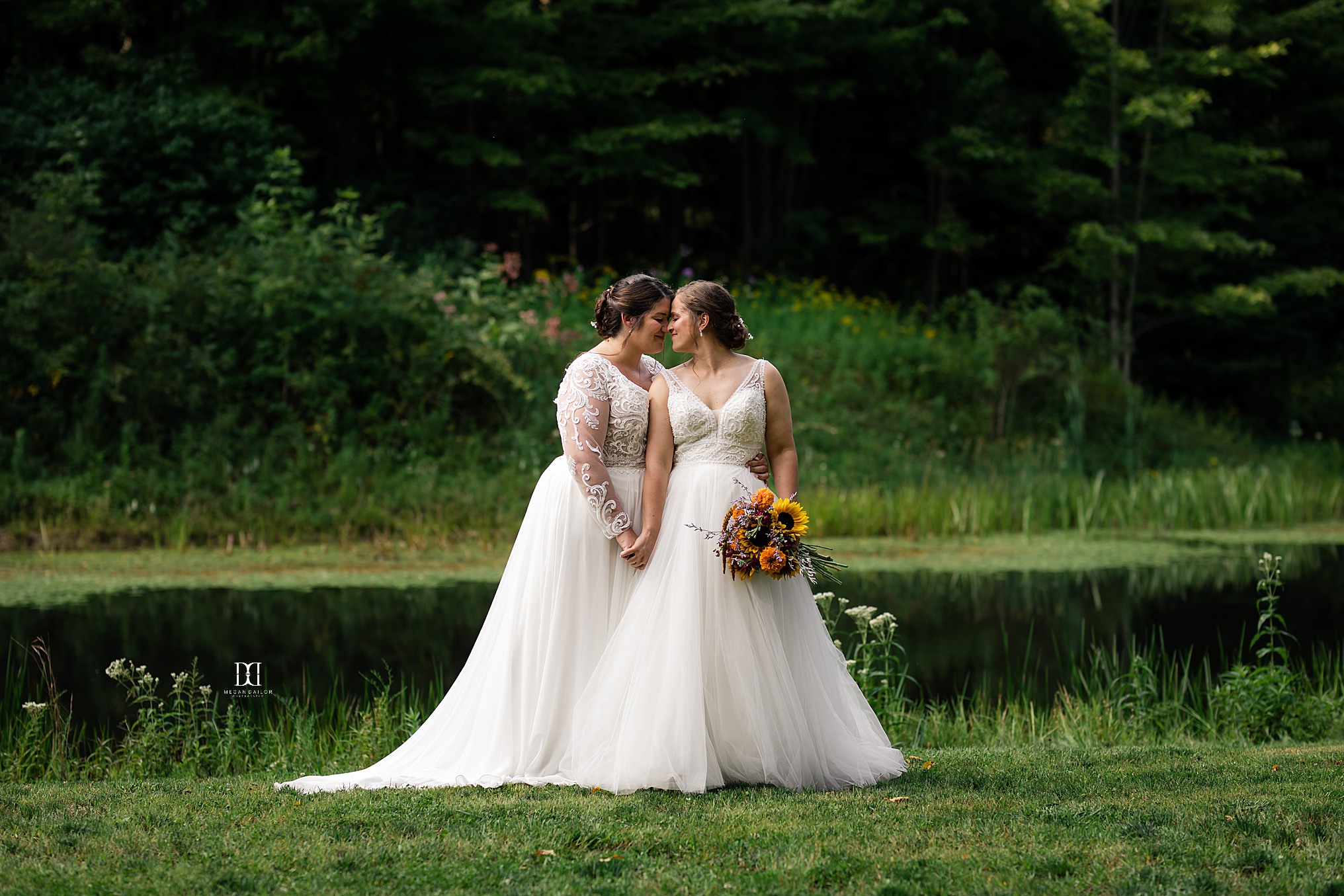 Woot woot we're about to get hitched!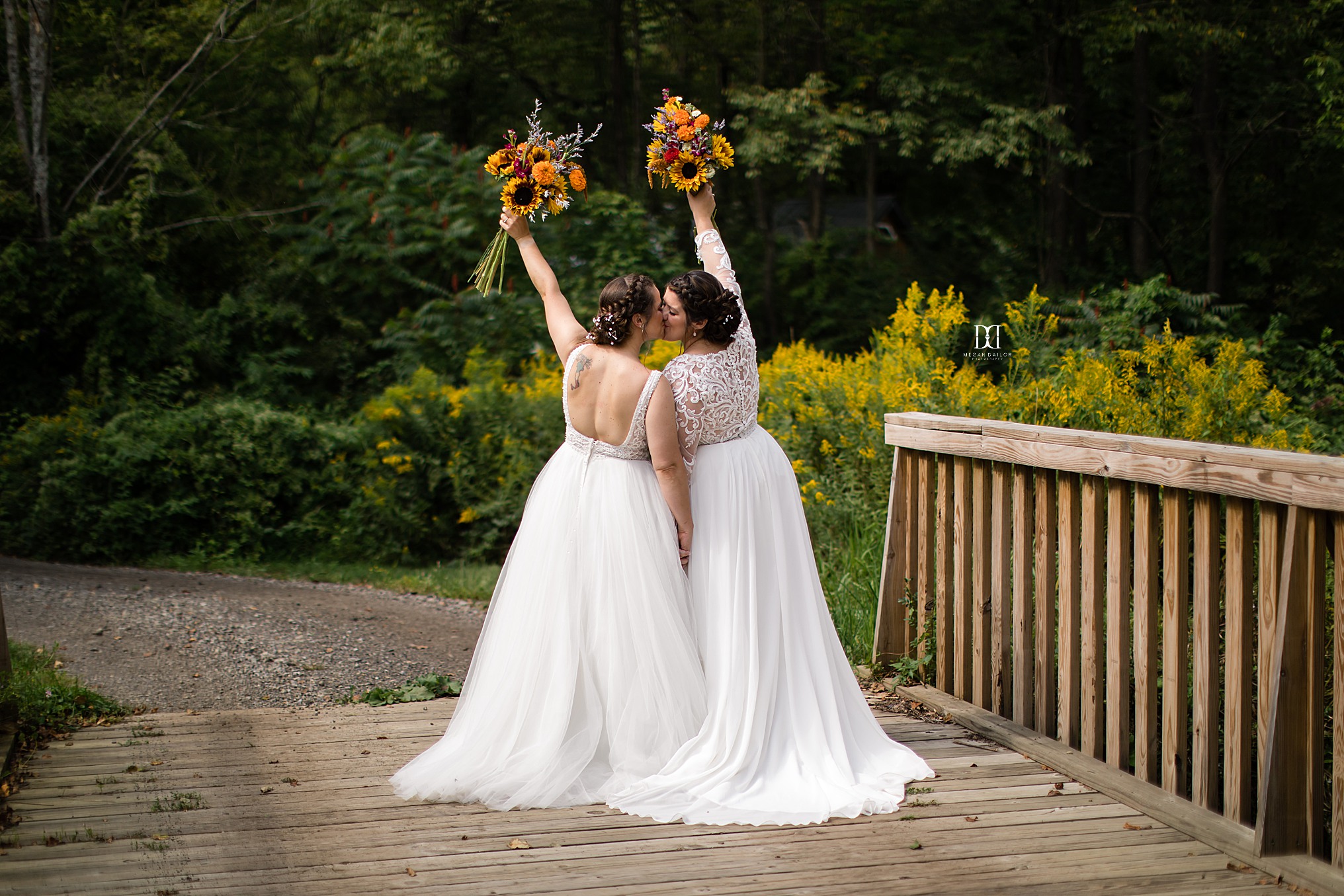 Hannah at Beyond the Barnyard Flower Co created two similar but unique bouquets that fit together into one big bouquet, which is the best idea ever!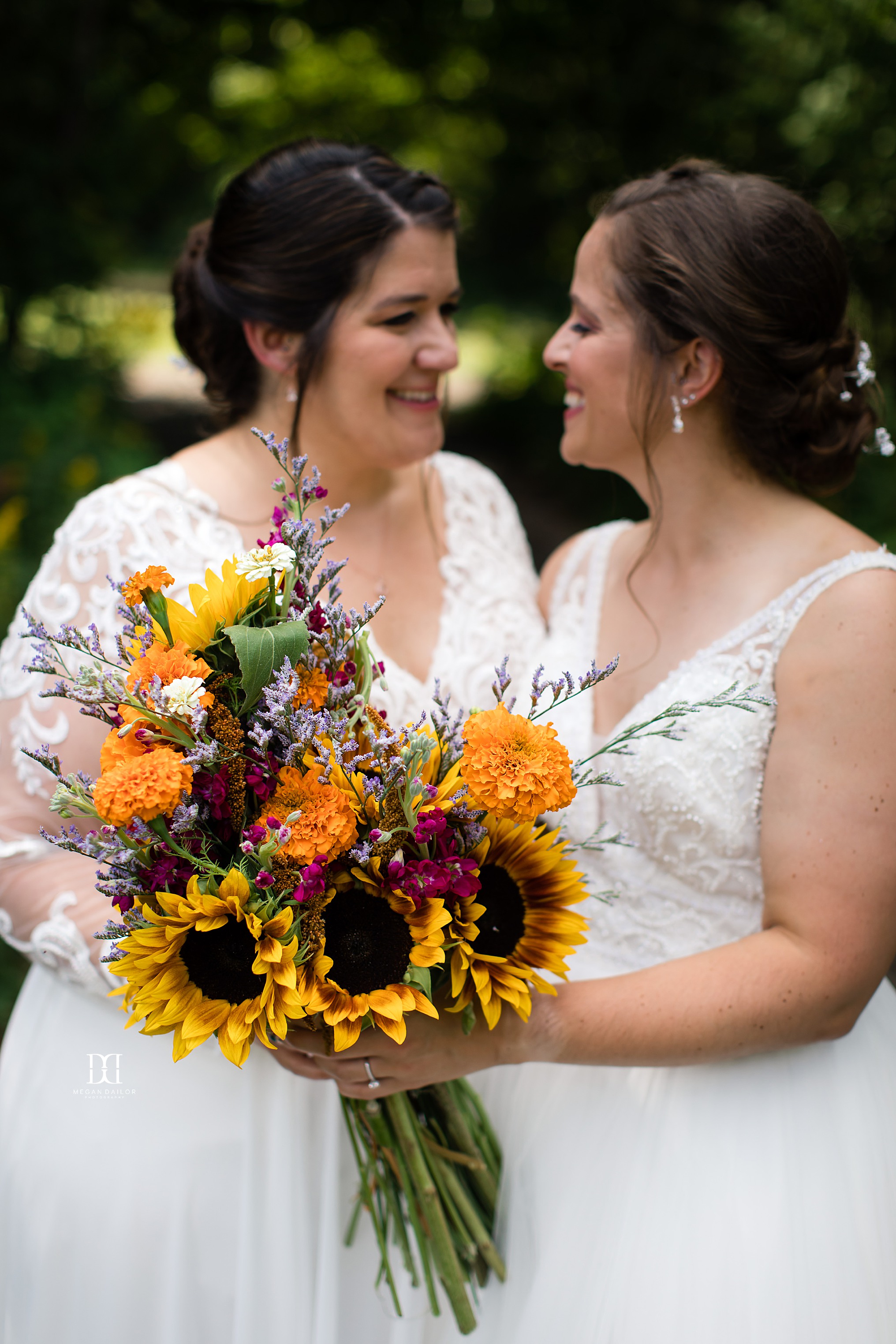 The "not wedding party wedding party" looking fire.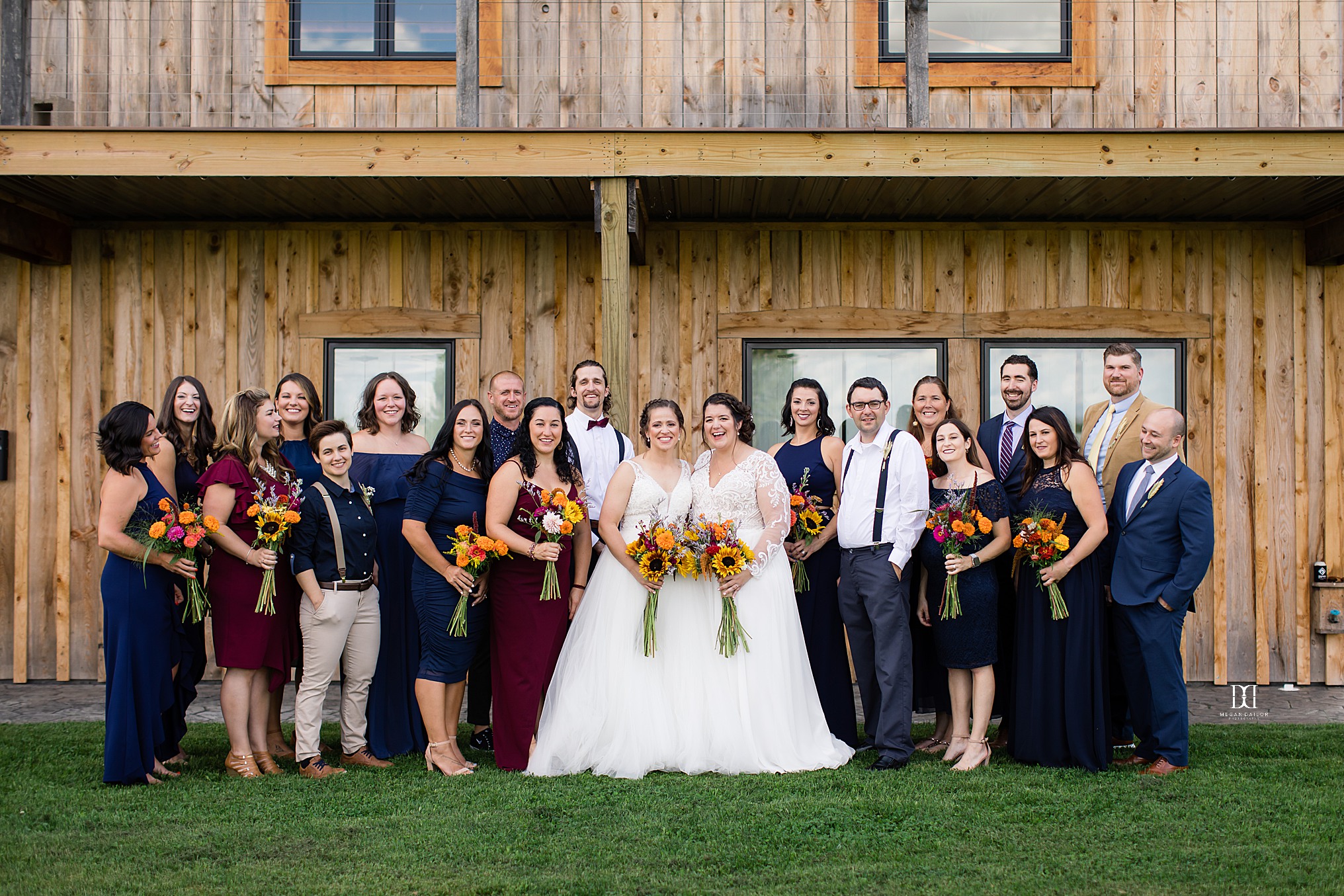 Bear Ridge Destination is so pretty! Grand ceilings and chandeliers with a rustic feel. Everything came together beautifully thanks to Perfect Pear Events!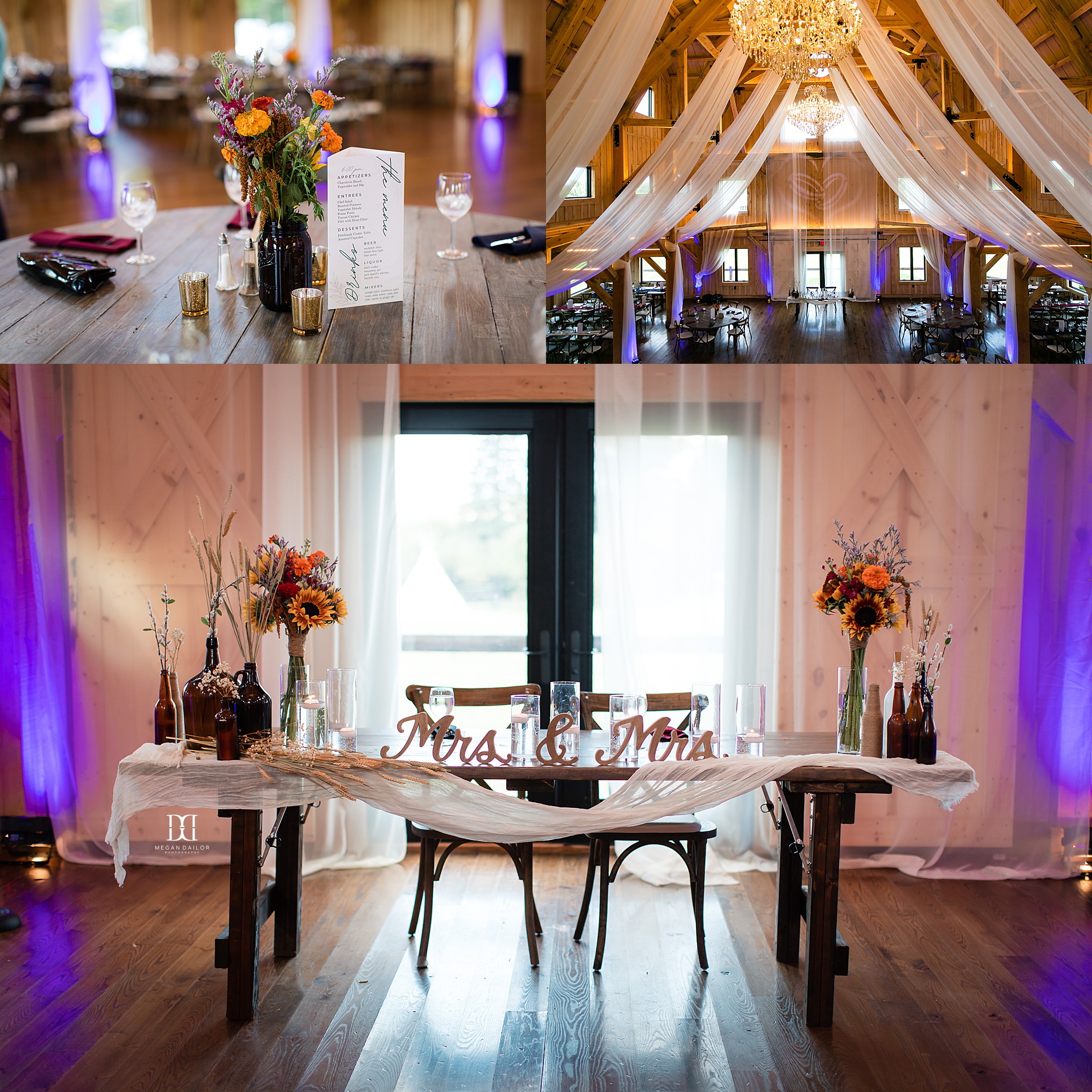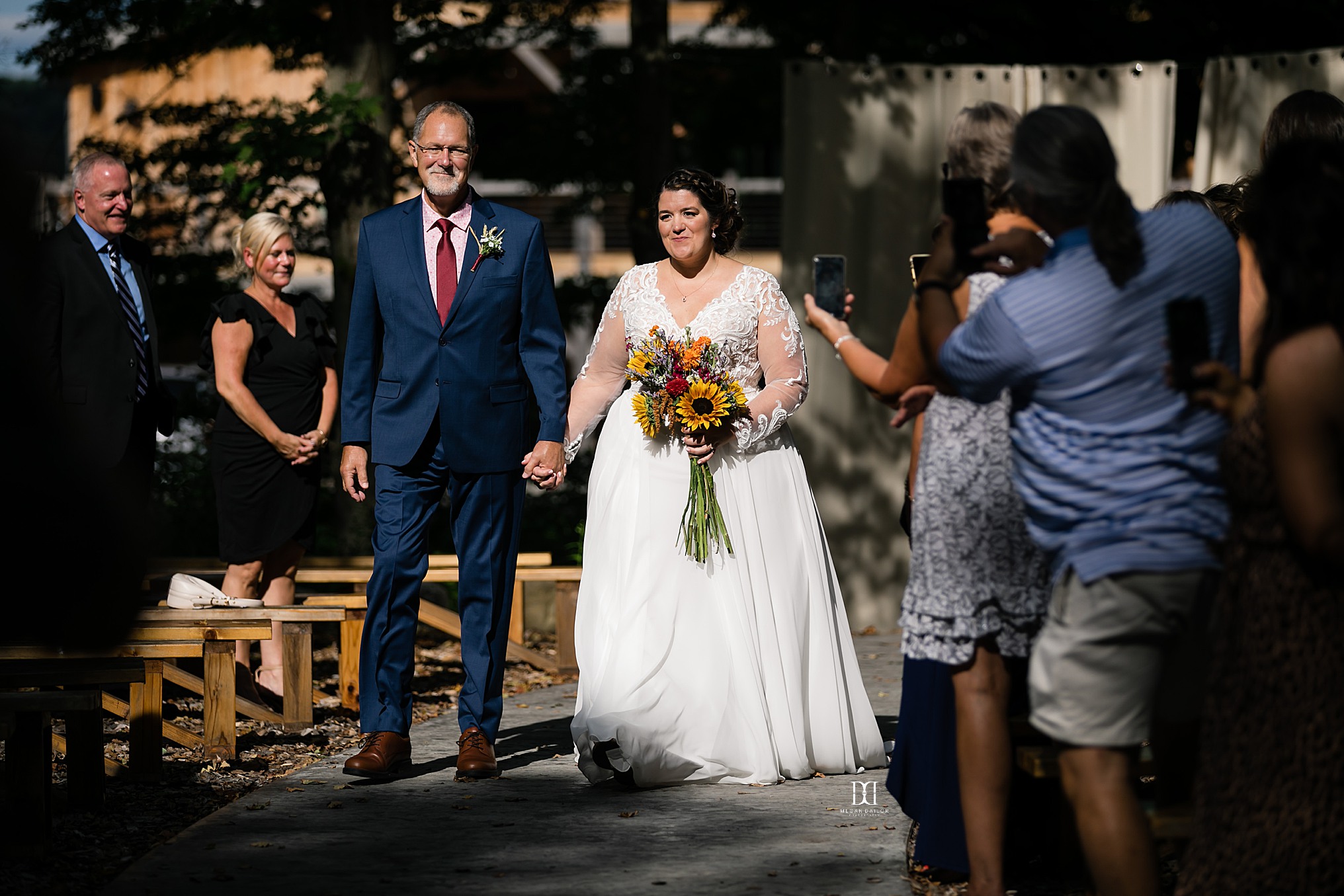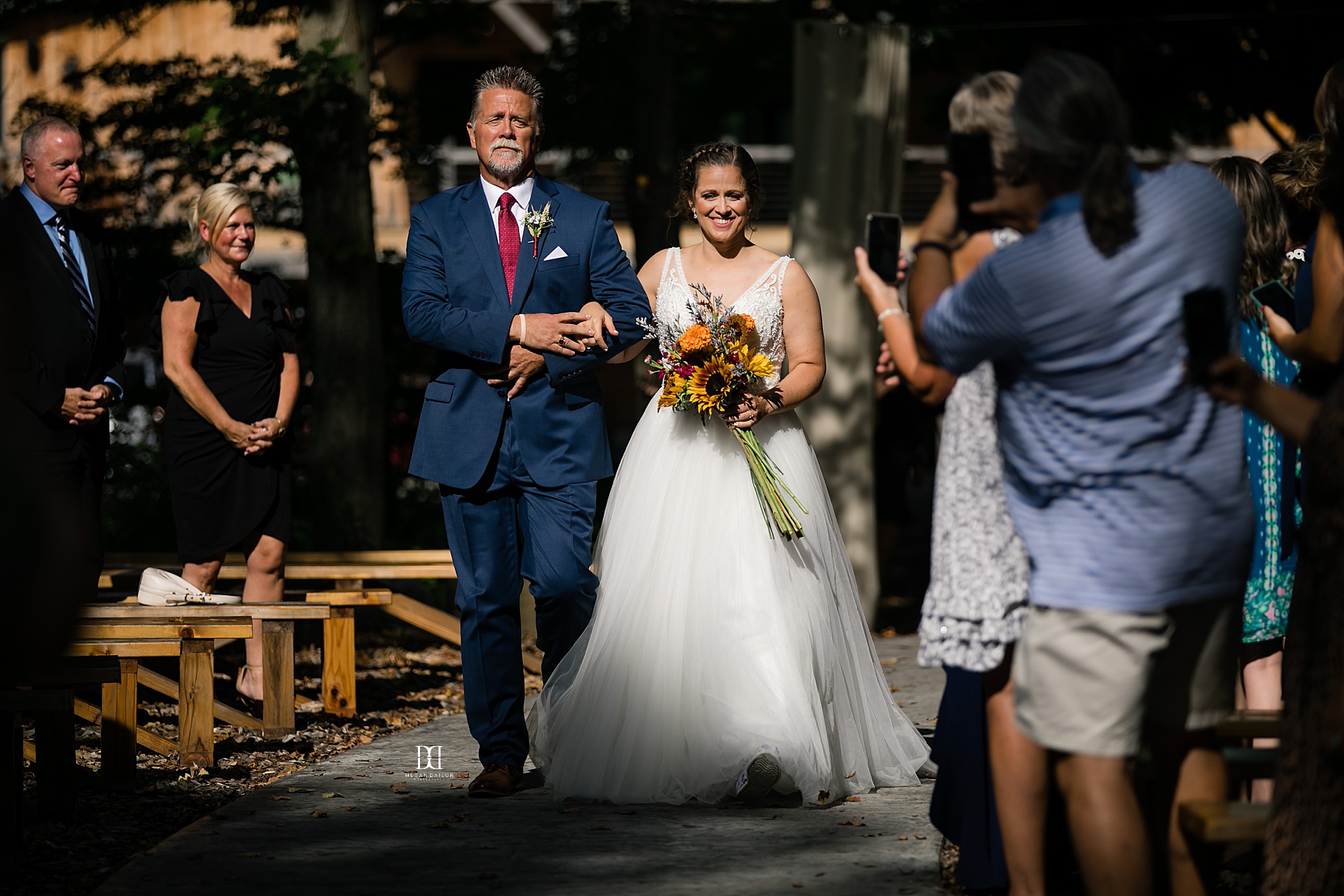 A Bear Ridge Destination wedding has a few options for ceremony locations, this wooded spot is so magical.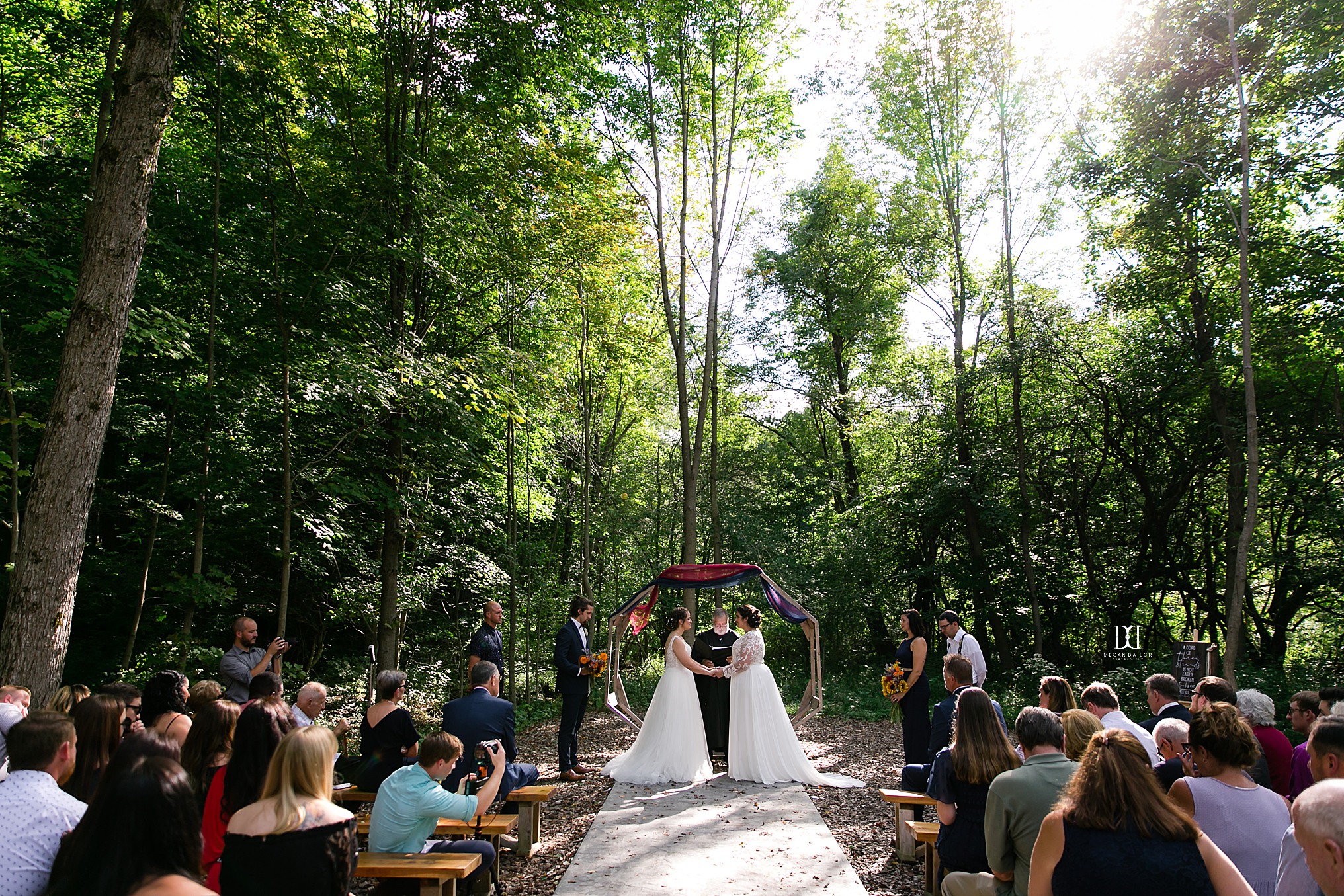 Happy tears <3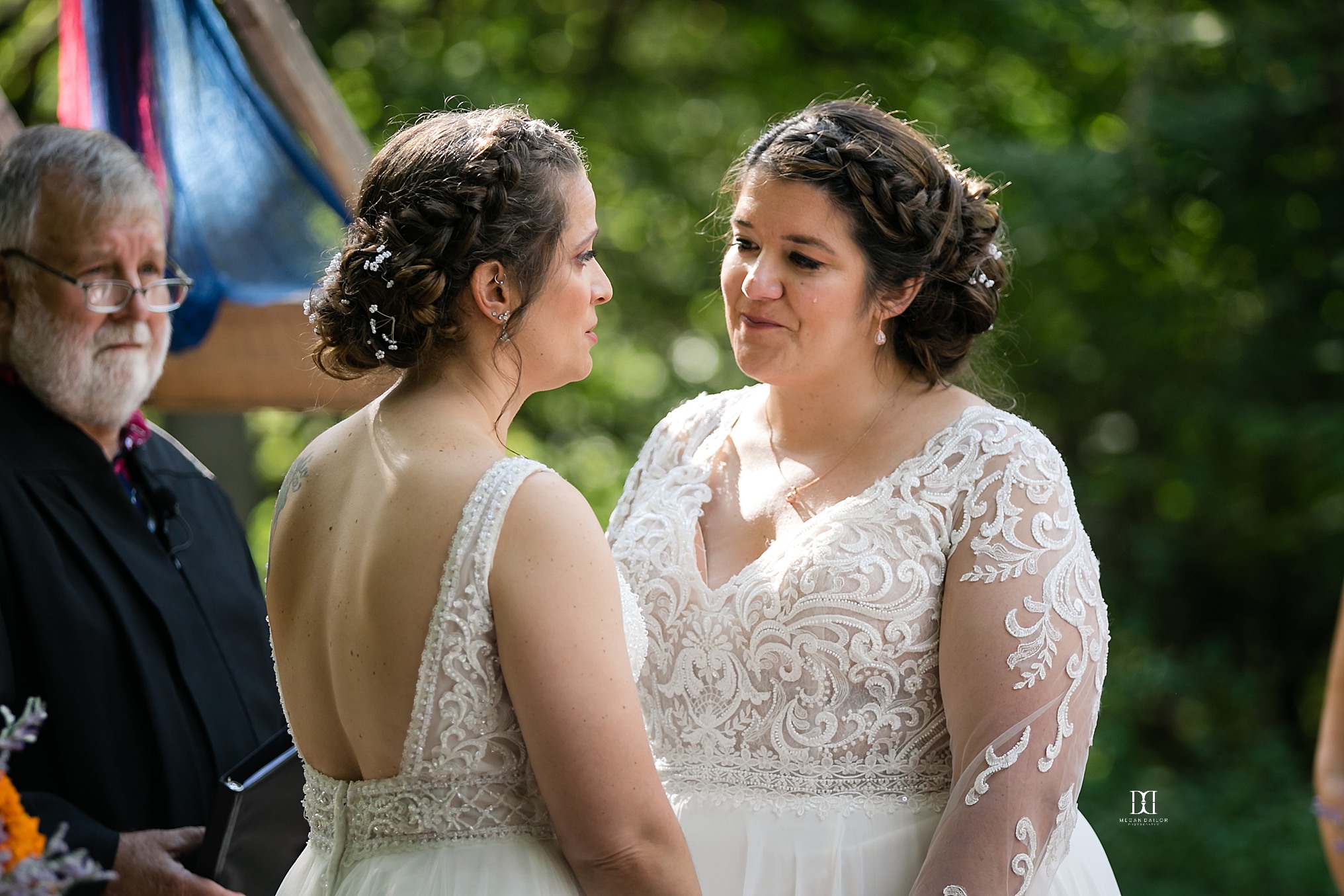 And Suzie trying to keep those tears from spilling over.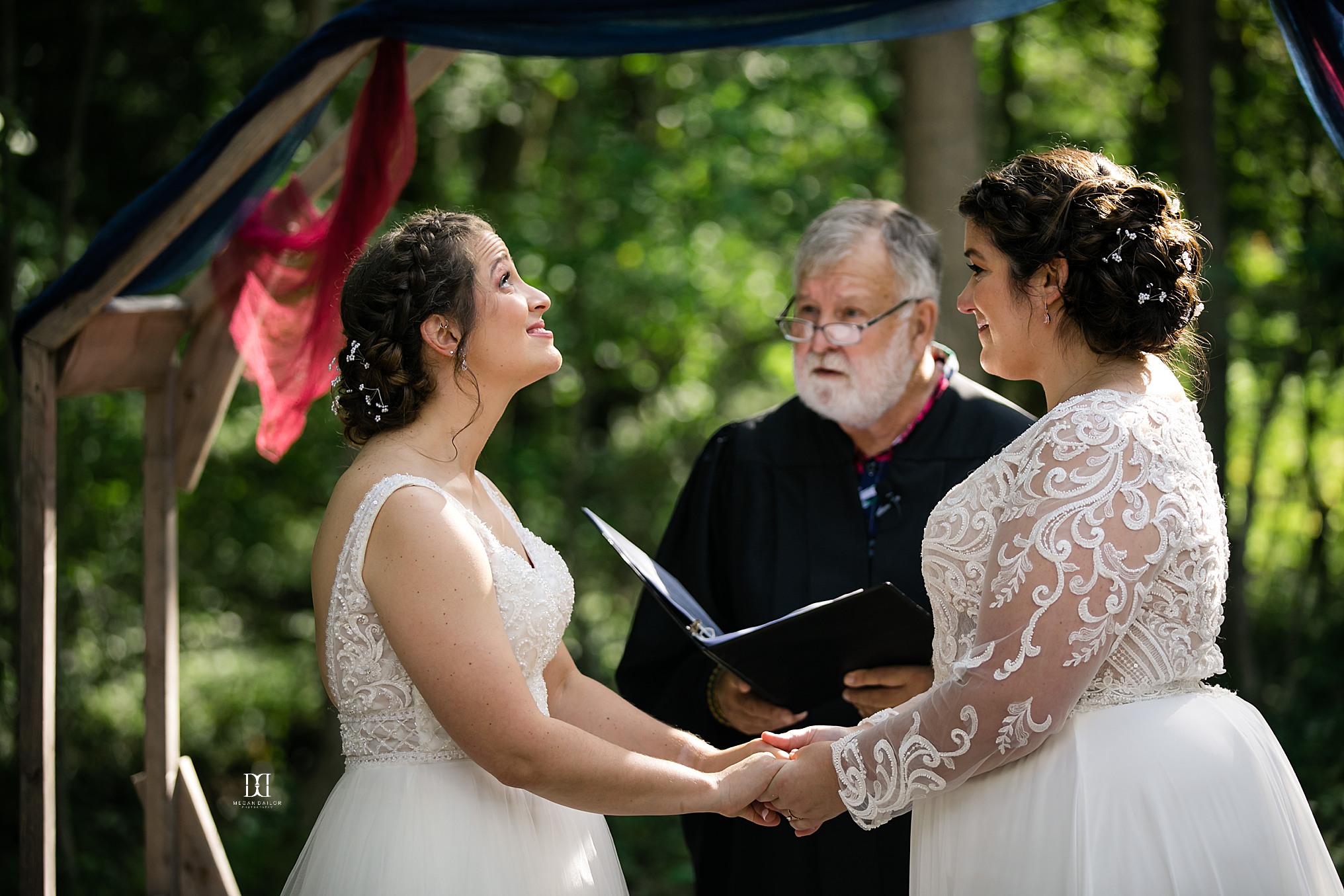 The ceremony was so sweet and had so many hilarious moments, it was perfect.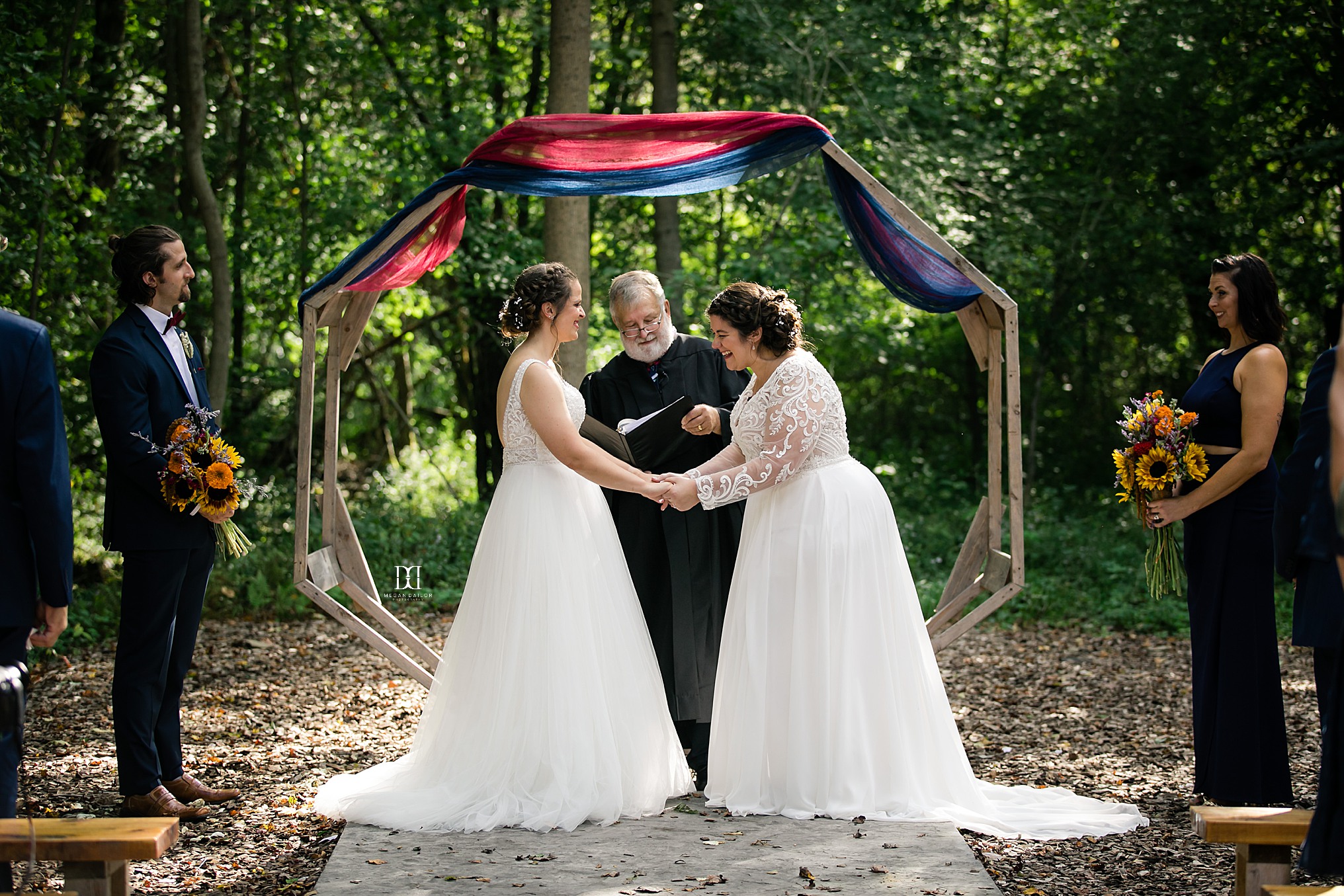 Mrs & Mrs!!!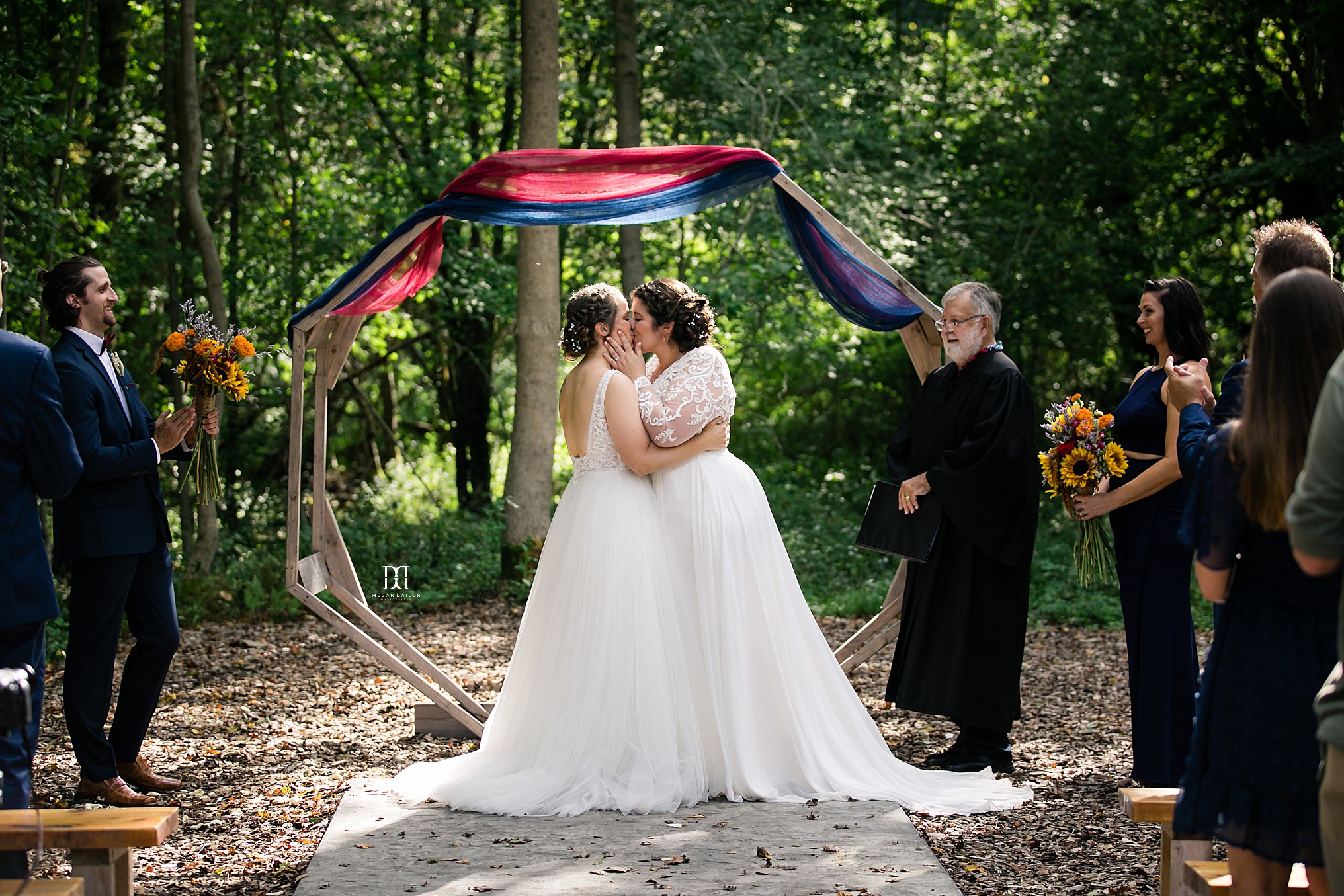 The joy of this embrace...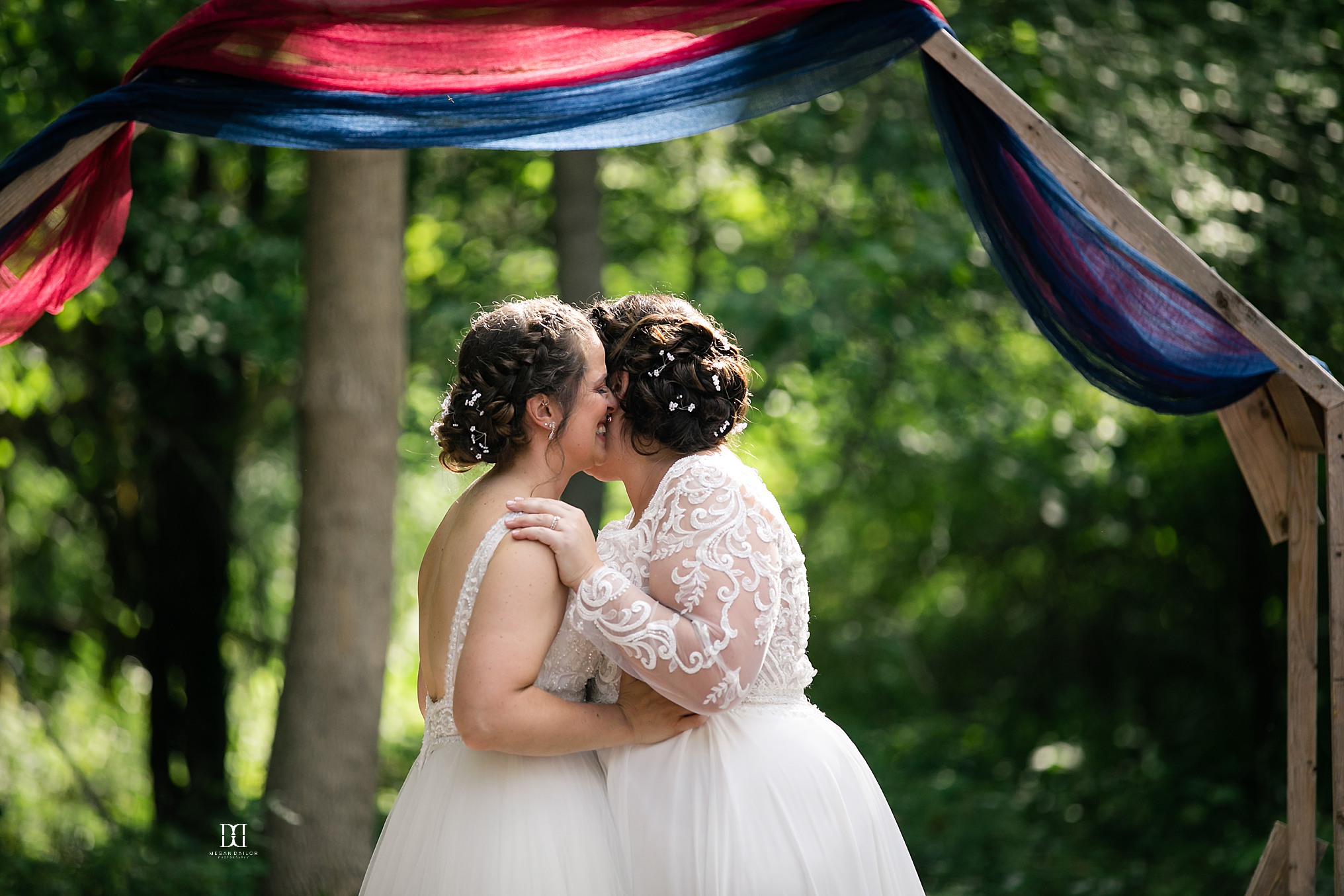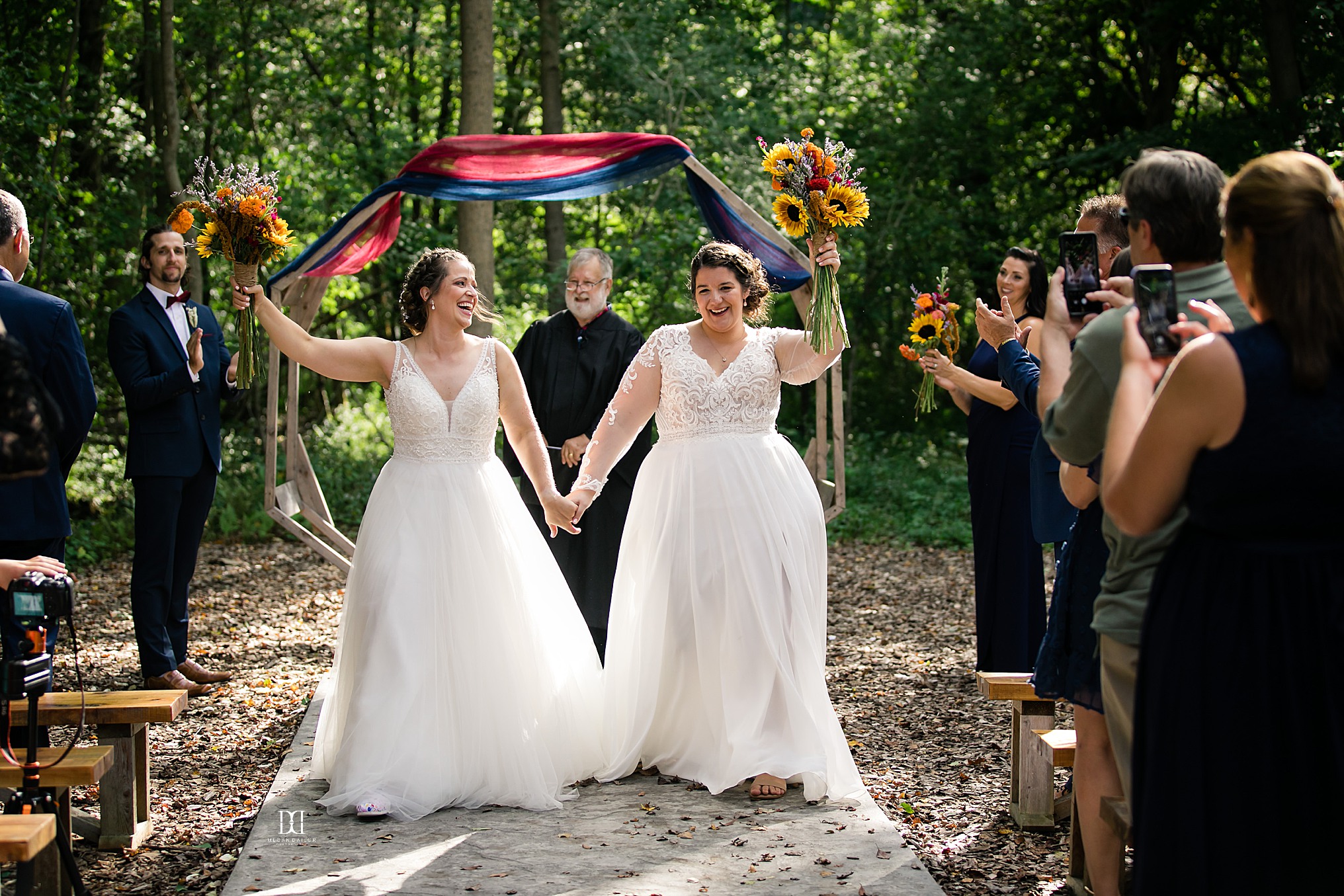 After family photos were finished, we left Suzie and Emilee to have a moment to themselves. They sat together holding hands and sharing some champagne and took in the magic of this moment.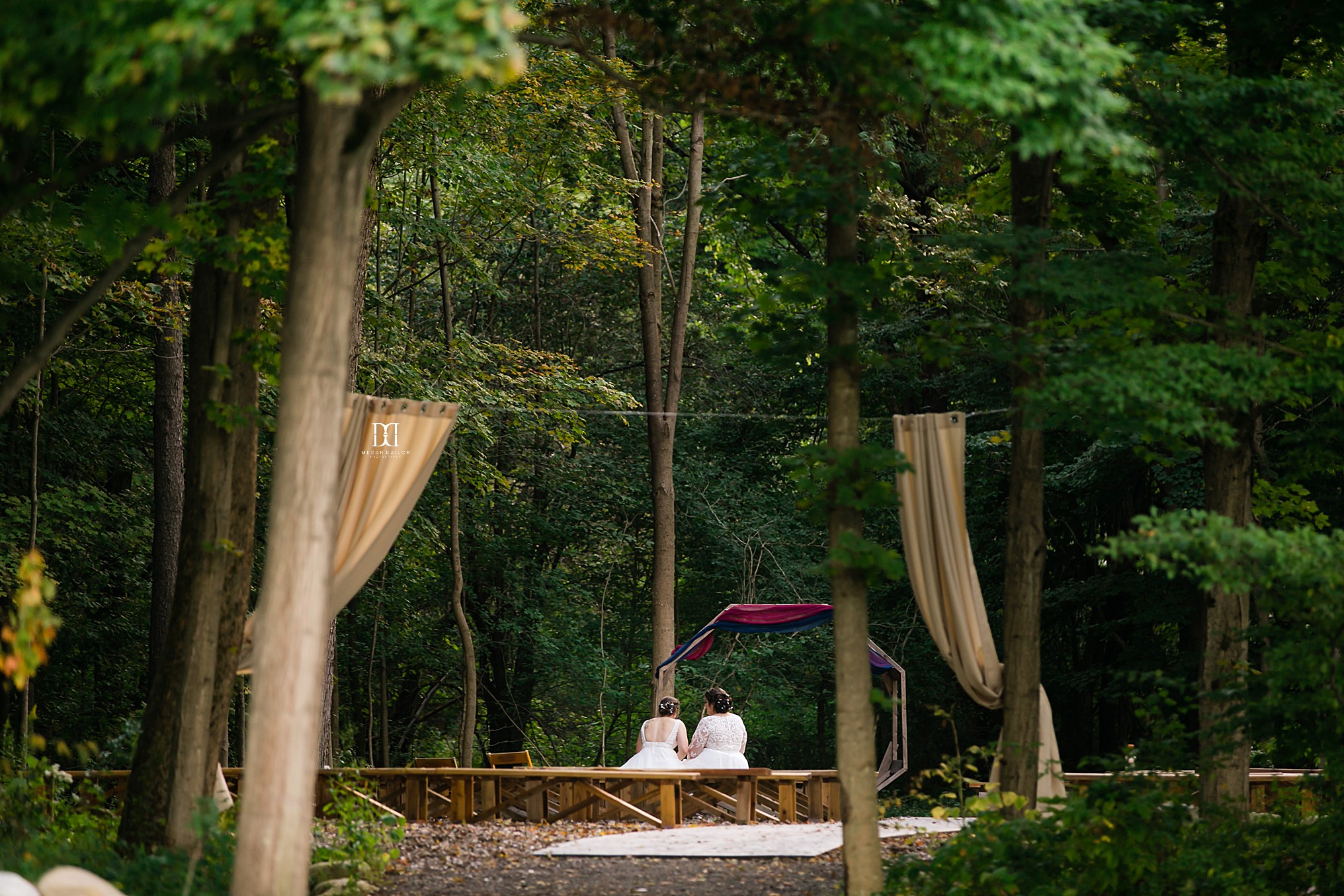 Everyone was so excited to celebrate the new Mrs and Mrs!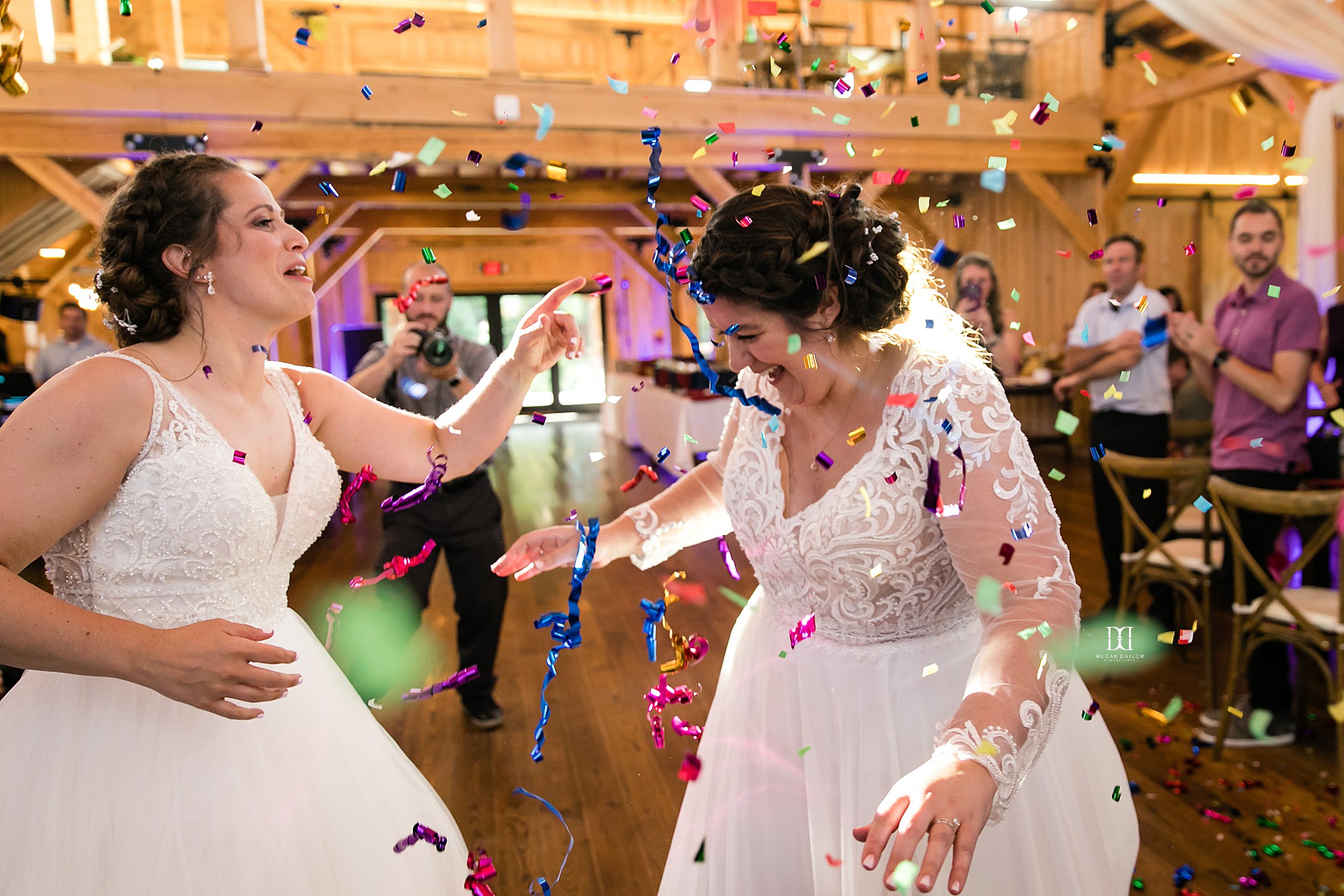 Their first dance was so lovely.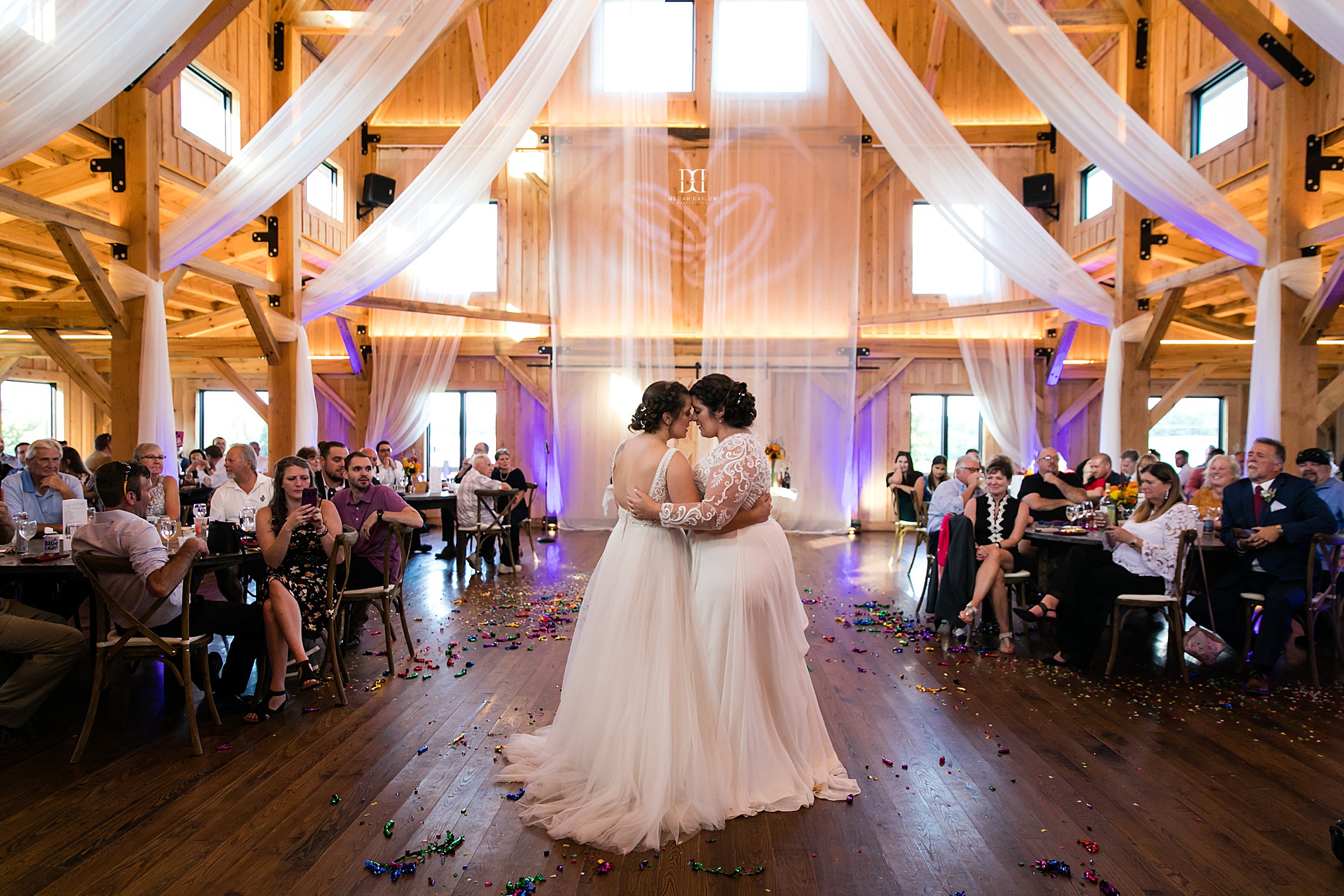 And this cake! Suzie's dad made it, can you even believe how amazing it is? Their reactions are so great.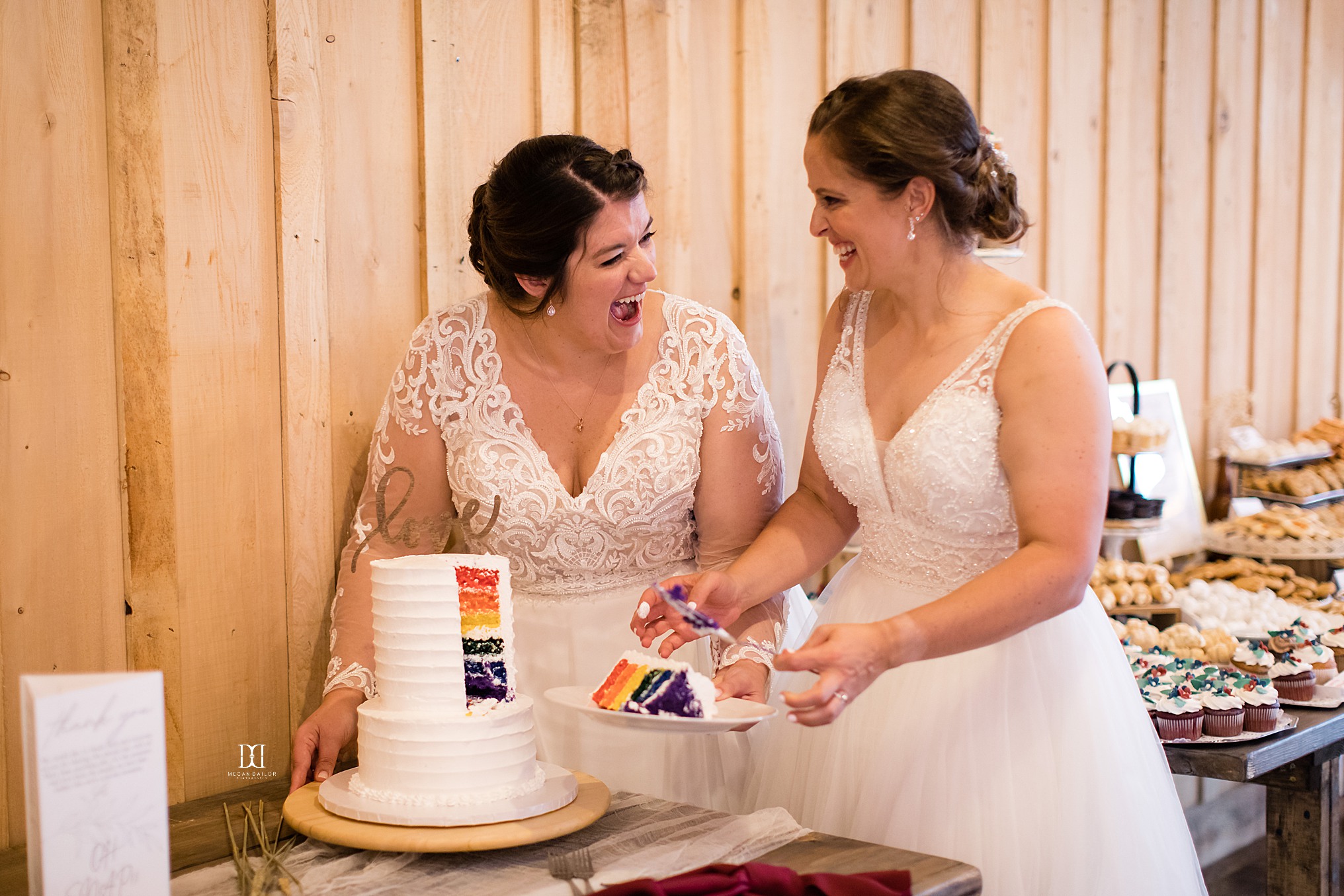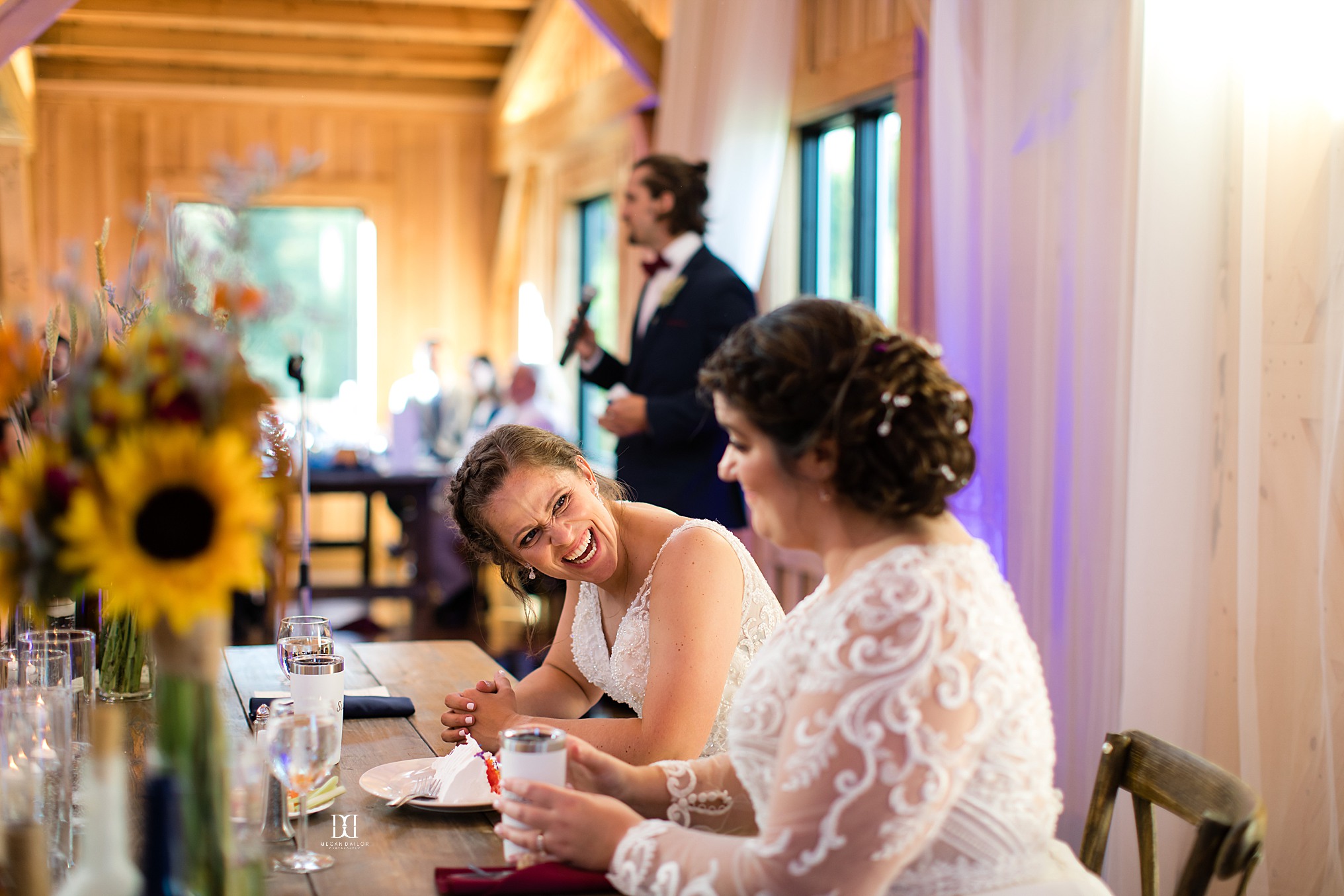 Golden hour portraits! These two are so fun!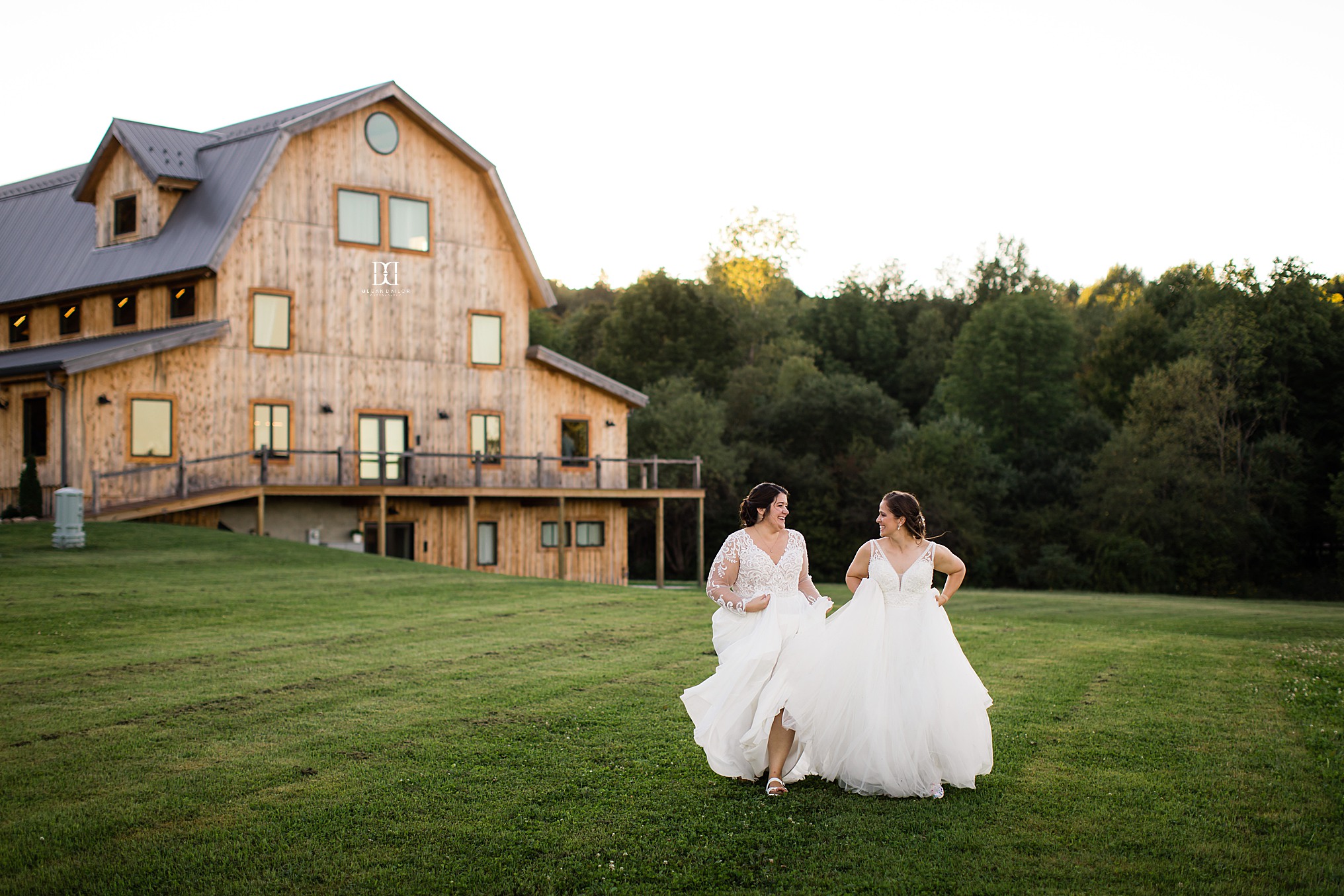 The most perfect glowing sunset for these brides!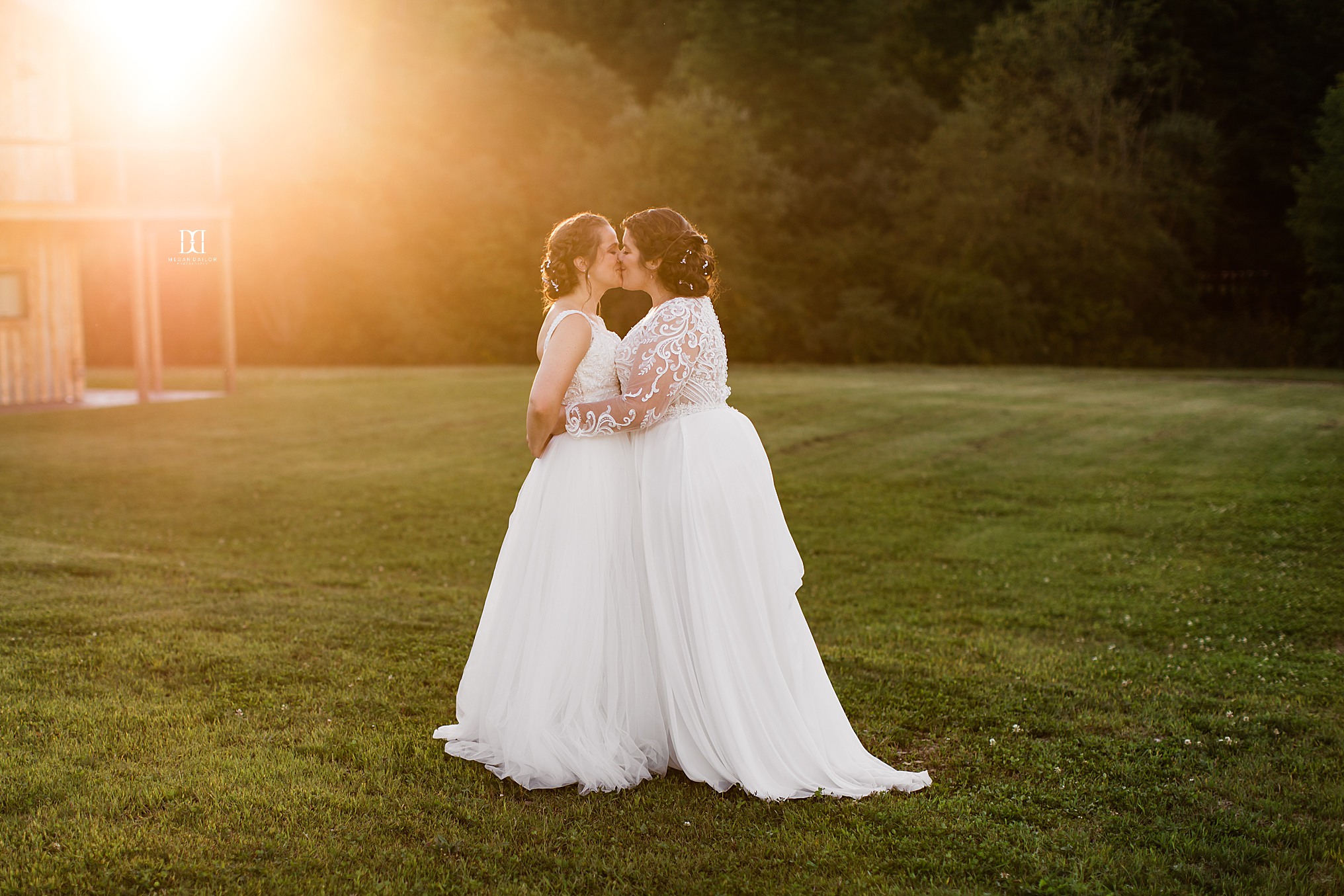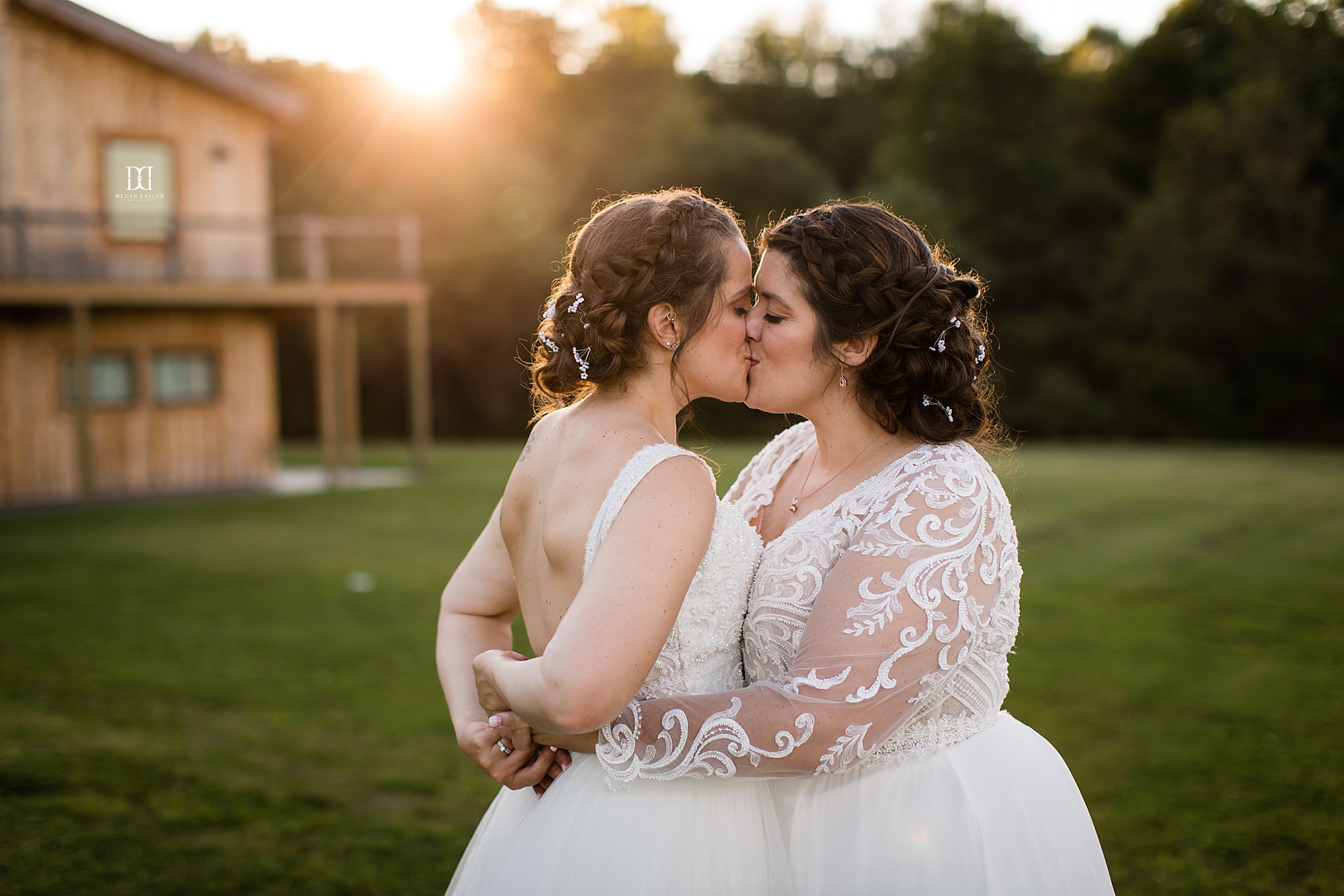 Loved using their rainbow flag for a few shots, love is love is love is love!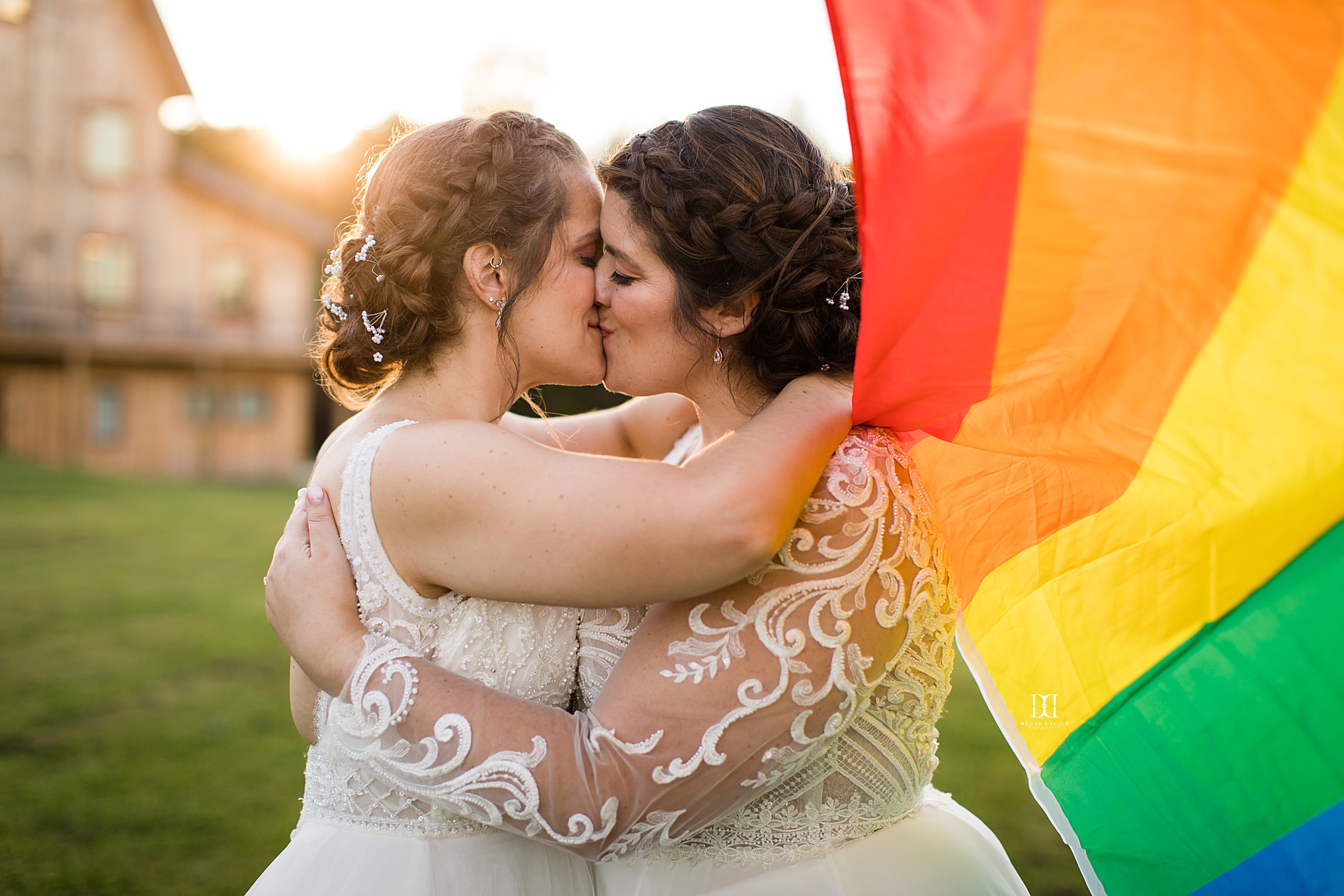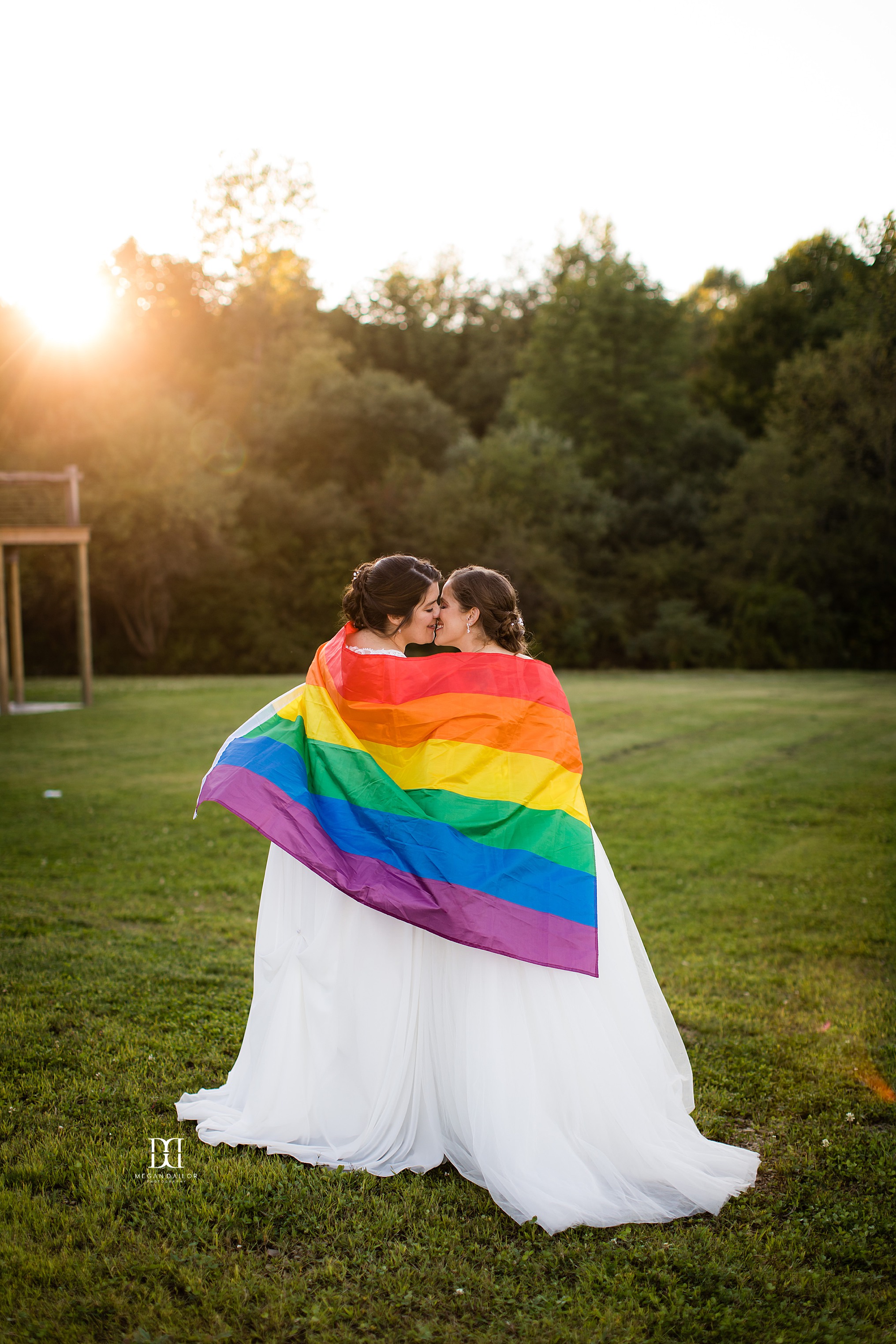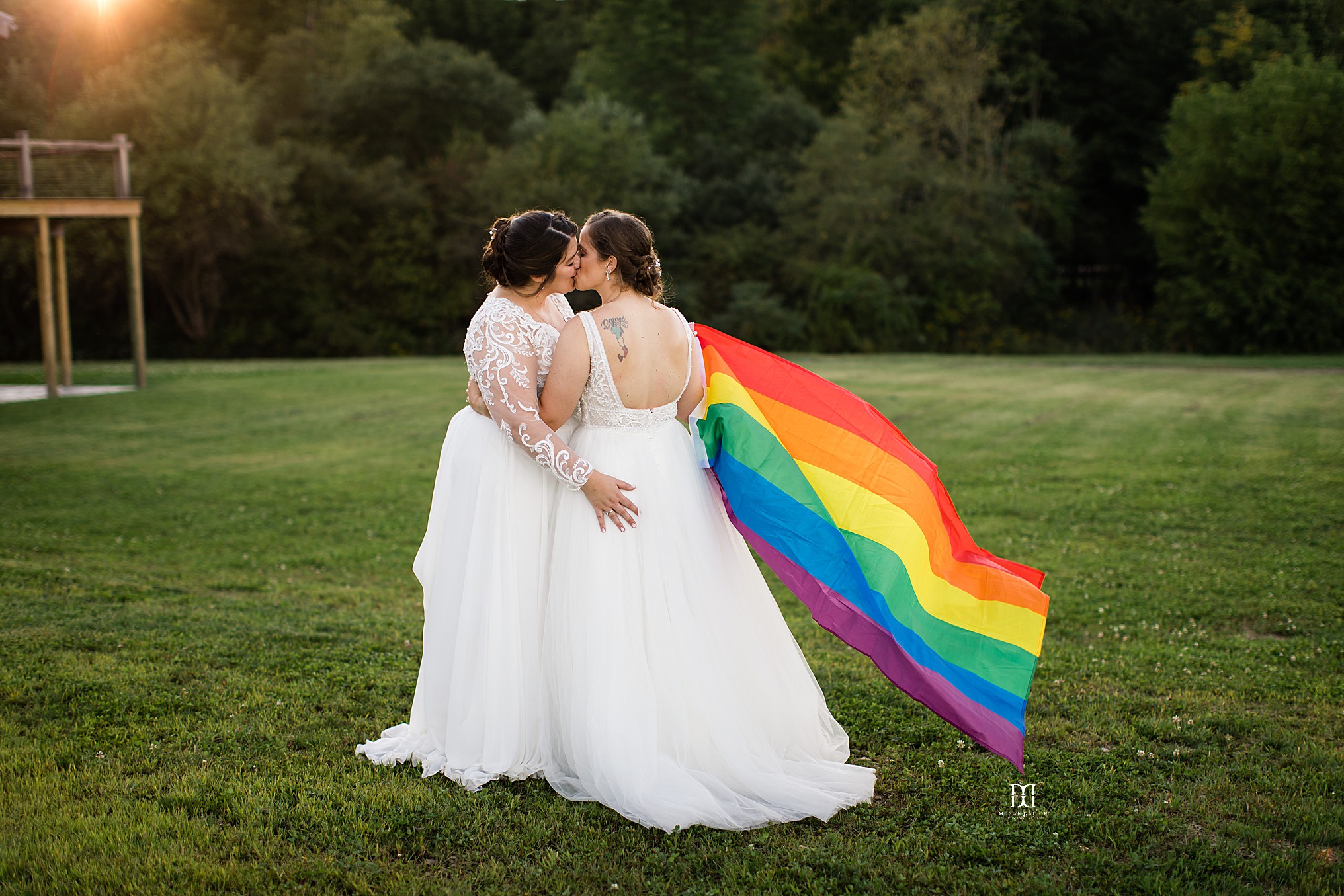 A forever kind of love, for sure.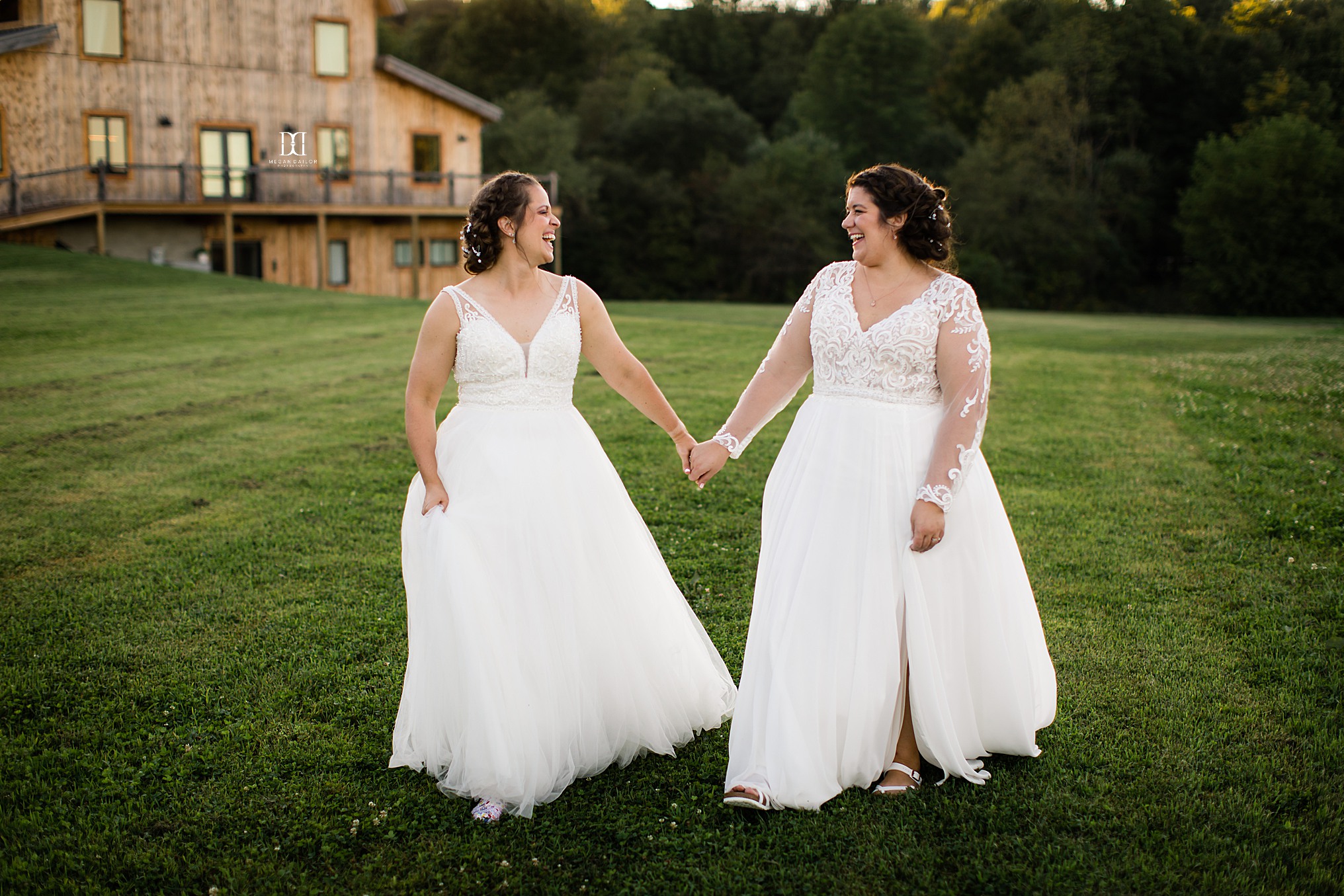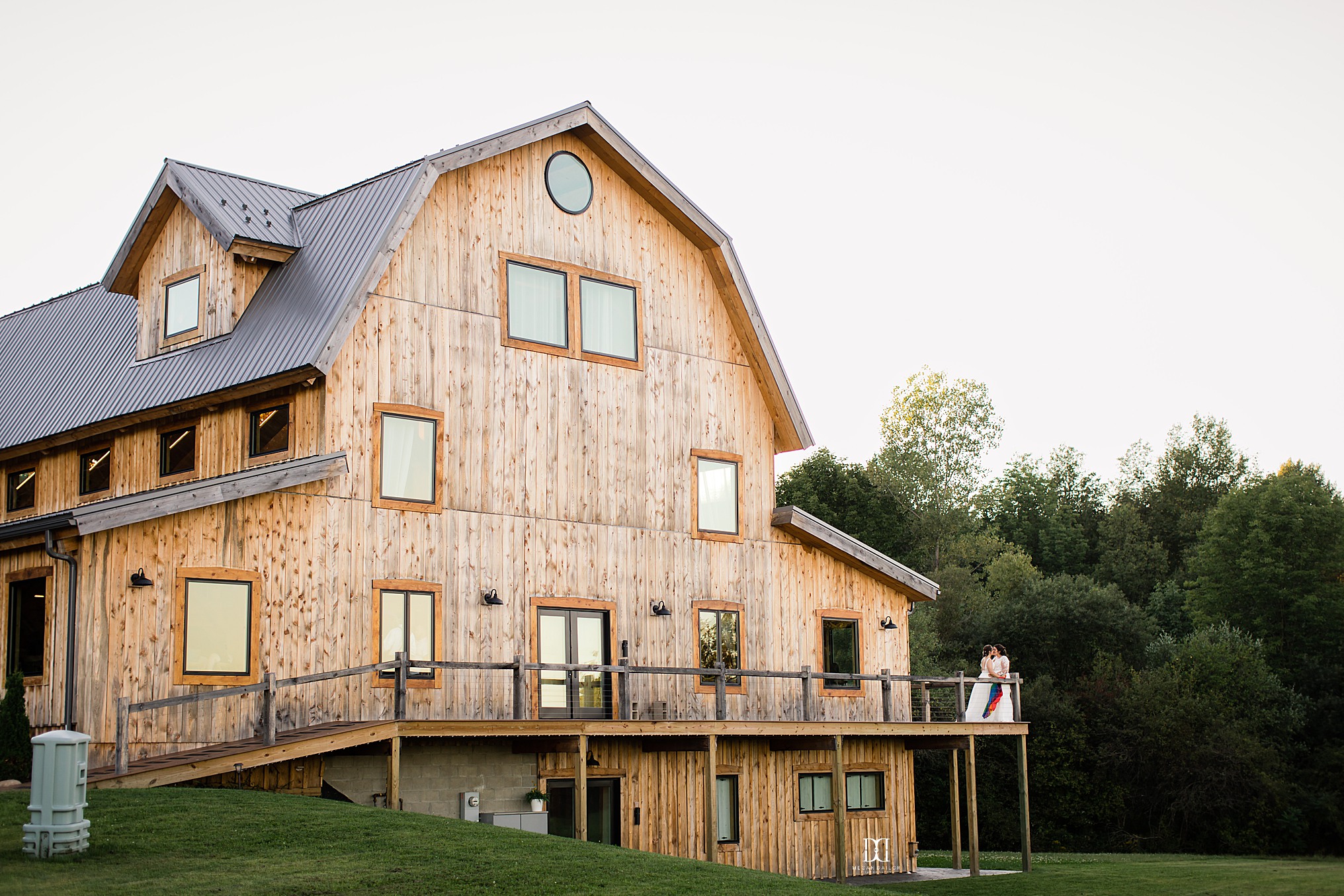 Emilee and Suzie are surrounded with so much love by their families, it is really special to see.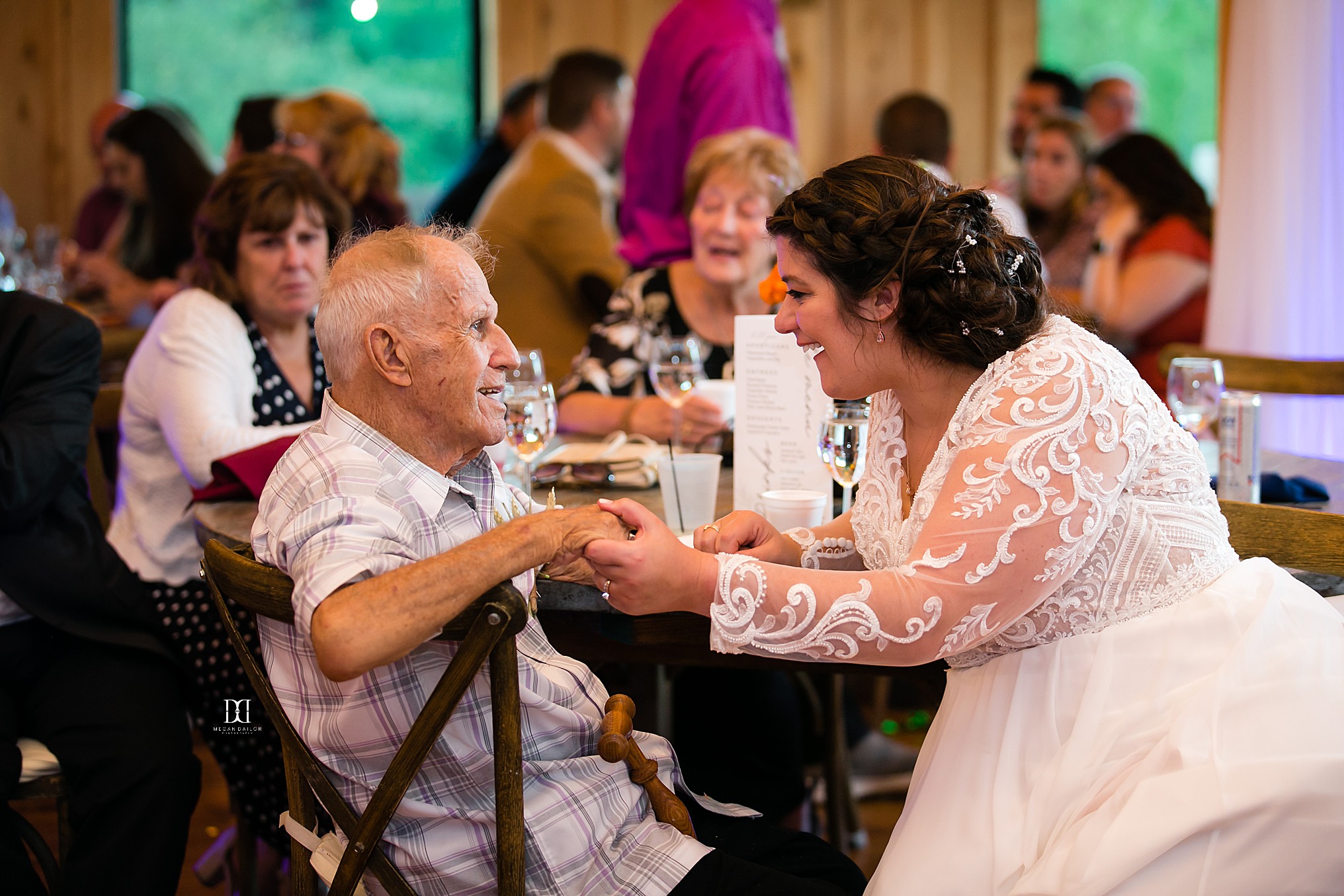 Suzie's dad's impromptu speech was incredible. He spoke about how he'd never seen his daughter happier and thanked Emilee for that, promised Emilee's family that he would protect her like his own daughter, and then started roasting Suzie in the funniest way. These families are so special!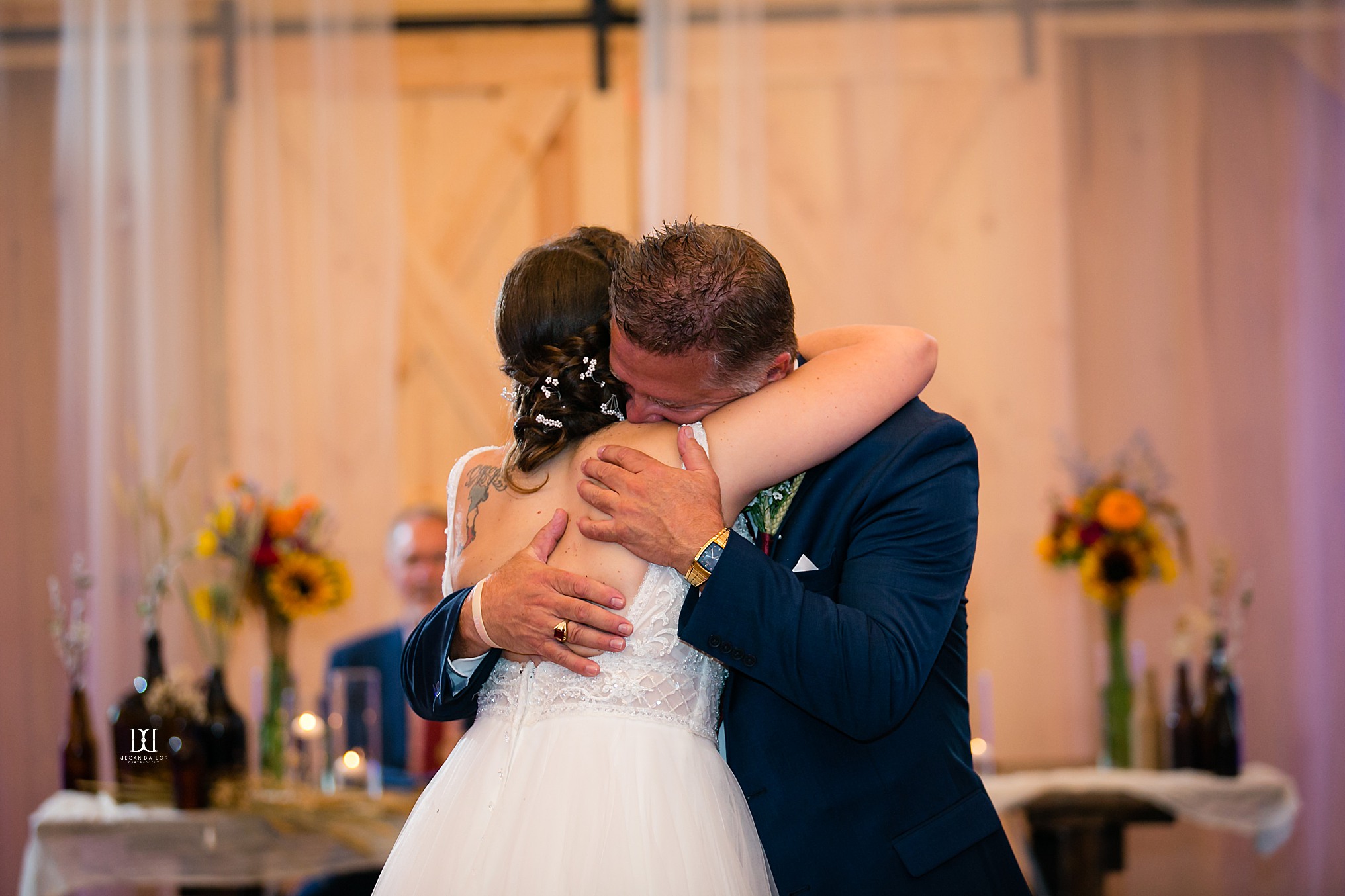 Emilee's dance with her dad was just as lovely, lots of tears for everyone.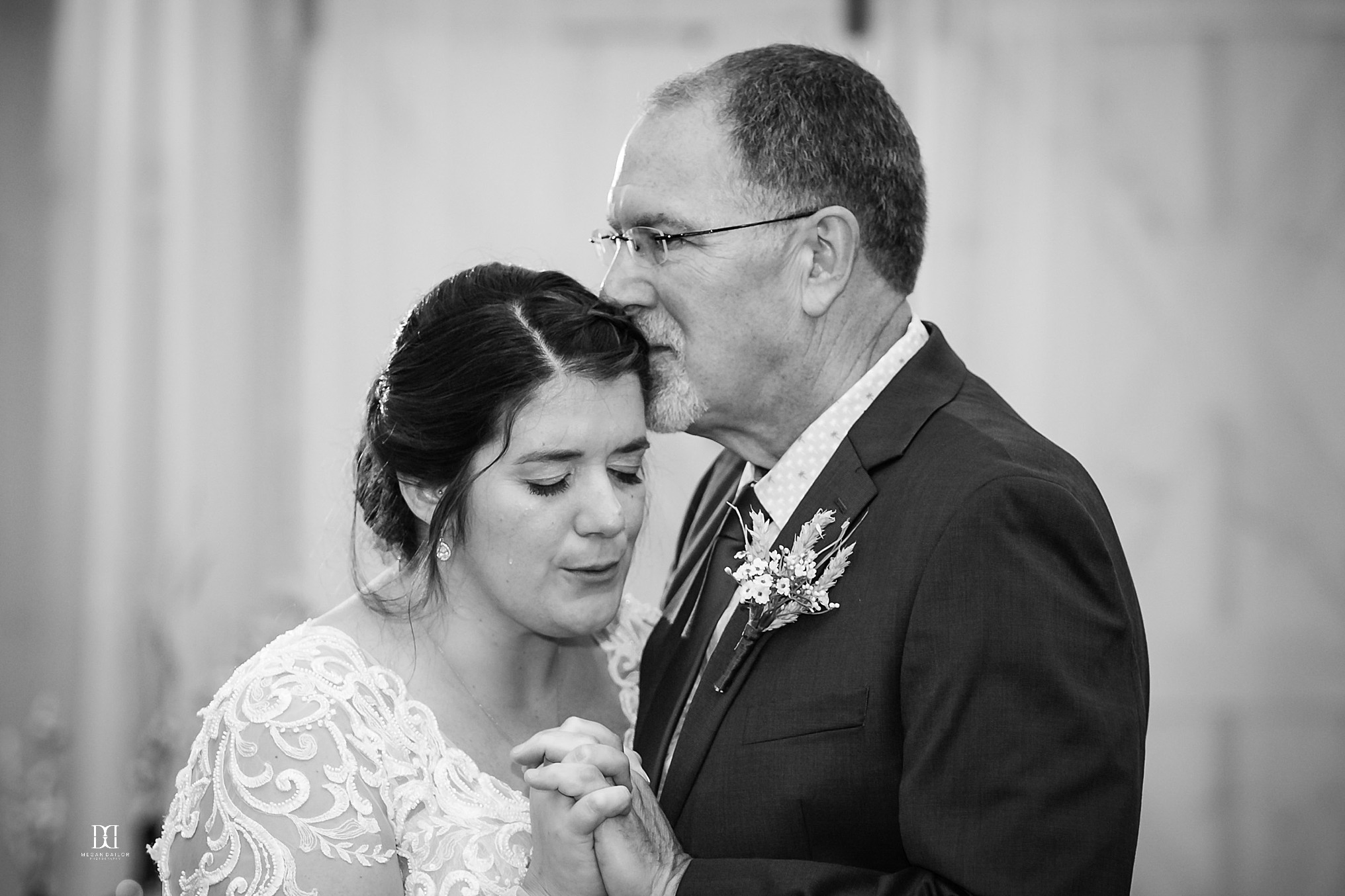 Once all the formalities were complete, Suzie disappeared for a quick change... bridal jumpsuits are life!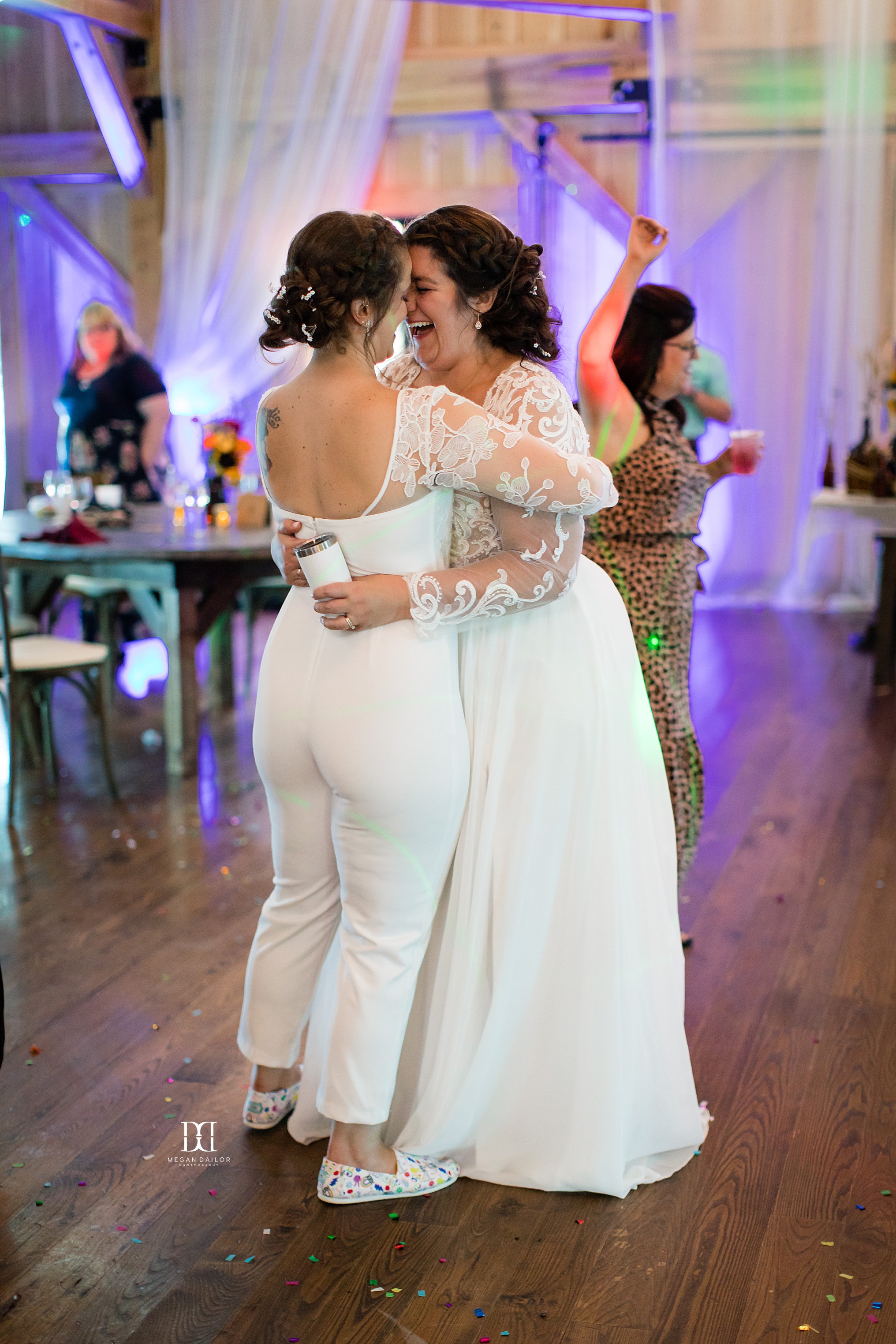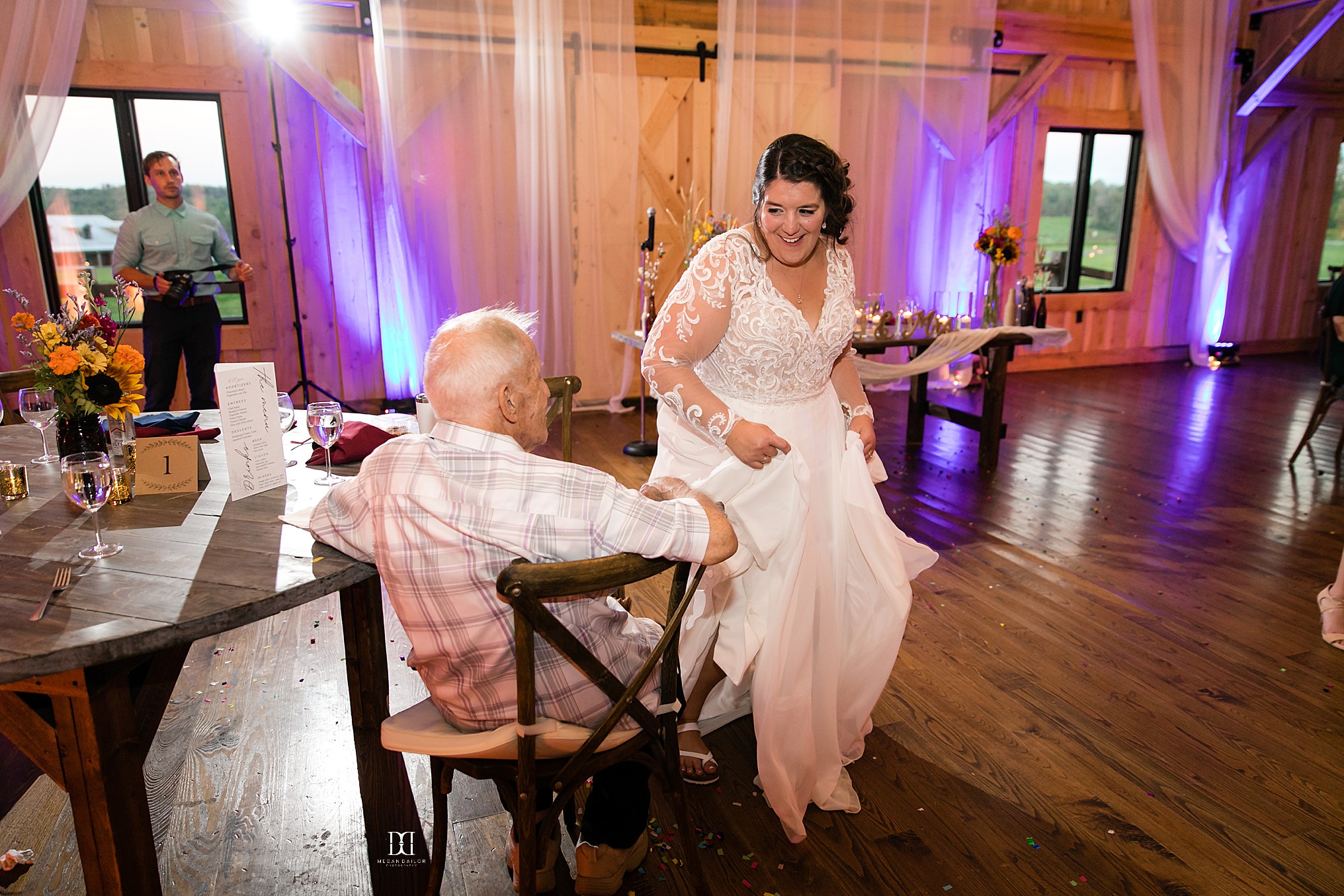 DJ Nate Fralick kept the dance floor crowded...
Instant Wedding MVP. I didn't even know knees bent that direction. Like his heels are higher than his hips. HOW?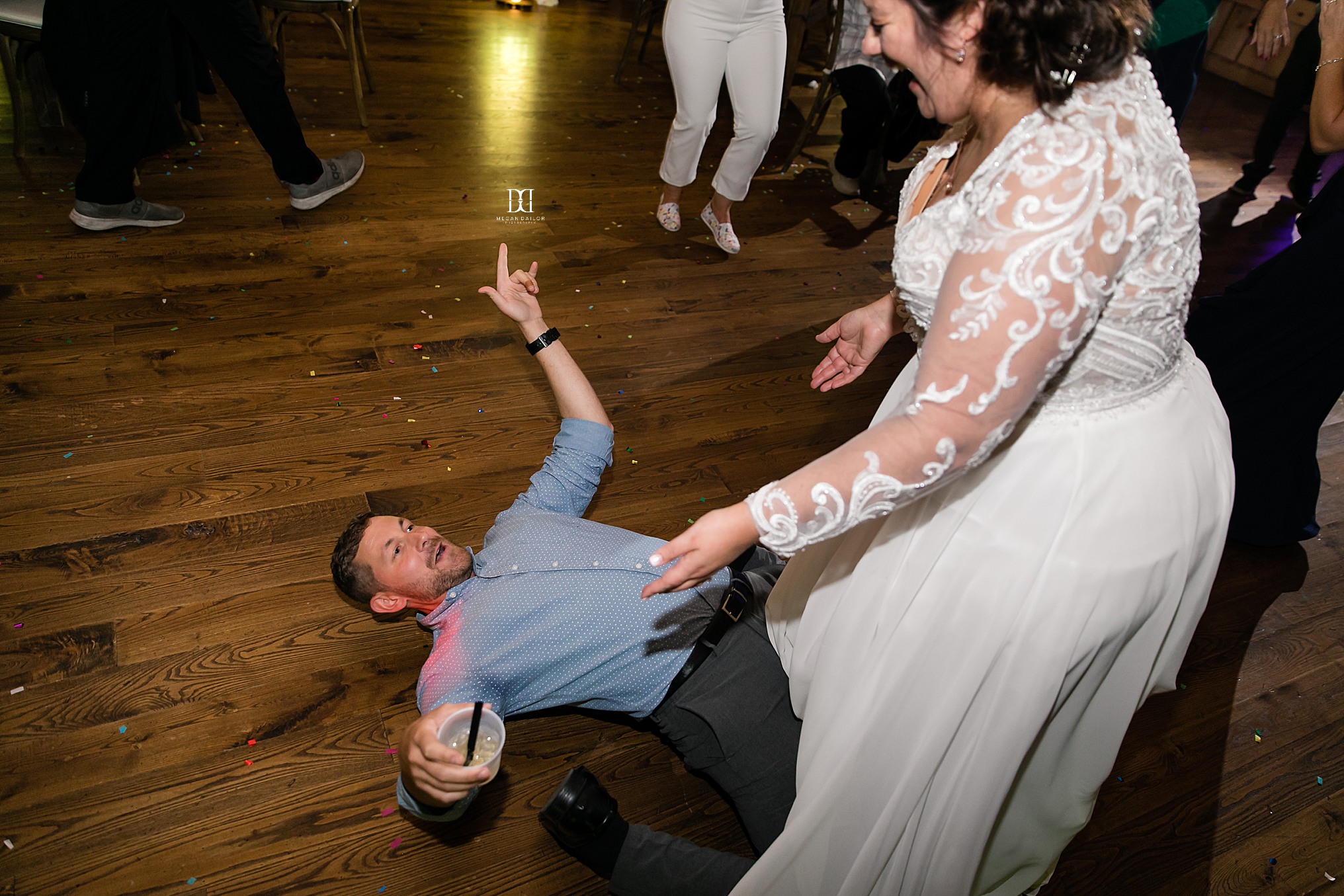 Loved seeing these brides enjoy their party so thoroughly!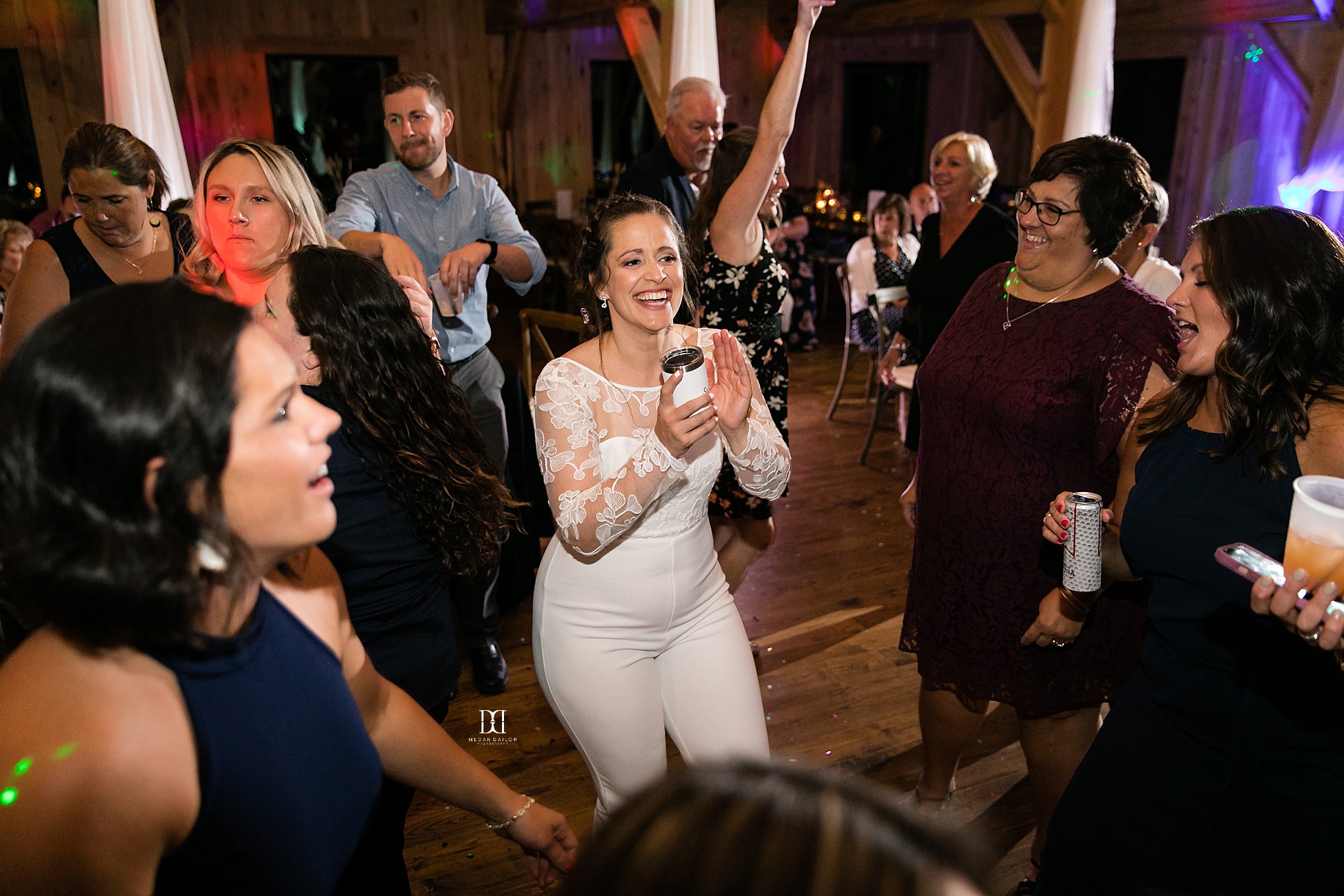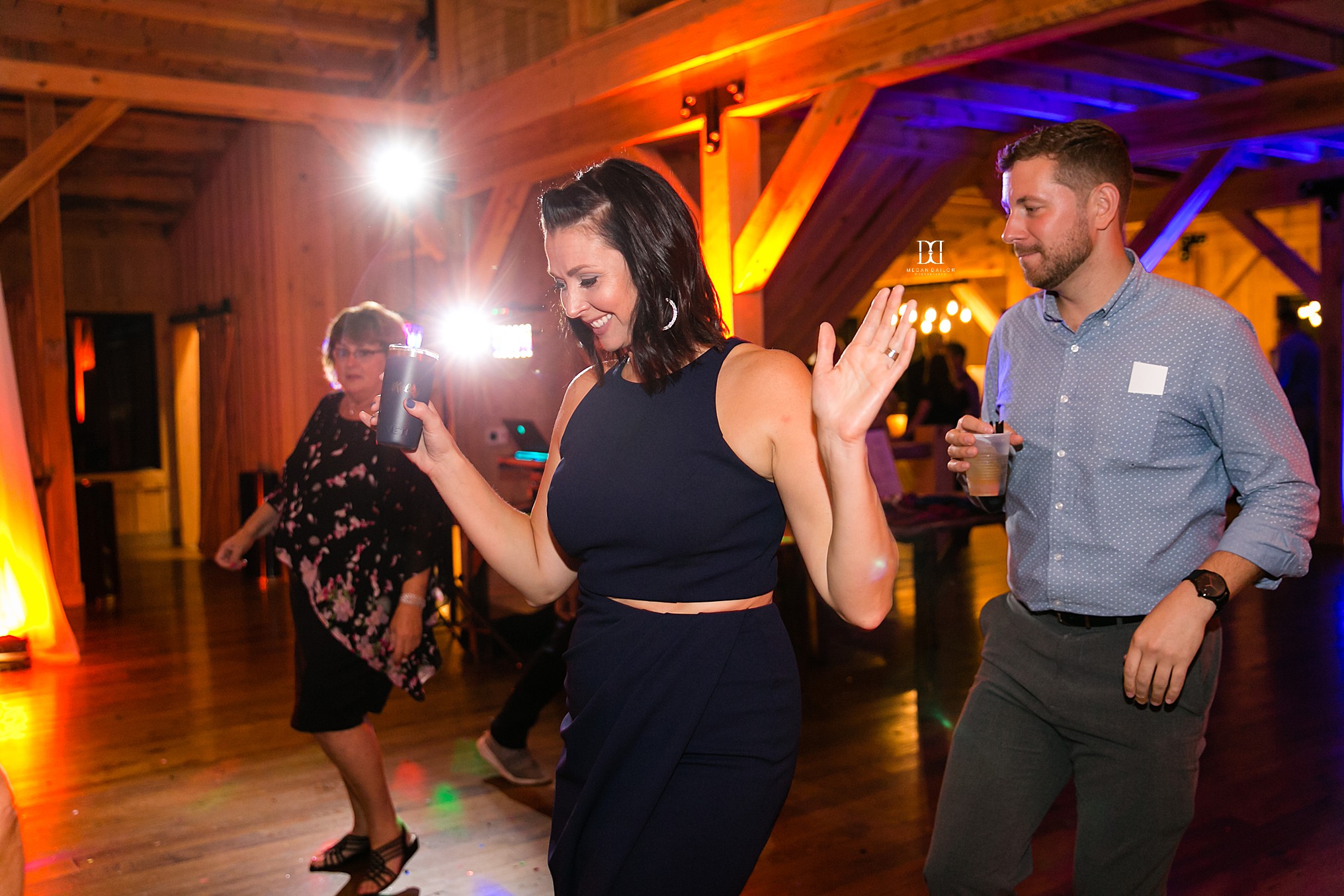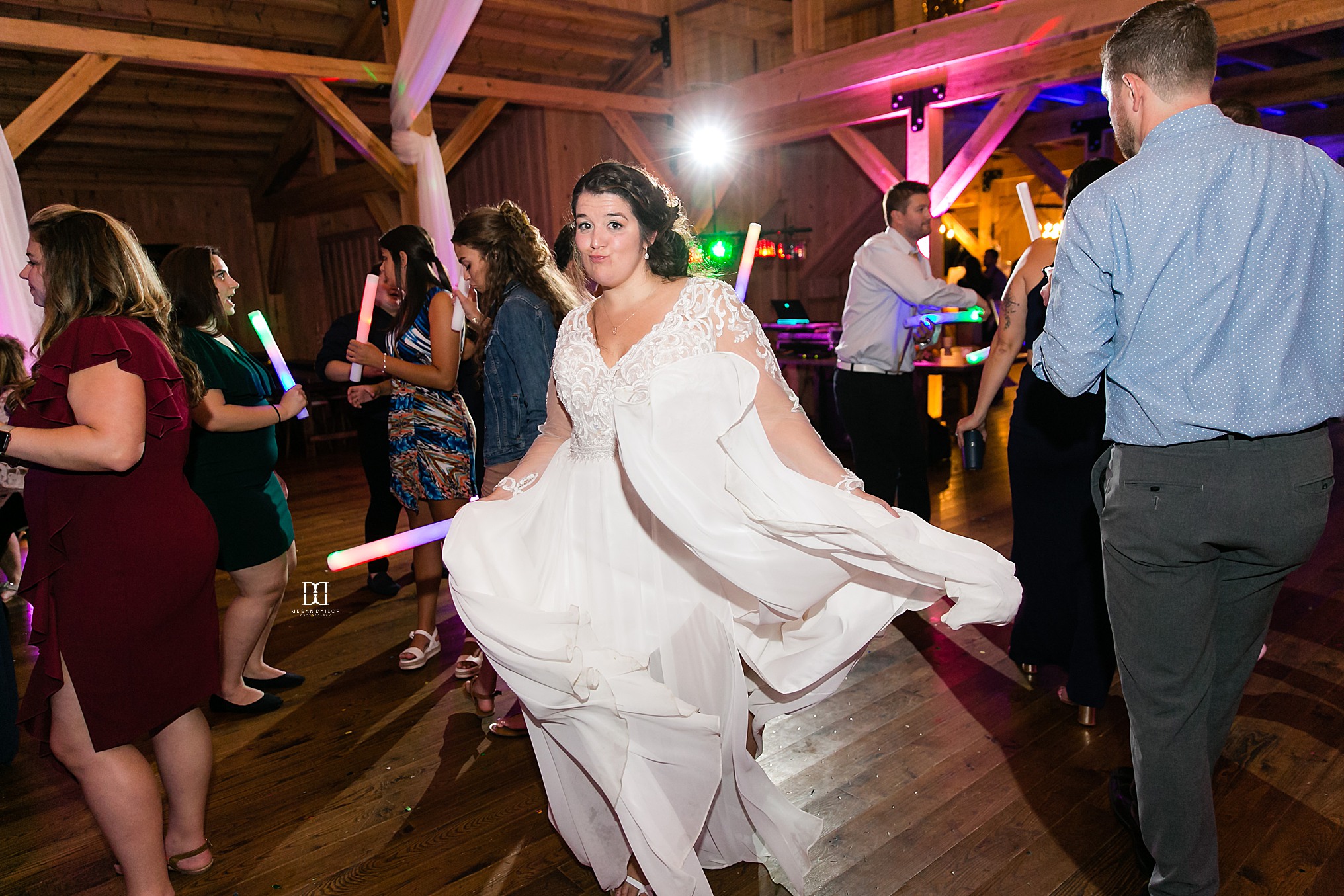 Just some ninja moves, no follow up questions.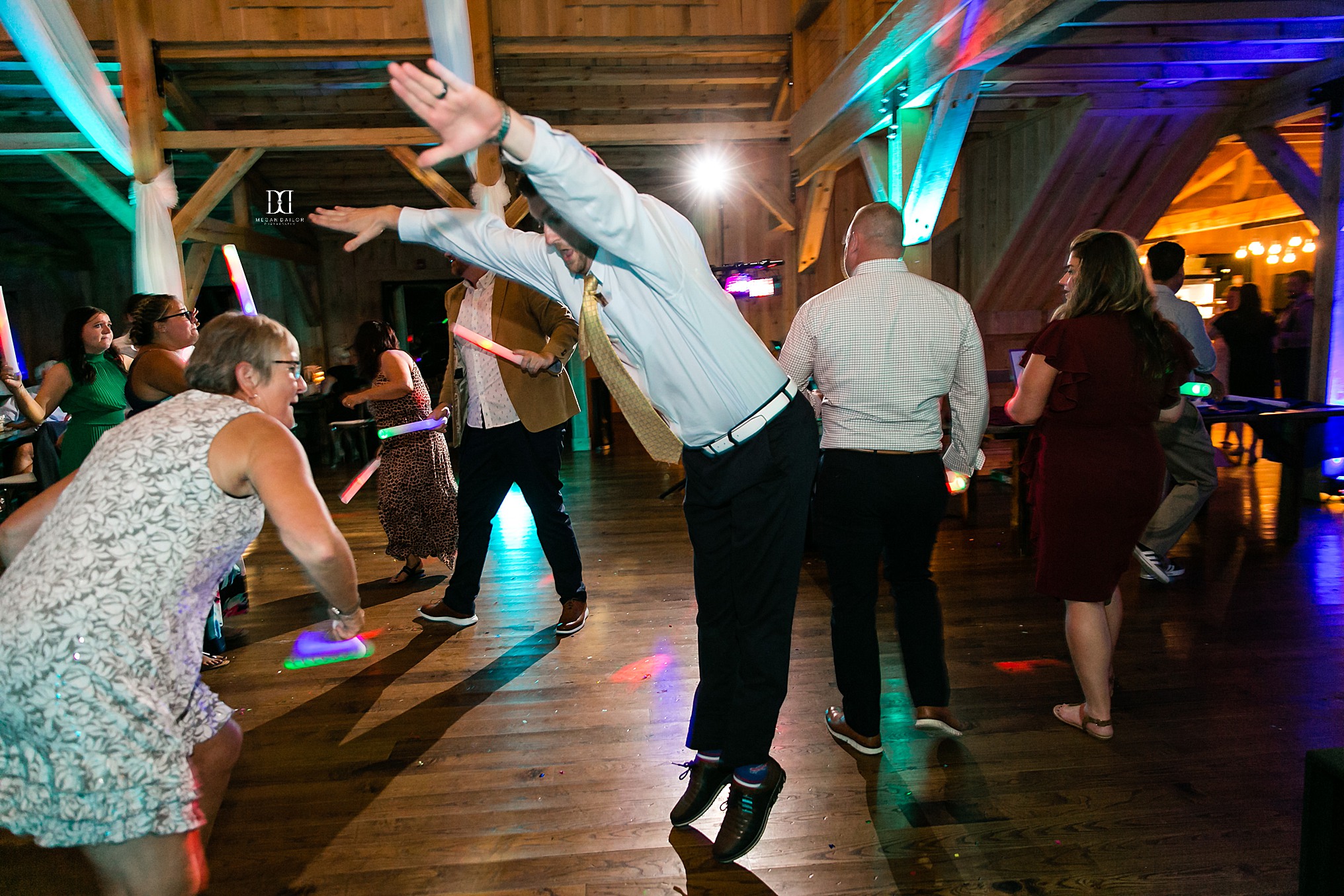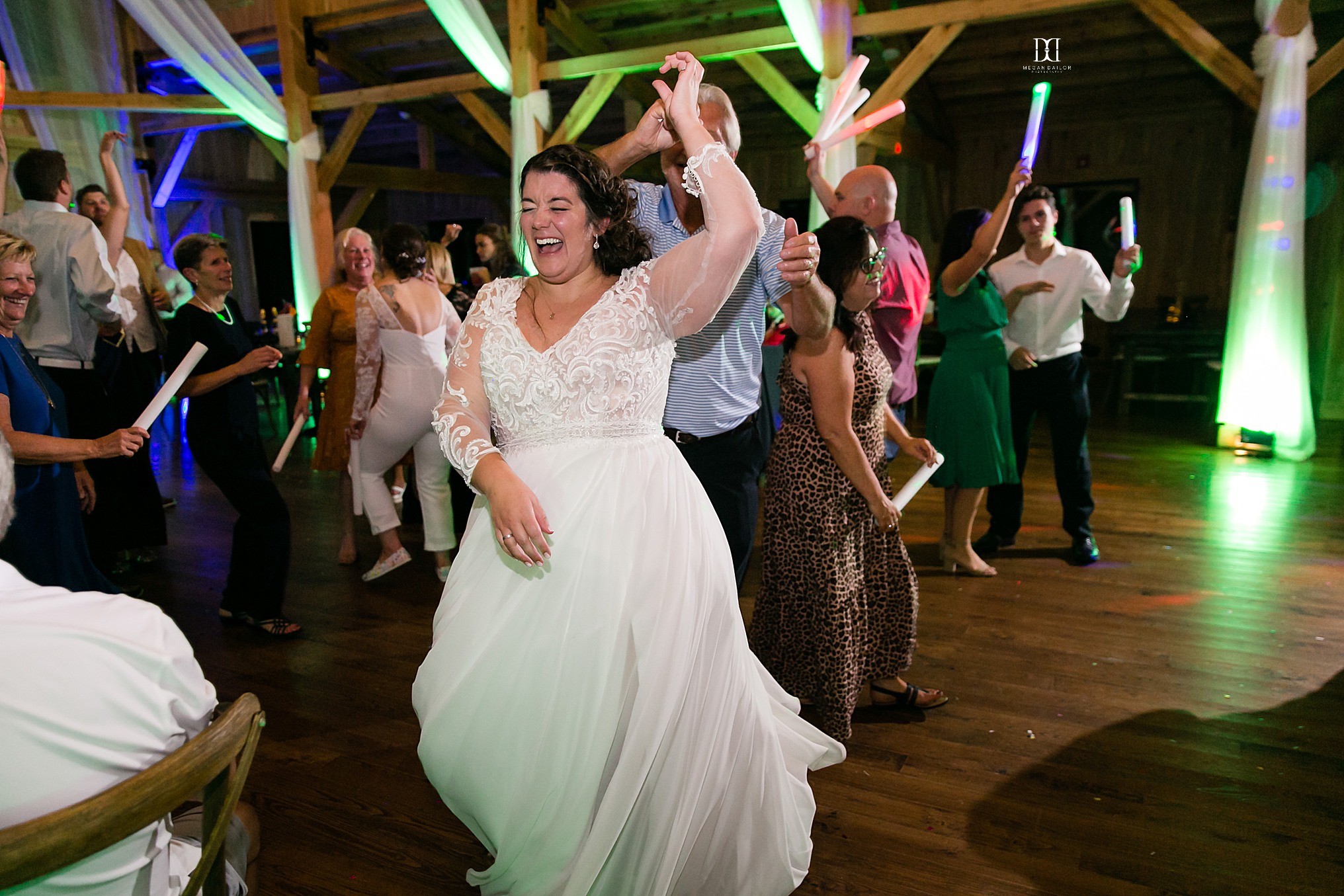 Thank you so much for having me, Emilee and Suzie! I loved being part of your day and witnessing the start of your beautiful marriage!