Kin Event Space Wedding
Sometimes it's the right time but not the right person, sometimes it's the right person but not the right time. Vianette and Sally were introduced as teens by V's cousin at a bowling party. The attraction was instant and they dated for a bit. But youth... they went their separate ways but never really left each others' hearts. When they reconnected a few years later, everything was right. These two are absolutely meant for each other and it was so incredible to witness their Kin Event Space wedding and the love their families and friends have for them. Not a dry eye!
A Kin Event Space Wedding is quite a spectacular sight... clean industrial backdrop that you can do literally anything you want with. Nicole at I Do Wedding Flowers made this statement piece for the ceremony area, it was so perfect!

Beautiful vintage sewing table for the cake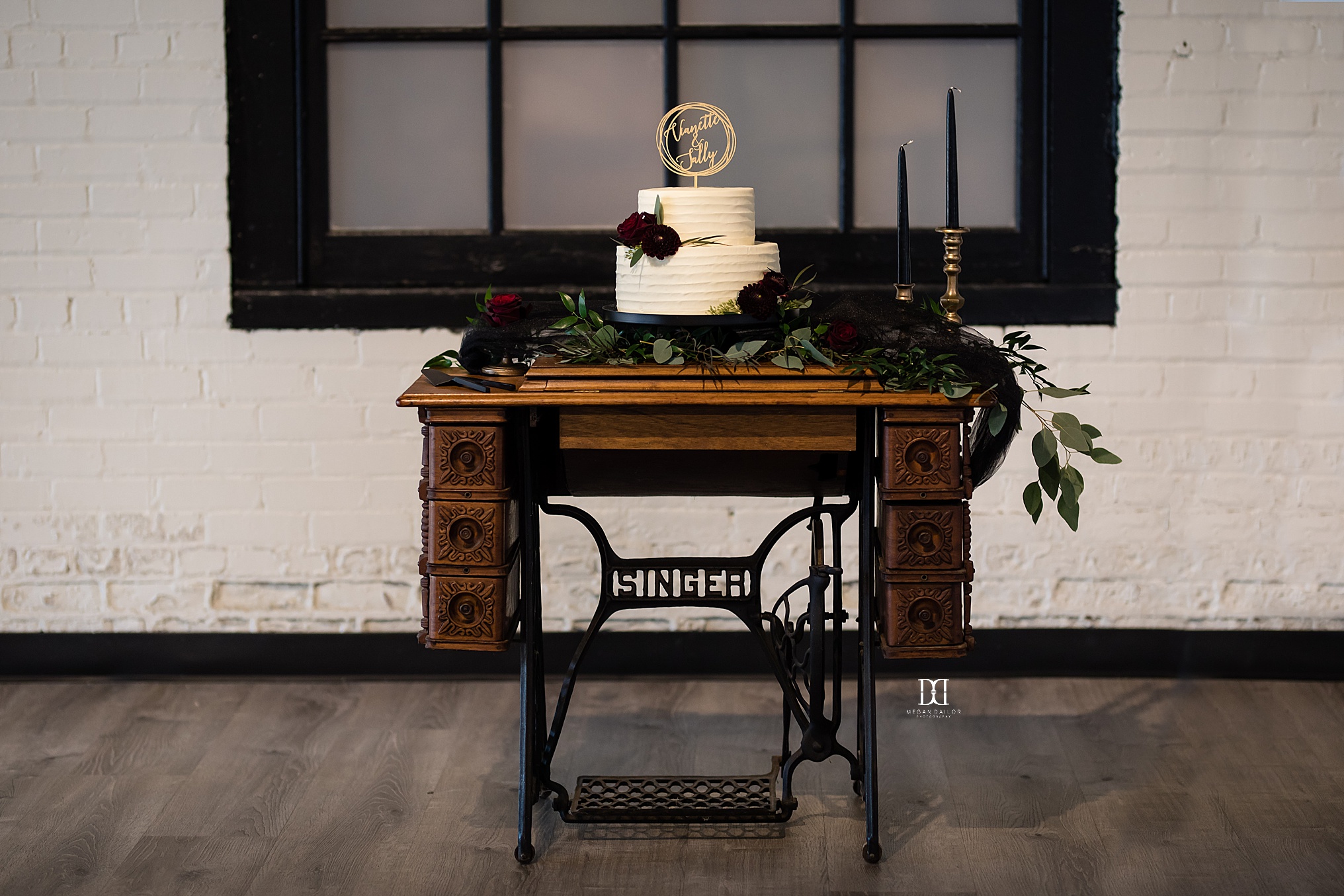 LOVE WINS. Forever.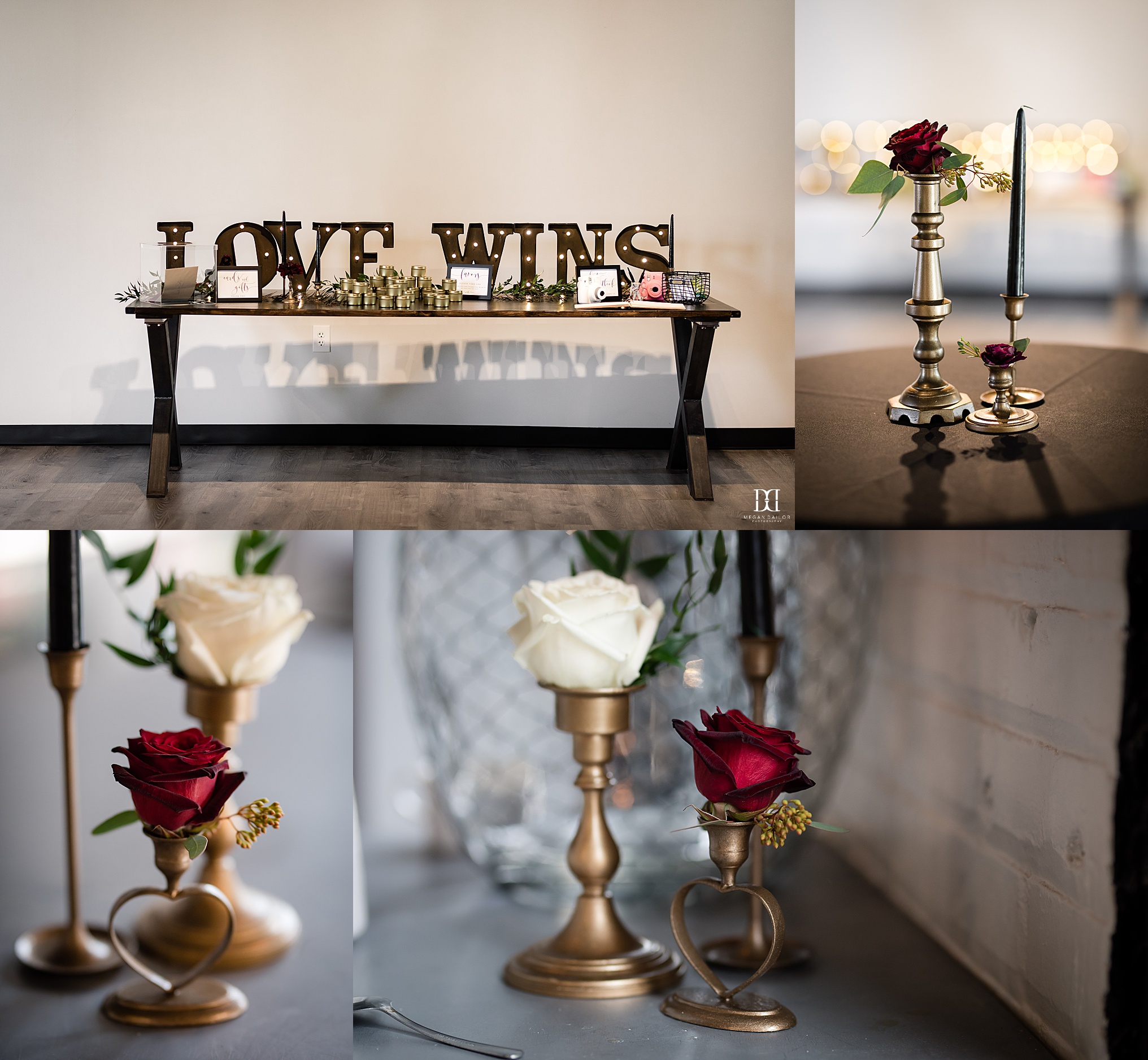 The big moment... I love Sally's mom's little peep around the curtain.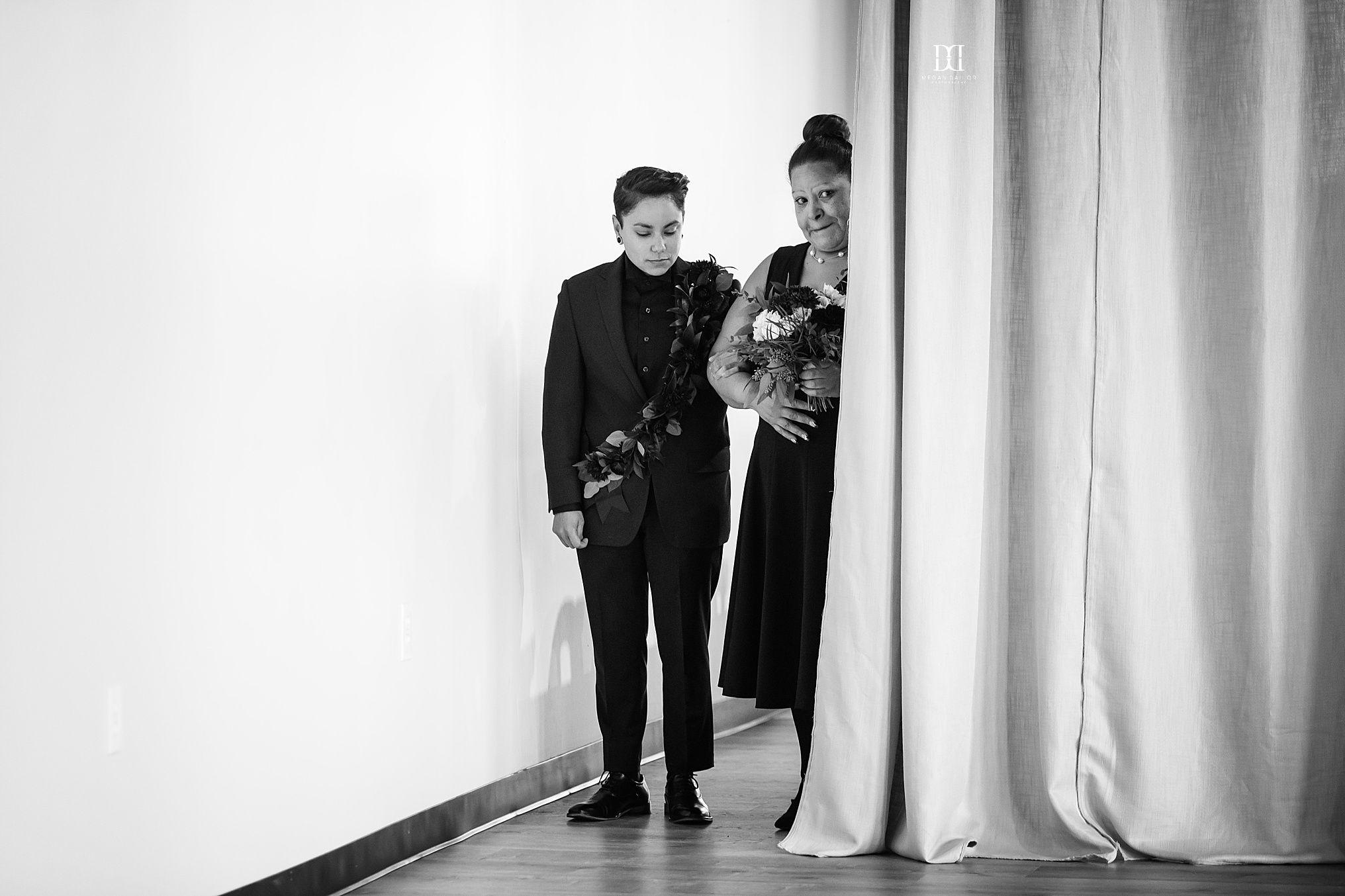 So much joy and love, it felt like Kin could barely contain it all.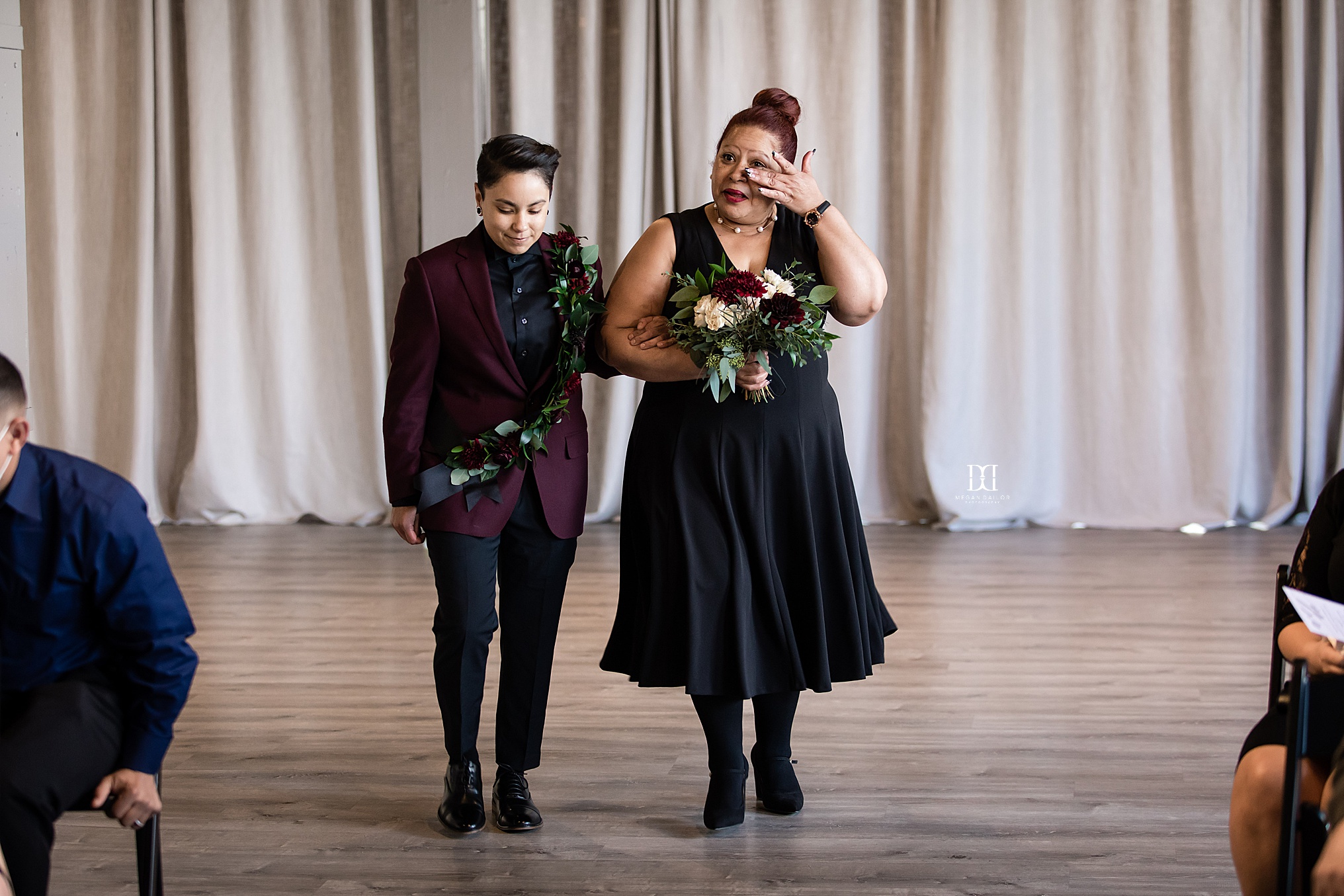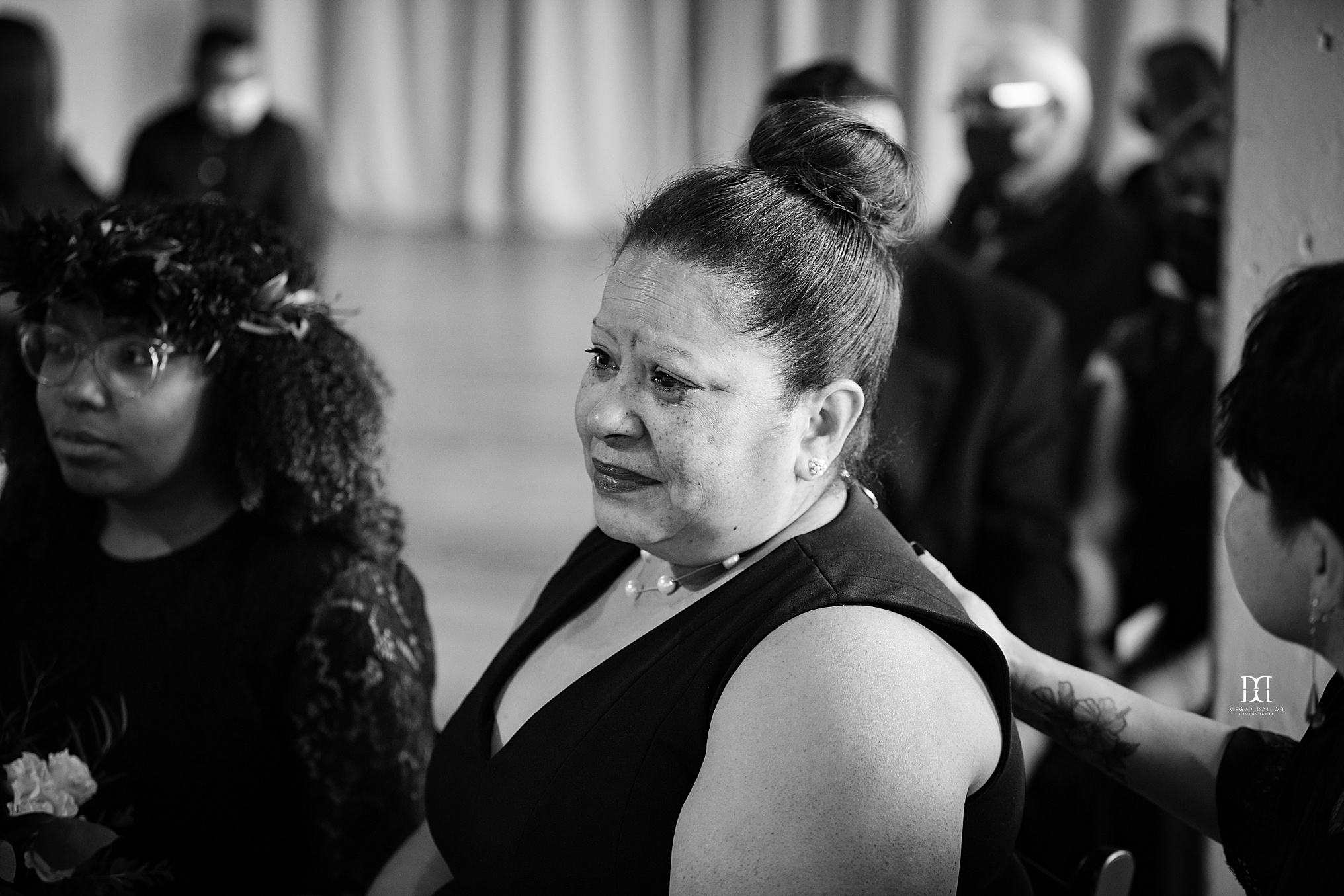 Such an overwhelming moment seeing her bride and her boy come down the aisle.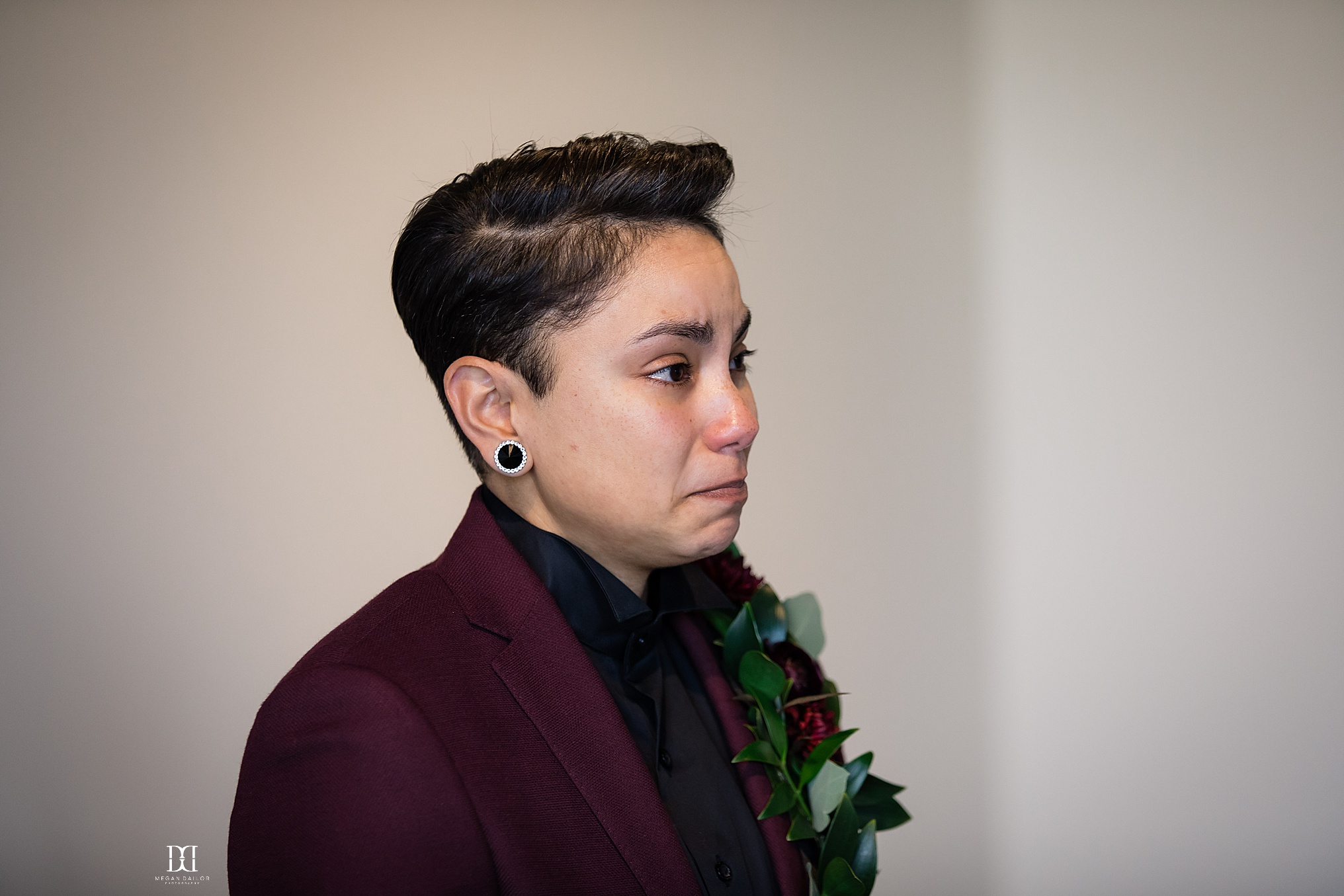 A sweet moment between Vianette and her sweet boy Joziah (he basically creates a fan club everywhere he goes, I'm surprised there isn't a beatlemania style crowd running after him at all times. He is just the SWEETEST kid.)

That "Oh Daaaaamn" moment of the wedding.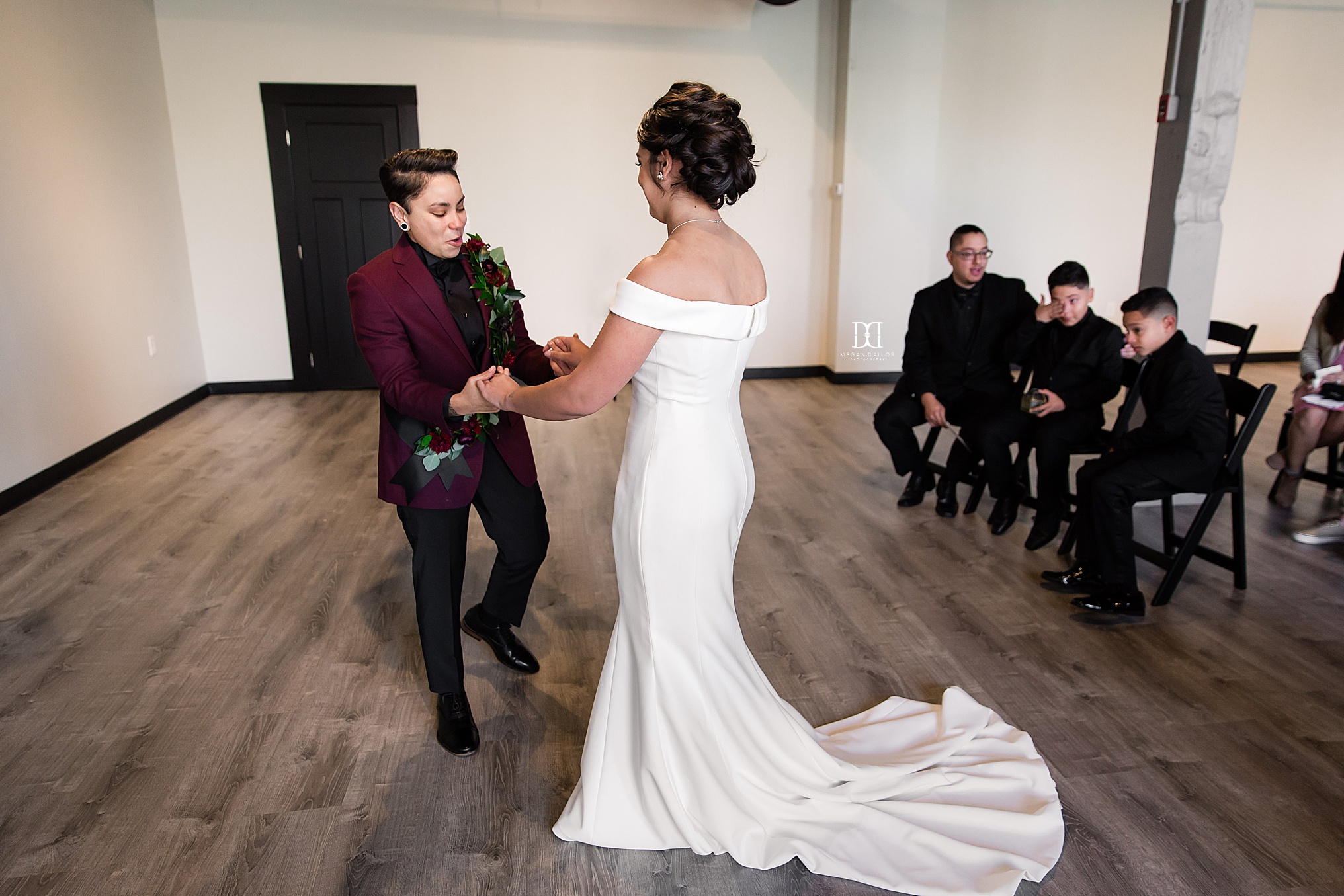 This couple...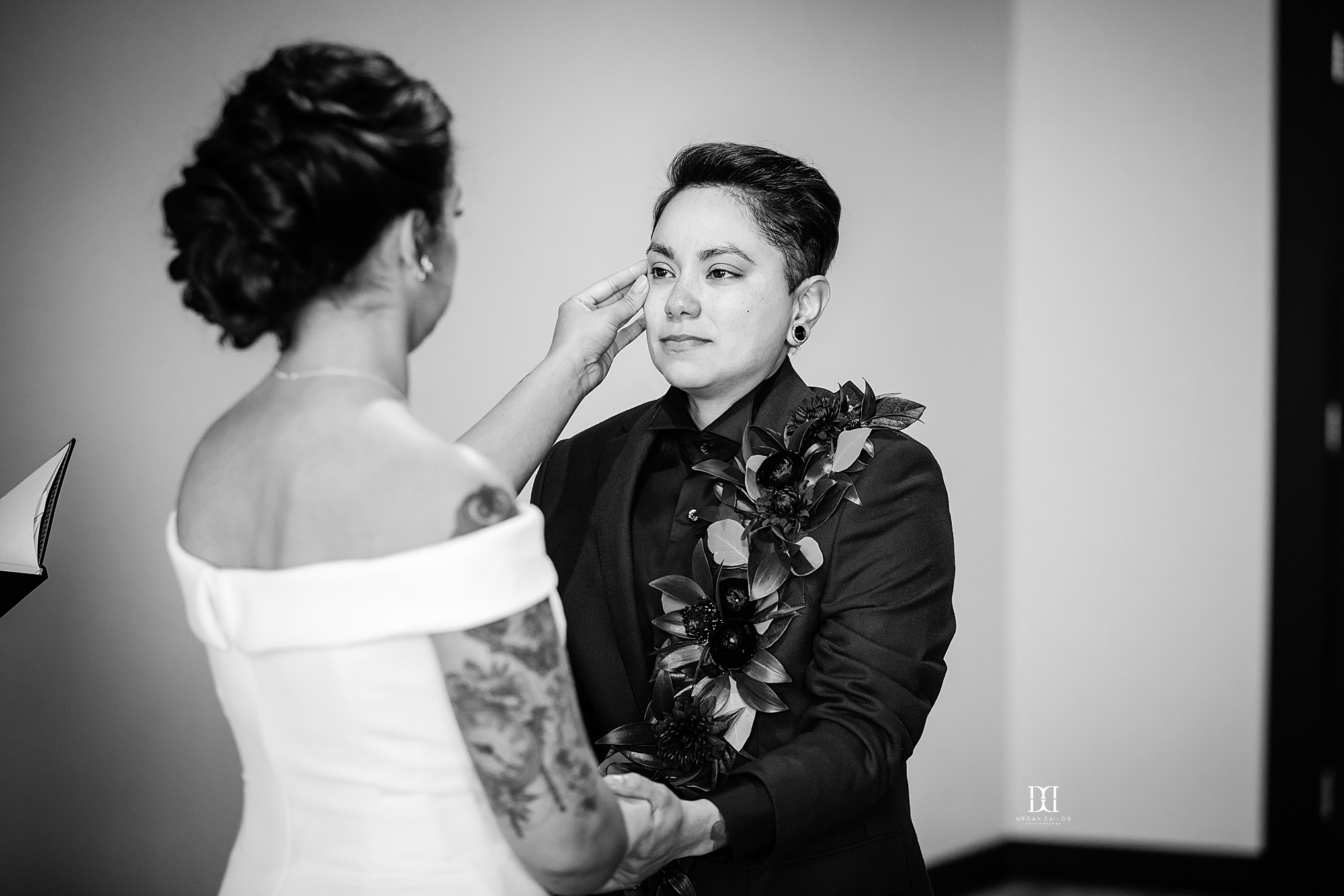 The prettiest backdrop.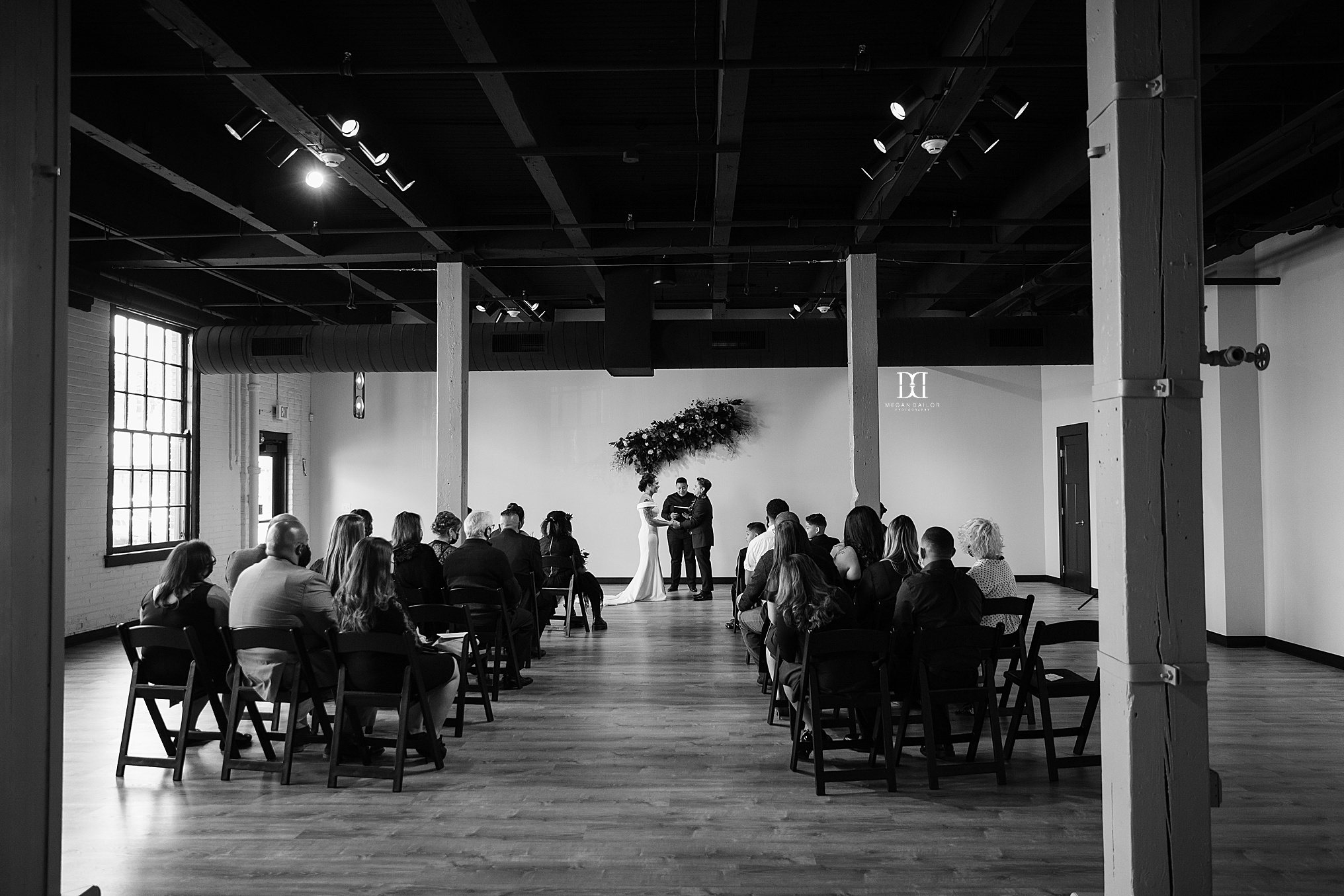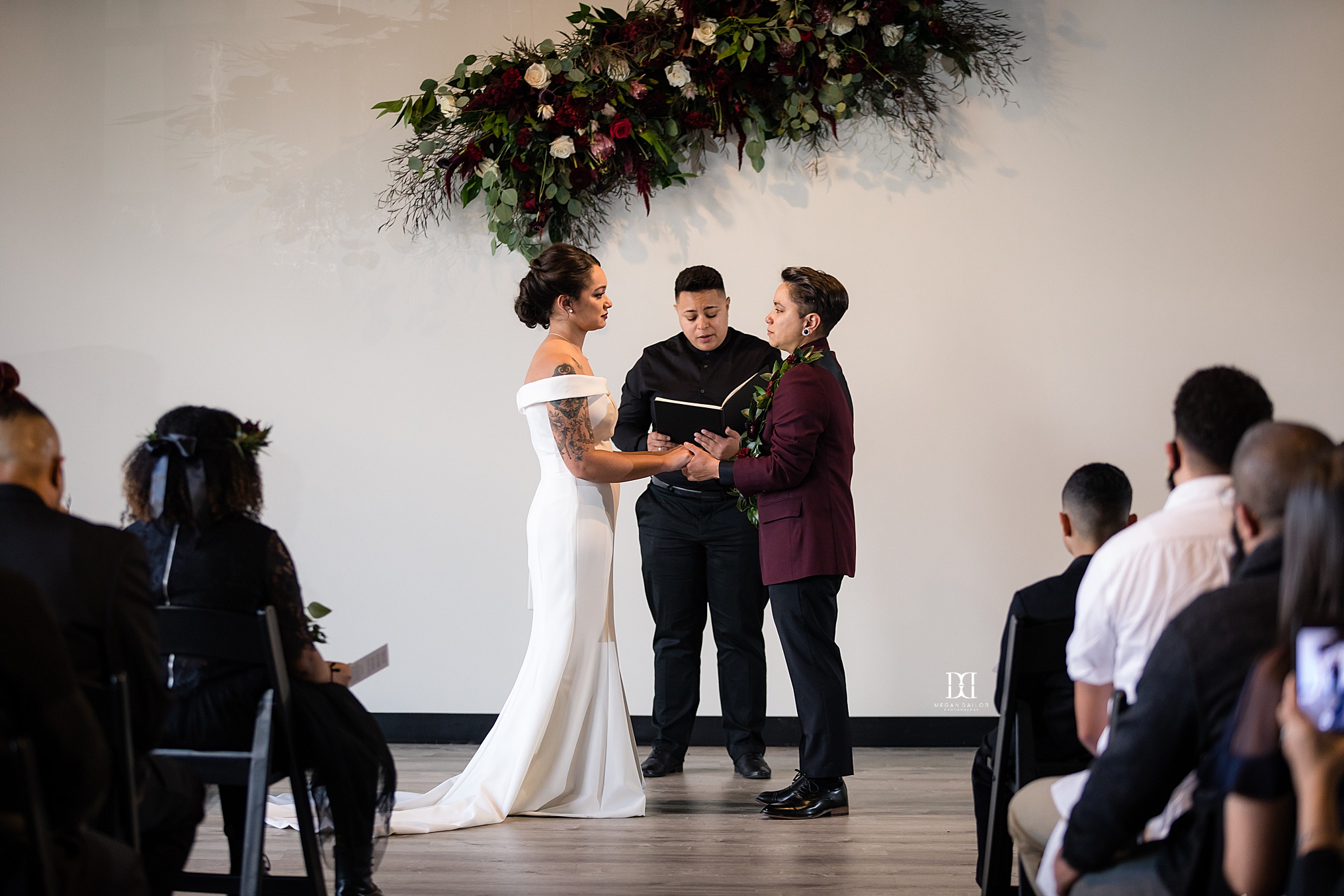 Vianette's cousin who introduced the two of them was their officiant, too! Oh, and the wedding was on their 10th anniversary. I love things like this!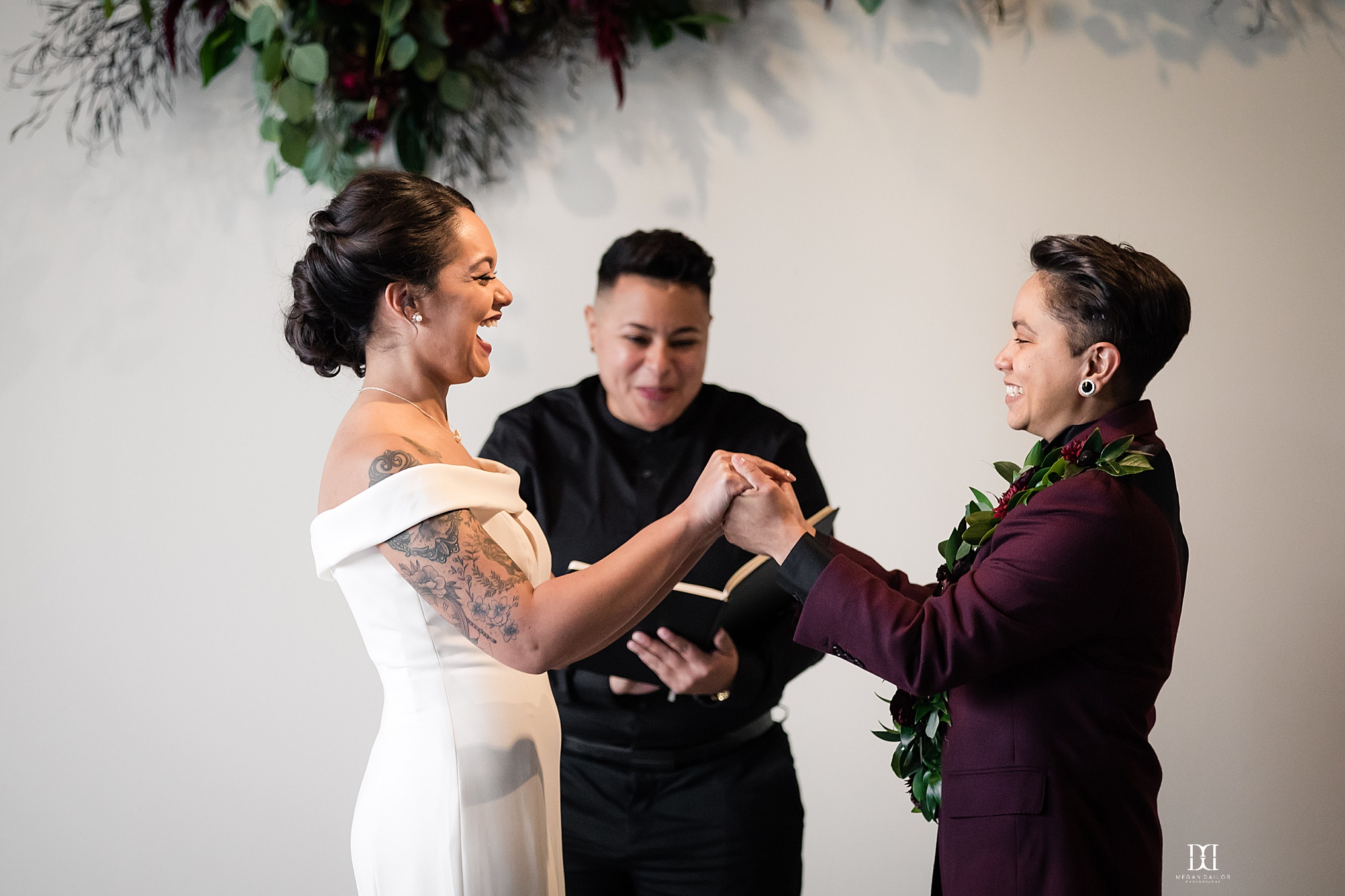 Mrs & Mrs!!!!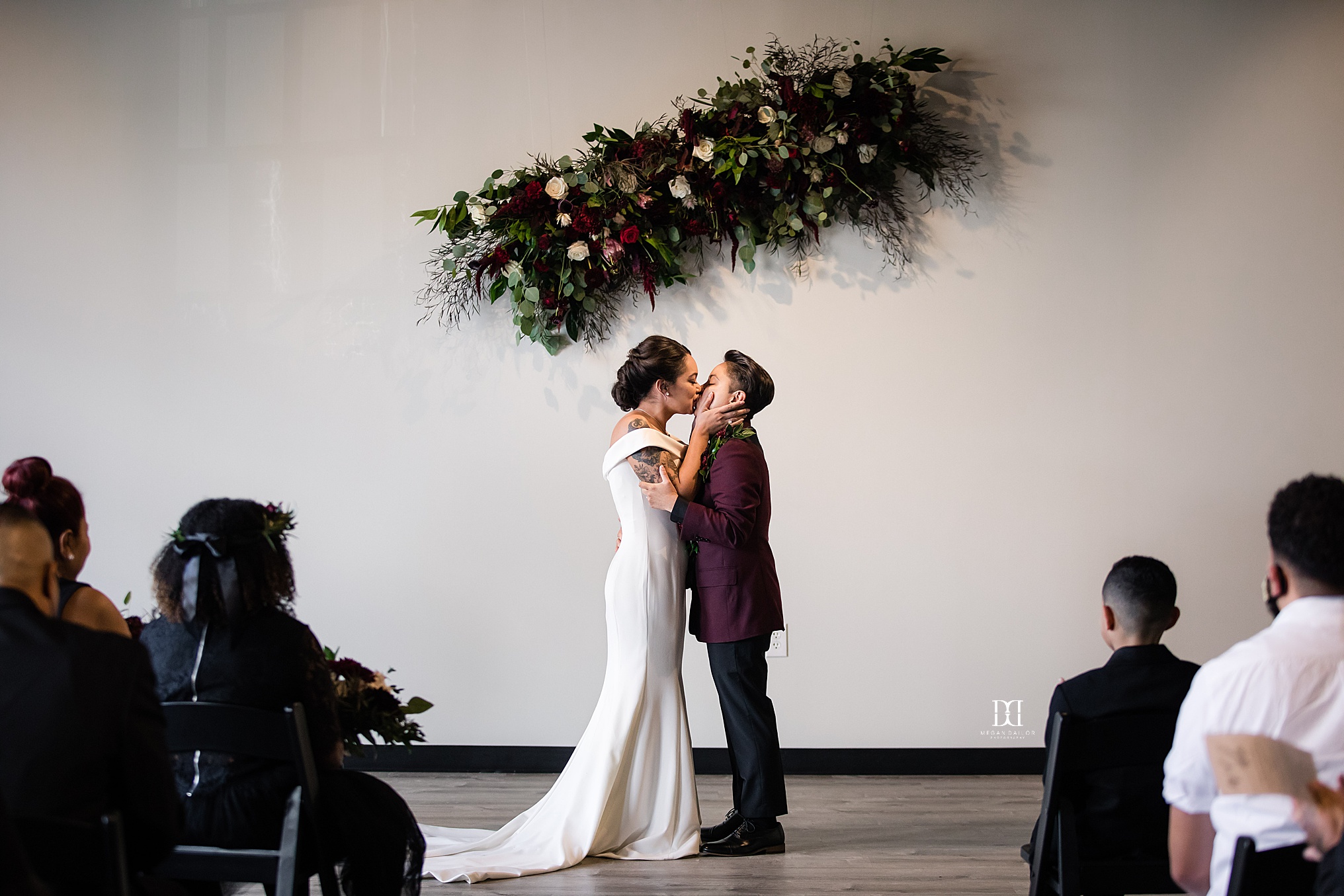 Celebrating the new Mrs & Mrs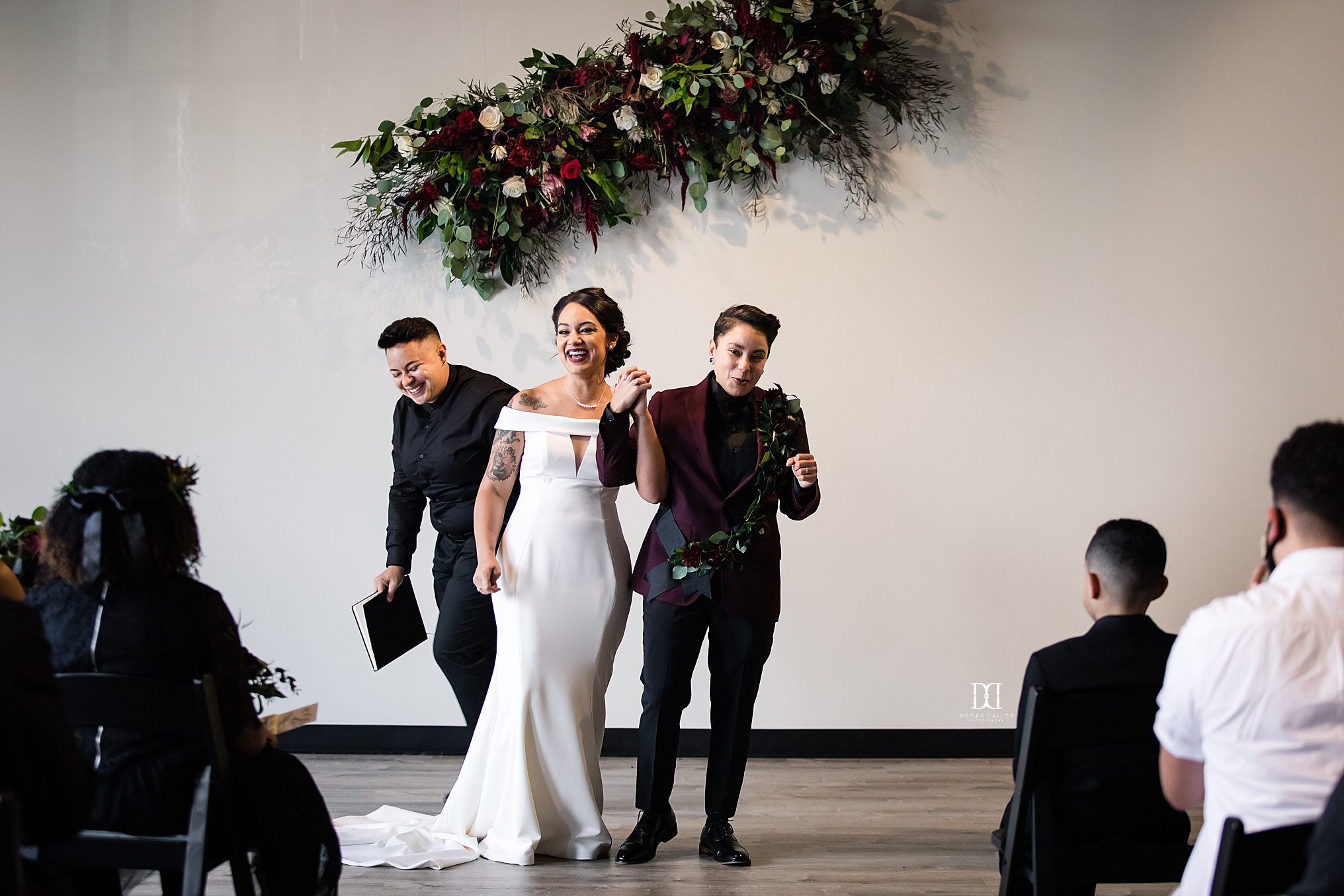 Kiss break!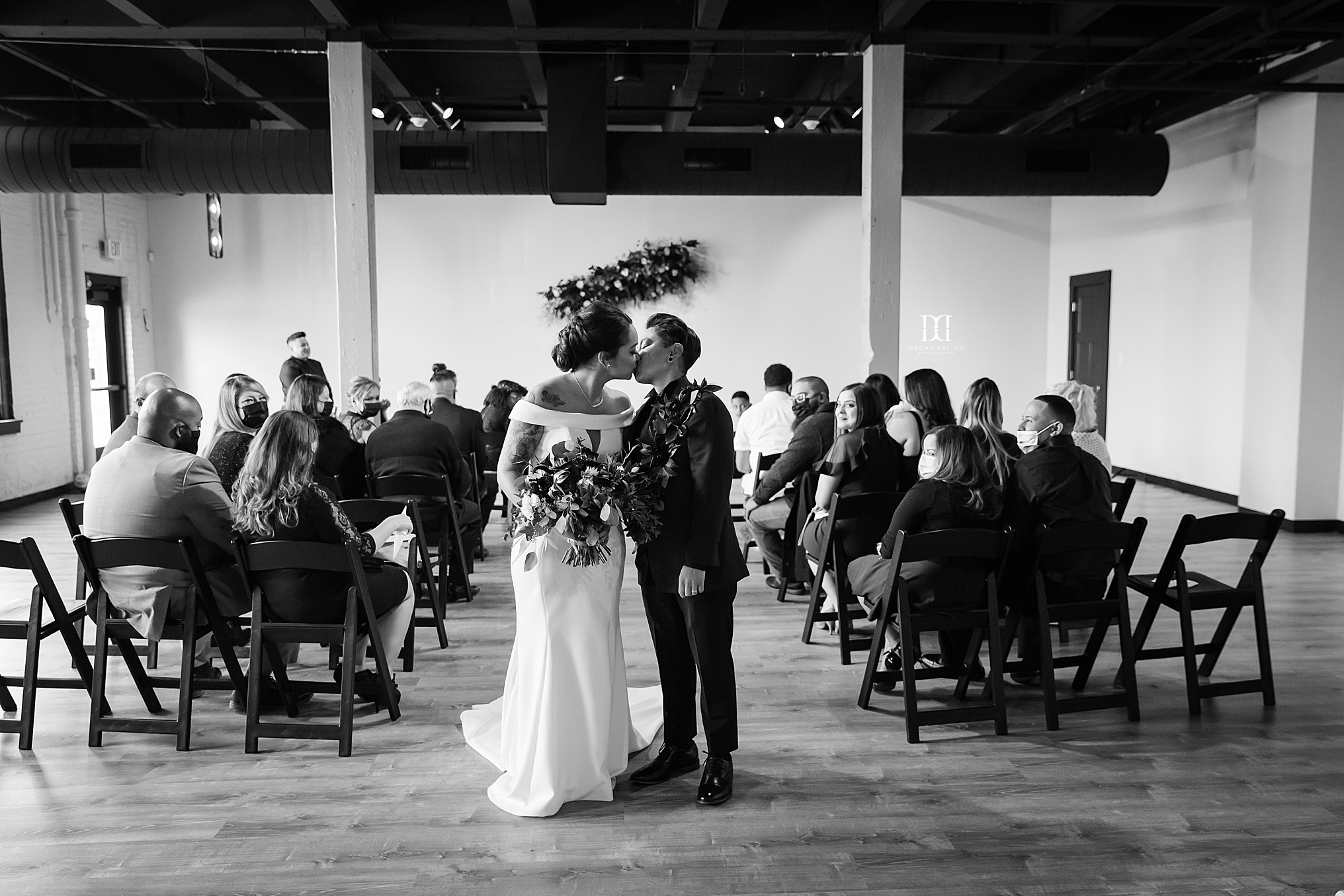 These families are so delightful and full of love.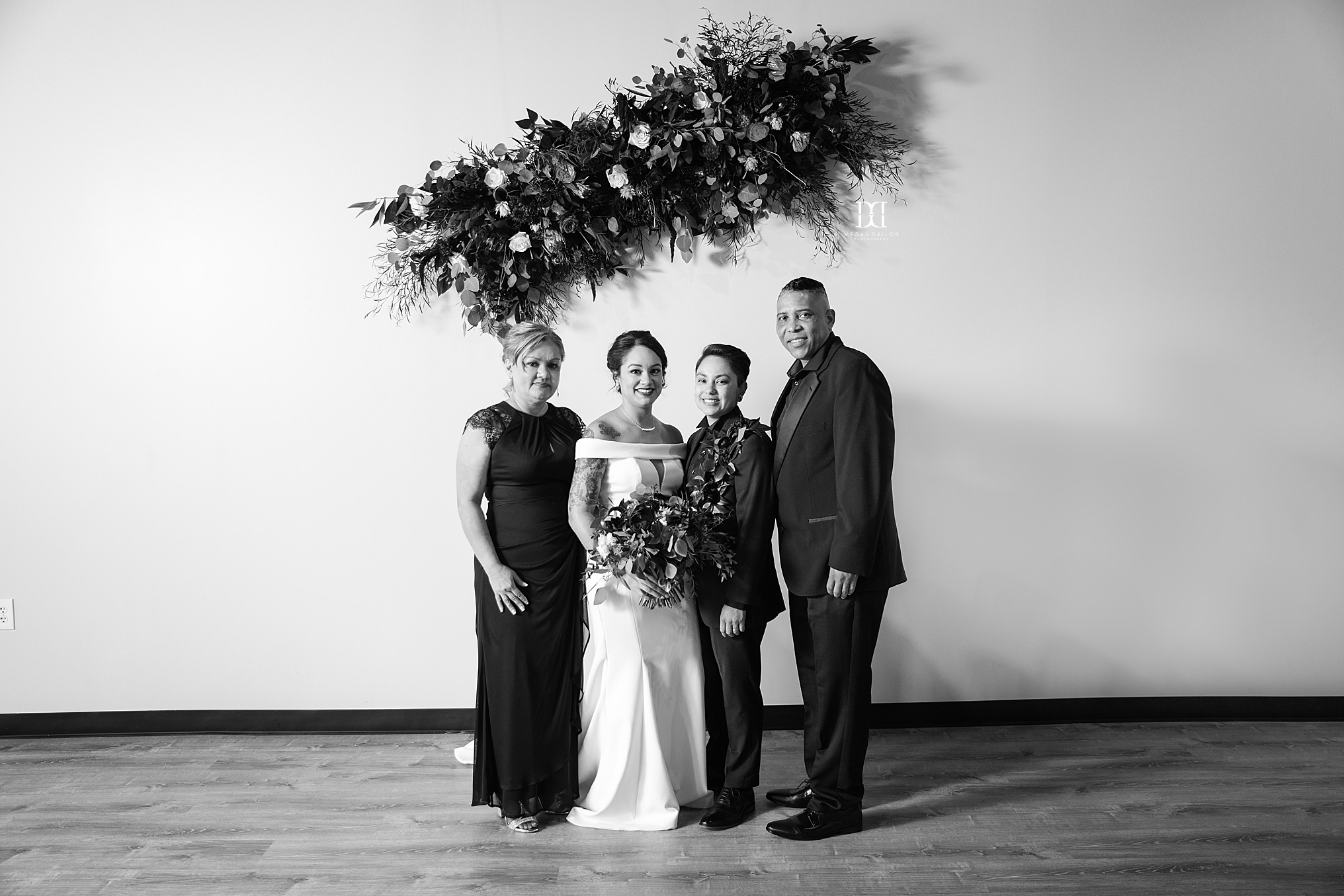 The grandparents wanted some pictures of the boys and these stances are so darn adorable... like you can just see the love in the intensity of those postures.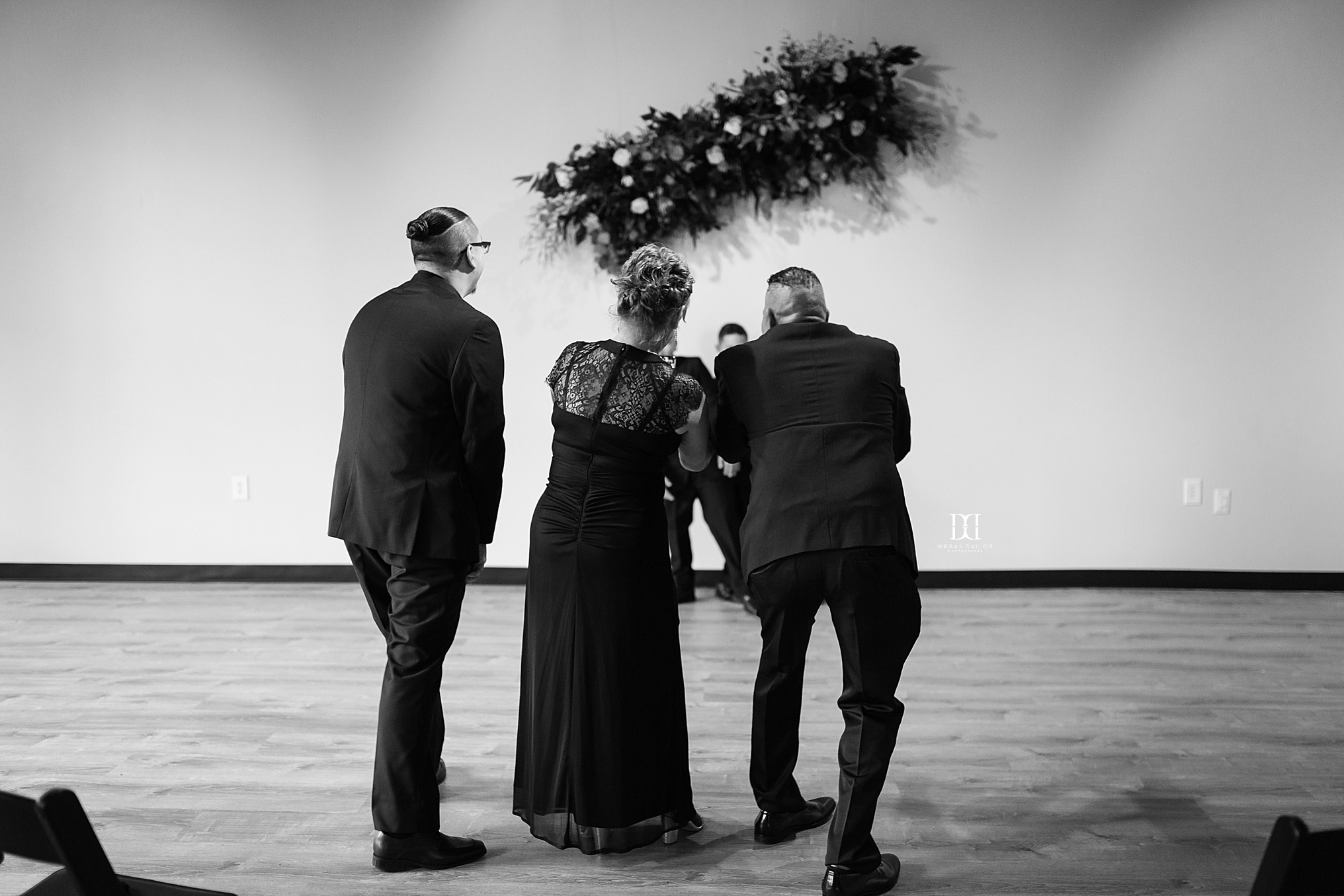 And their faces! Are you kidding me?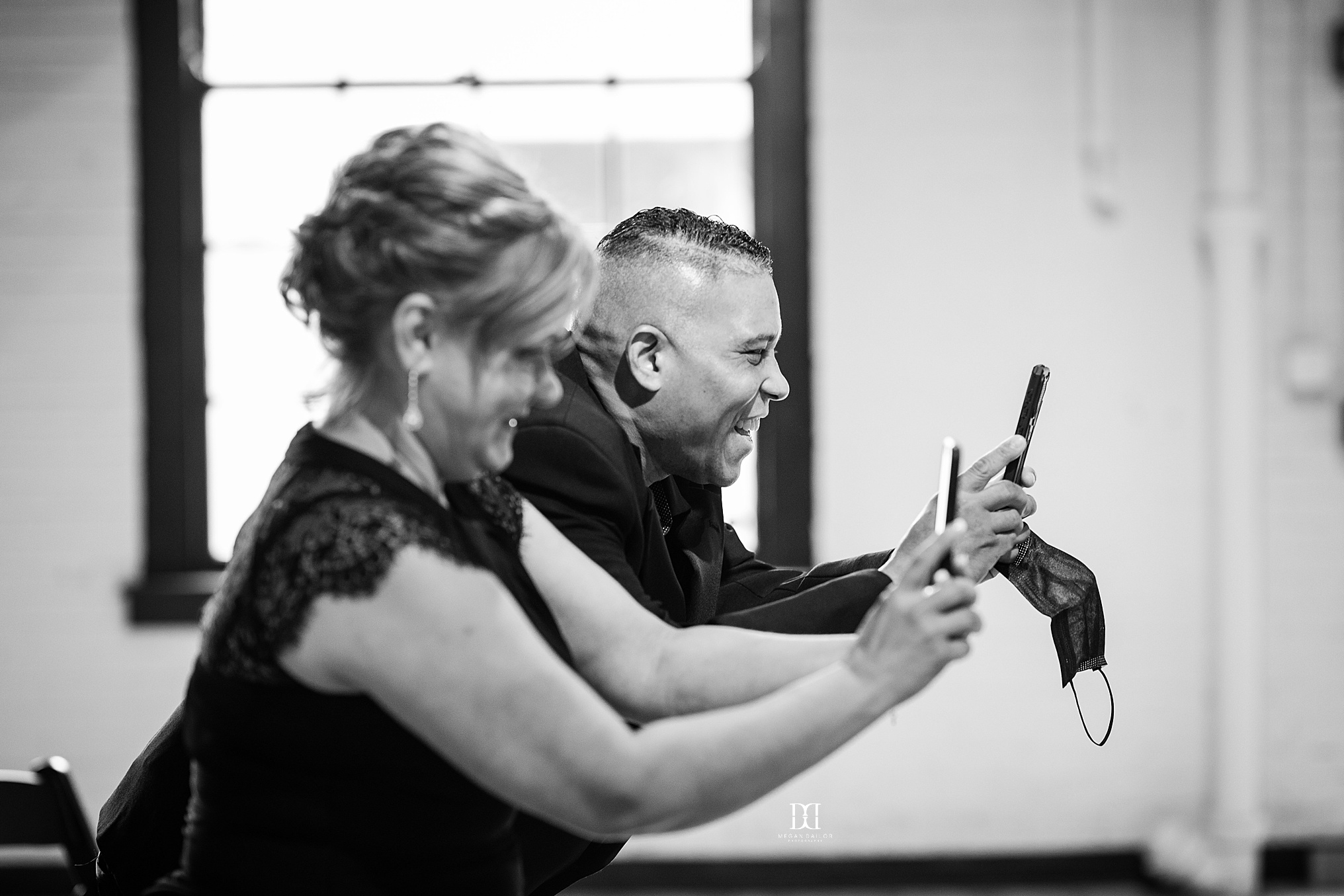 Like just across the board, I cannot say enough about how wonderful these families are.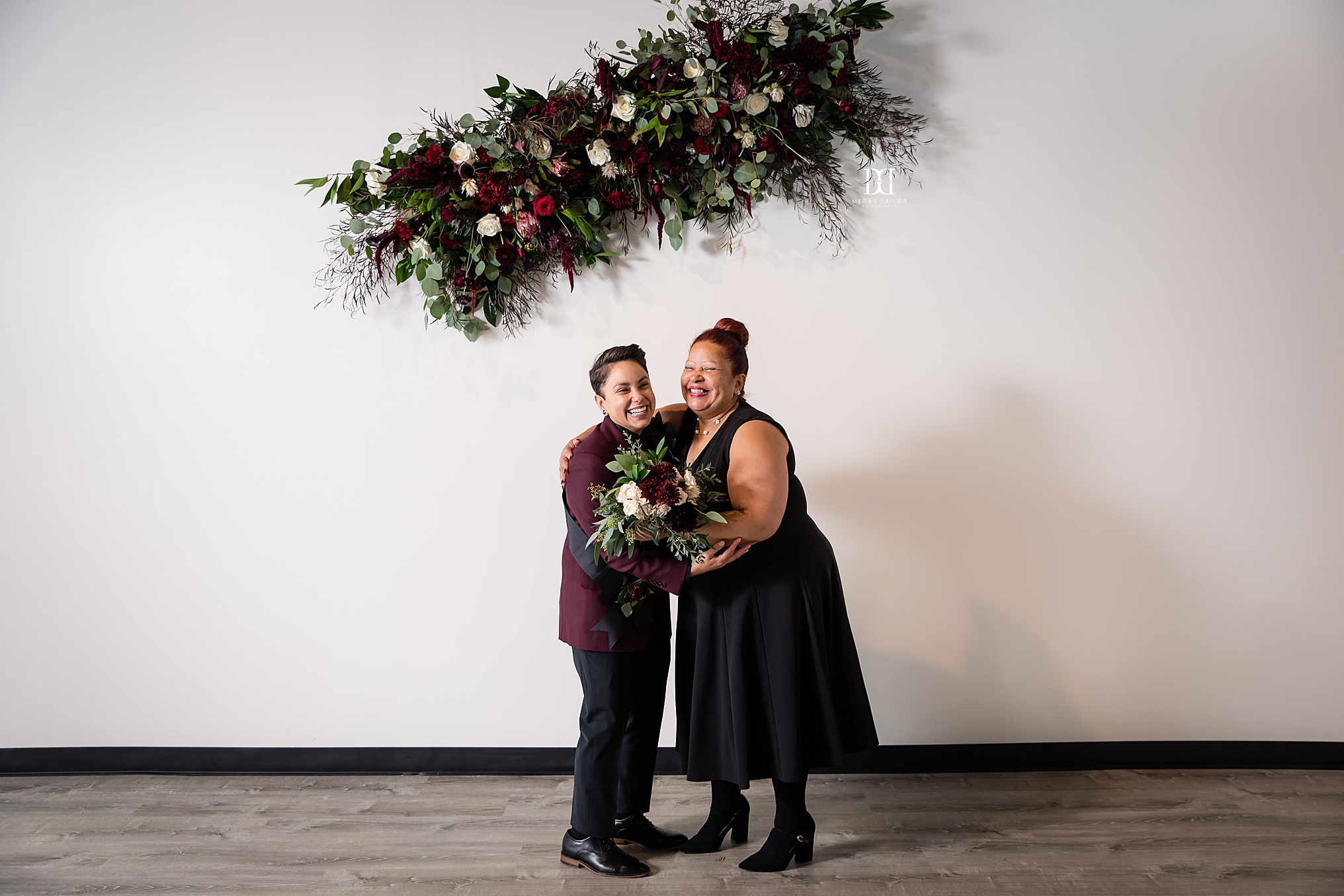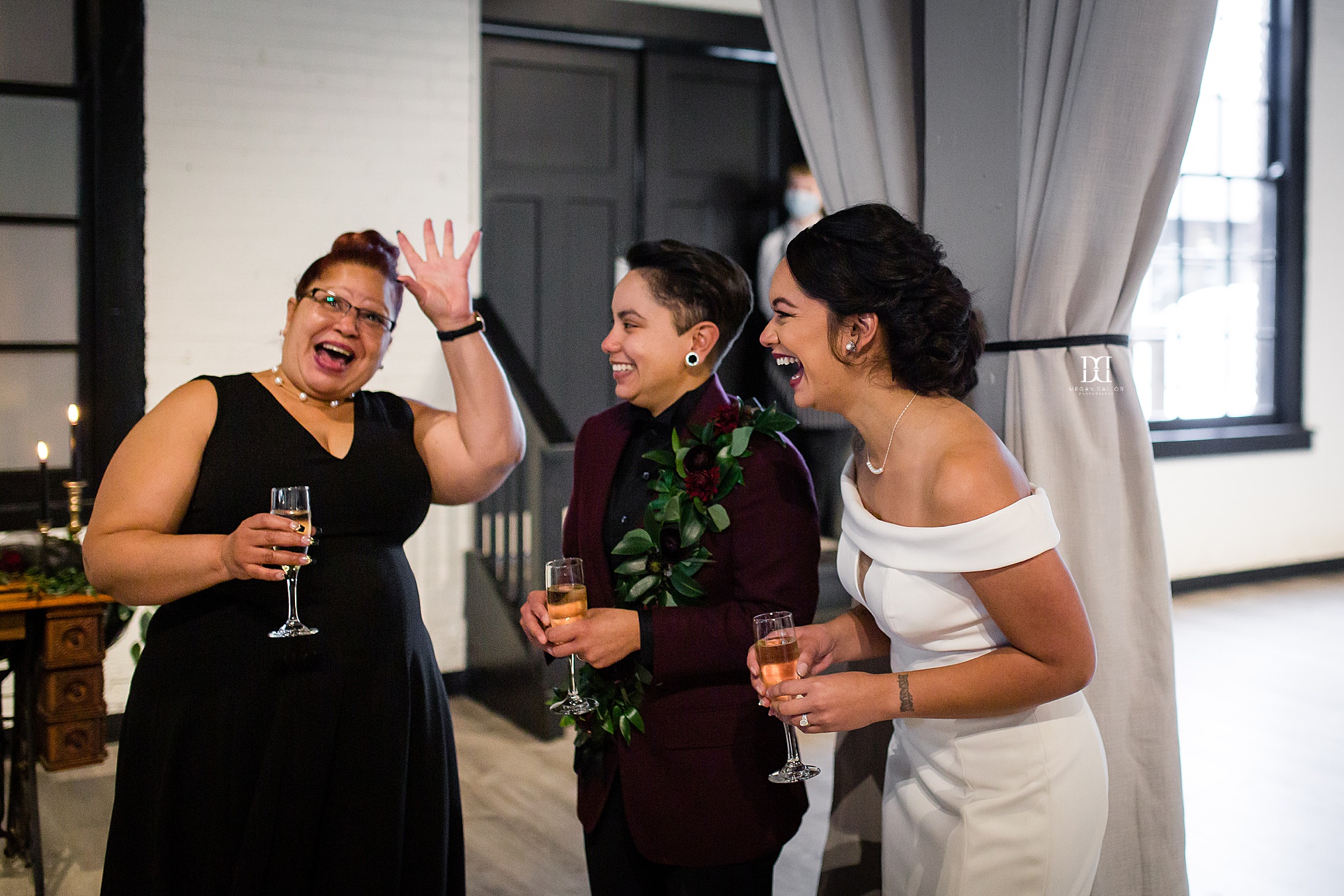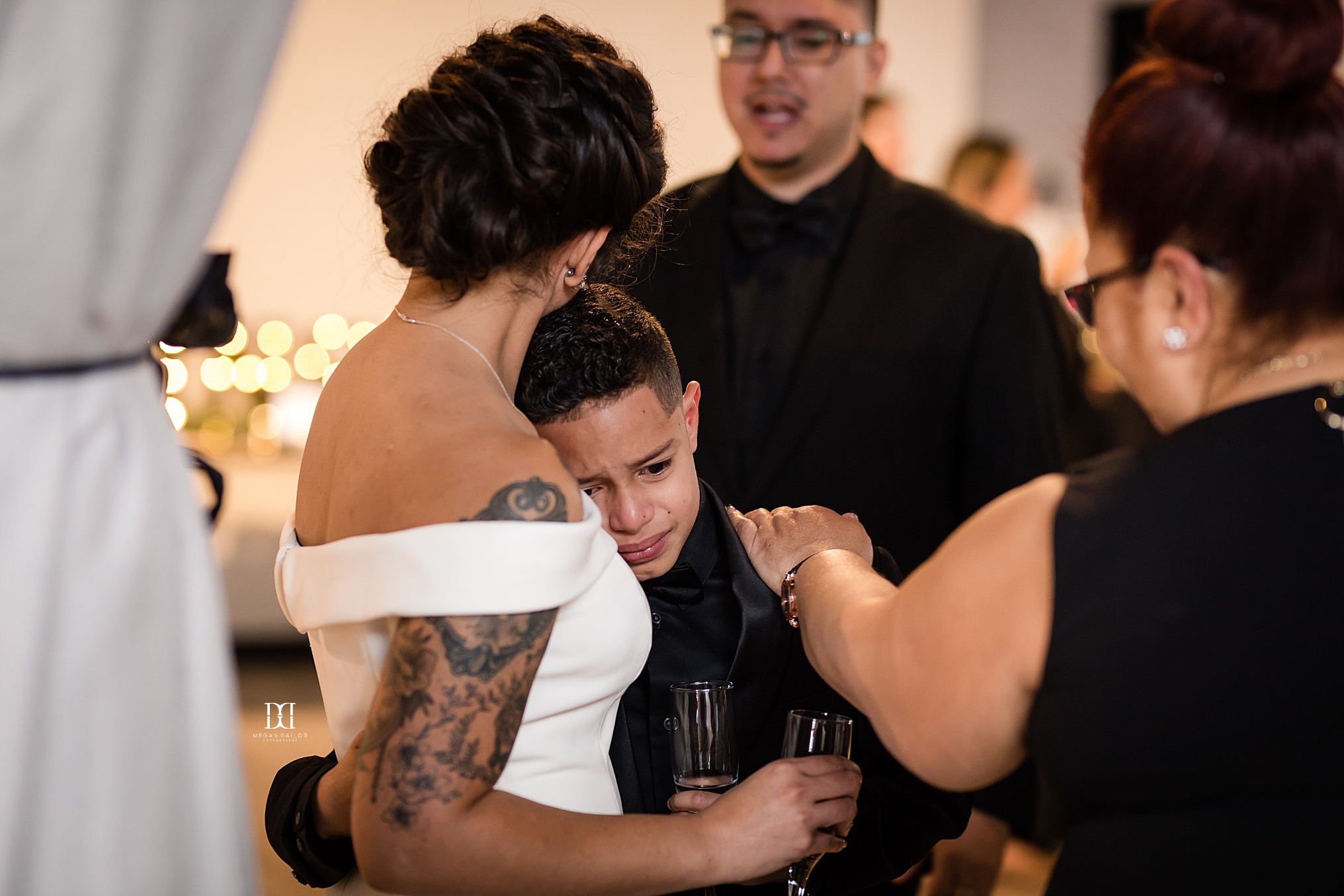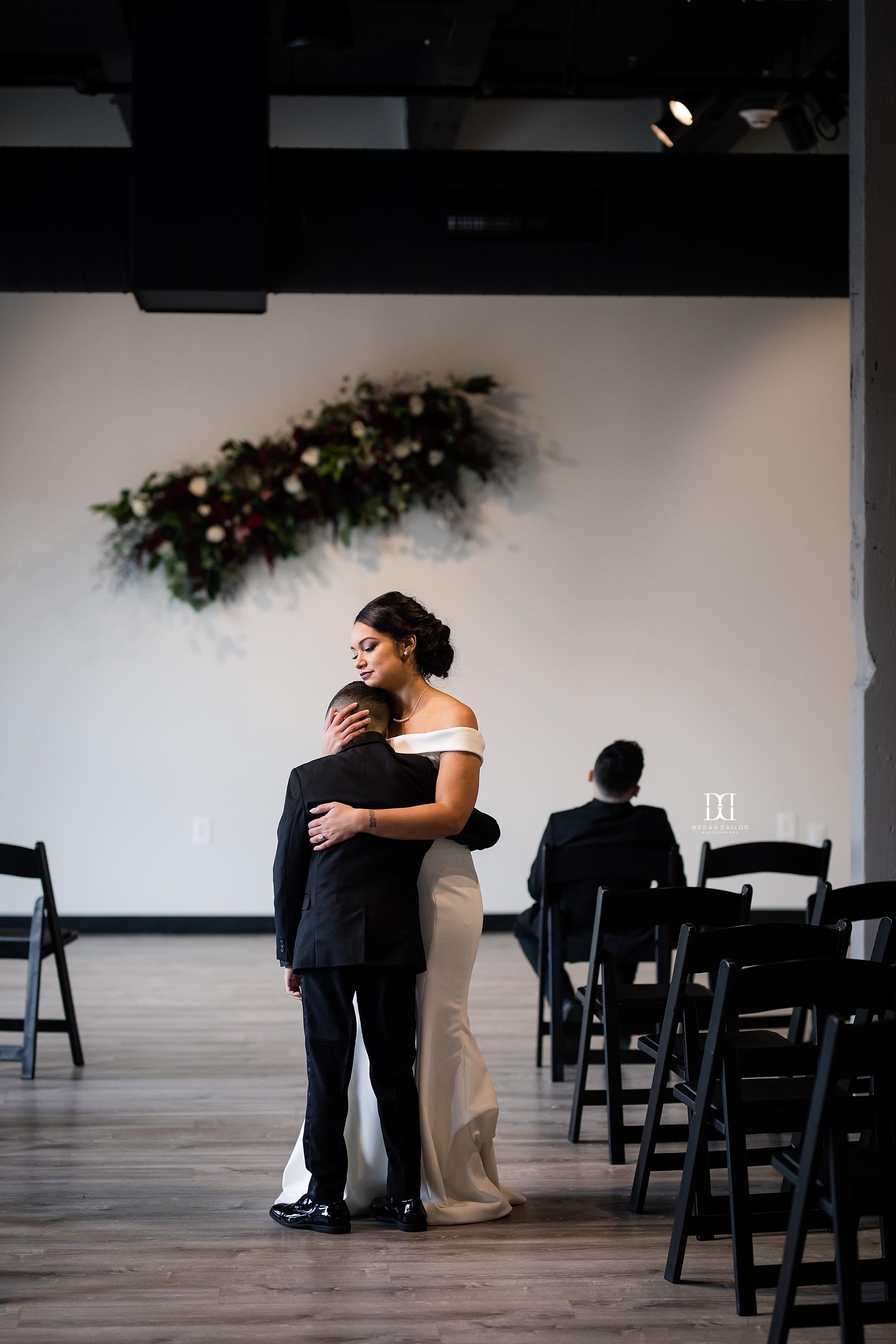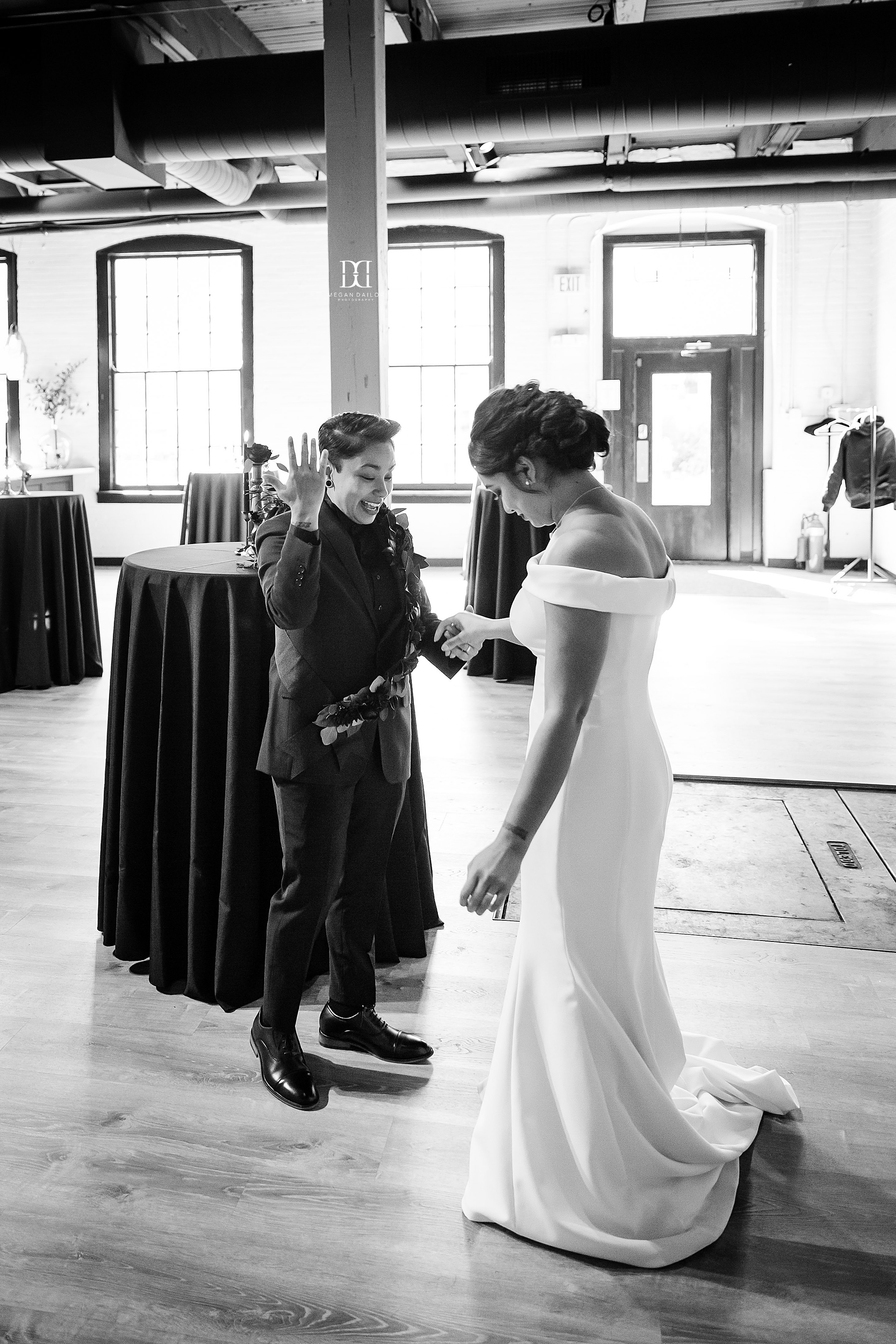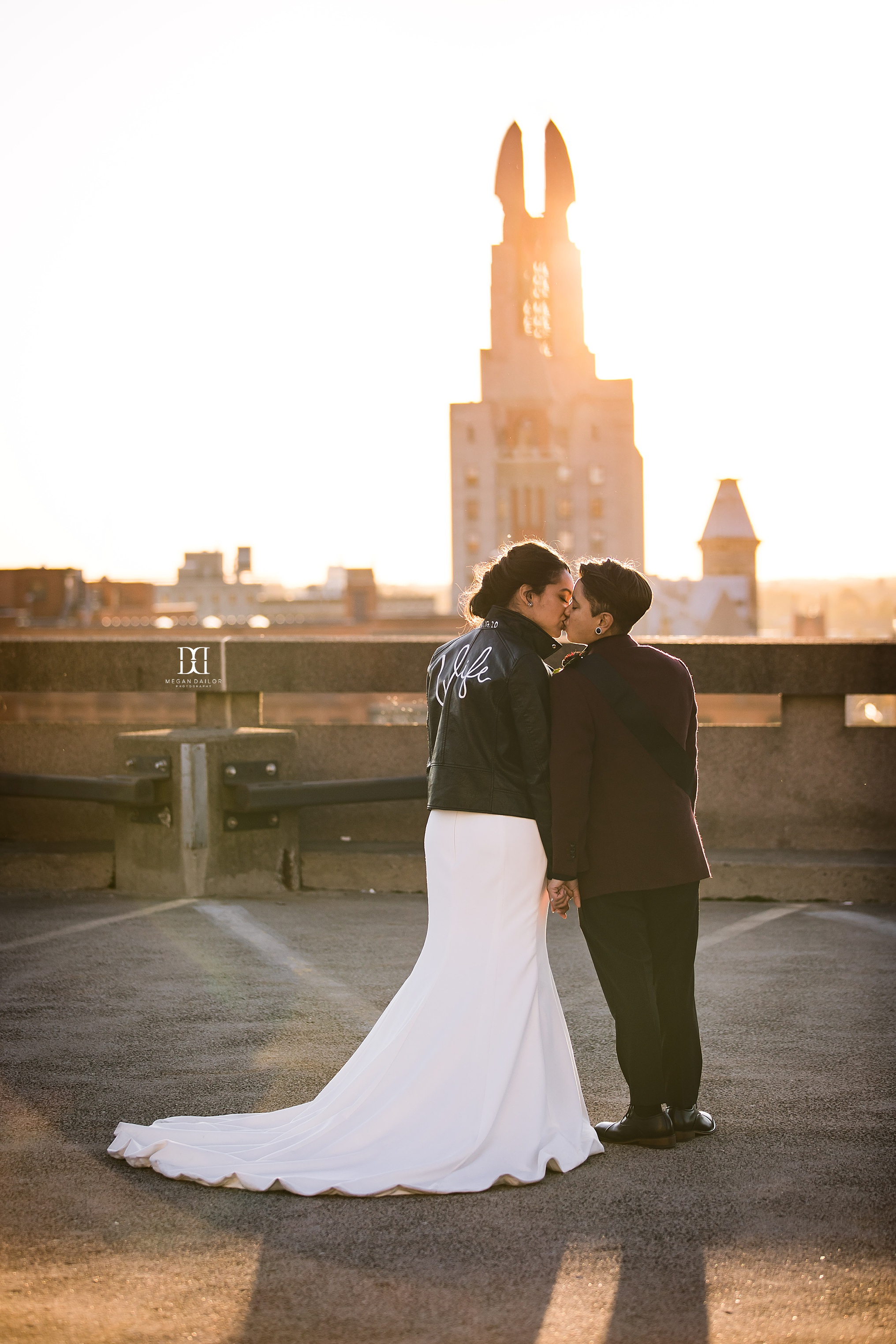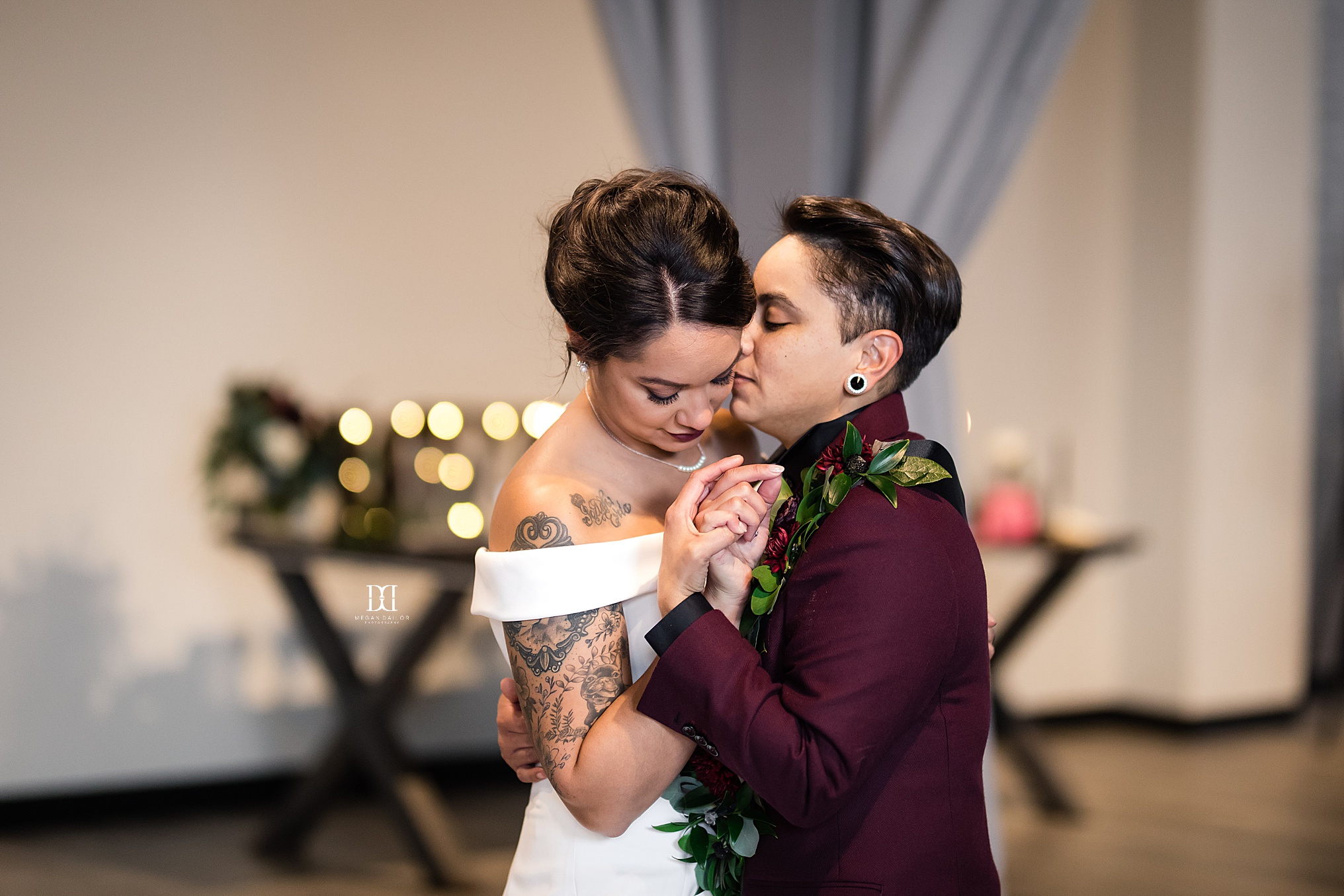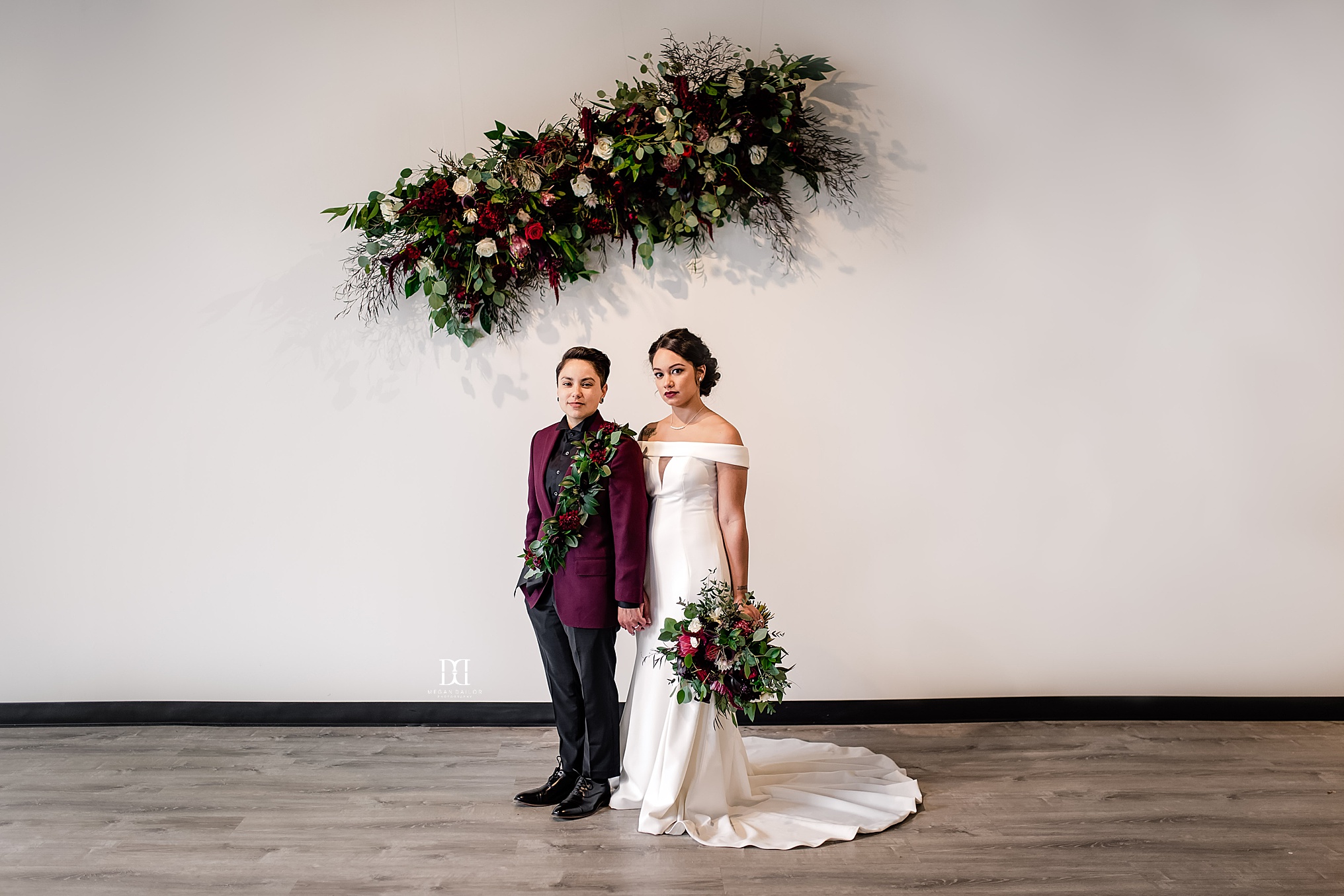 Can we just take a moment to appreciate Vianette's hair? Kathy at Gallery Salon created this stunning updo and I'm obsessed. Soft and romantic with just the right amount of texture... love it forever.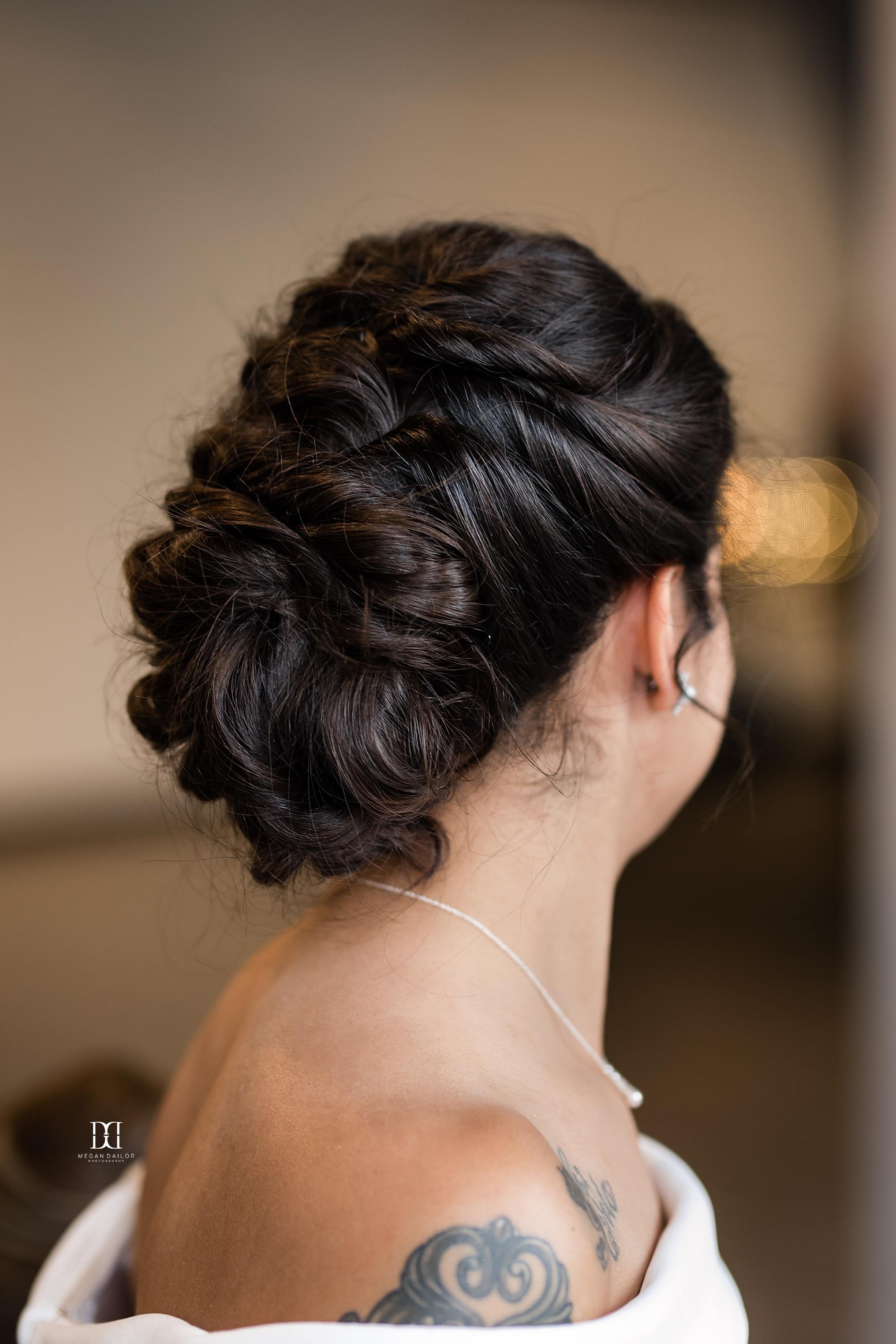 An exciting moment at the end of the reception, sweet baby Luna joined us! She knew her moms were in there and could not wait to see them!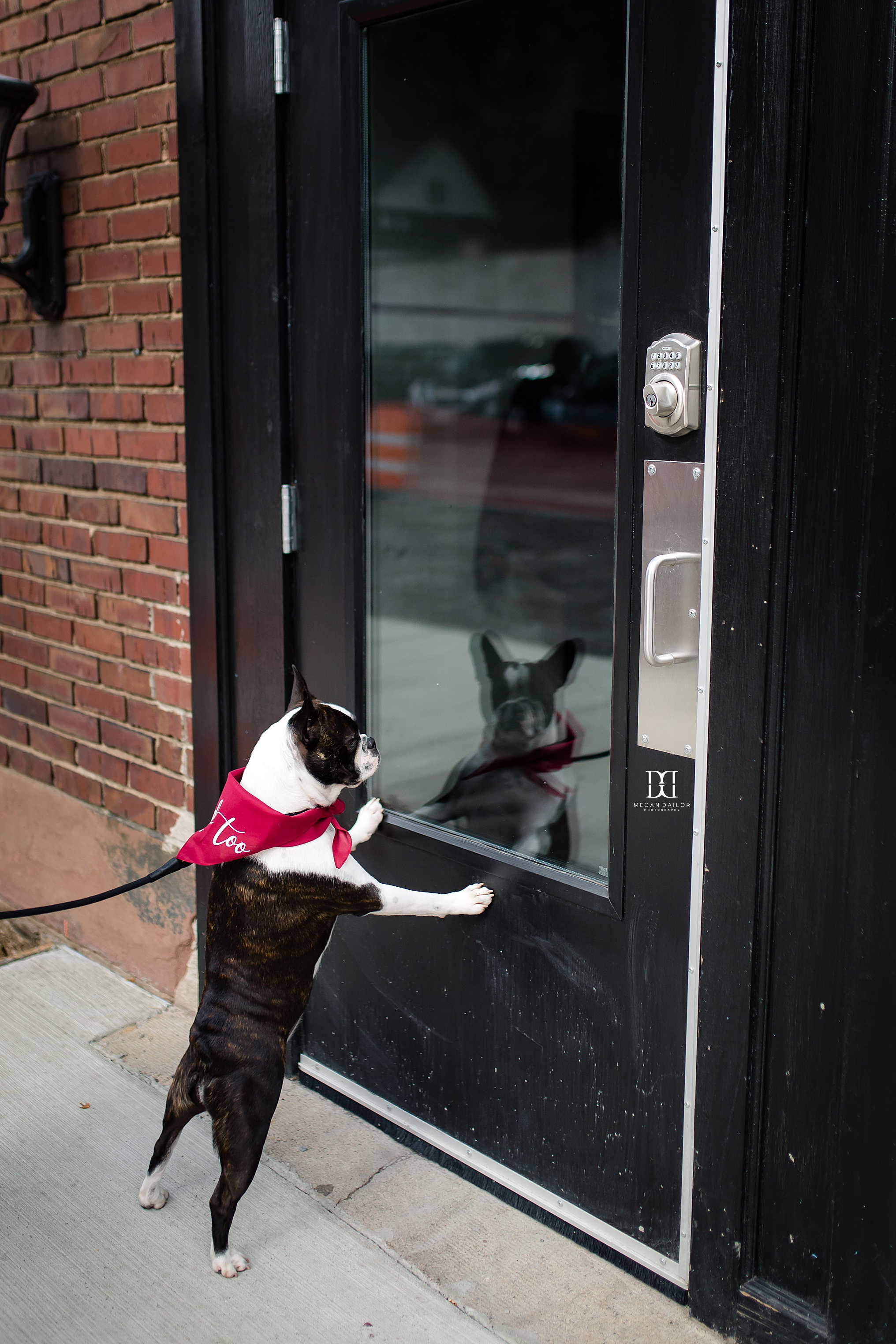 She is the cutest meatball!

Getting all the love from her bro and her moms.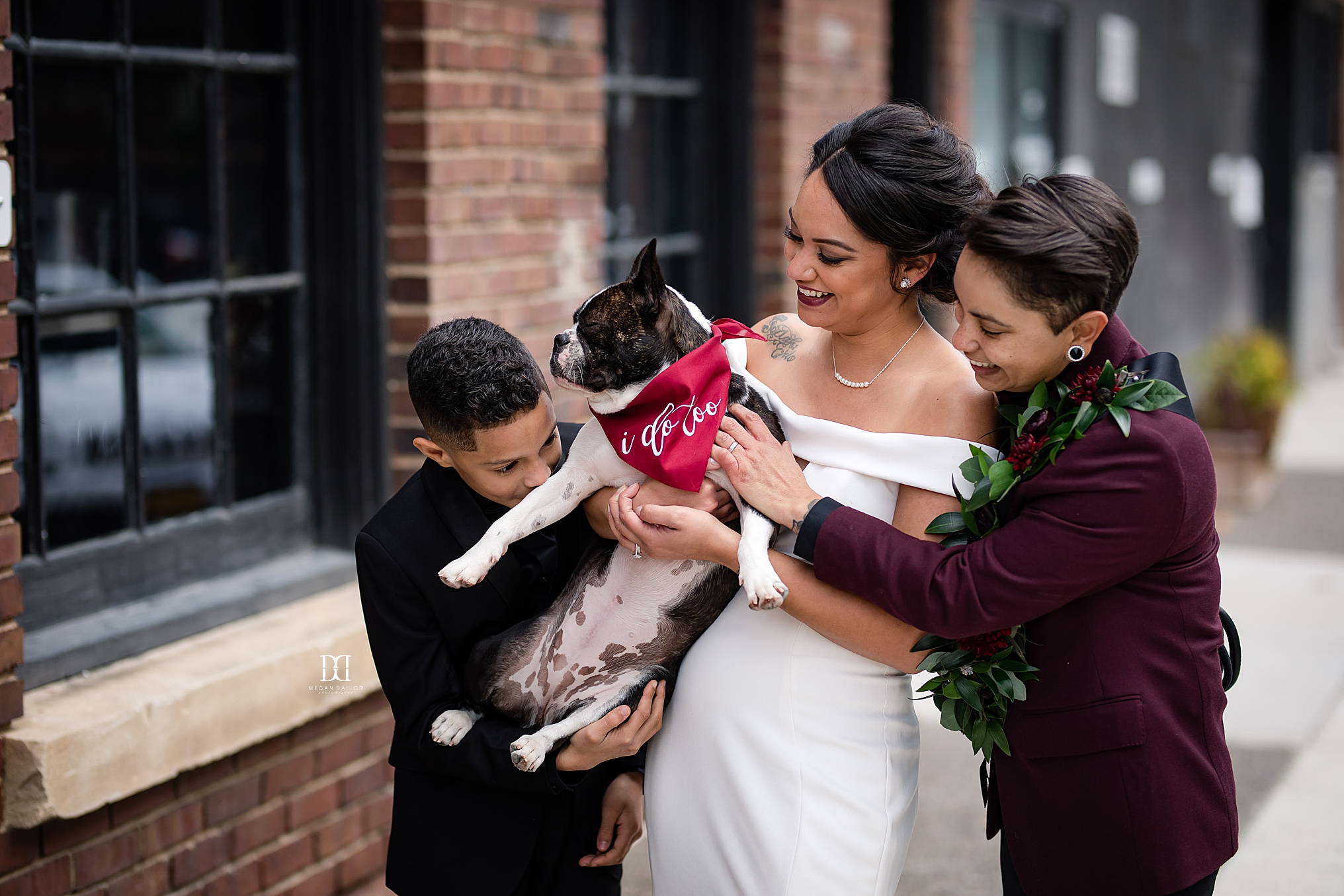 Literally me at every dog.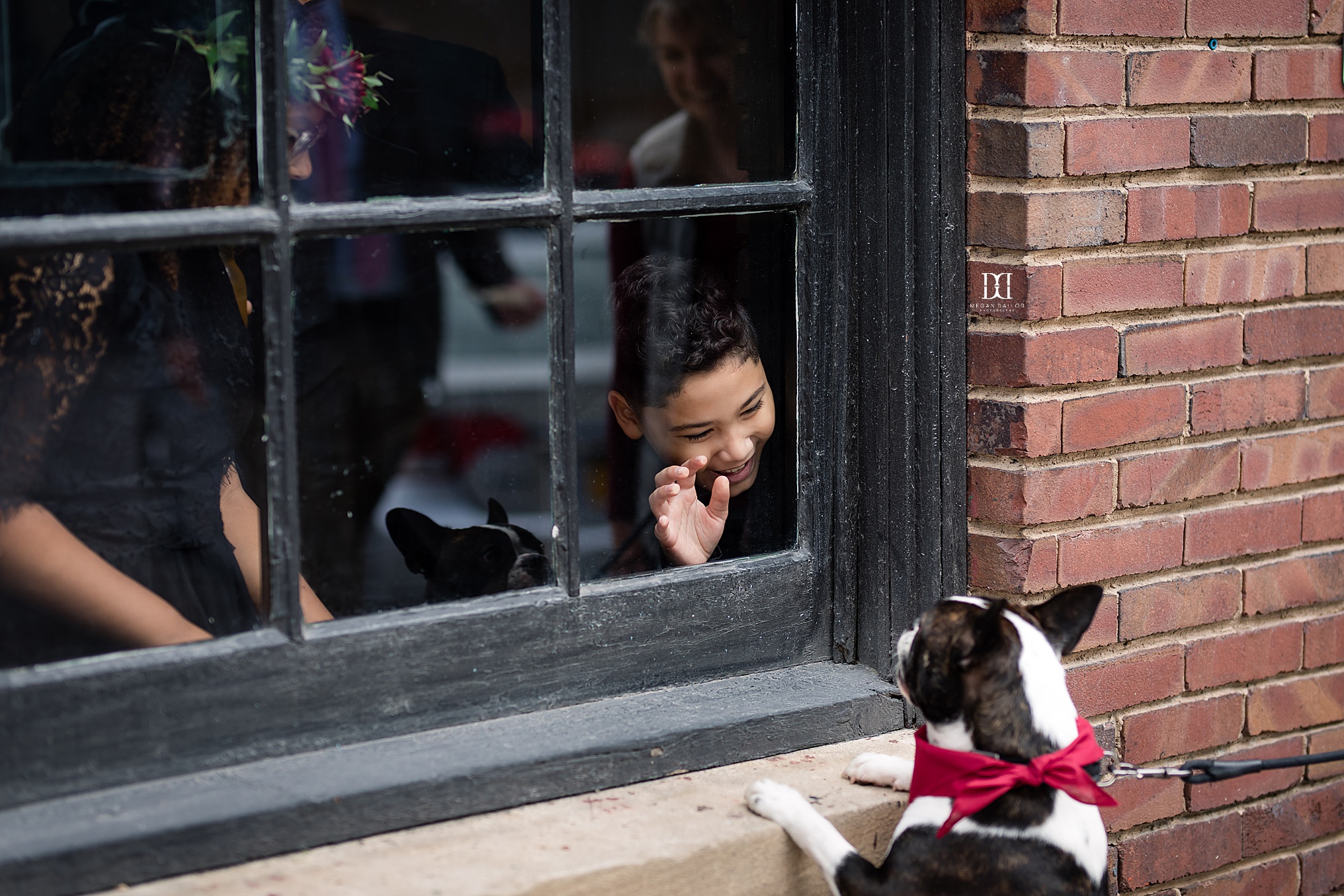 Vianette and Sally wanted to spend a few hours after their cocktail reception hopping around town to take portraits. What a treat this was! Having so much time to have fun and create and capture these two love birds was the best. Also let's talk about Sally's floral sash for the rest of eternity because OMG.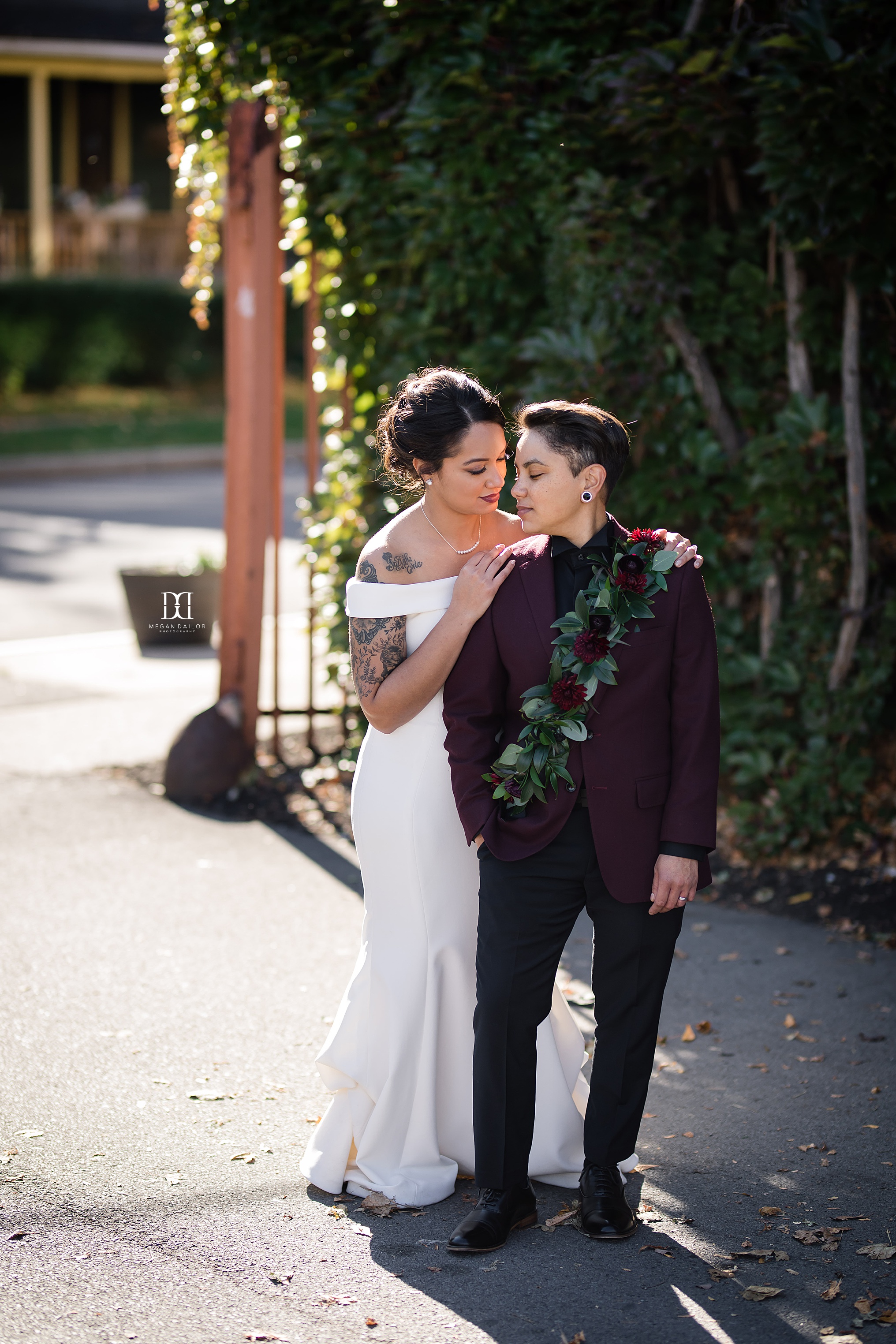 YESSS. Not too long after the wedding, the building with so many of Shawn Dunwoody's gorgeous murals burned down. This one still stands (for now) but I am so glad we got this shot before that all happened.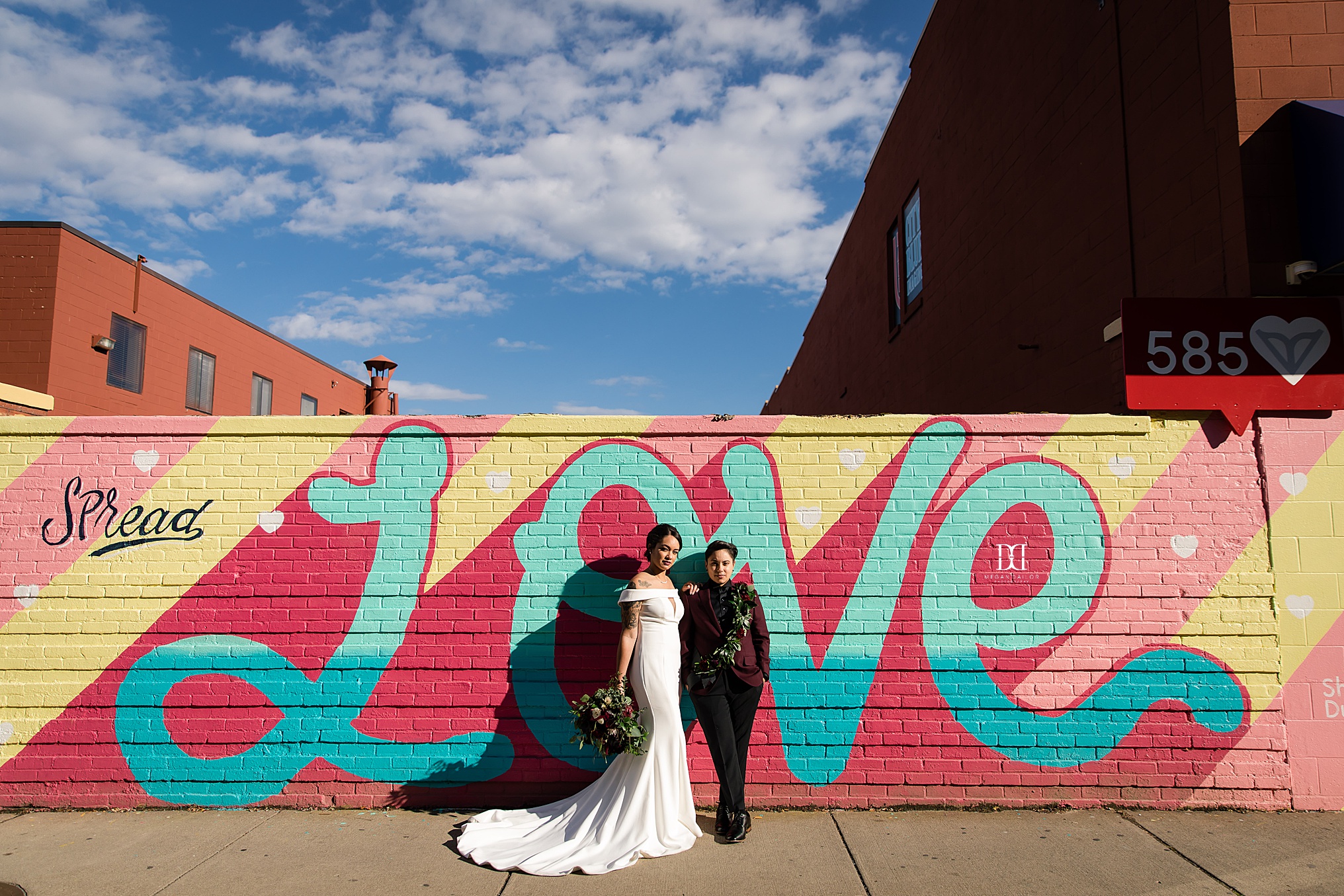 V had a custom painted leather motorcycle jacket to wear with her wedding dress... as a bridal-moto-jacket-wearer myself I 100% approve. And I can't get over the mix of that romantic hair and badass jacket. Flawless.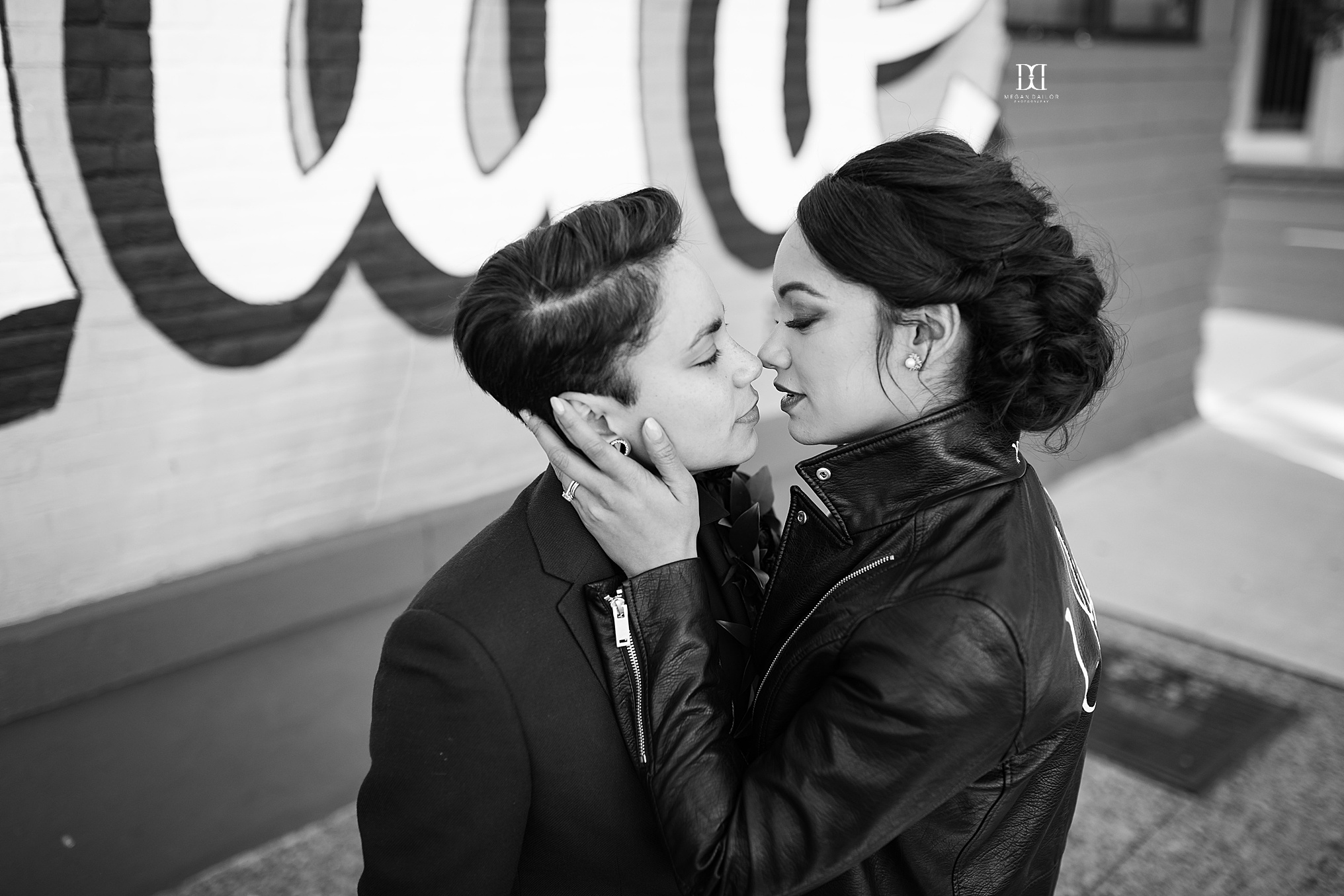 Vianette and Sally wanted to do some serious/badass poses (I submit that everything they do is badass but ok) and I'm dying over this... That fence was so perfect for this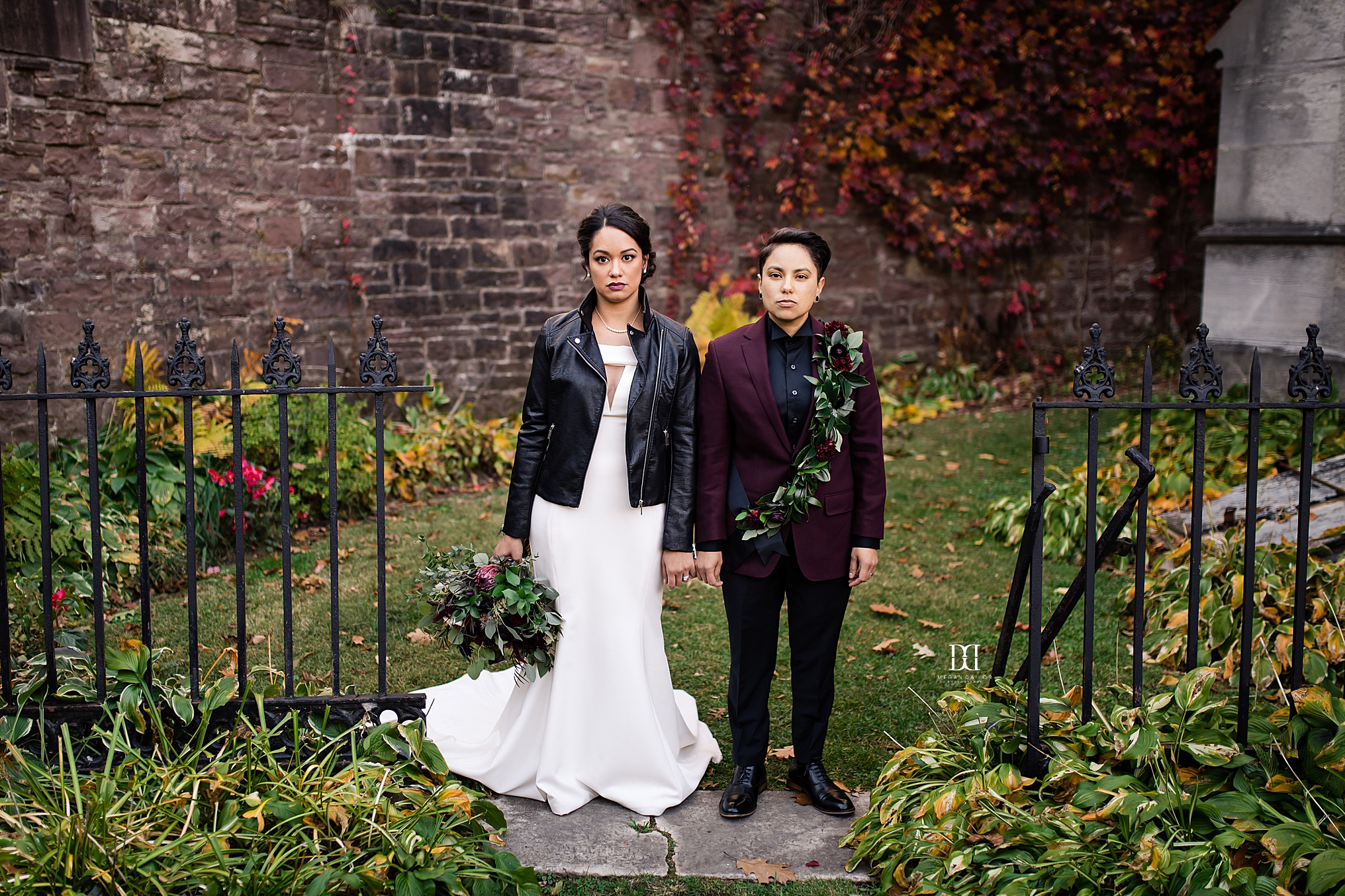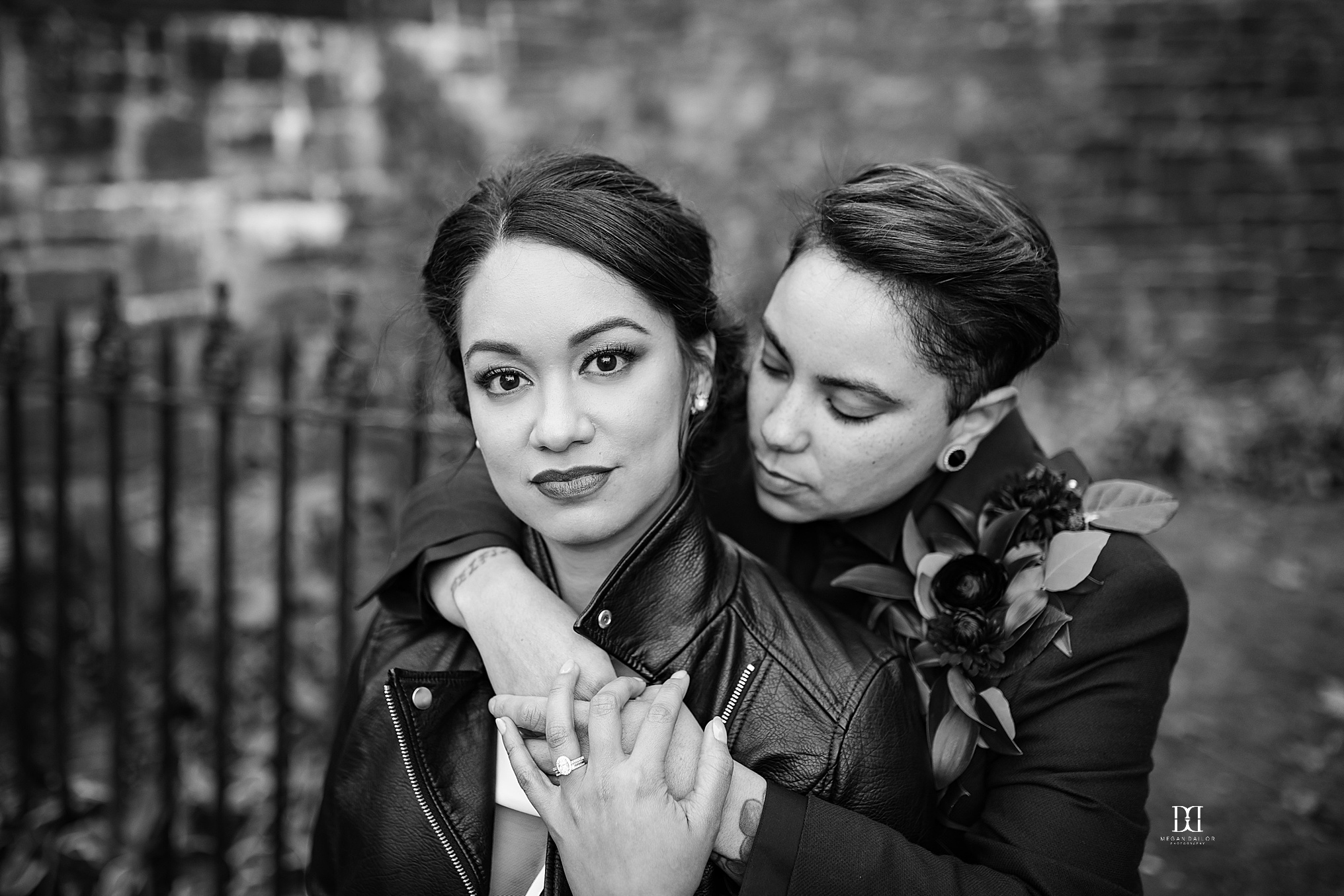 Ten years in and this is everything.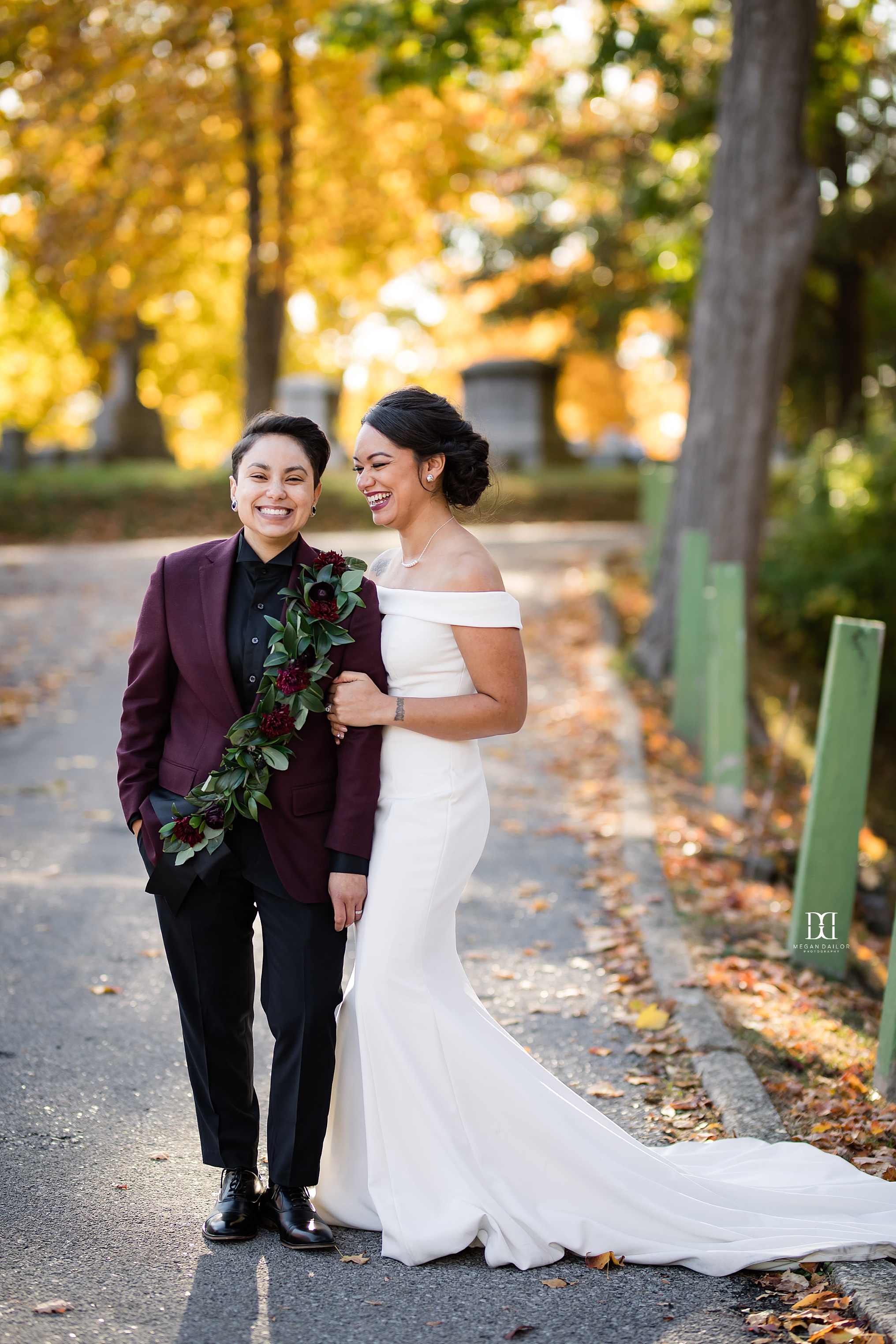 Find someone that can make you double over laughing and you're set for life.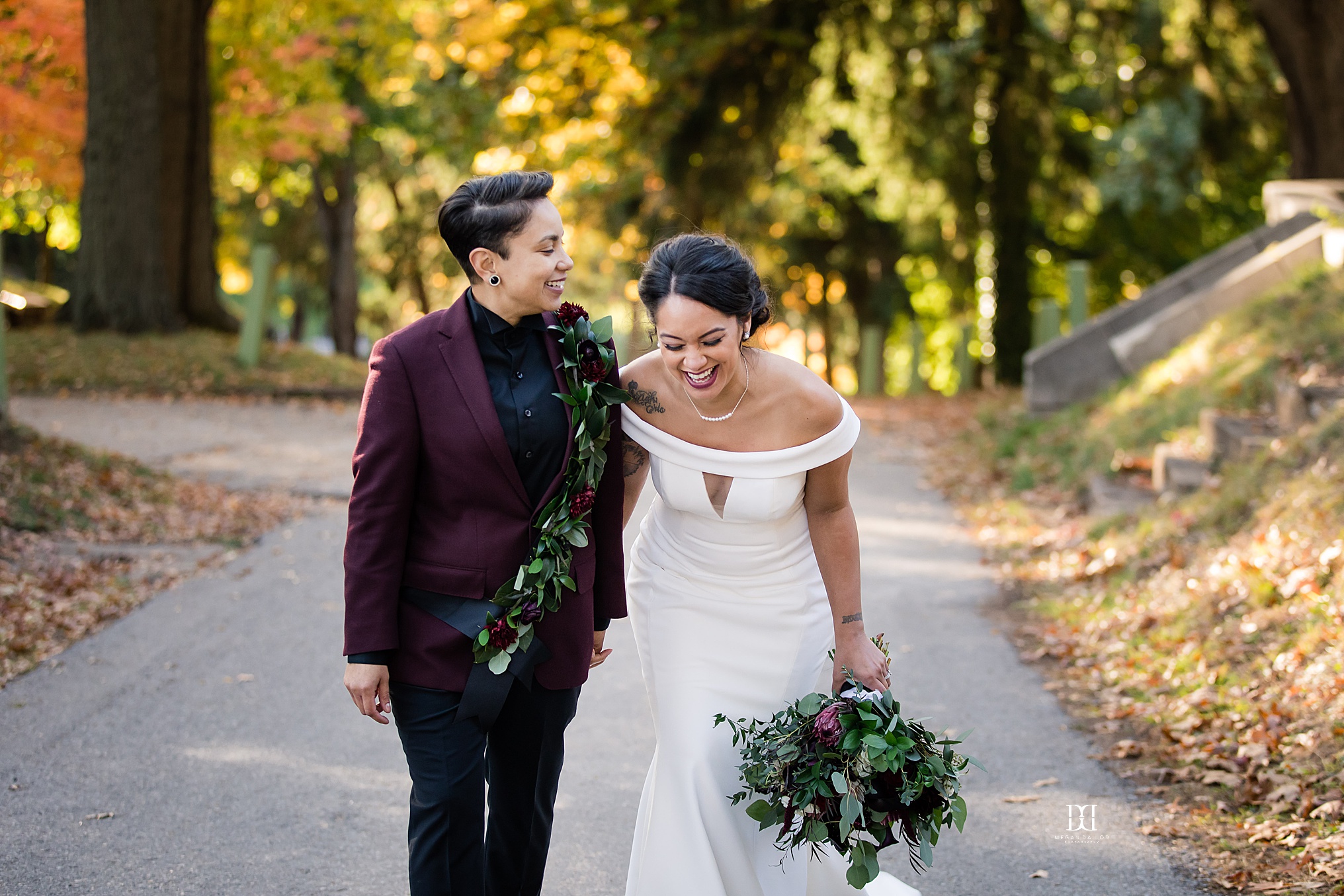 It also helps if your chemistry is explosive.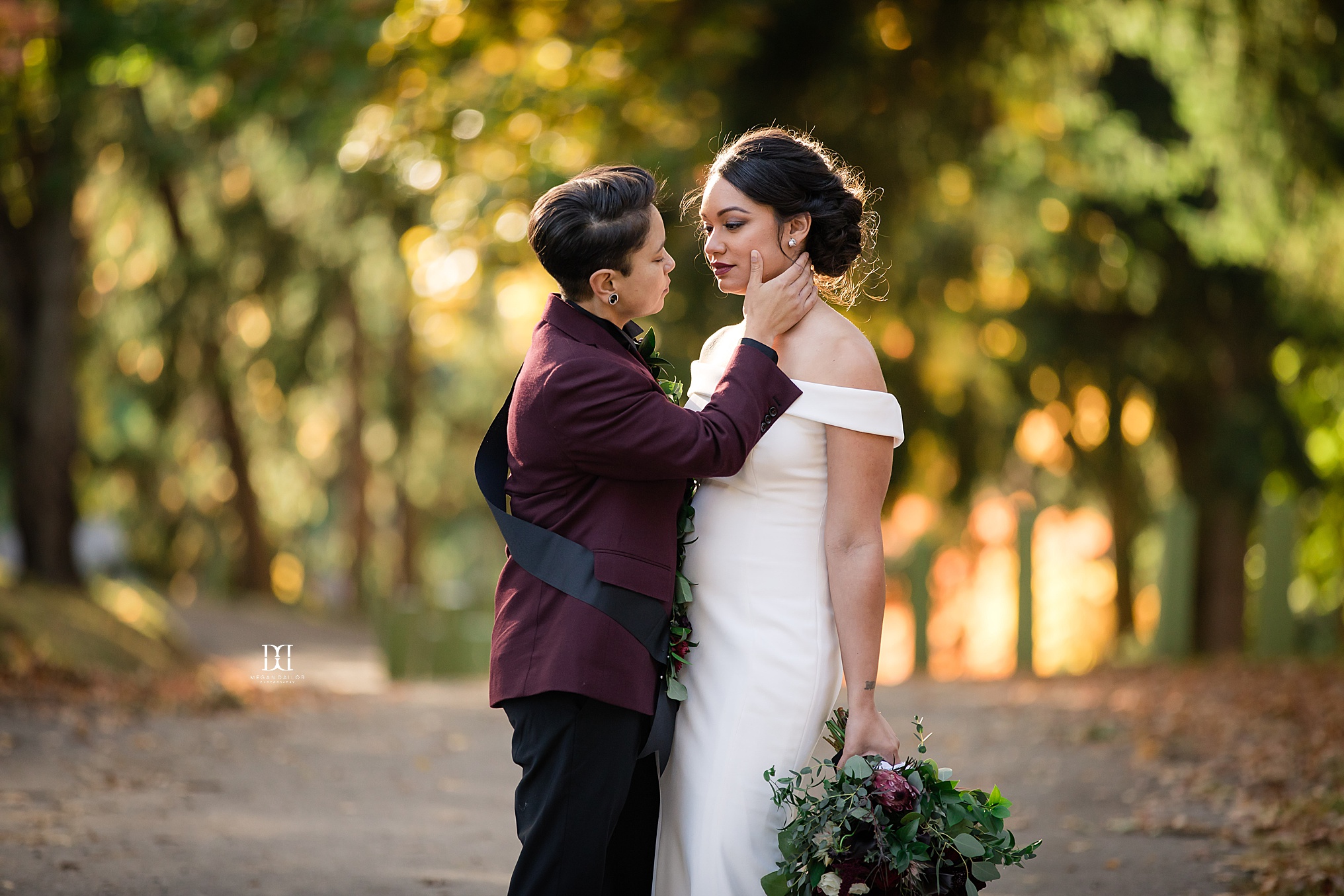 Bridal perfection.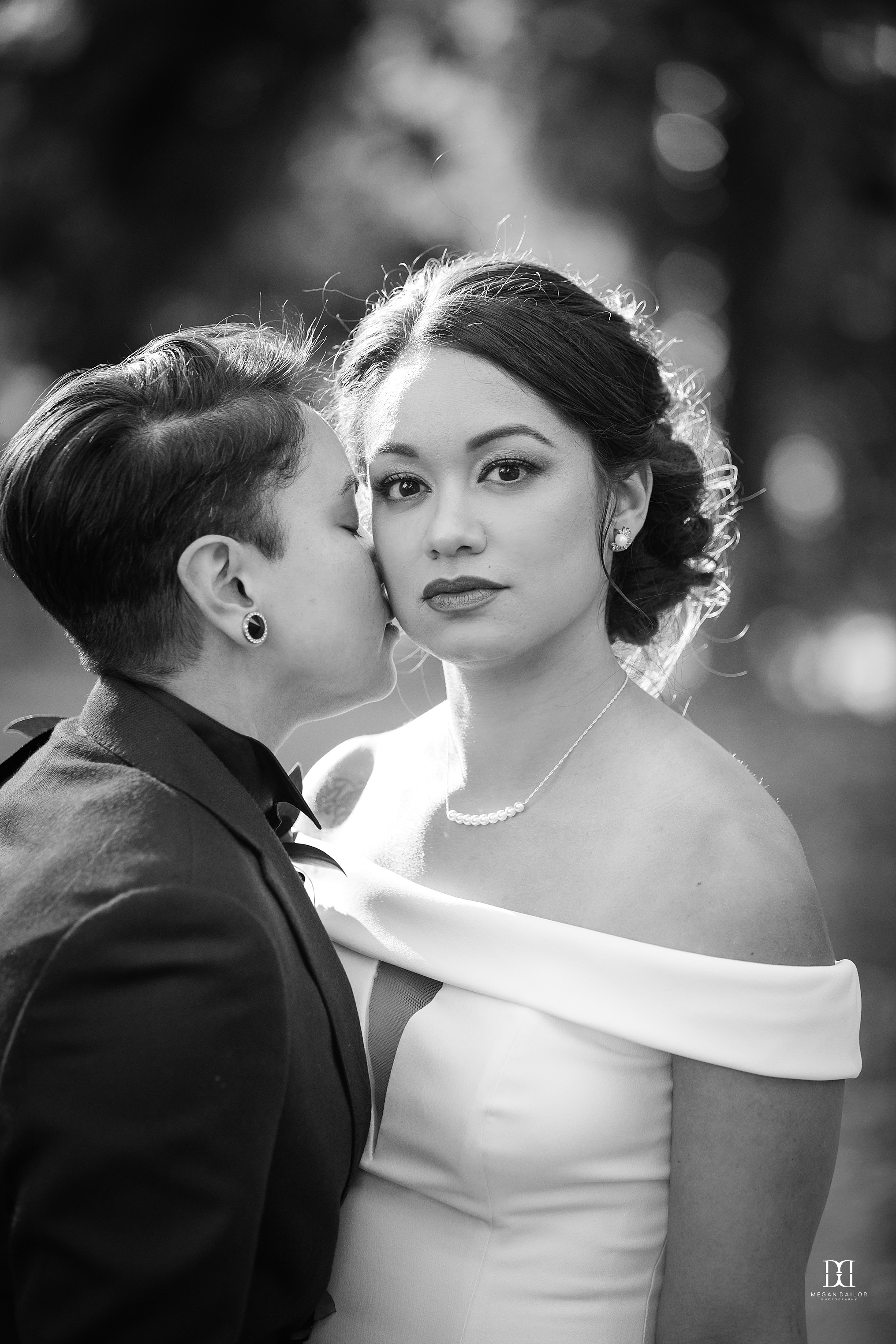 I mean...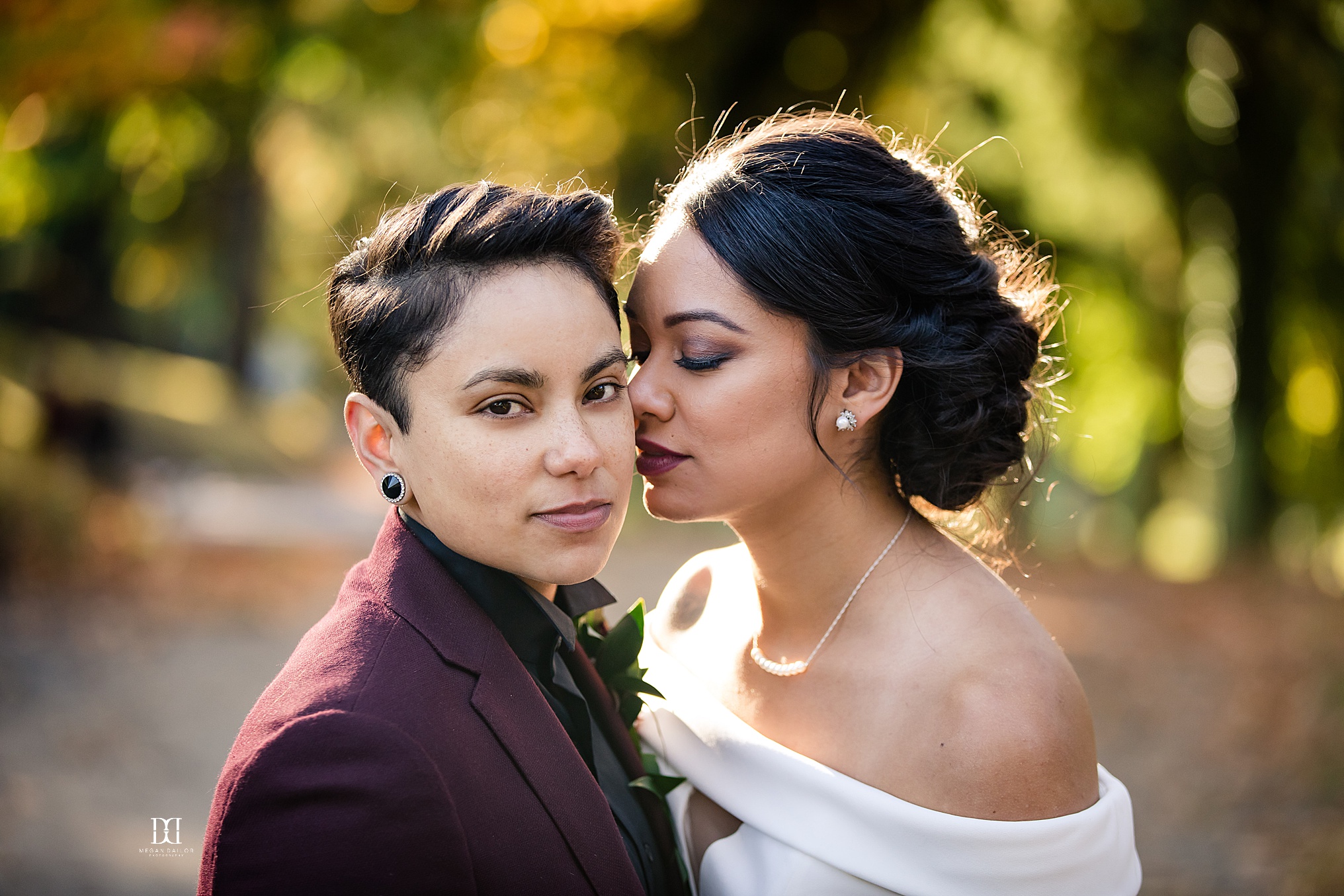 I was so hoping we'd get a sunset for some sweet rooftop photos and despite October's best efforts, we did. What a dream day!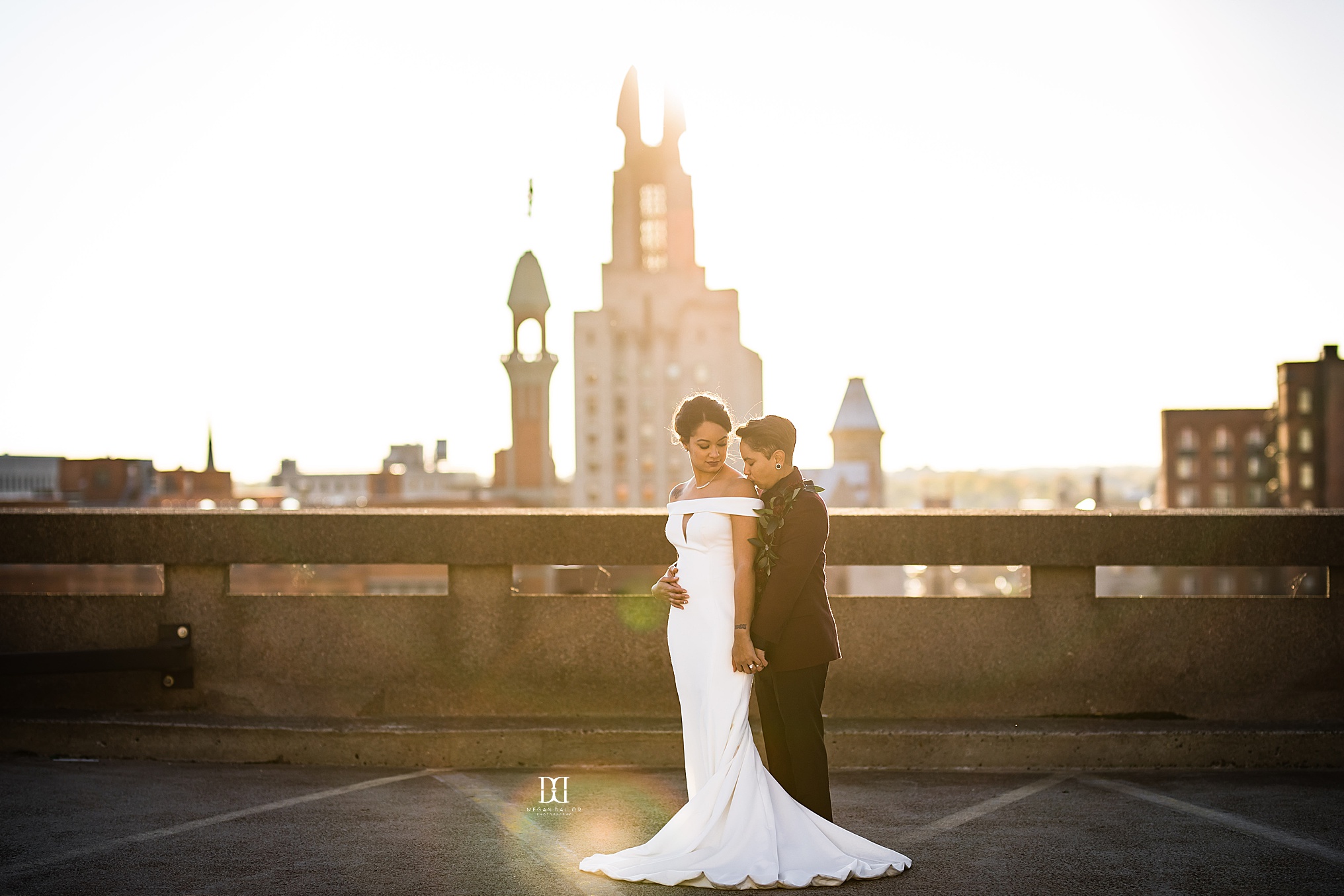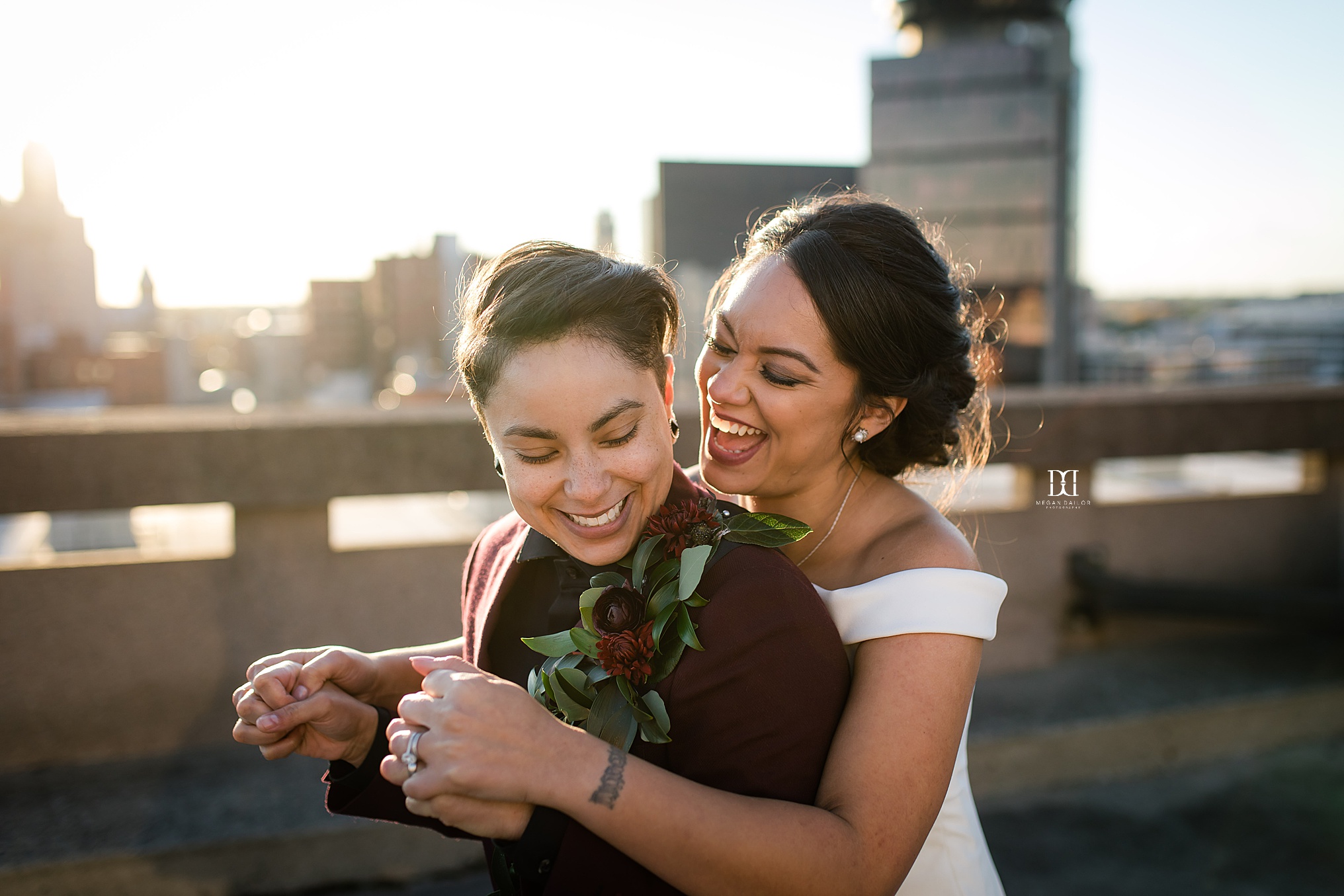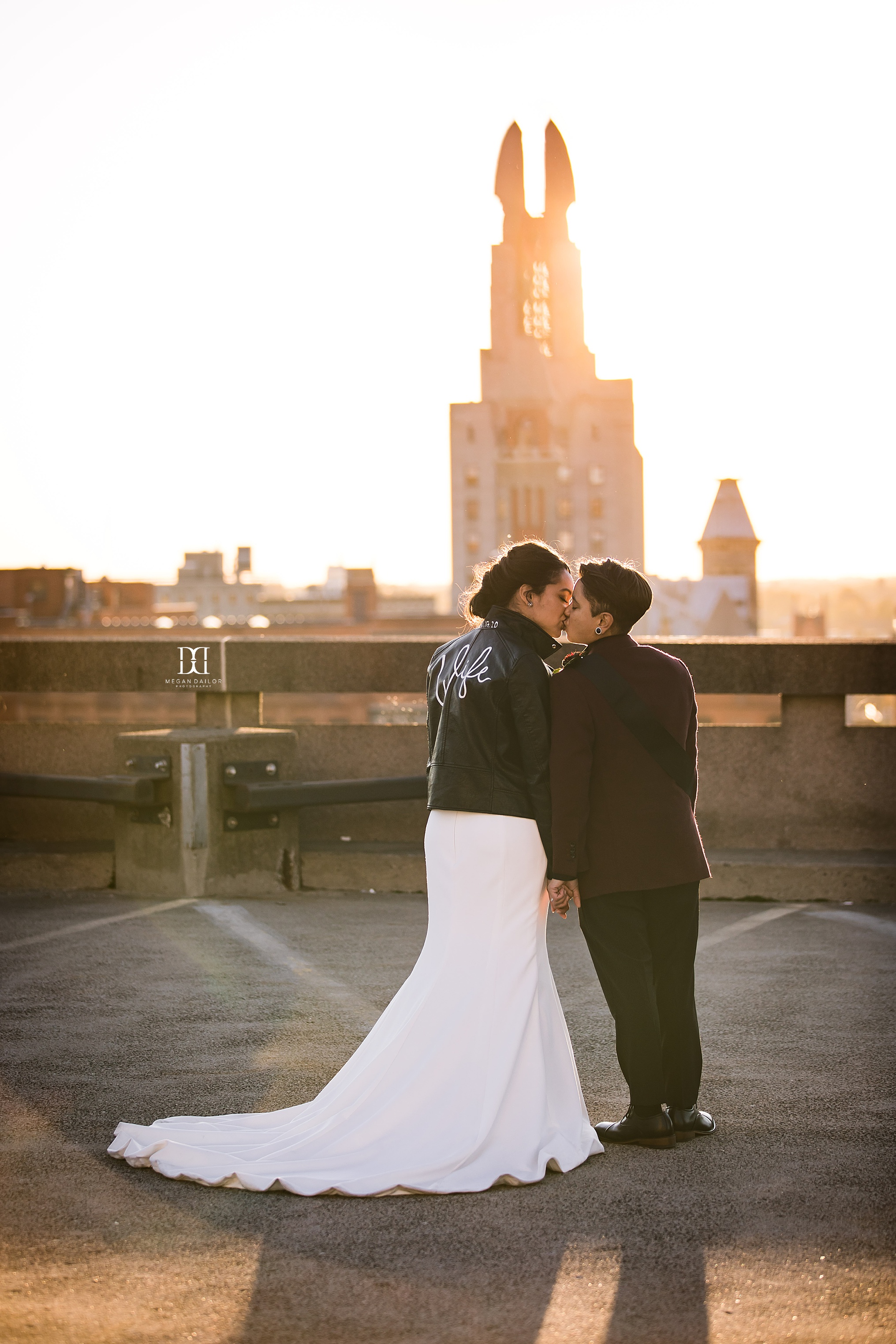 Sometimes you just start dancing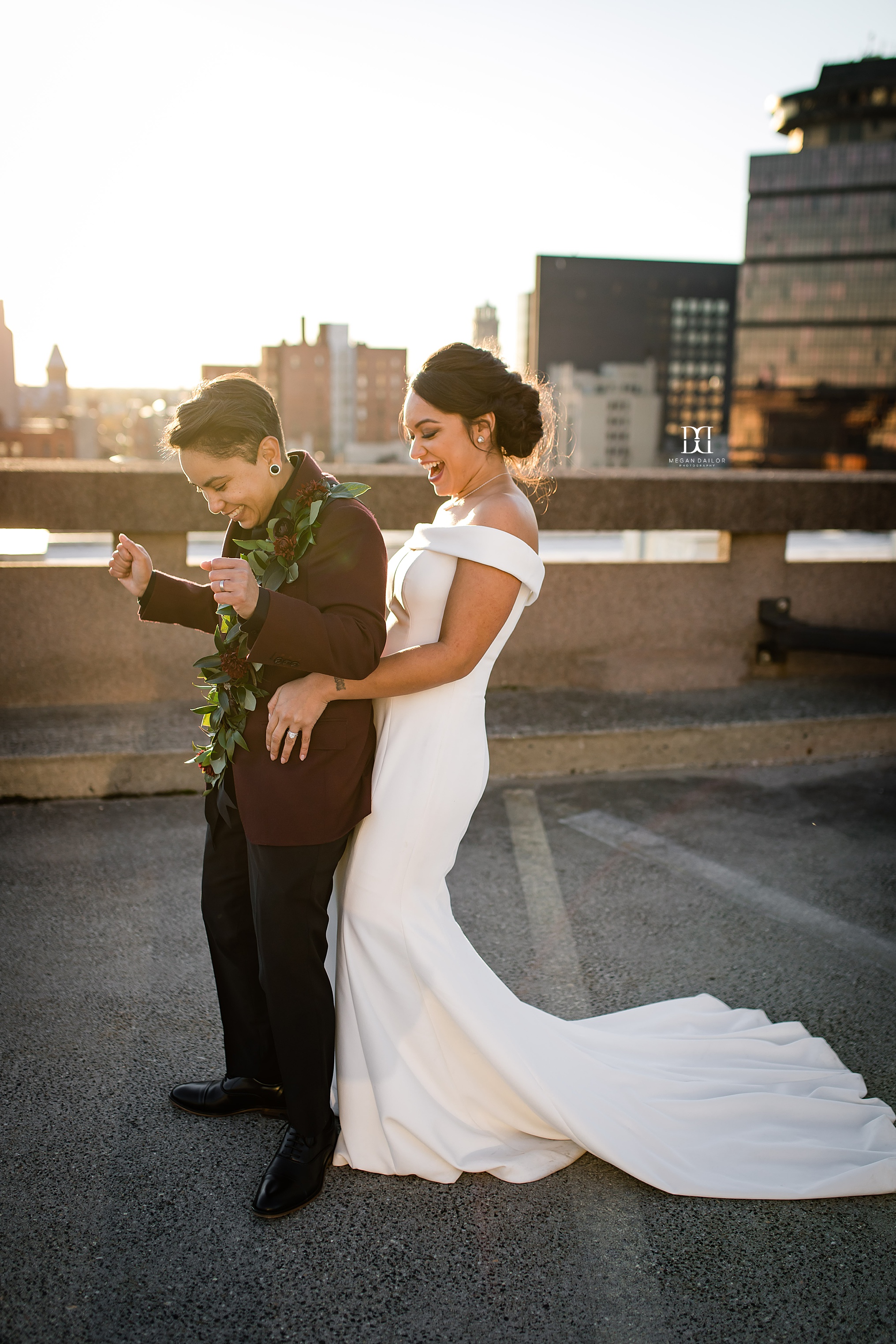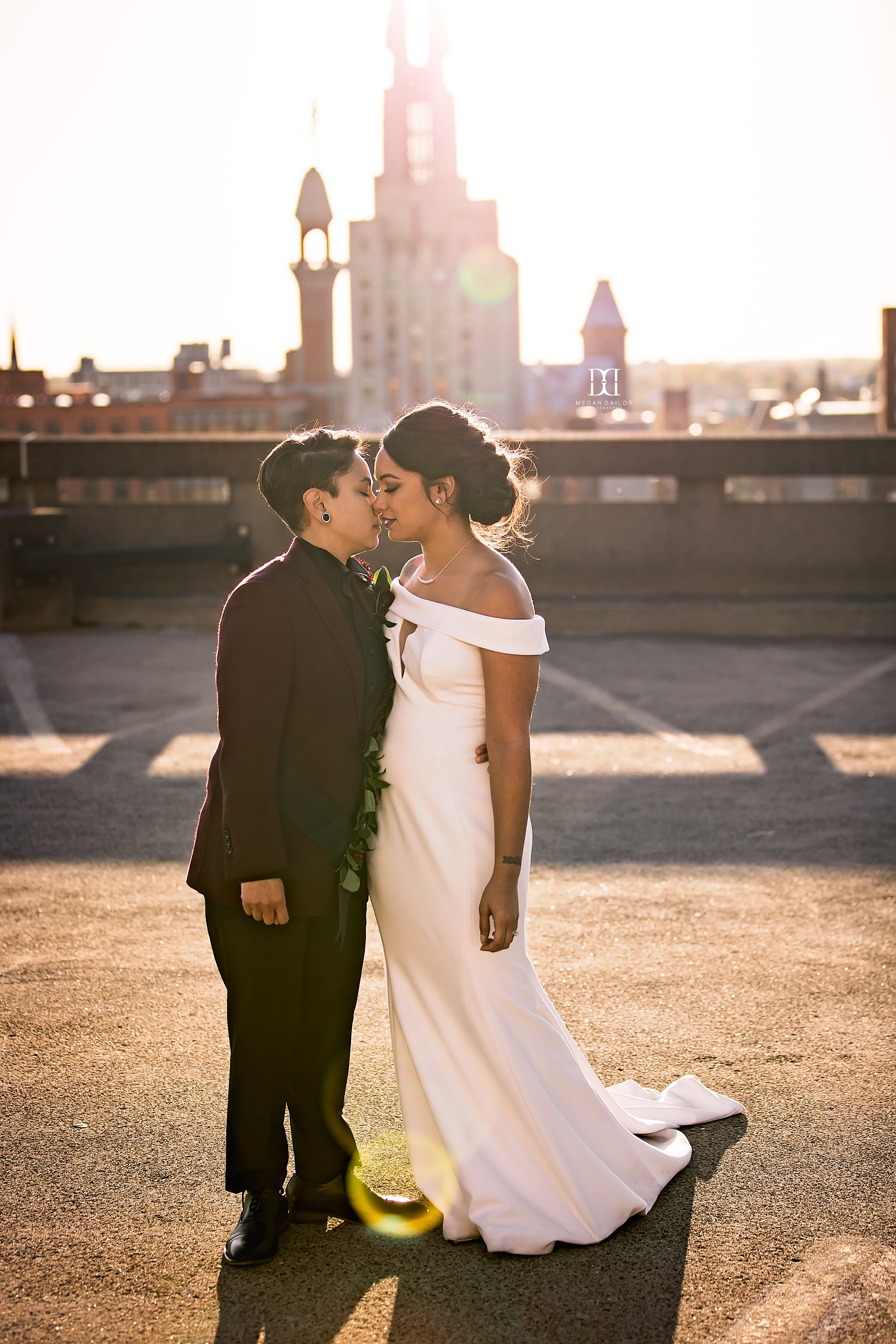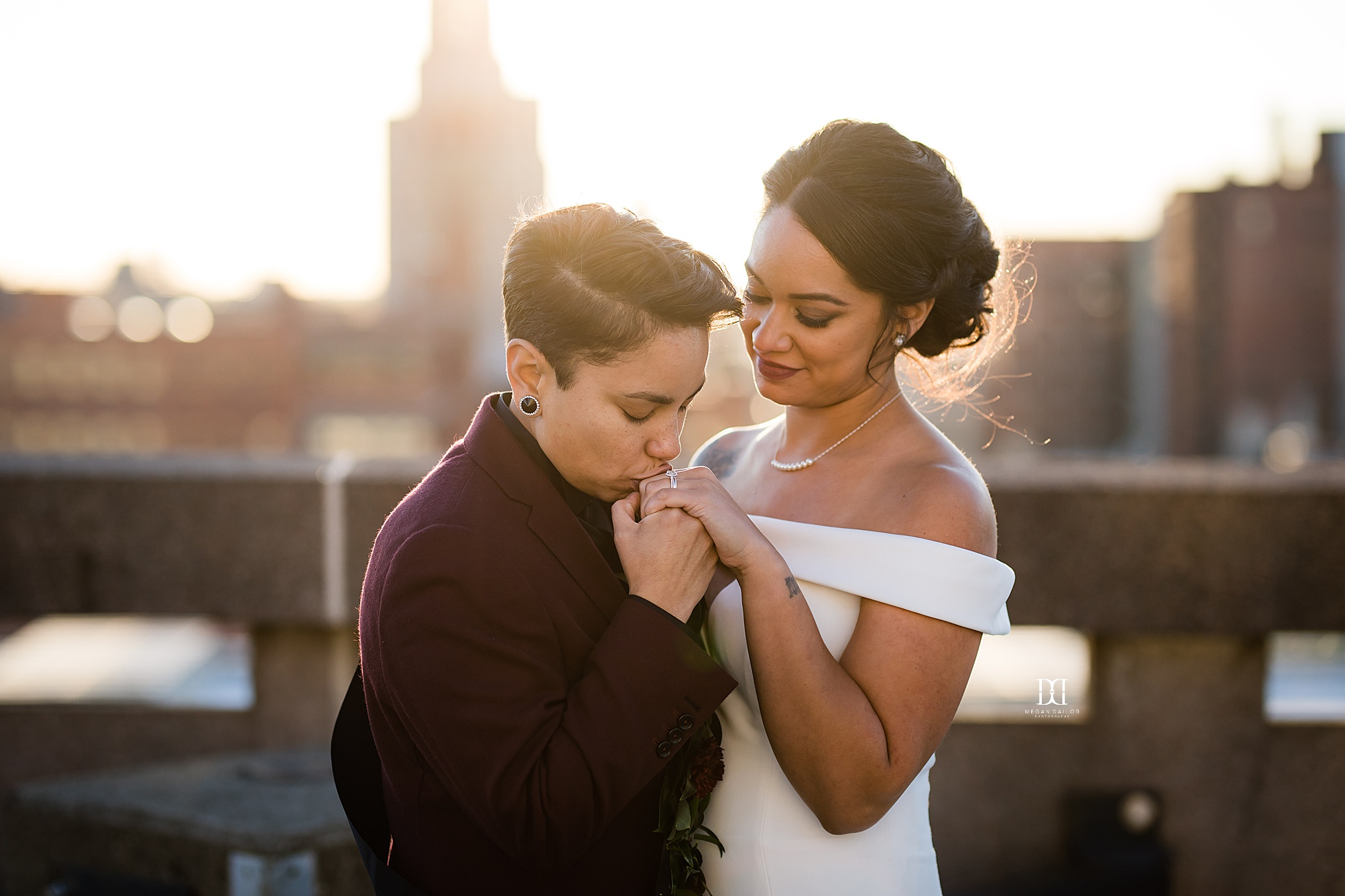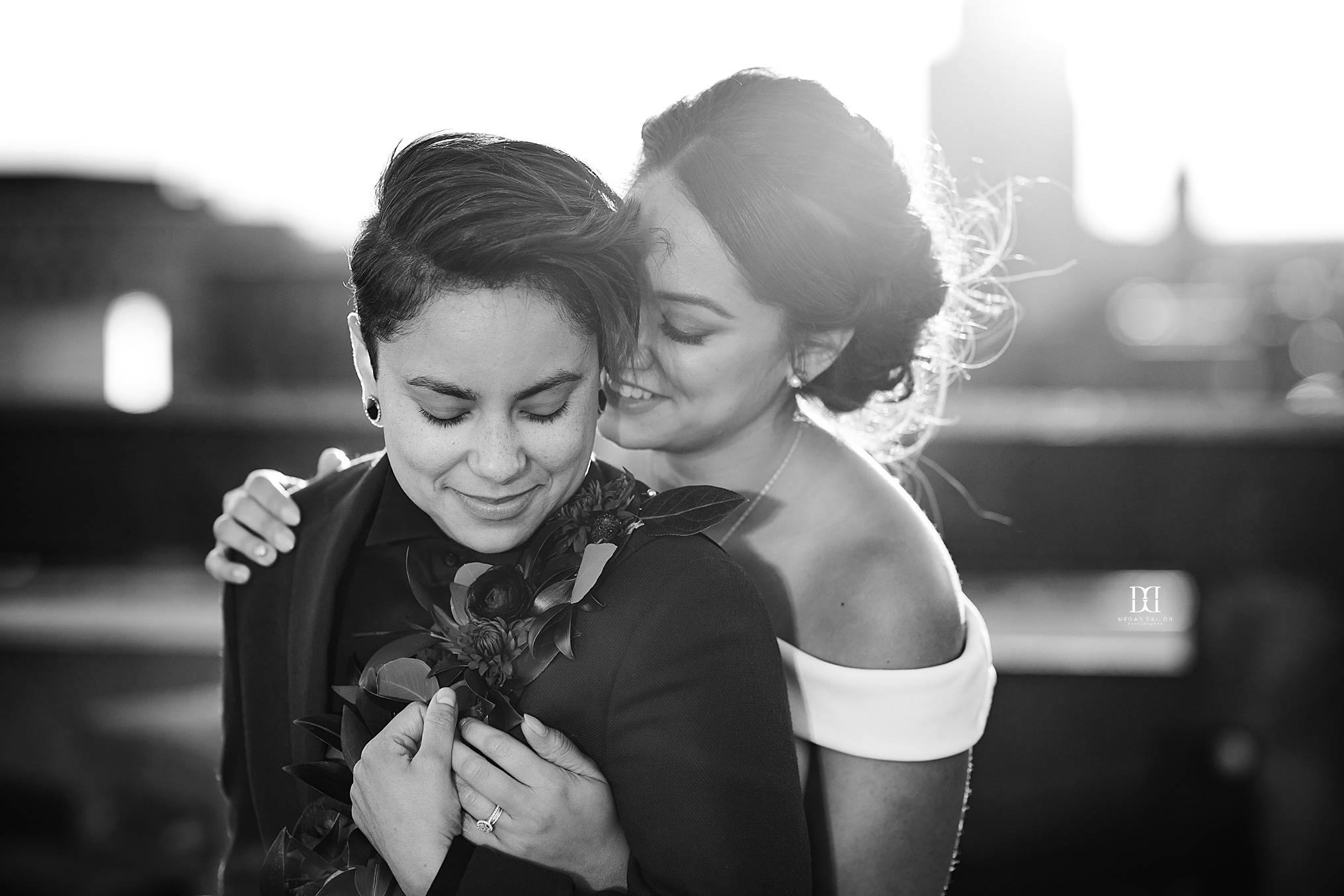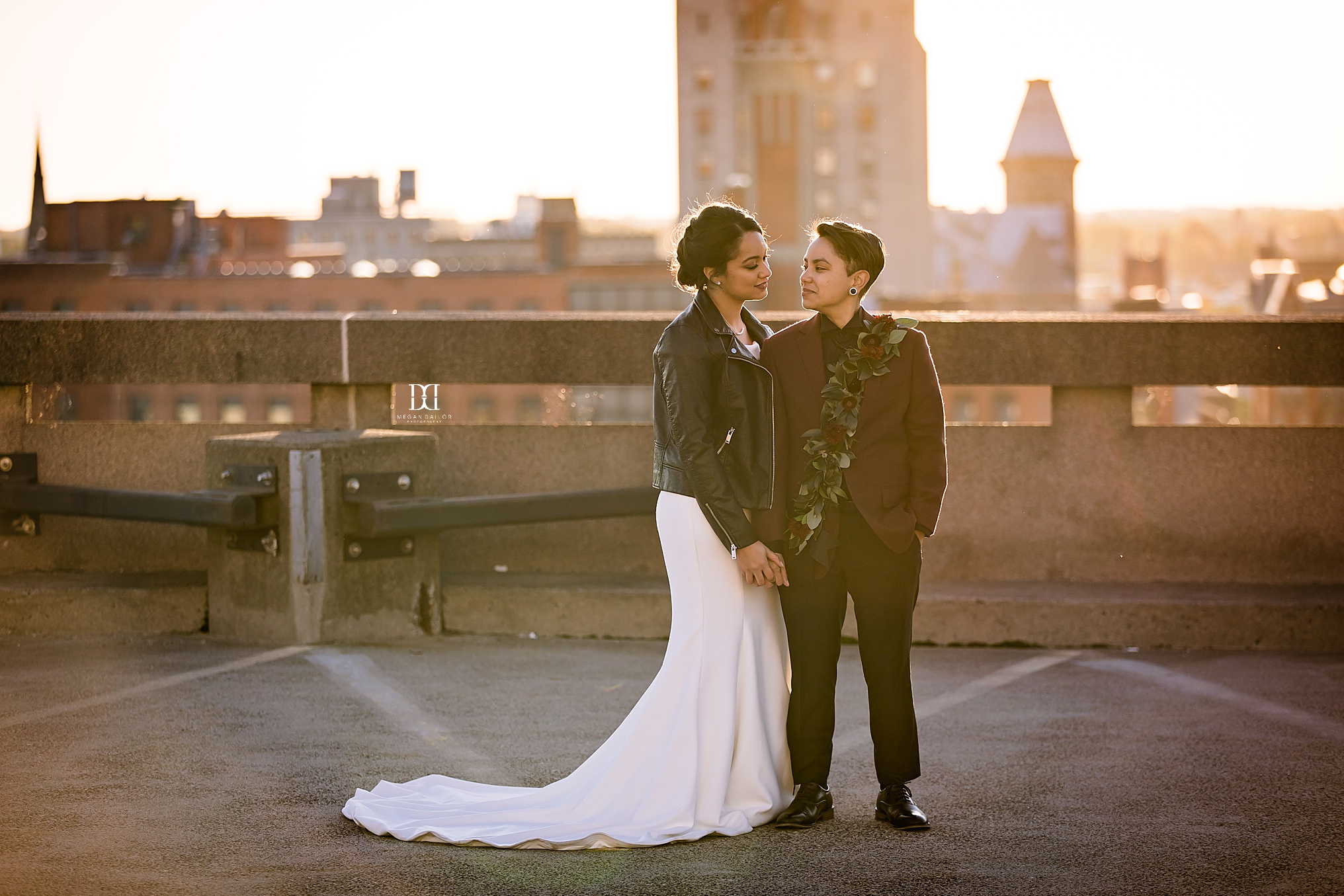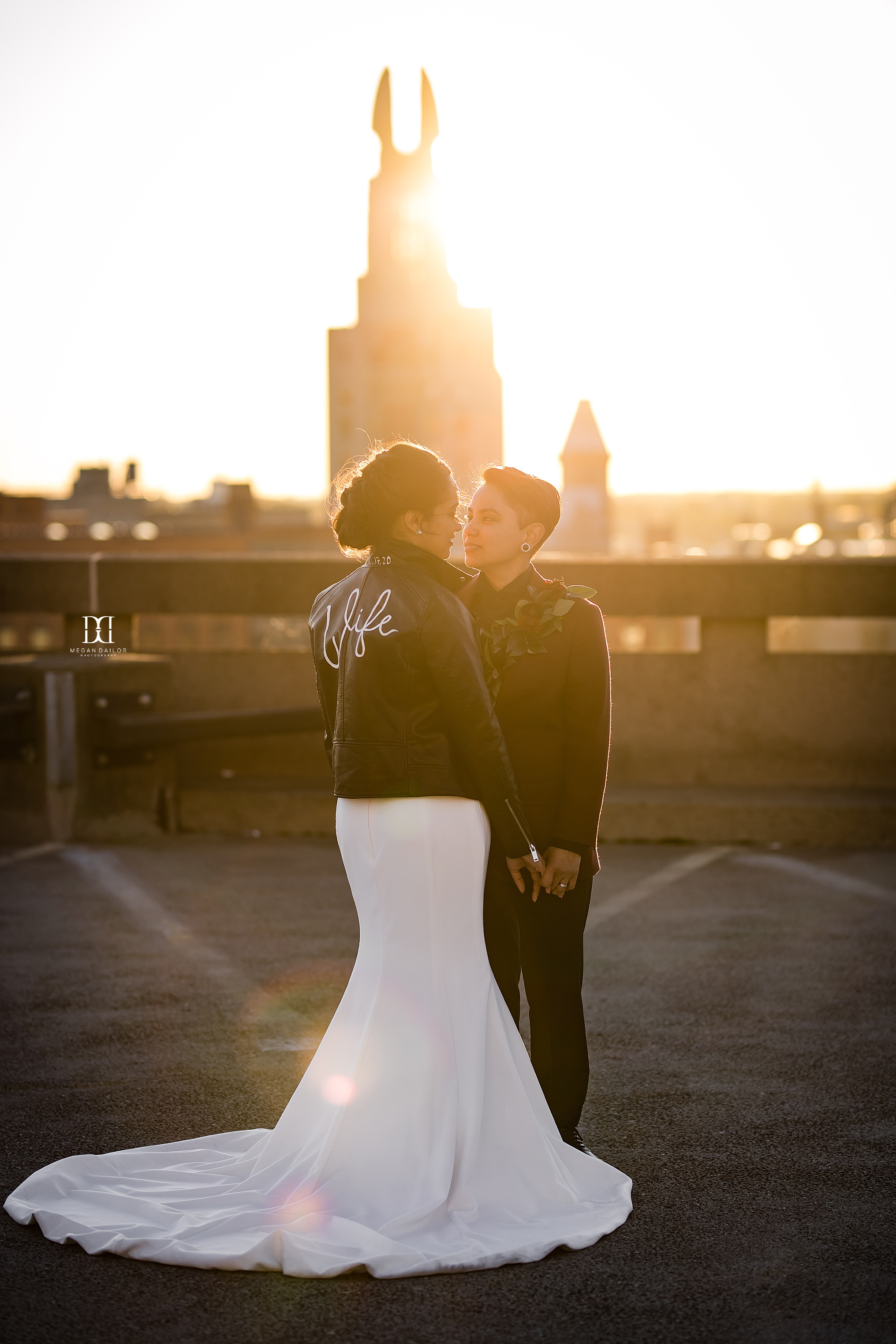 I love their serious shots... I could never pull this off.
Edit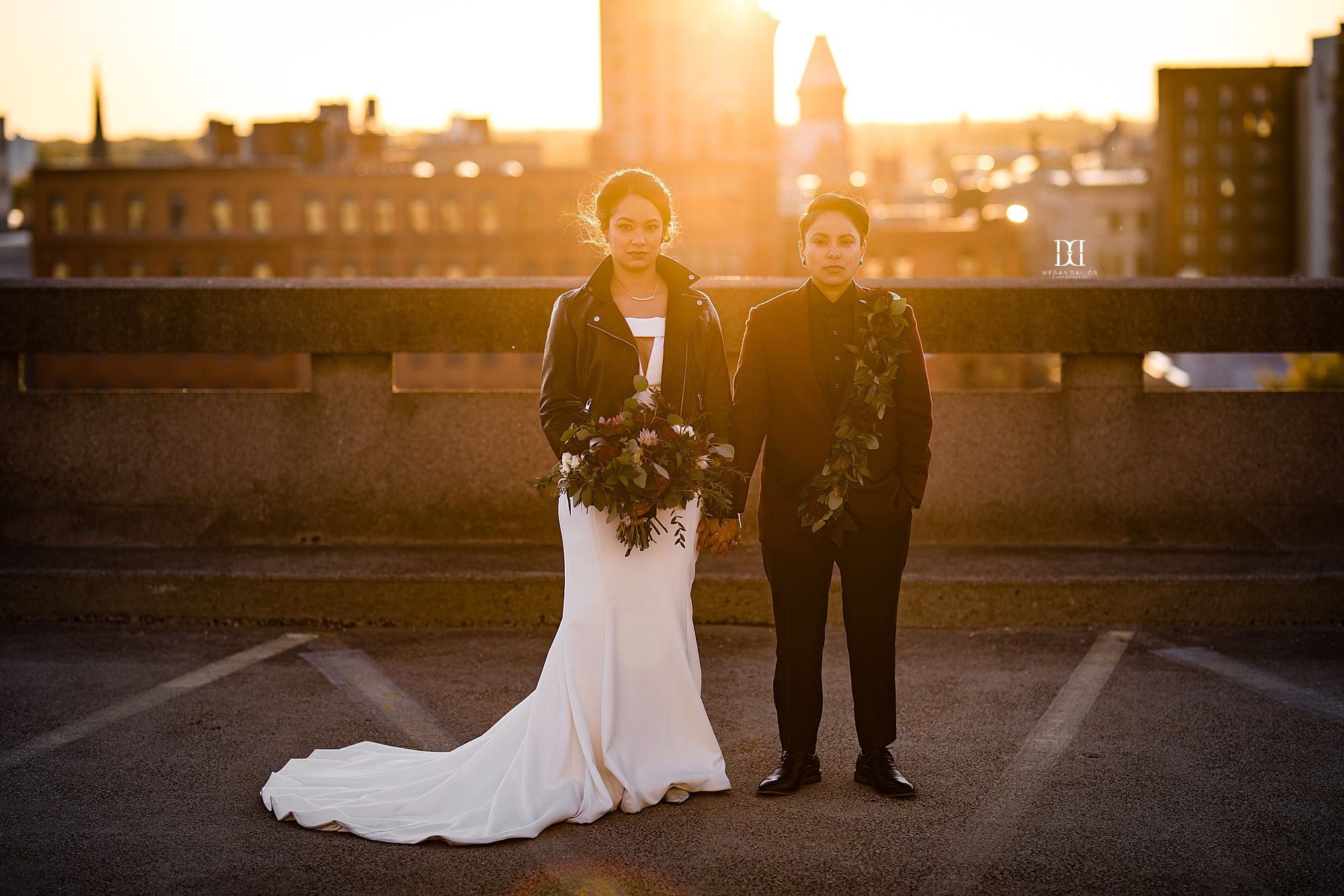 Perfect brides.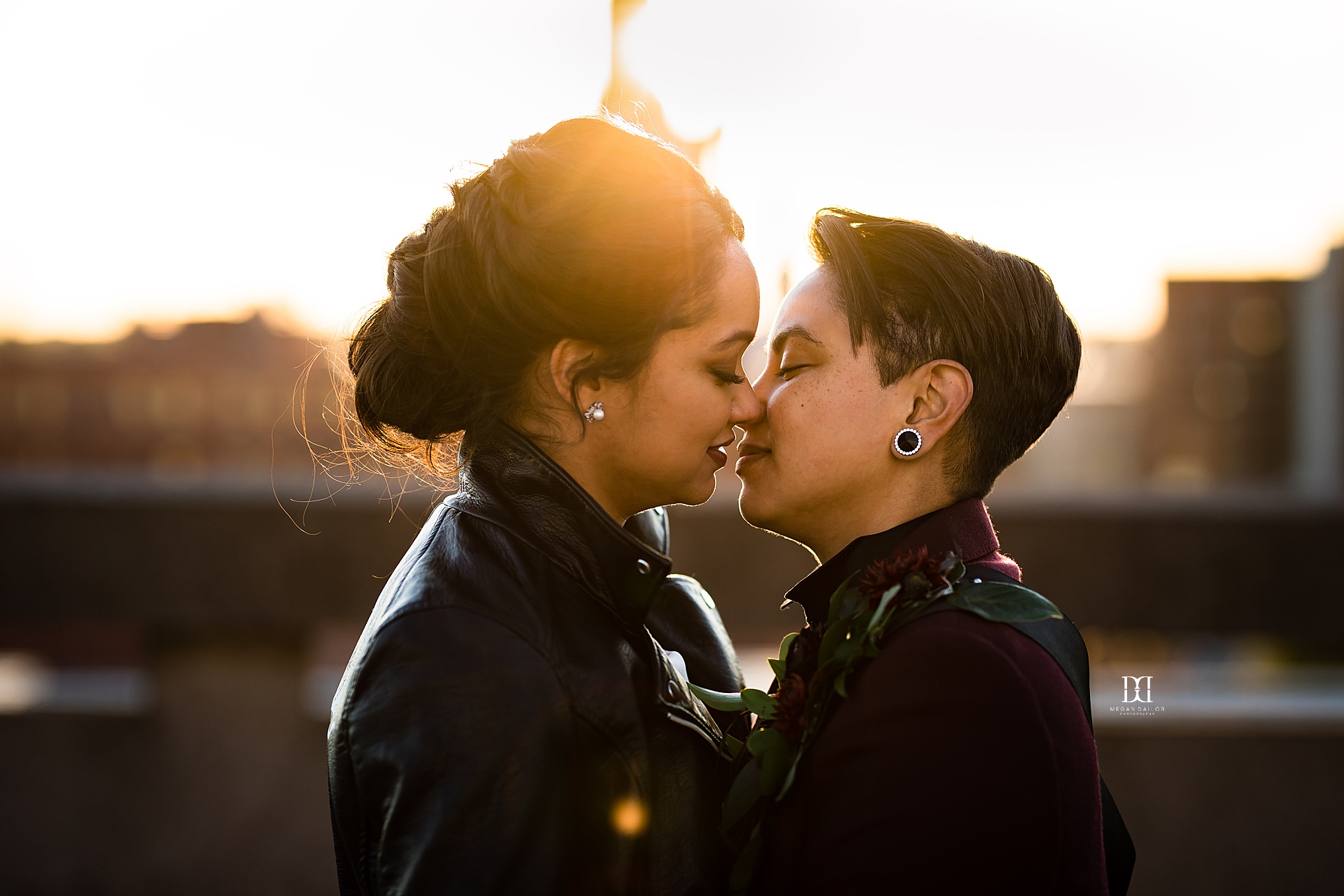 Who will have fun FOR LIFE. Congratulations Vianette and Sally, I just adore you two and am so so happy I could celebrate your Kin Event Space wedding with you!