Jackrabbit Club Wedding
Since it is PRIDE month and I think I am finally coming back to life after the shock of quarantine, this is a perfect time to blog one of the sweetest, most beautiful weddings ever!
Megan and Erinne's Jackrabbit Club wedding was just impossibly romantic. These two are so perfect for each other. Megan is the steady to Erinne's emotion. Erinne is the energy to Megan's quiet. They laugh hard and they love each other so. We did an engagement last summer and I got to see their sweetness then, so I knew the wedding would be incredible, but this was just beyond! So thrilled to be part of this magical day.
Venue: Jackrabbit Club
Florist: Pistil and Pollen
Music: Showcase Sound
Gown: Lovely Bride
Makeup: Amy E Pink
The dream first look. So much emotion and excitement. Erinne's expression is just so sweet, so excited to see her soon-to-be wife.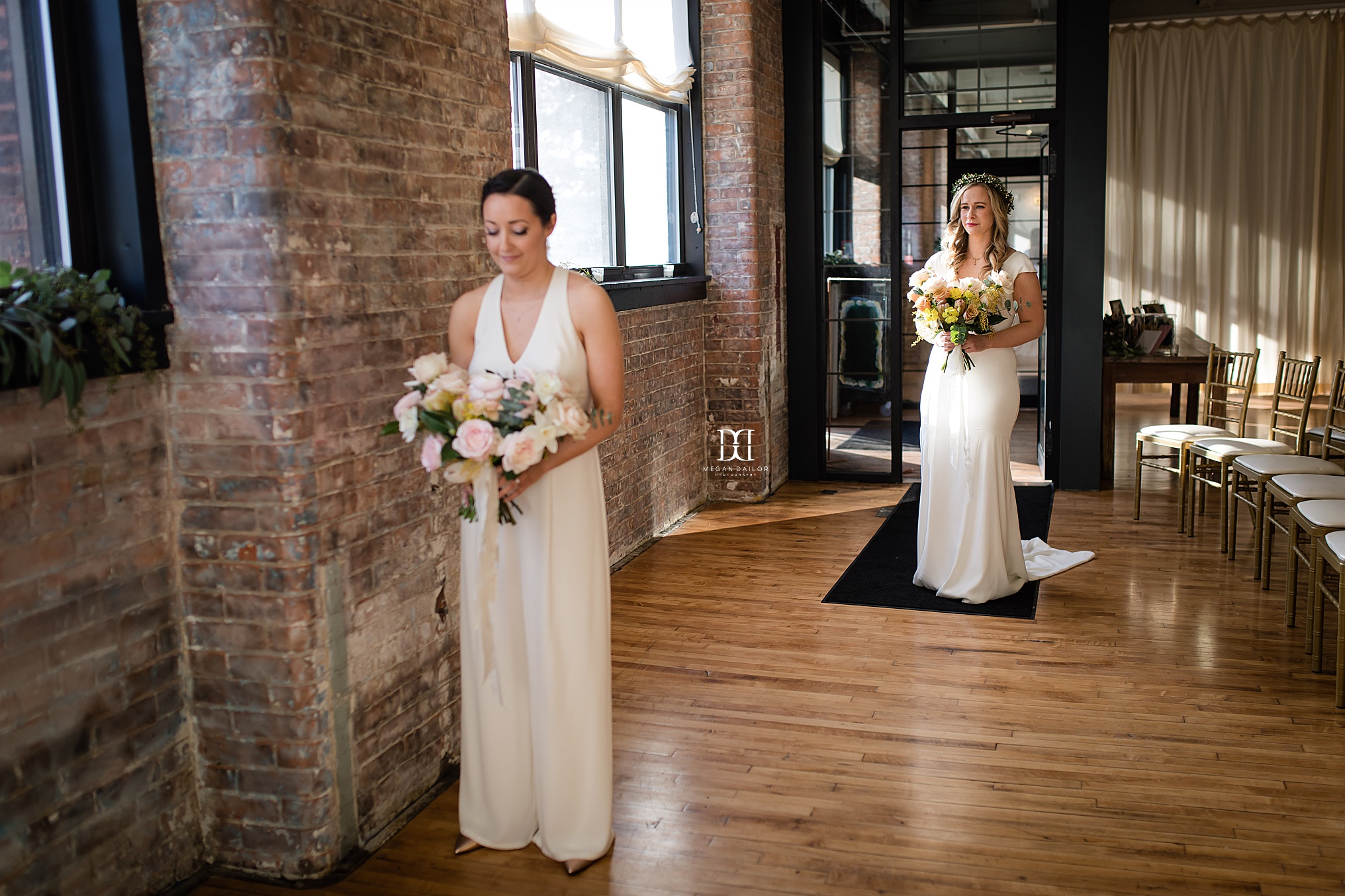 Megan's reaction to seeing her bride... just beyond cute.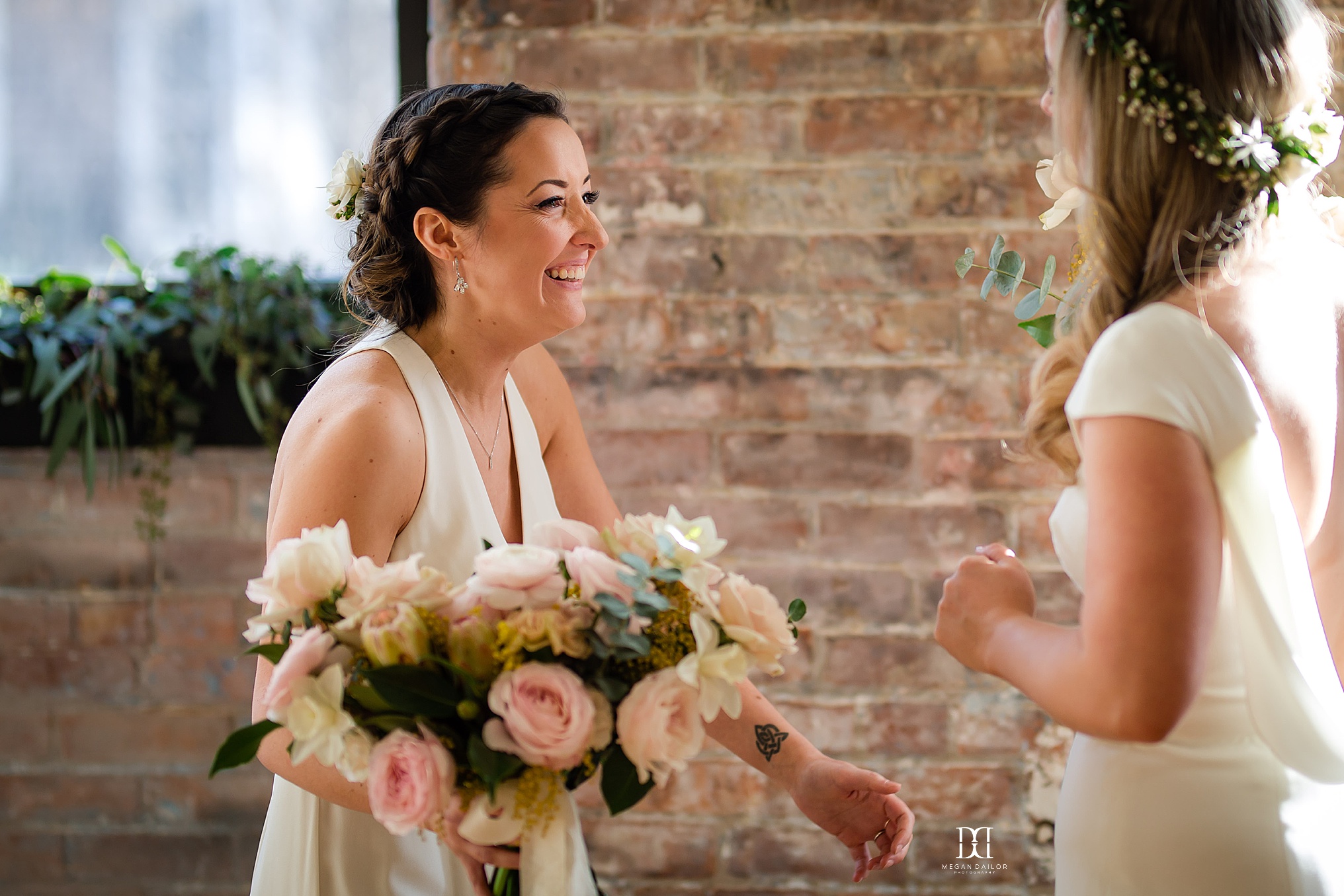 Absolutely glowing with love.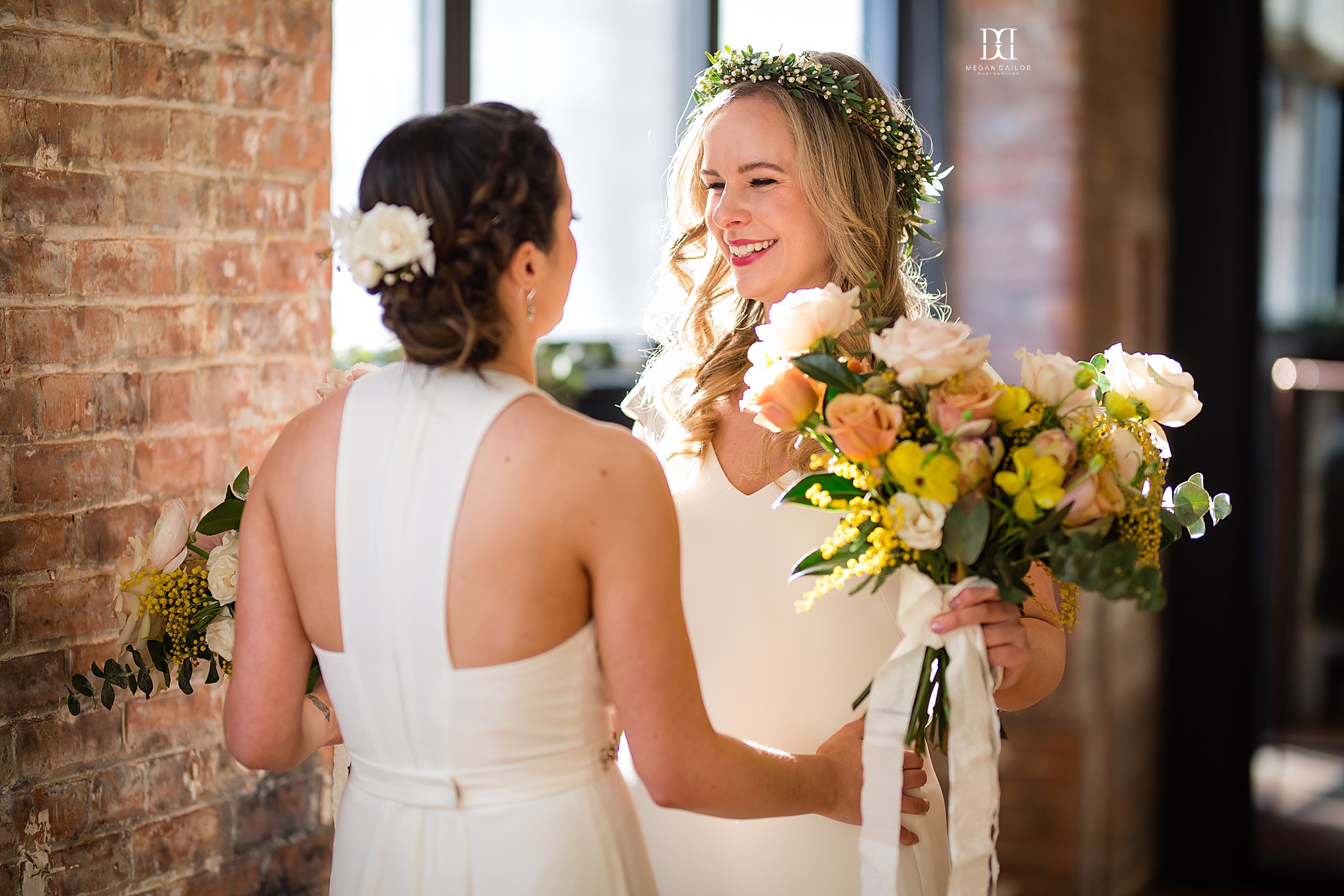 Their connectedness is so special. It is so obvious they are one another's home.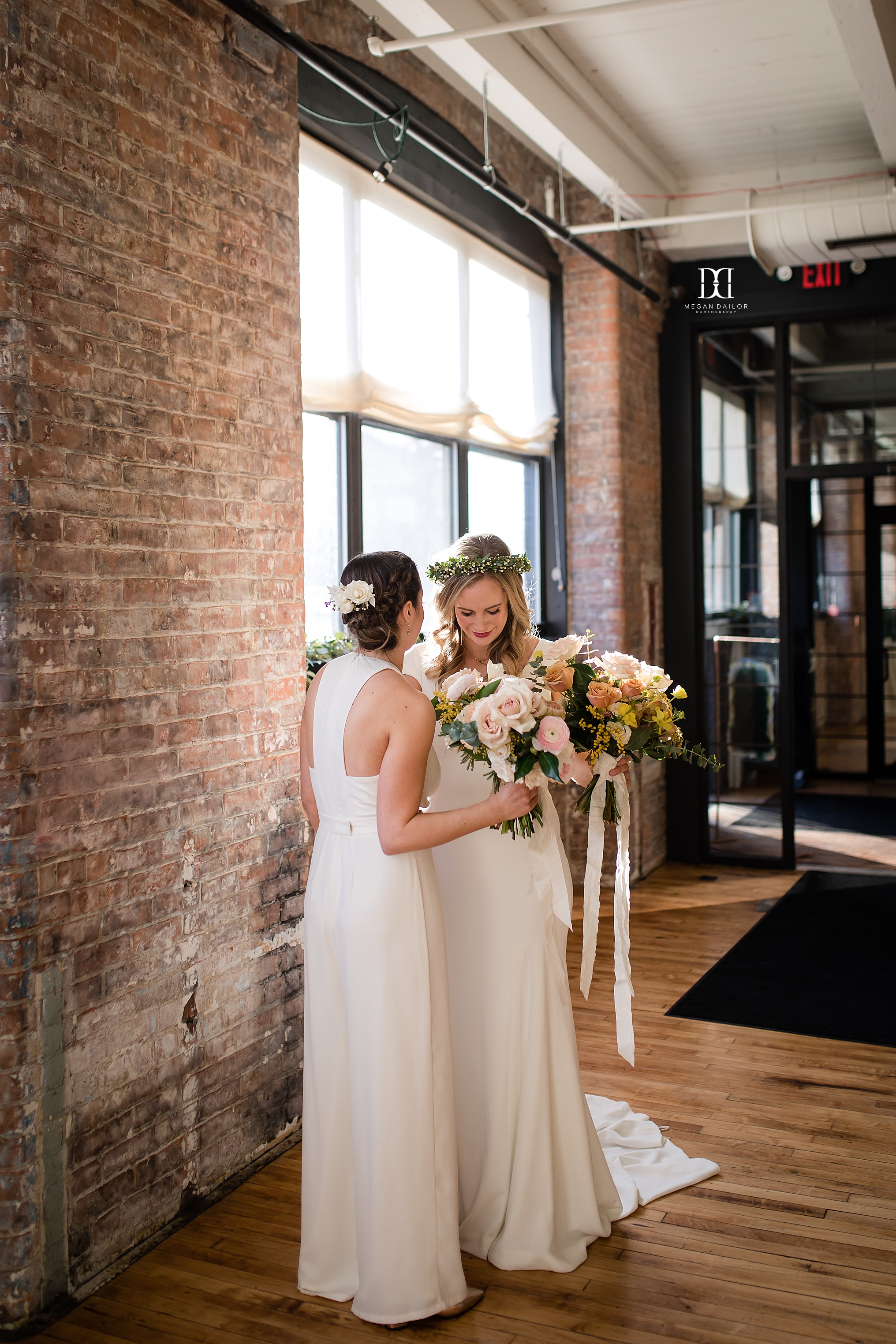 Coordinated but individual bouquets... such beautiful wedding flowers from Pistil and Pollen.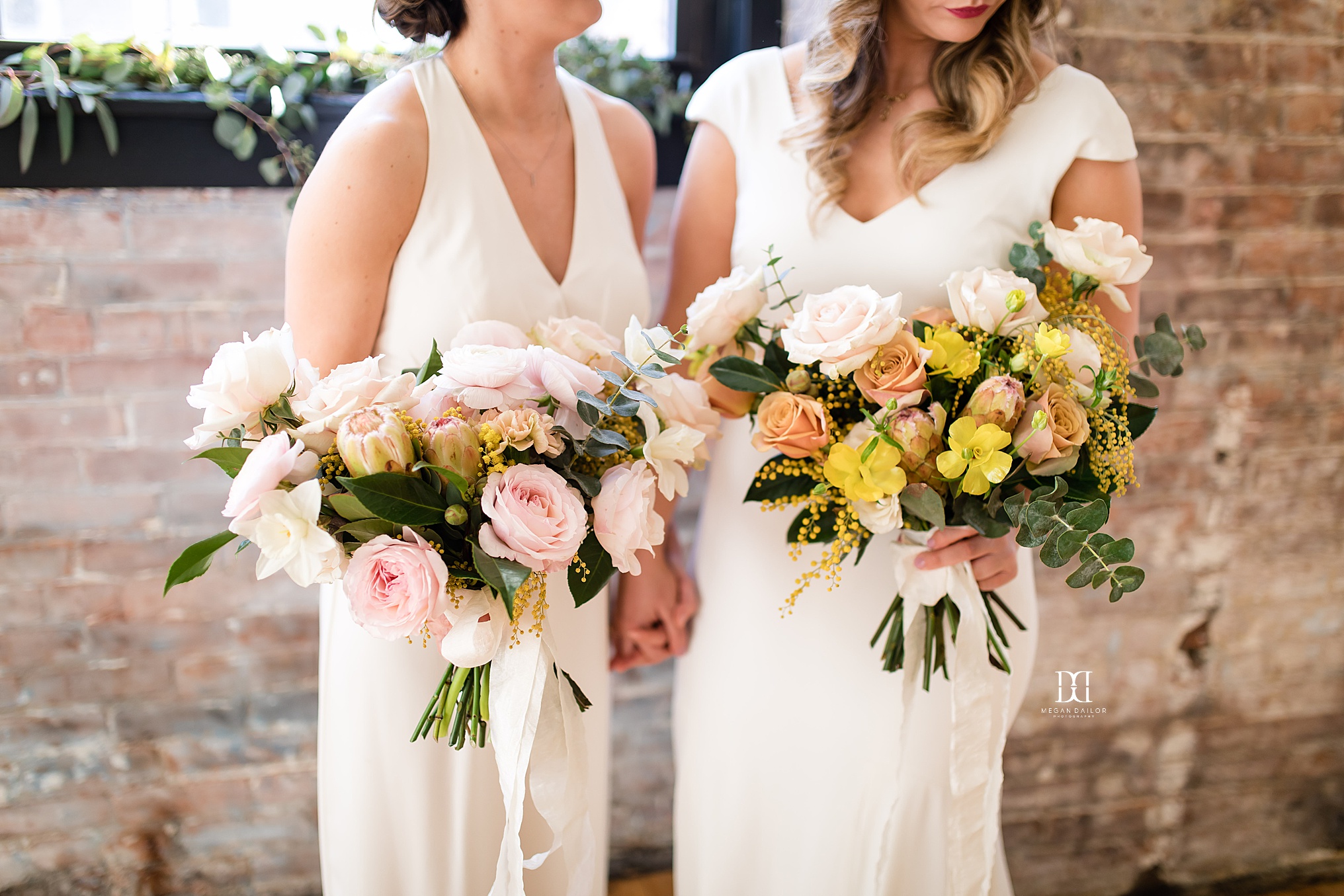 Absolutely stunning brides.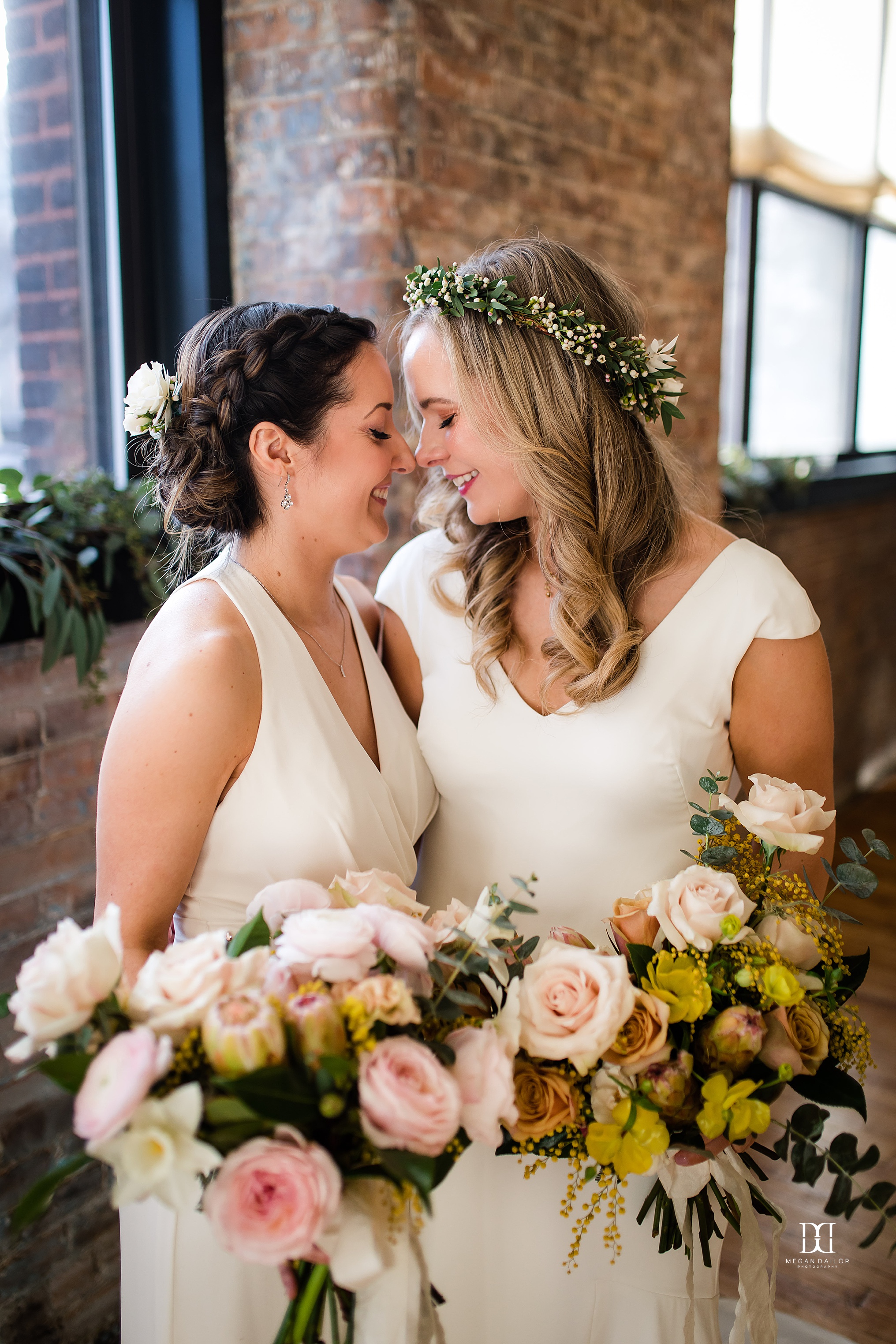 All the love.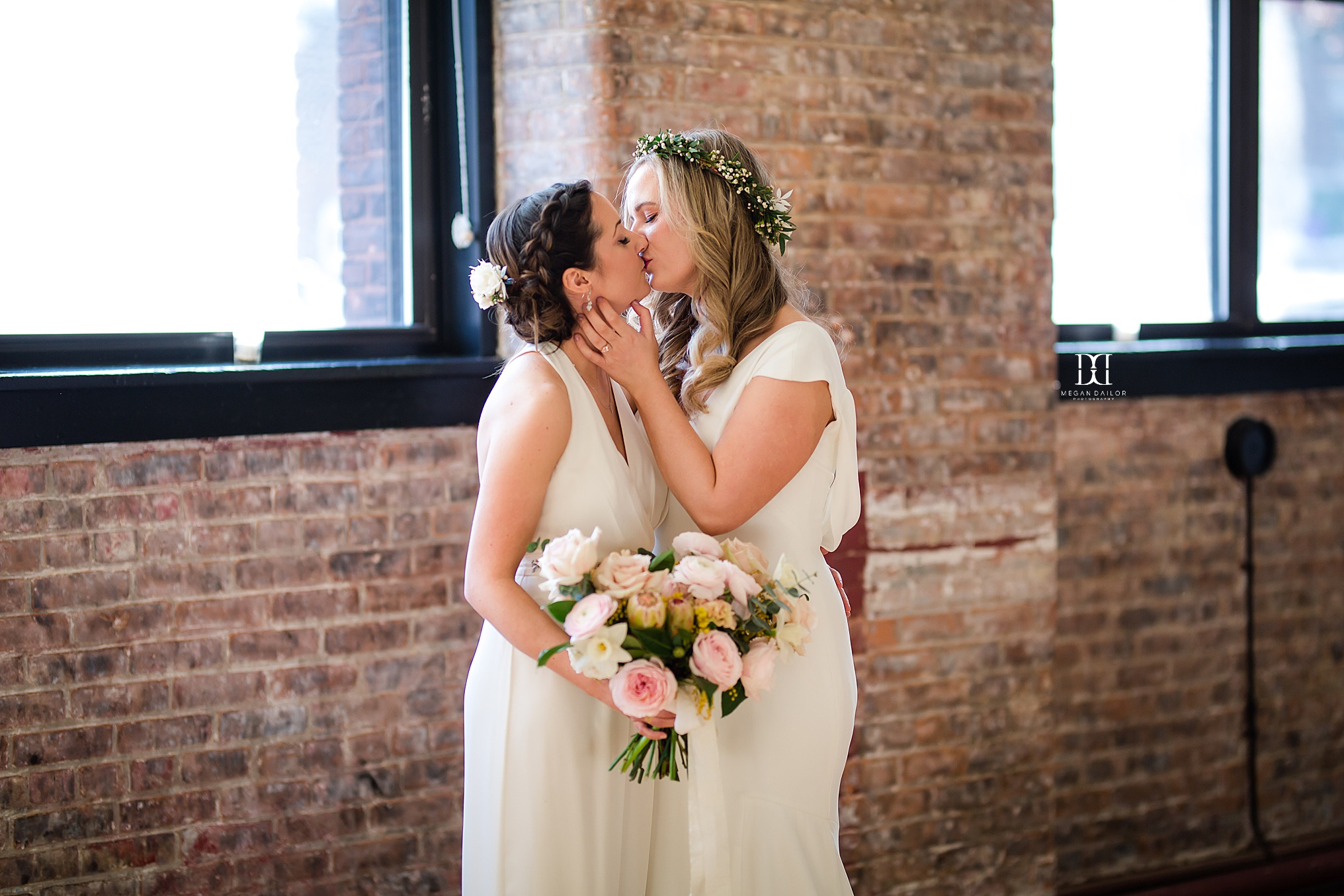 Everything about this Jackrabbit Club wedding is pretty much flawless. I loved how the warm wood, brick and beaming sunshine all reflected the warmth of this day. And can we taaaalk about this bridal jumpsuit magic? Hearts in my eyes forever.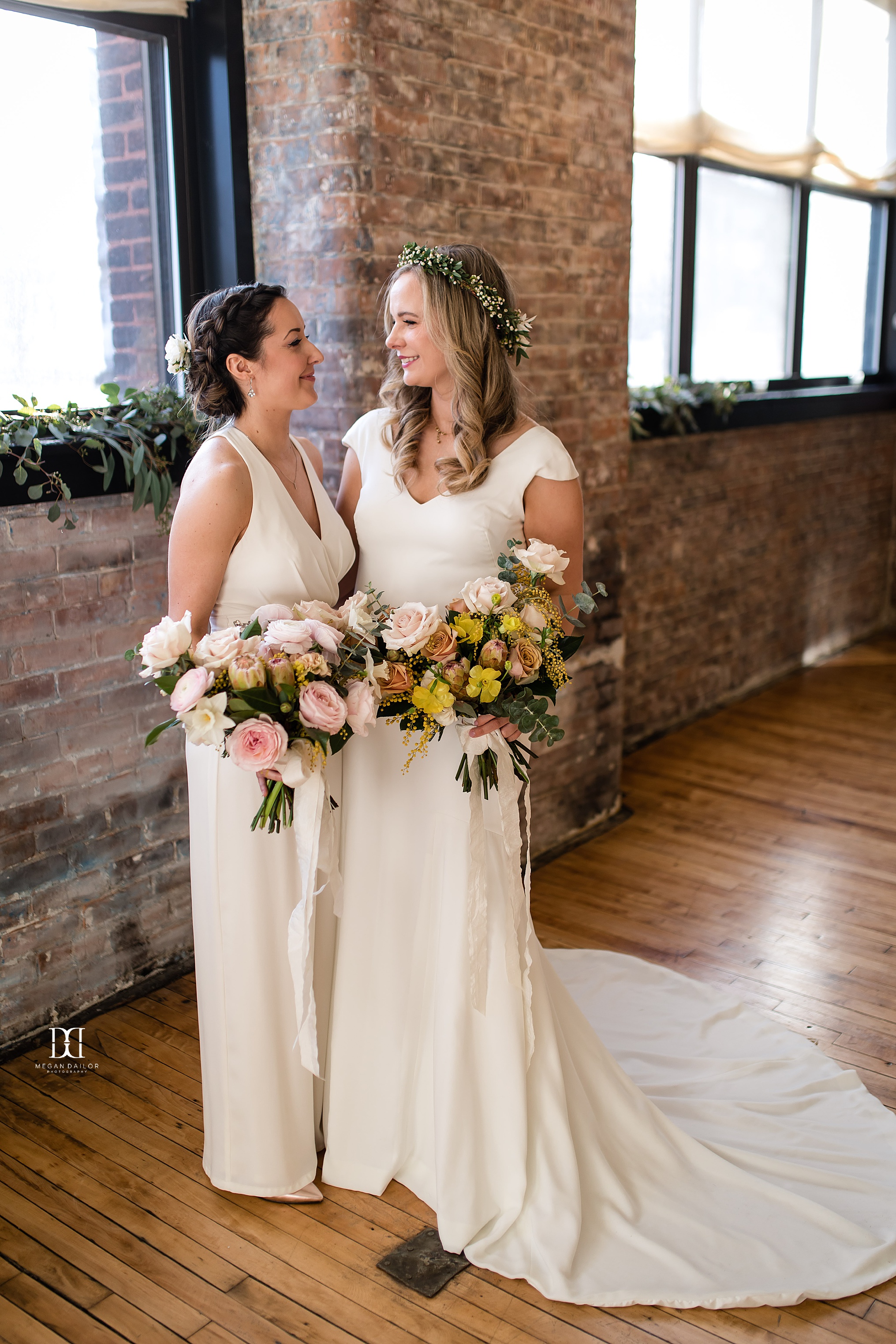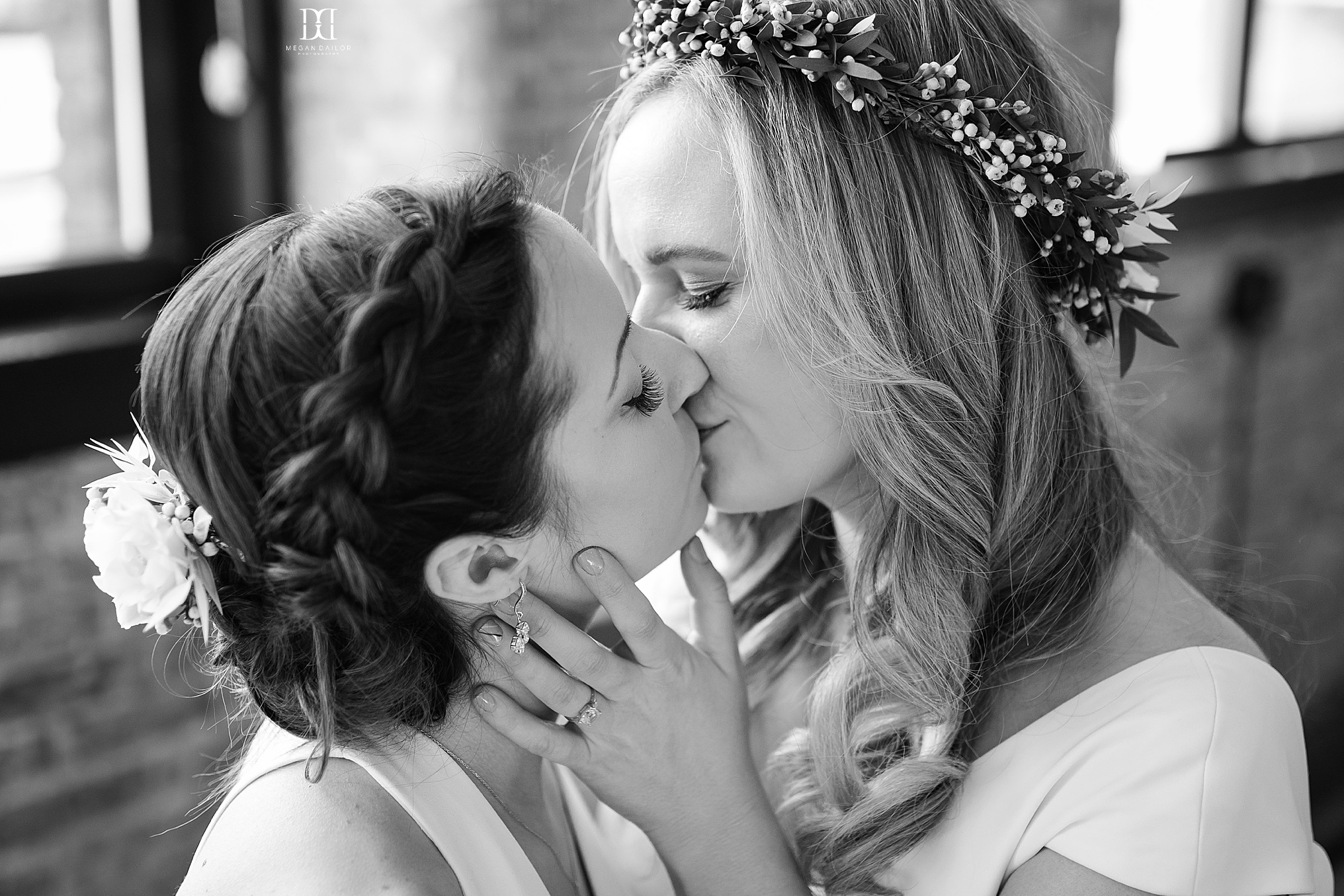 Beauties.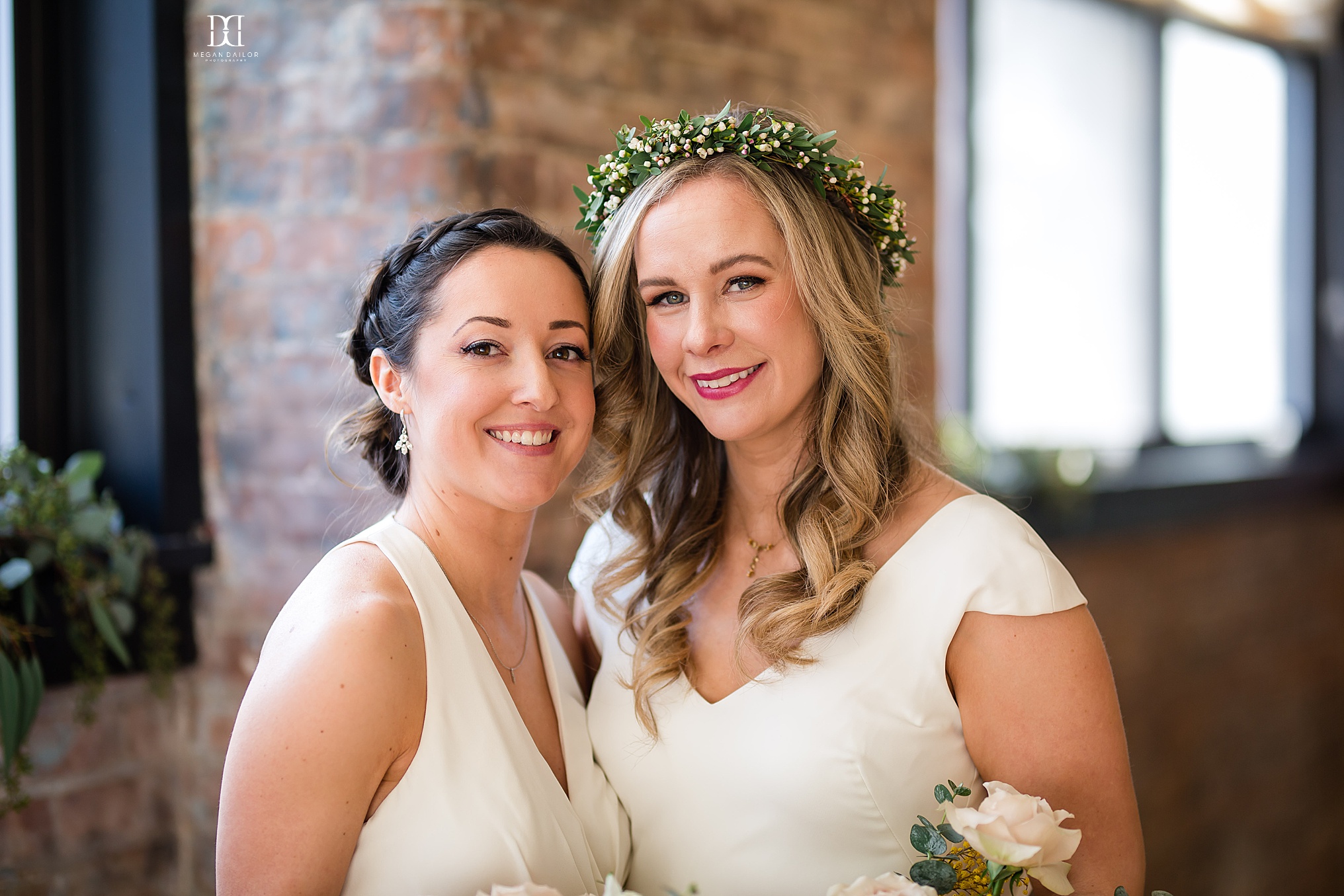 "Phoner"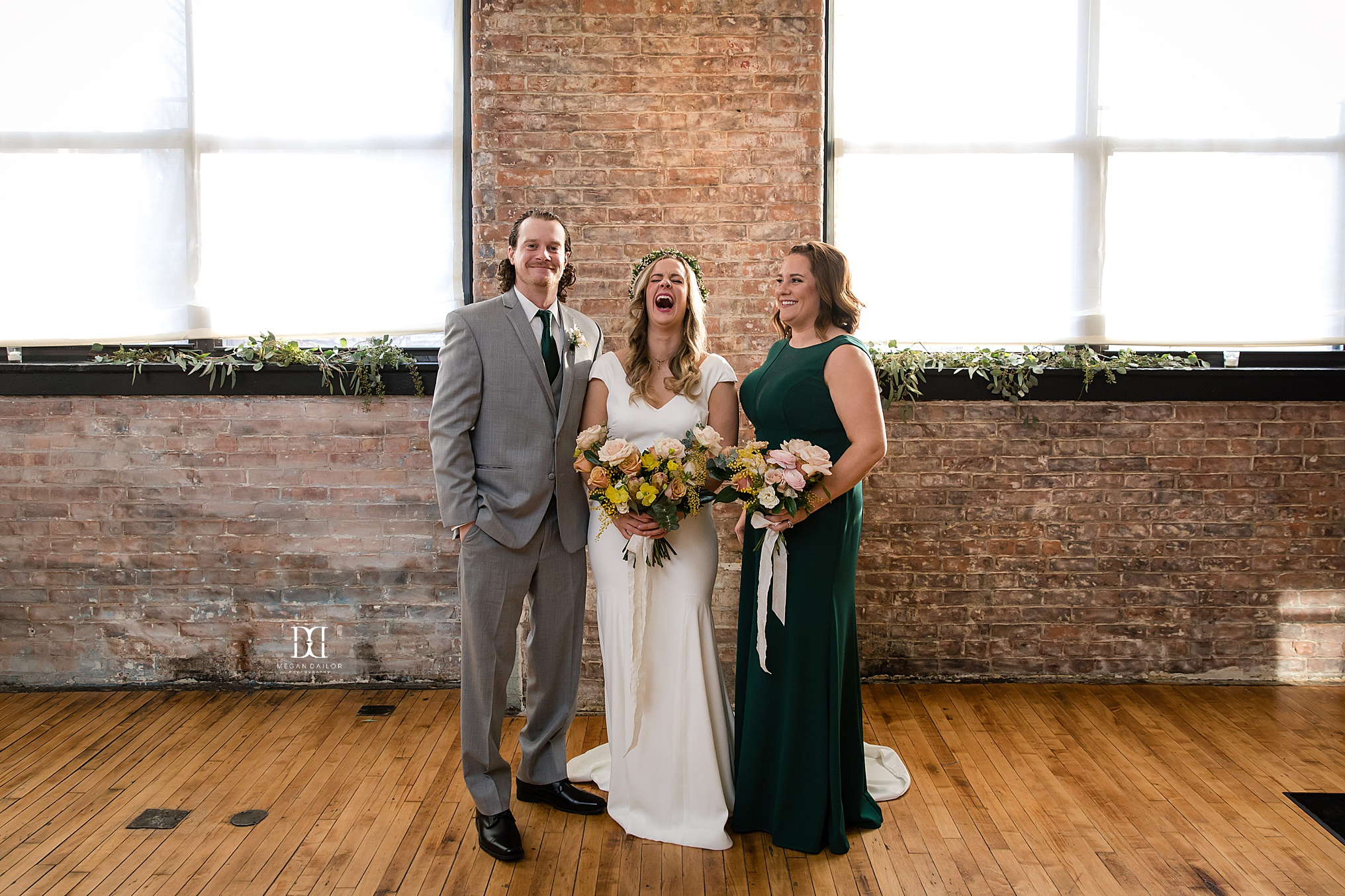 I absolutely adore Good Luck. It's where my husband and I had our first date. I've spent countless hours there with friends. My studio is upstairs. THE FOOD. (Sorry to my husband that I capitalized that part and not our first date, but I mean...) So when I heard that they were opening an event space next door I was over the moon. I couldn't wait to see what a Jackrabbit Club wedding would look like, and it really exceeded every expectation I had. This warm, industrial, airy space is just perfect. And, of course, THE FOOD. This is such a gorgeous venue and so perfect for Erinne and Megan's stylish celebration.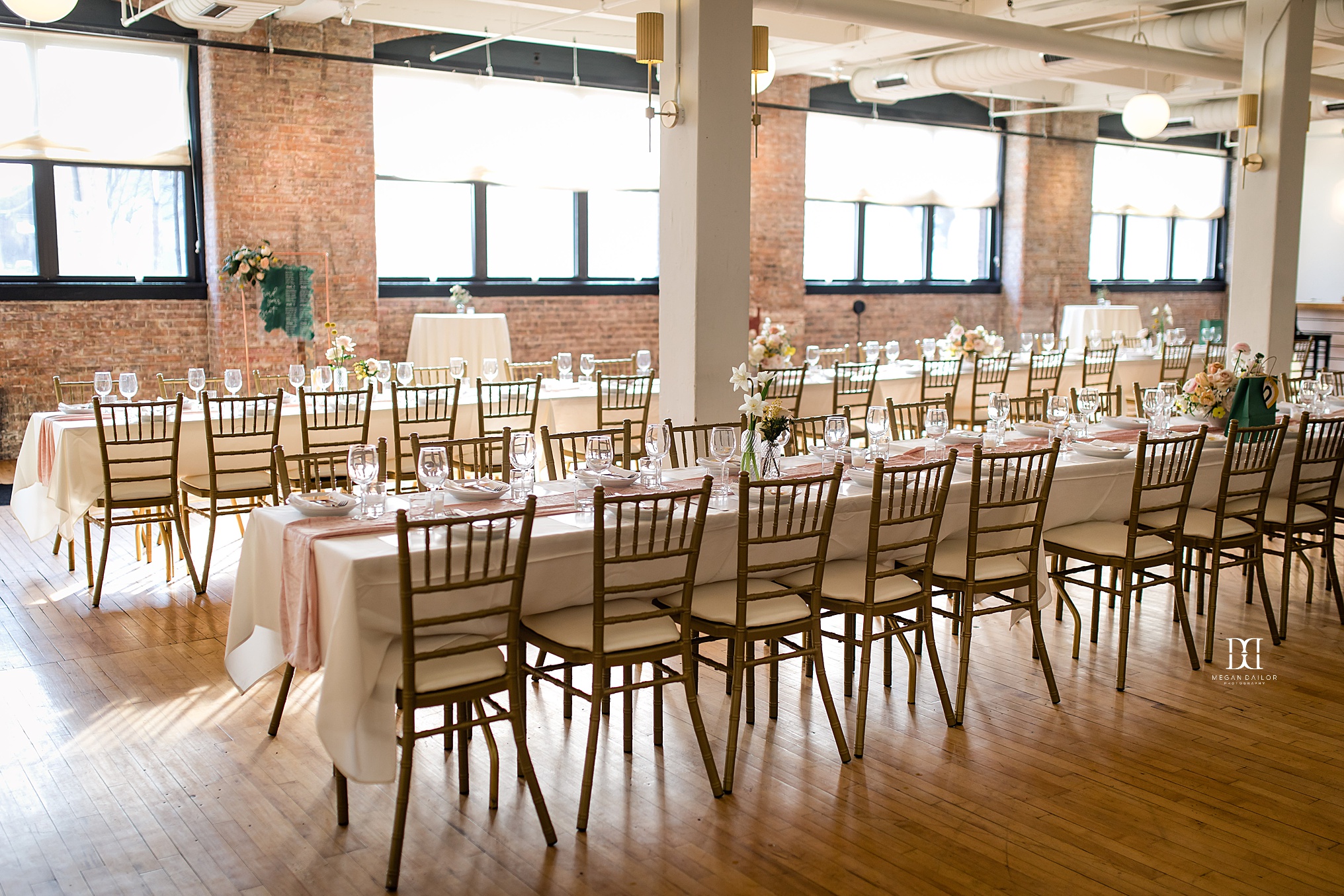 Erinne created so much of the decor herself- I am living for these hand lettered place cards! The florals by Pistil and Pollen were so pretty, too.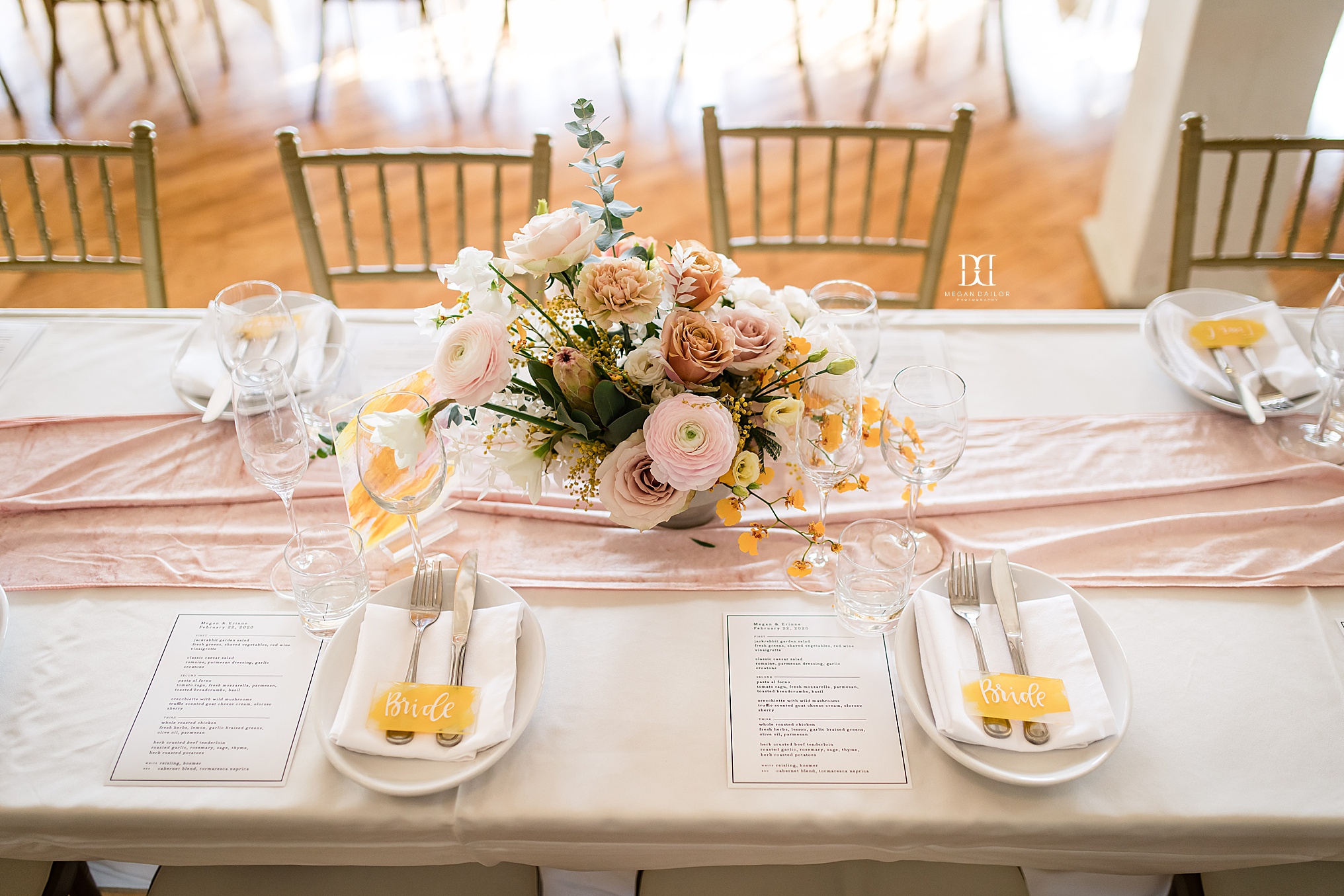 Prettiest wedding table decor ever!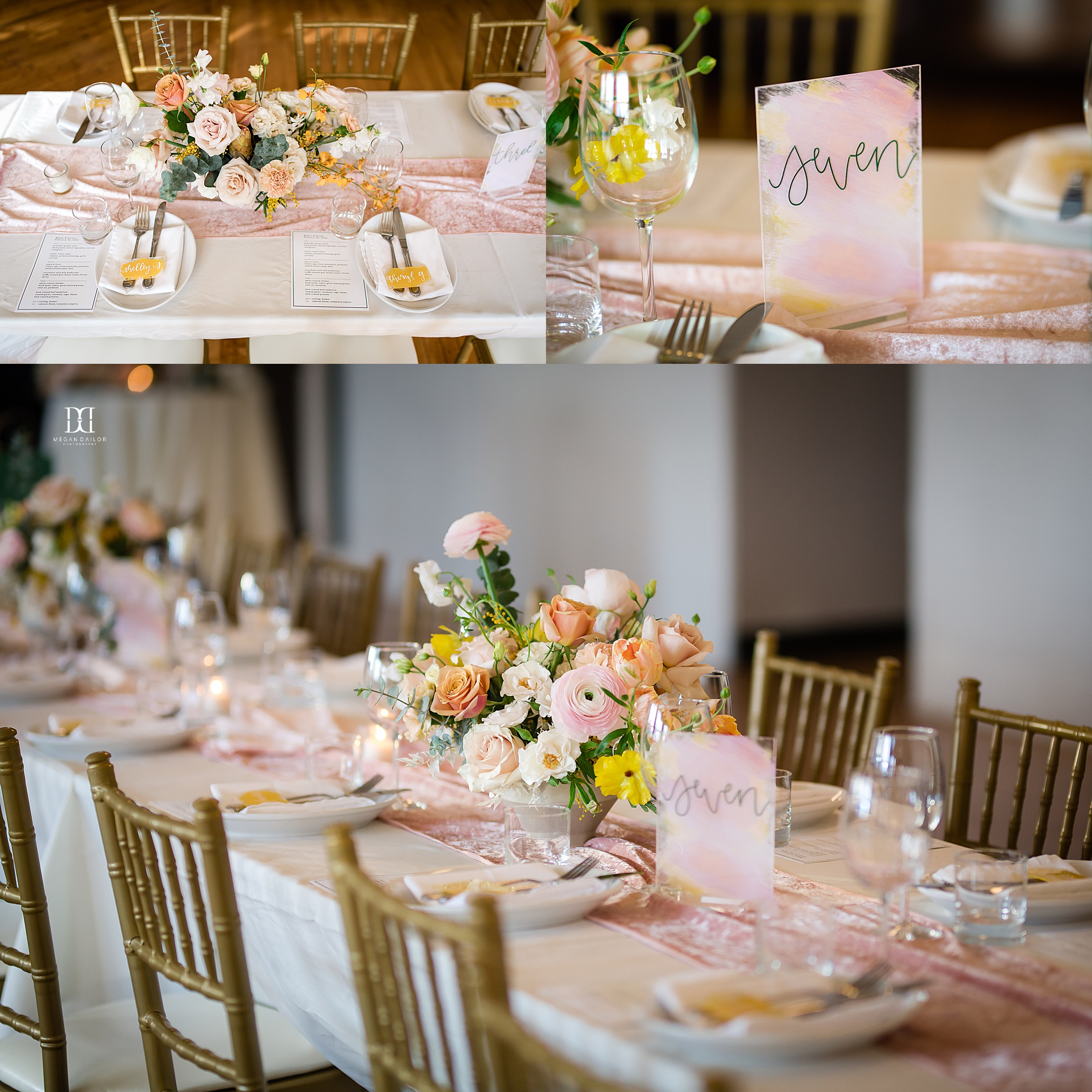 I can't stop thinking about these wedding centerpieces!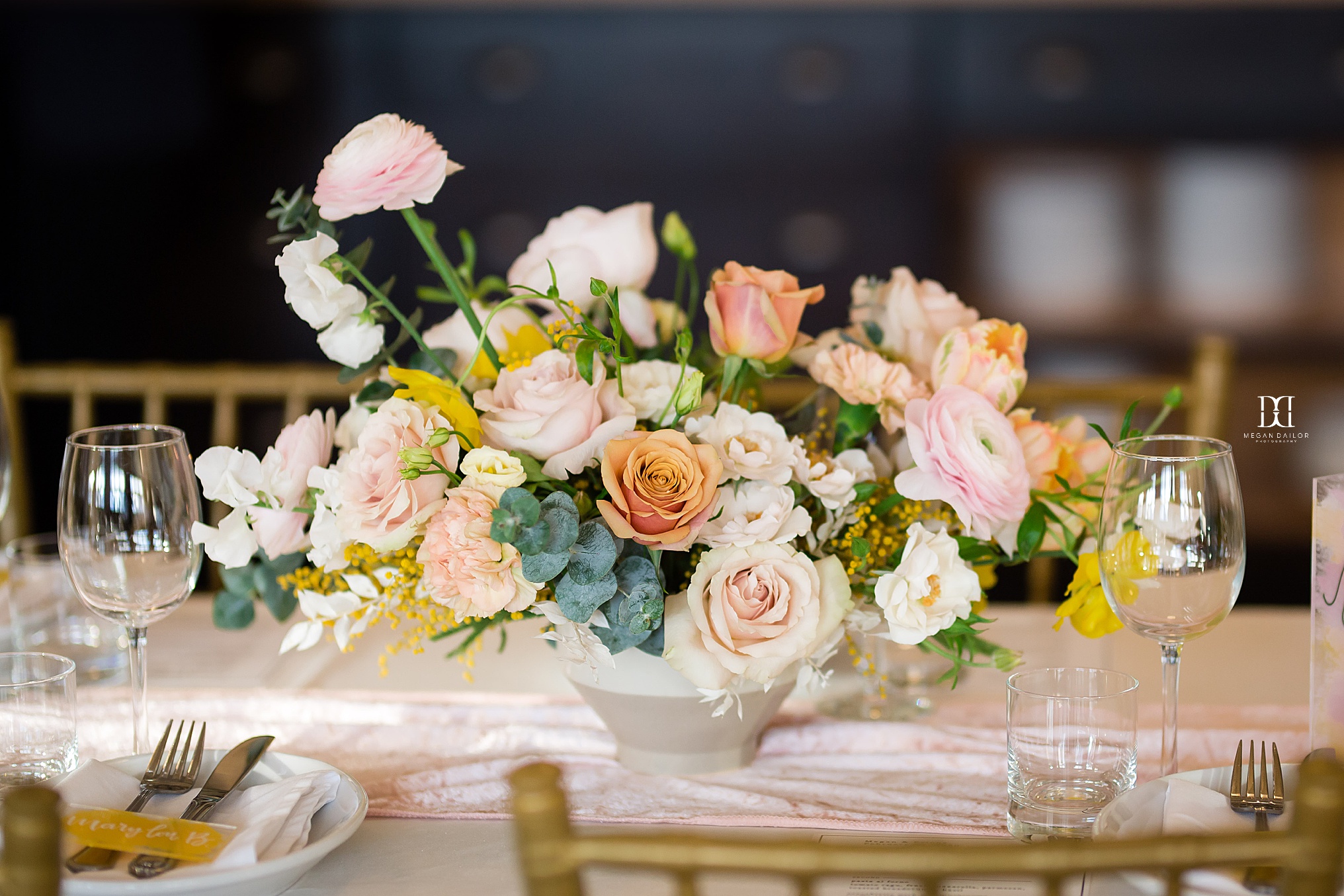 This seating chart was so fabulous, as well as the other signage! Erinne's vision is so fabulous.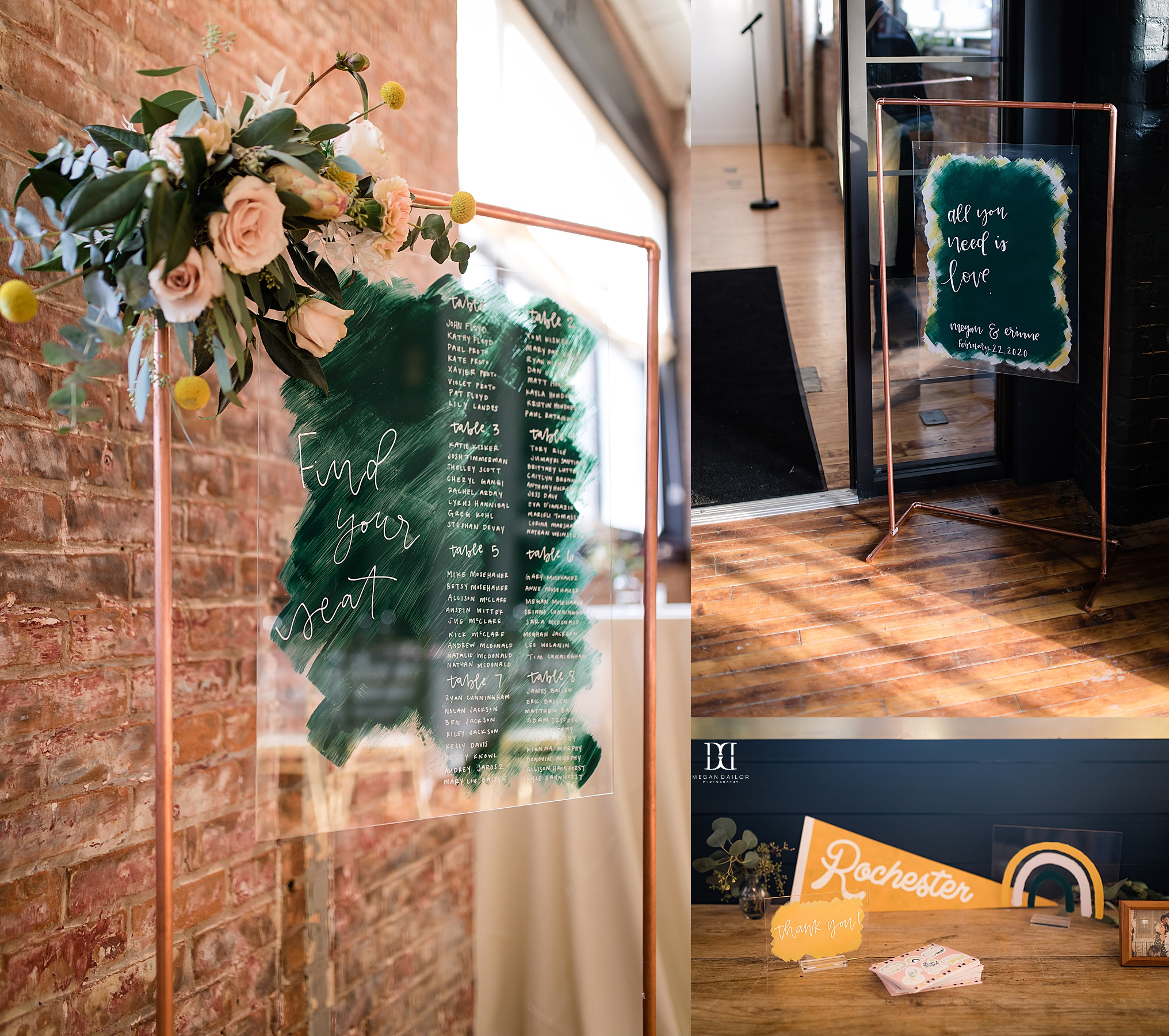 This is also what I want to do sometimes when I'm overwhelmed. Kids are so lucky.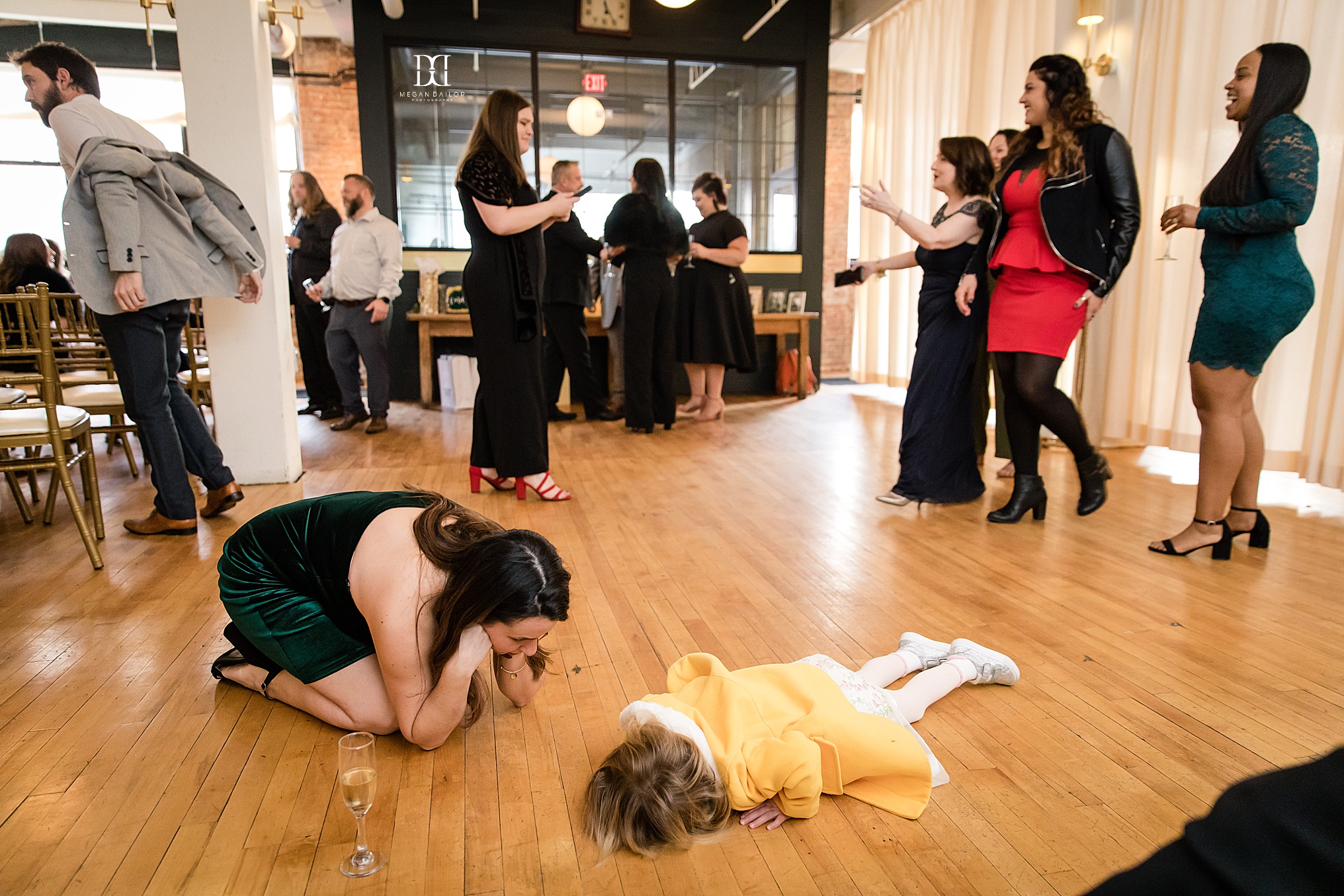 Such beautiful light coming into this venue, ughhhh. Dream life!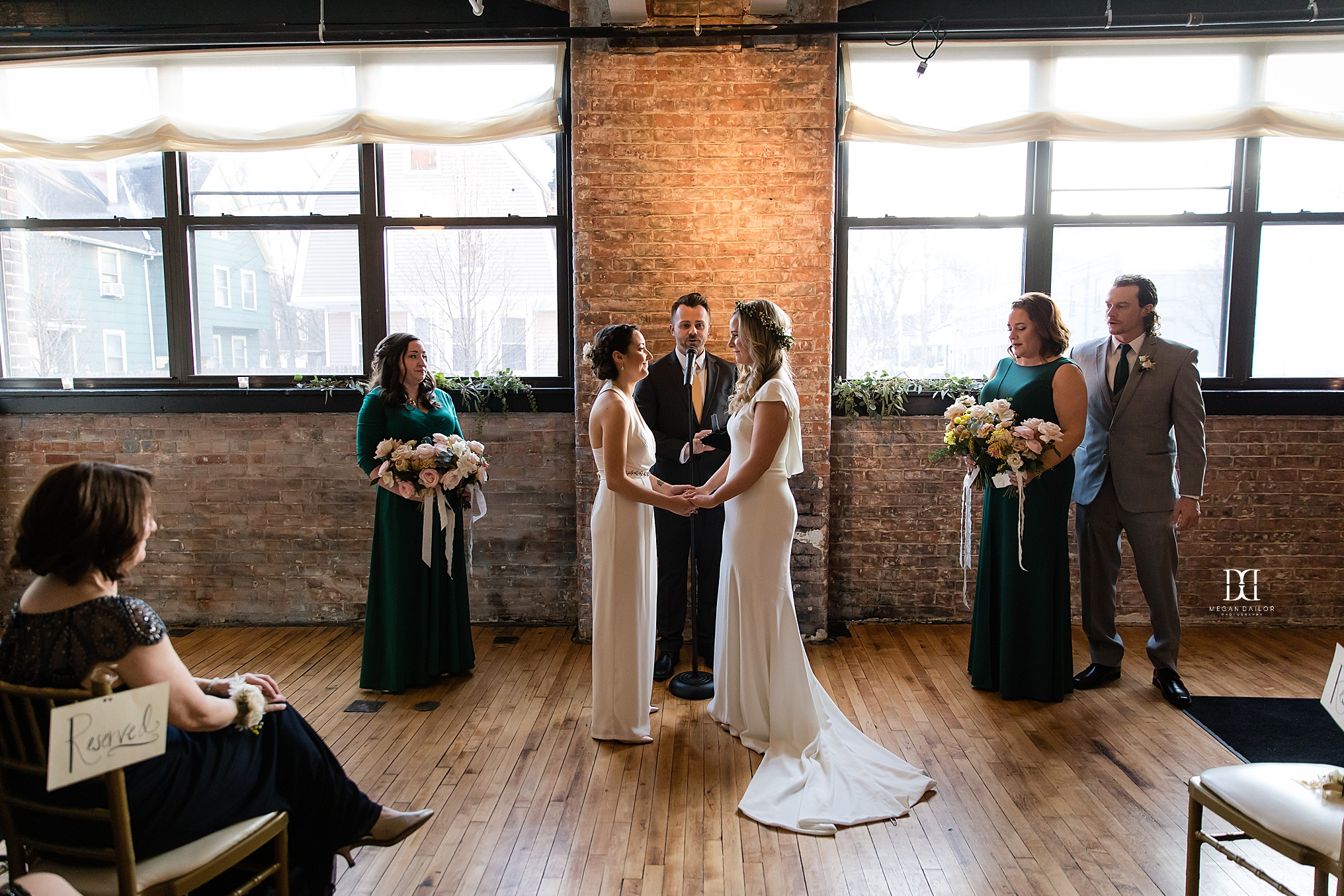 The way these brides just beam at each other is something else <3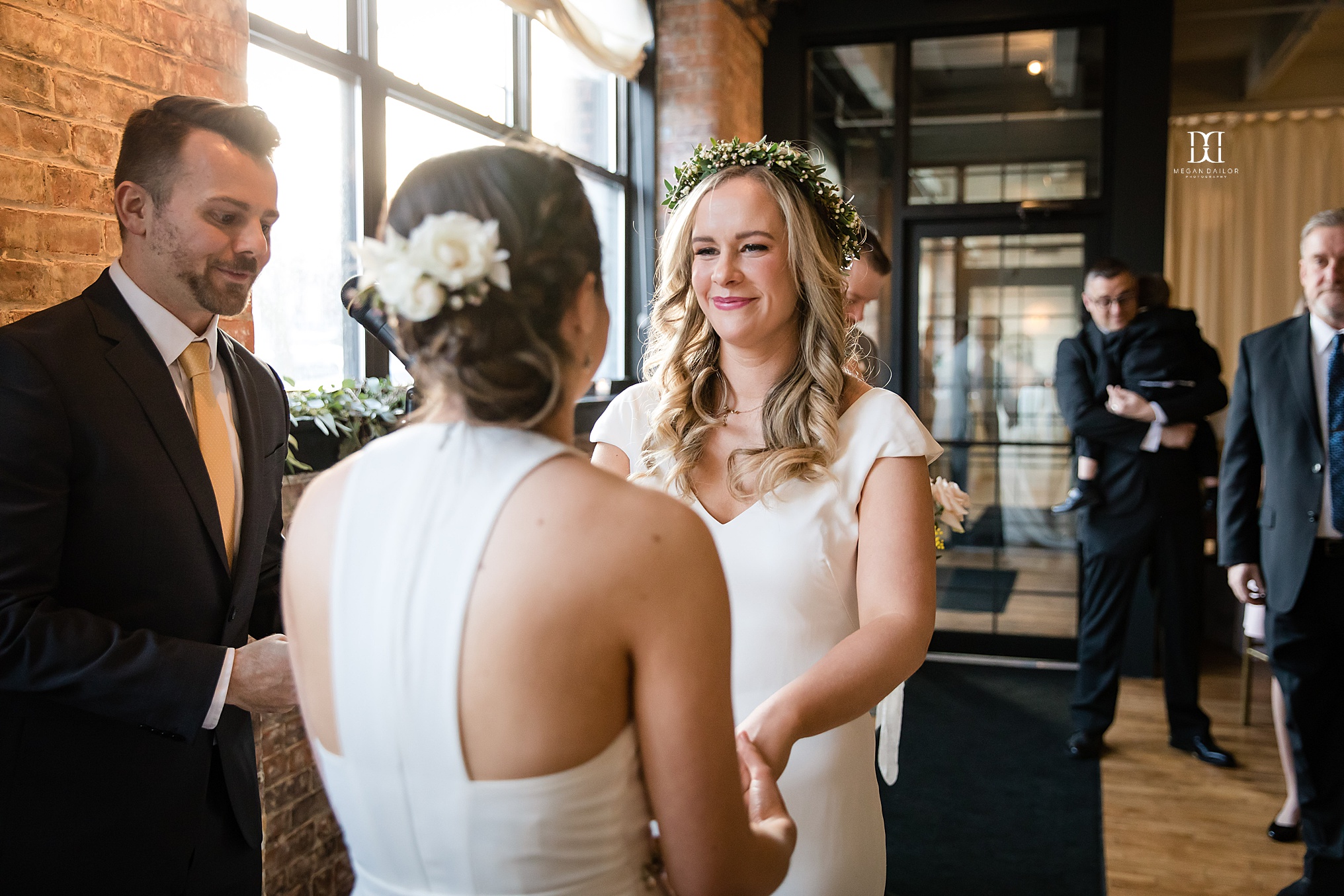 Becoming Mrs and Mrs.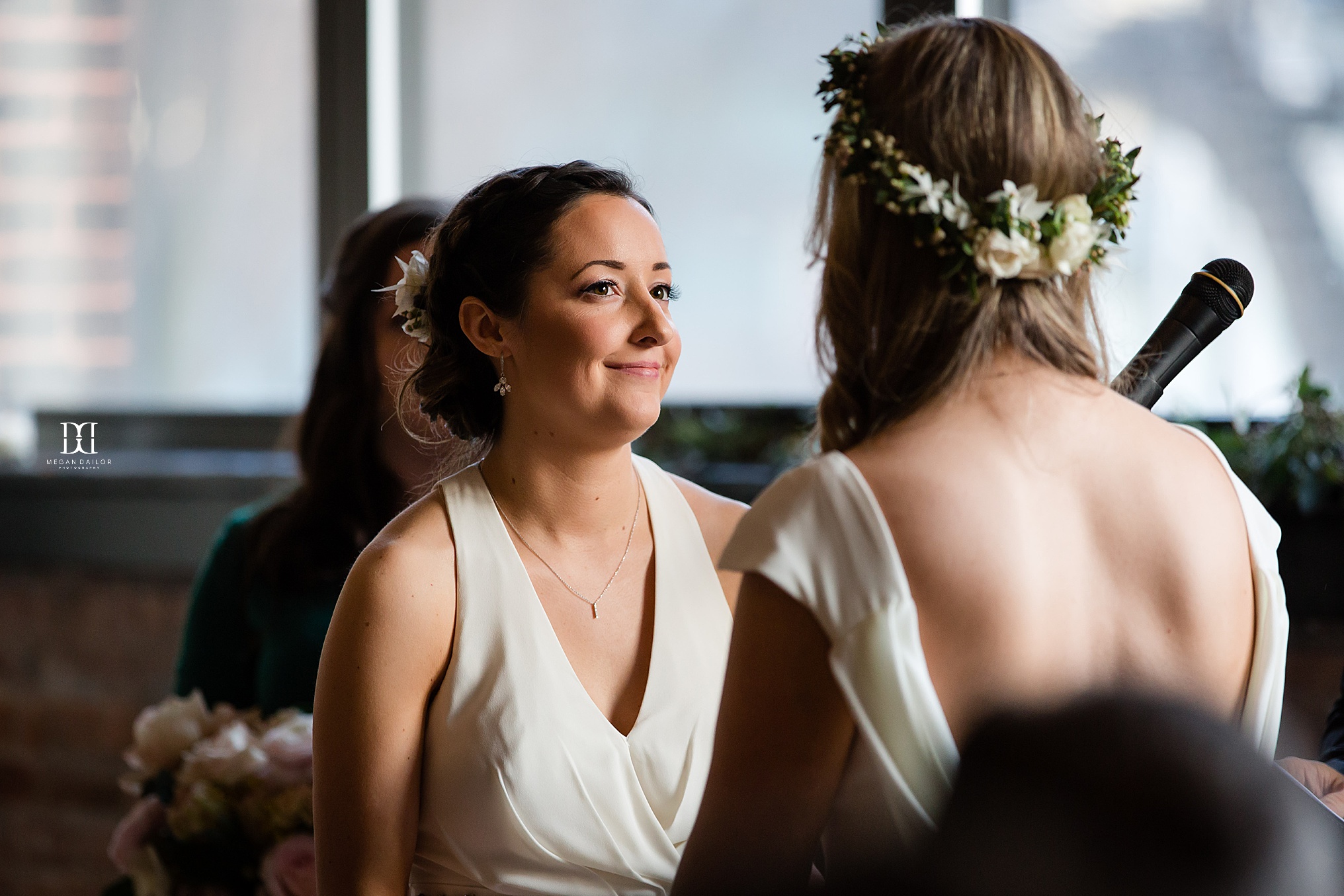 I love when couples truly put a lot of work into their ceremonies. Carefully choosing their officiant, writing their own vows, truly choosing exactly what they want to promise to one other. It is so meaningful and you can see it written all over their faces.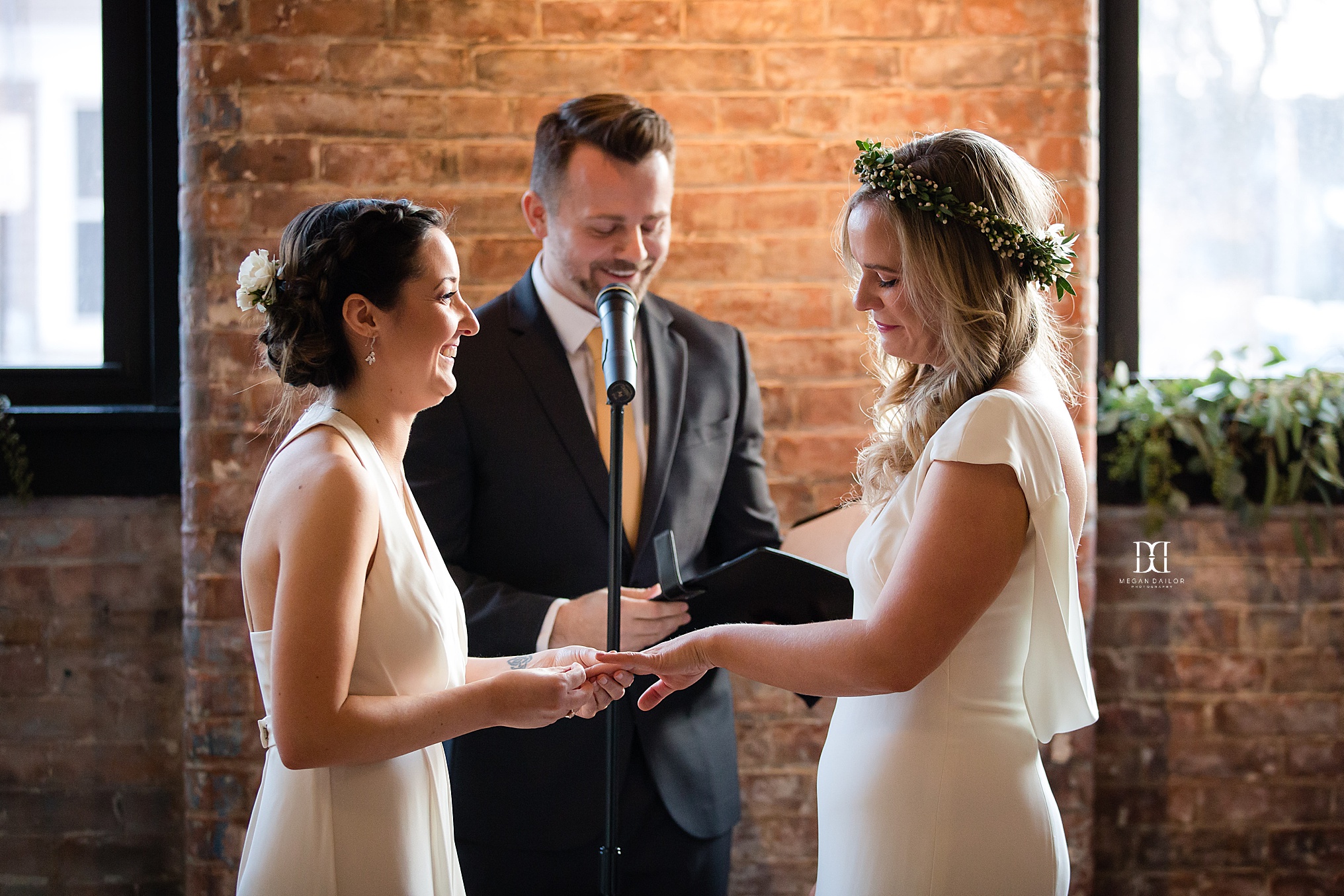 The joy overwhelms!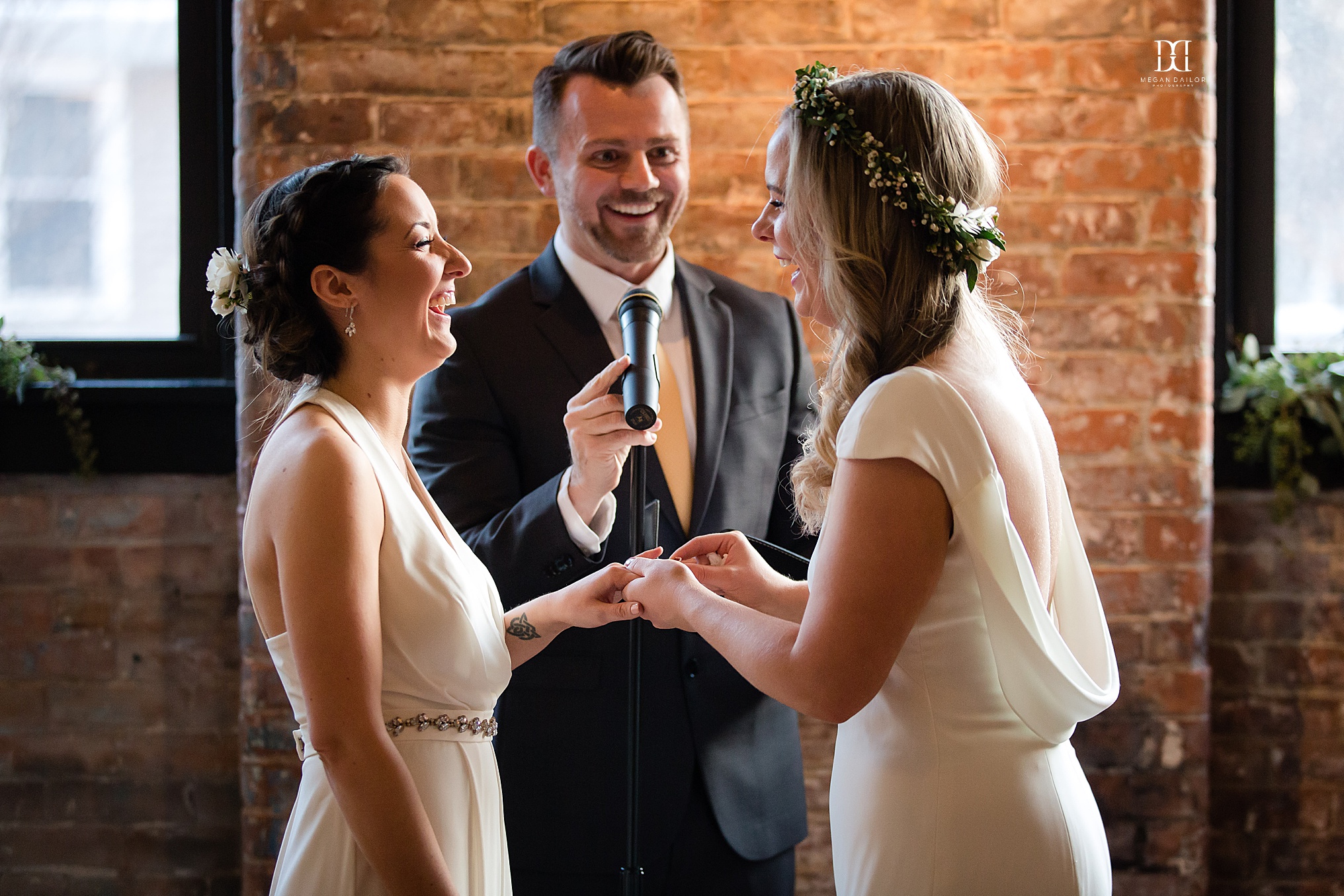 Yessss wife and wife!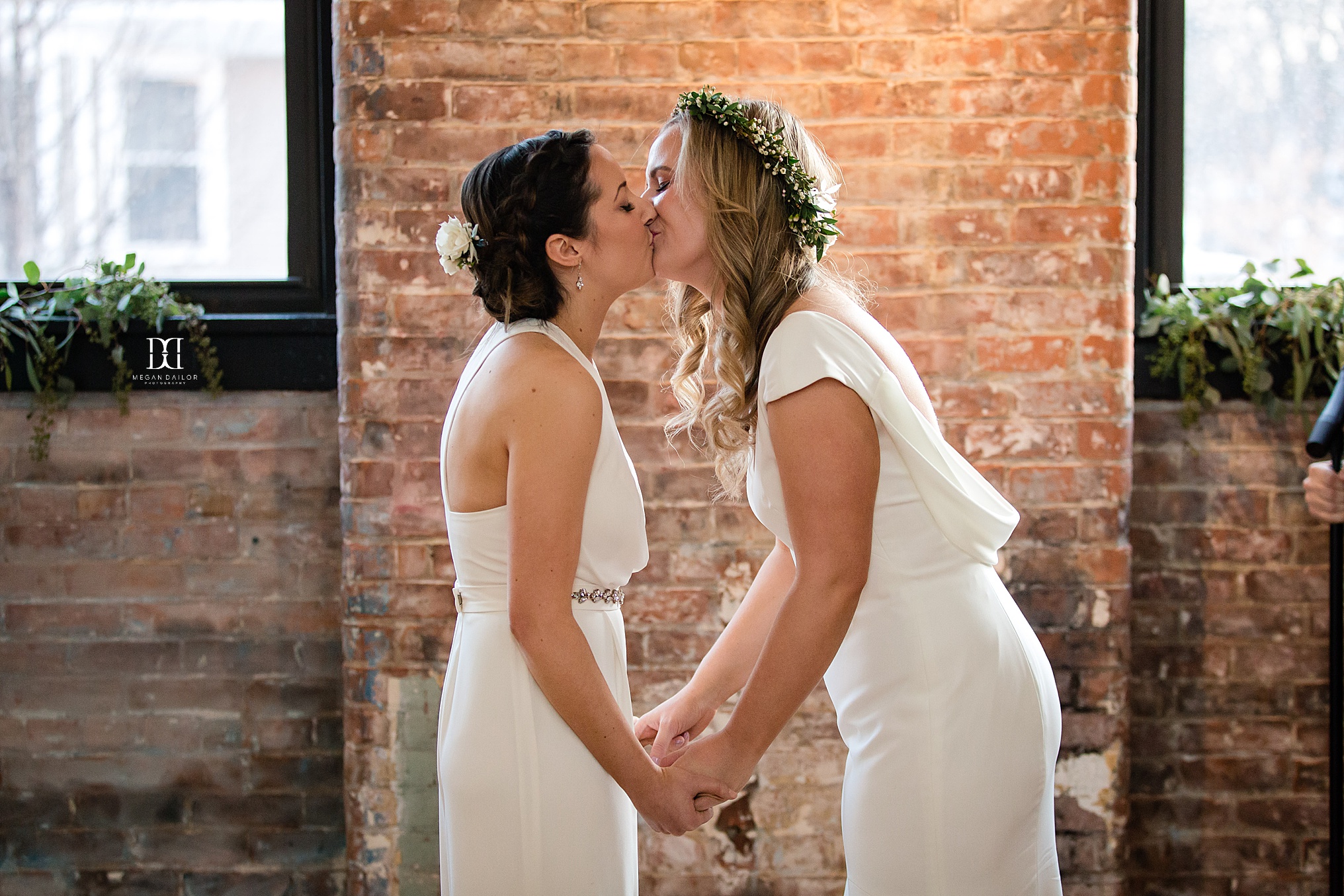 You and me, forever.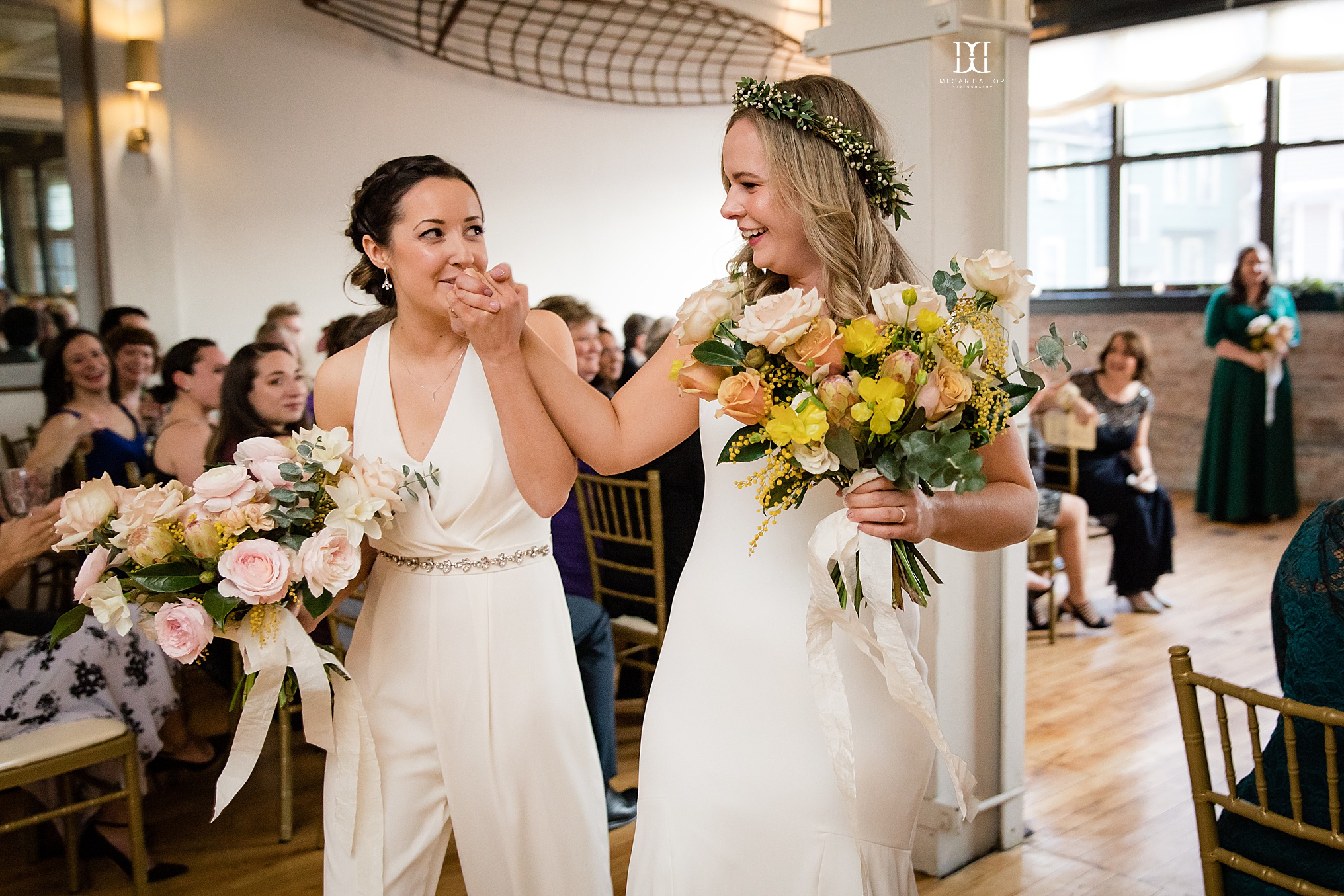 I'll never stop saying it- winter brides get the best accessories.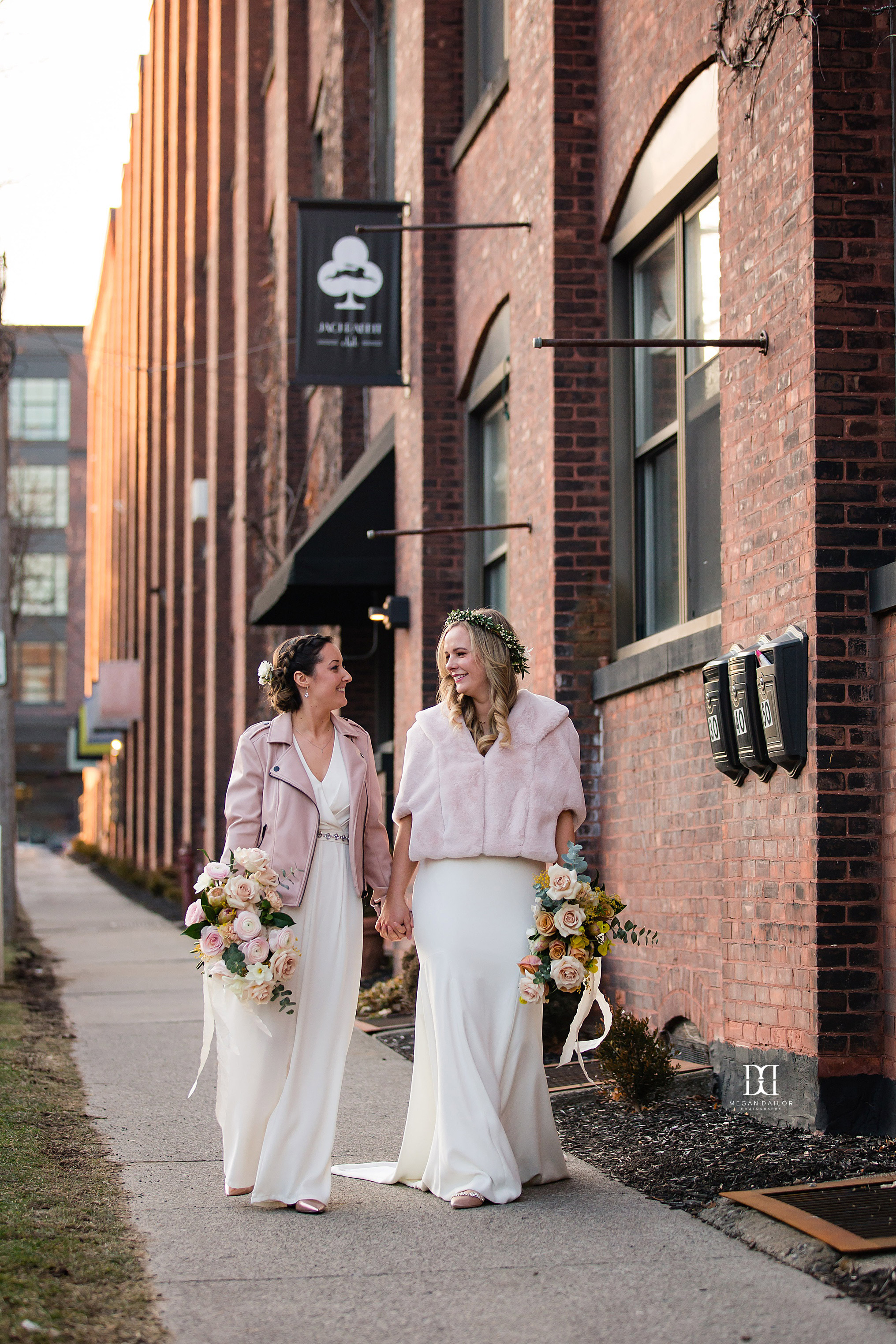 Relationship goals. 100%.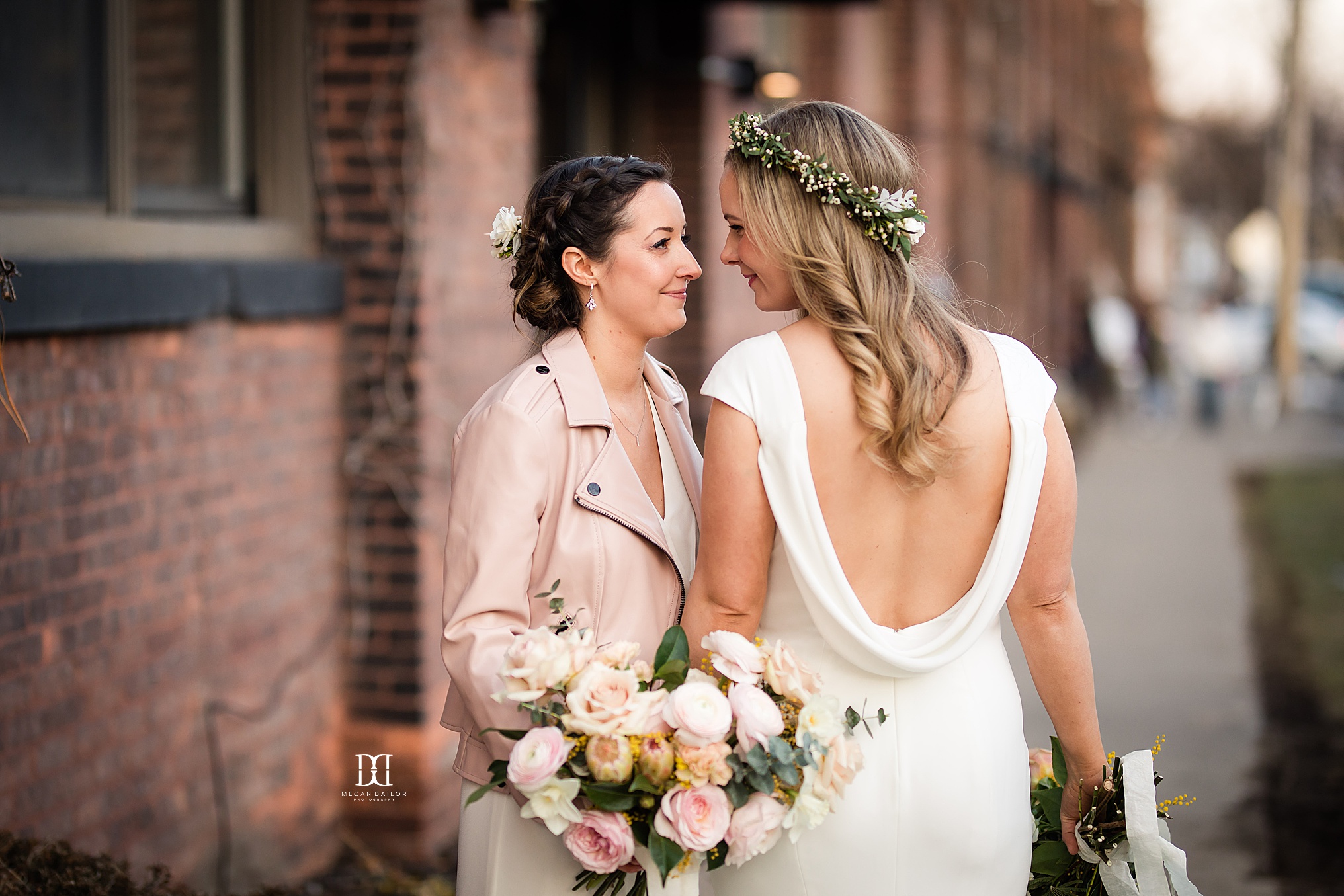 I always love a big epic portrait to give a sense of place on the wedding day. And this just happens to be one of my favorite places!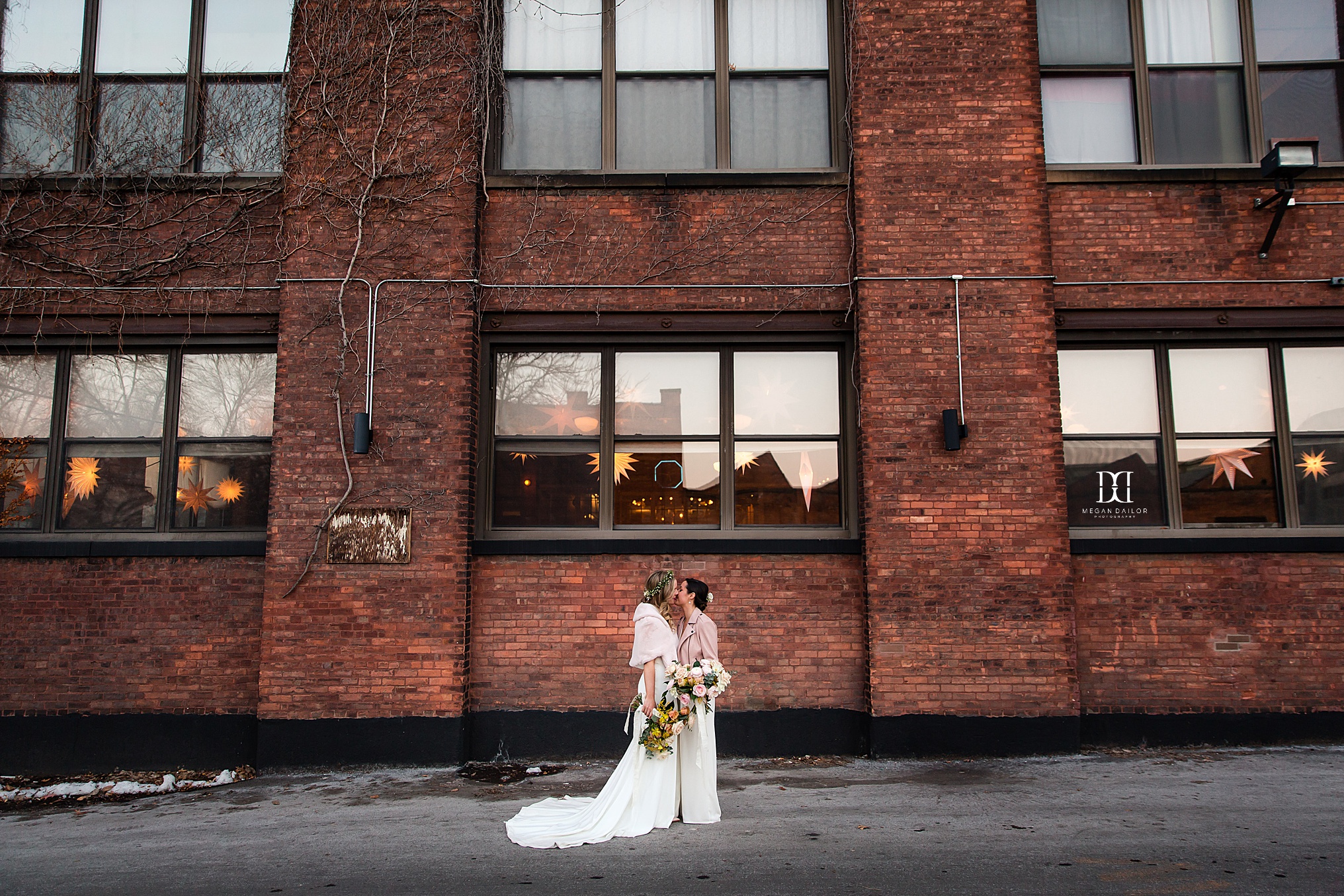 We even got a little sunset gorgeousness, don't worry if it was in the middle of traffic.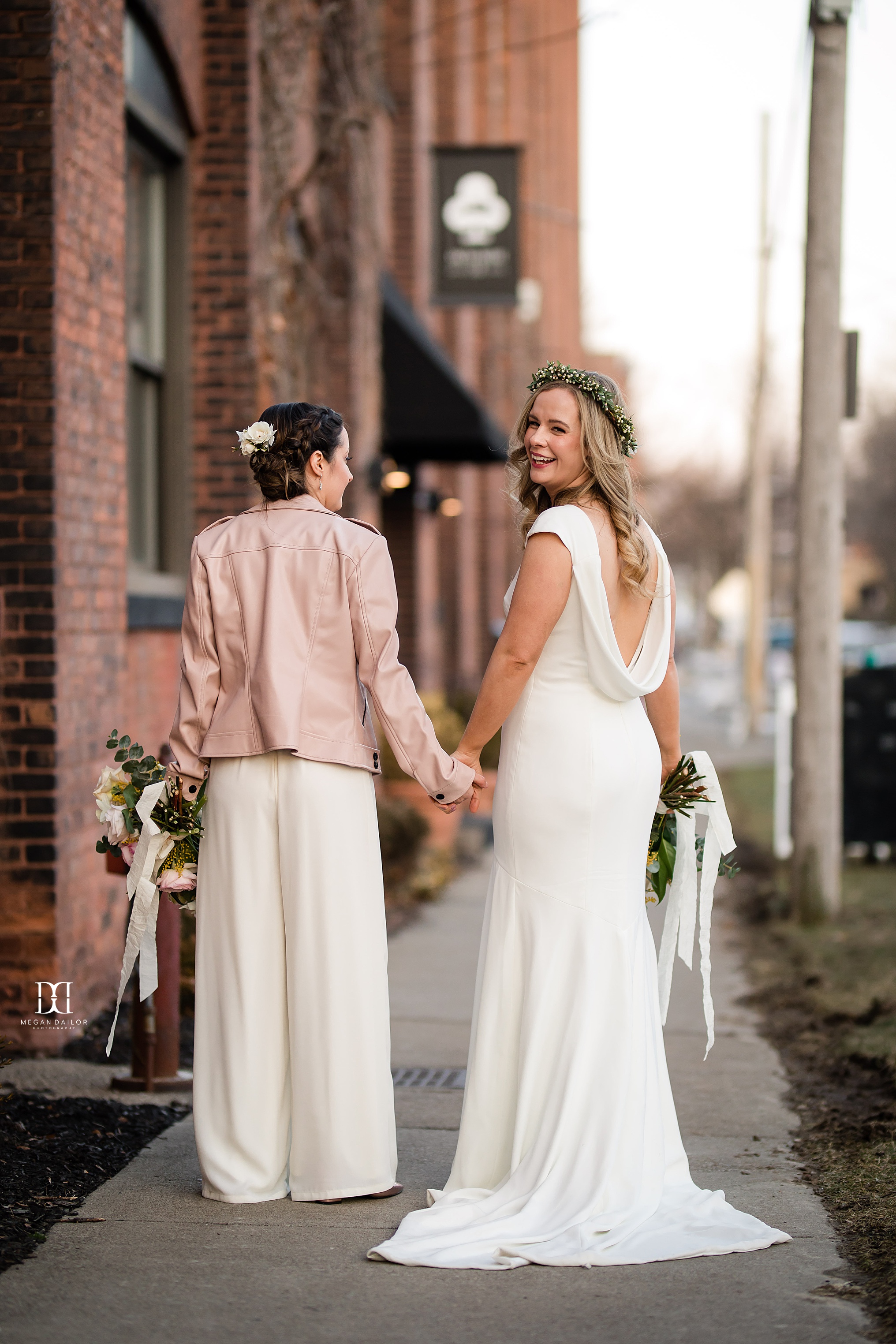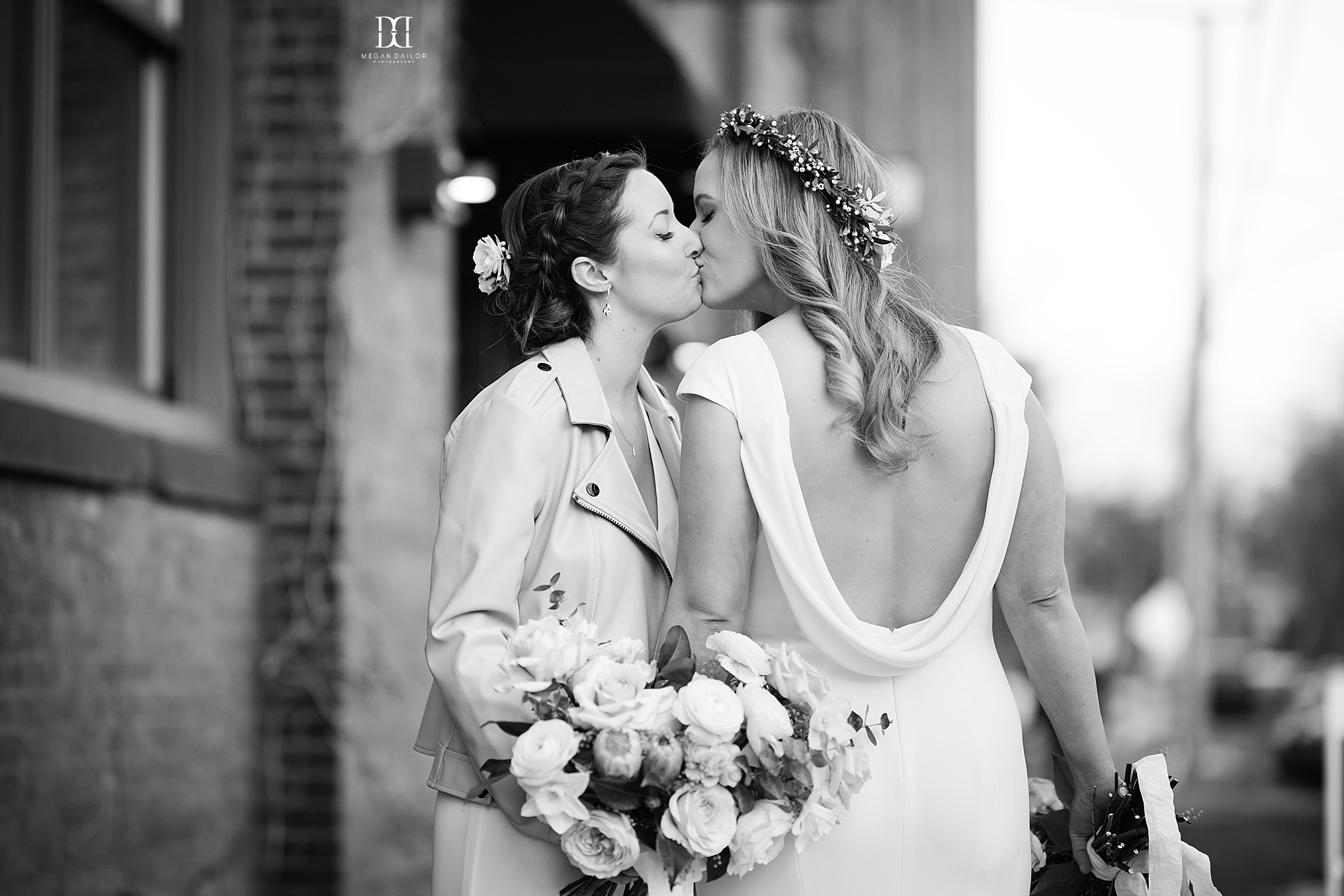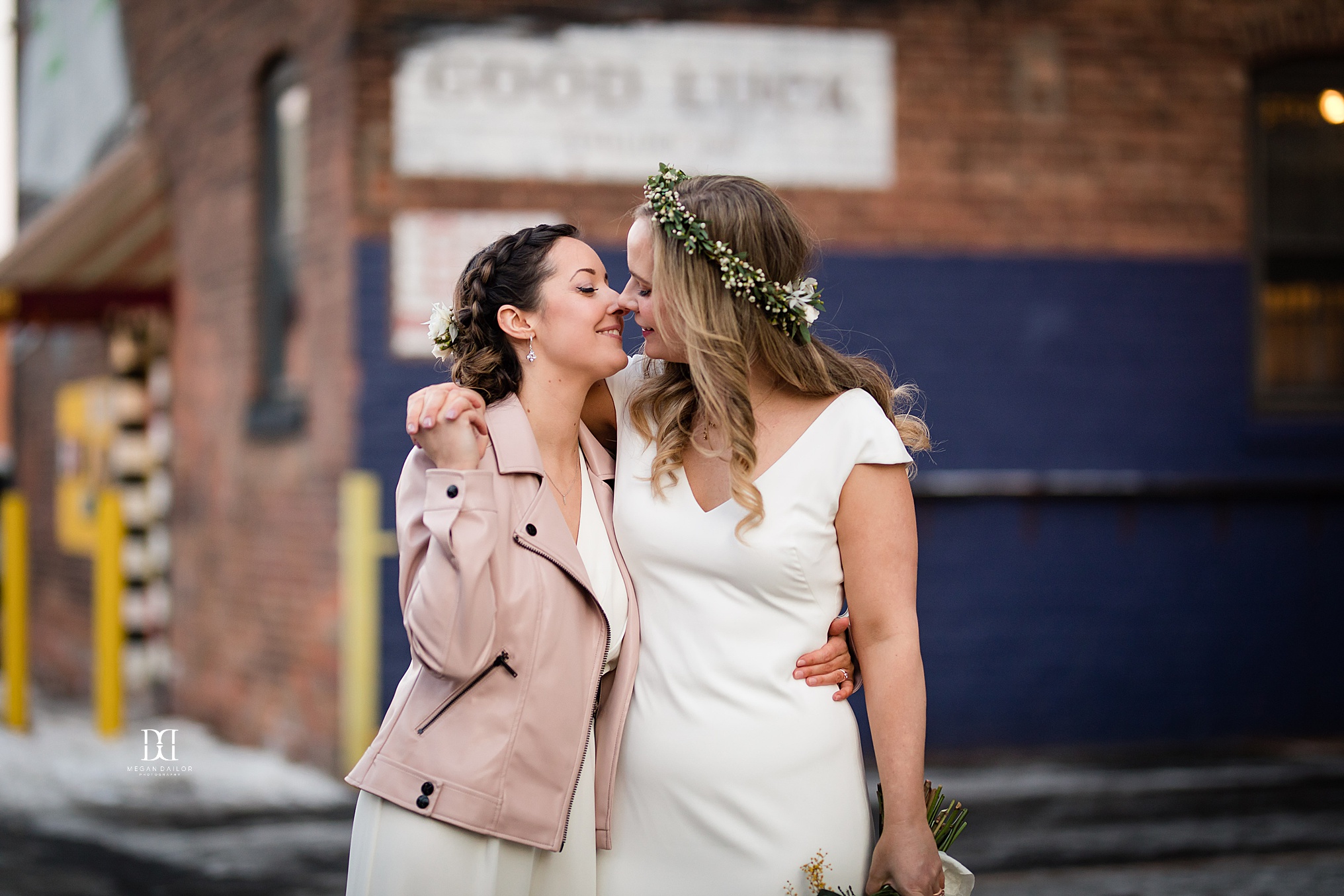 Find you a partner who can start talking about spaghettification into black holes and make you laugh your head off. And then find me to photograph it, because I will do great spaghettification impressions. (Great=terrible)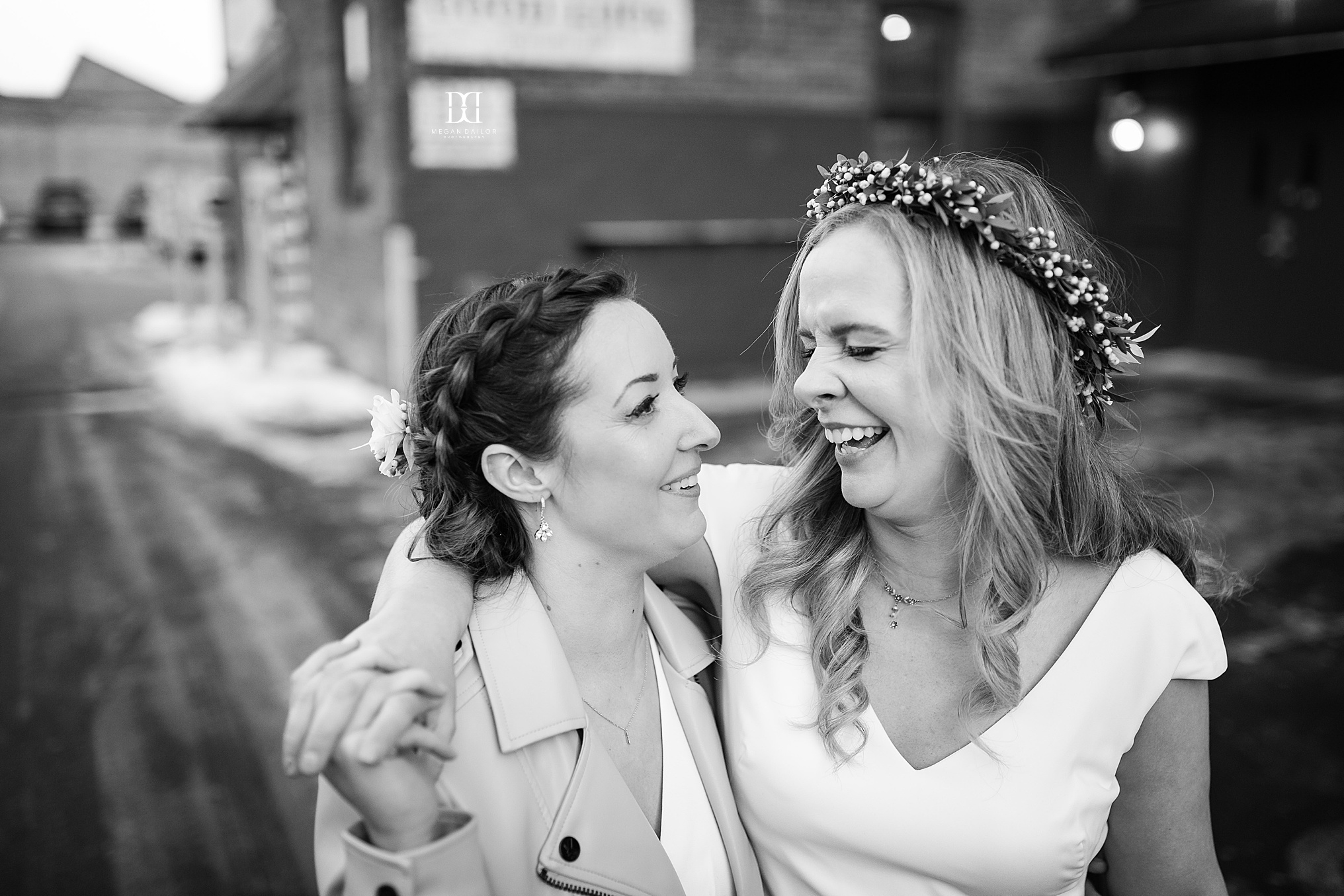 A new favorite thing- private first dance. This was so beautiful and intimate. Truly a moment just for the two of them.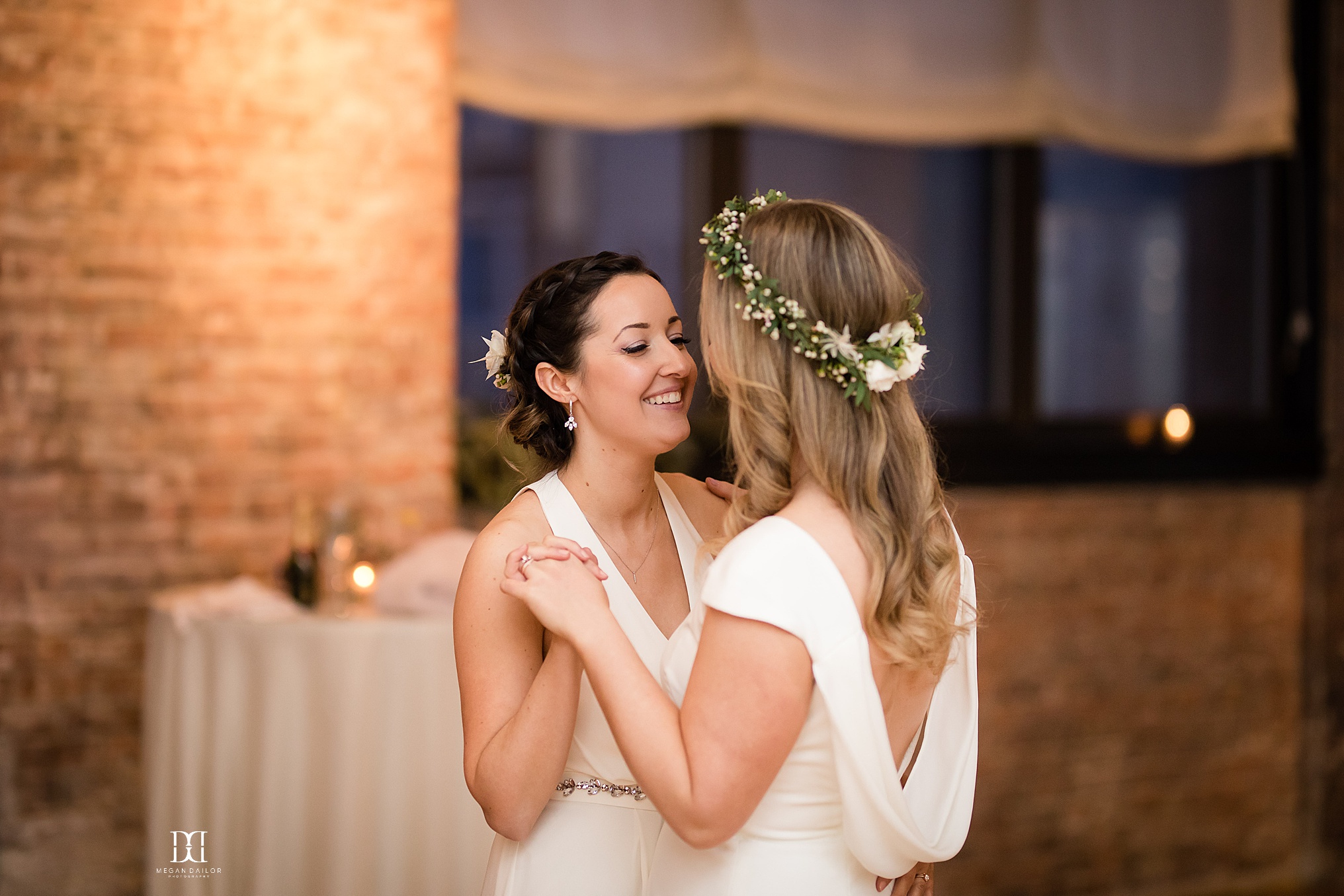 Anyone who has been married knows that the day is a whole lot. From ceremony to cockatil hour is especially intense- you're feeling so many big feelings, running from one thing to another, greeting people, taking pictures, etc. There's not a lot of time to eat or drink until cocktail hour, so many couples find themselves pretty starving by that point. Erinne's relatable af death grip on the apps plate made me laugh so hard, and then her friends started feeding her... THIS is quality friending.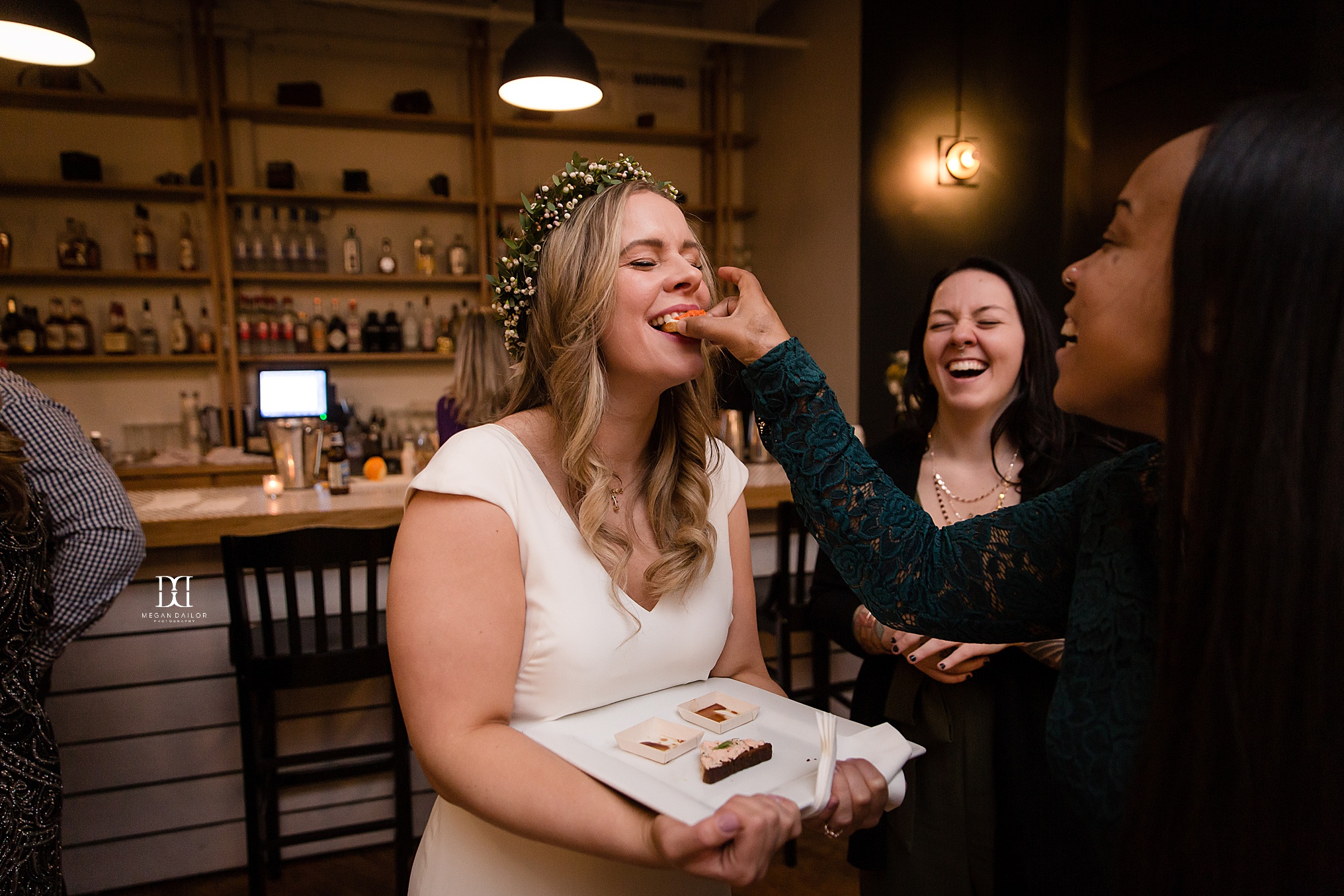 Stealing a kiss before being officially introduced as Mrs. and Mrs.!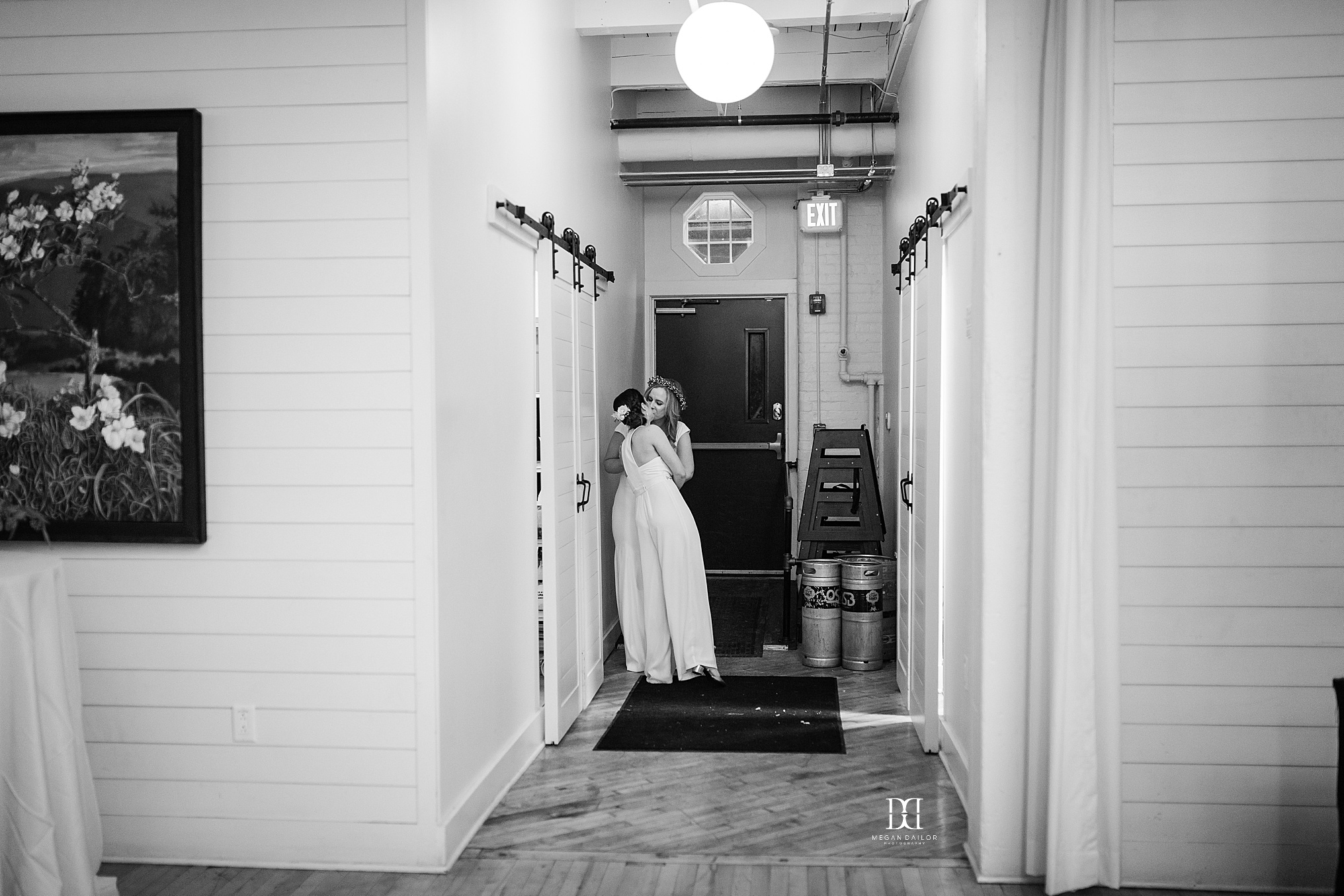 This couple is surrounded by so much love. The toasts were so moving.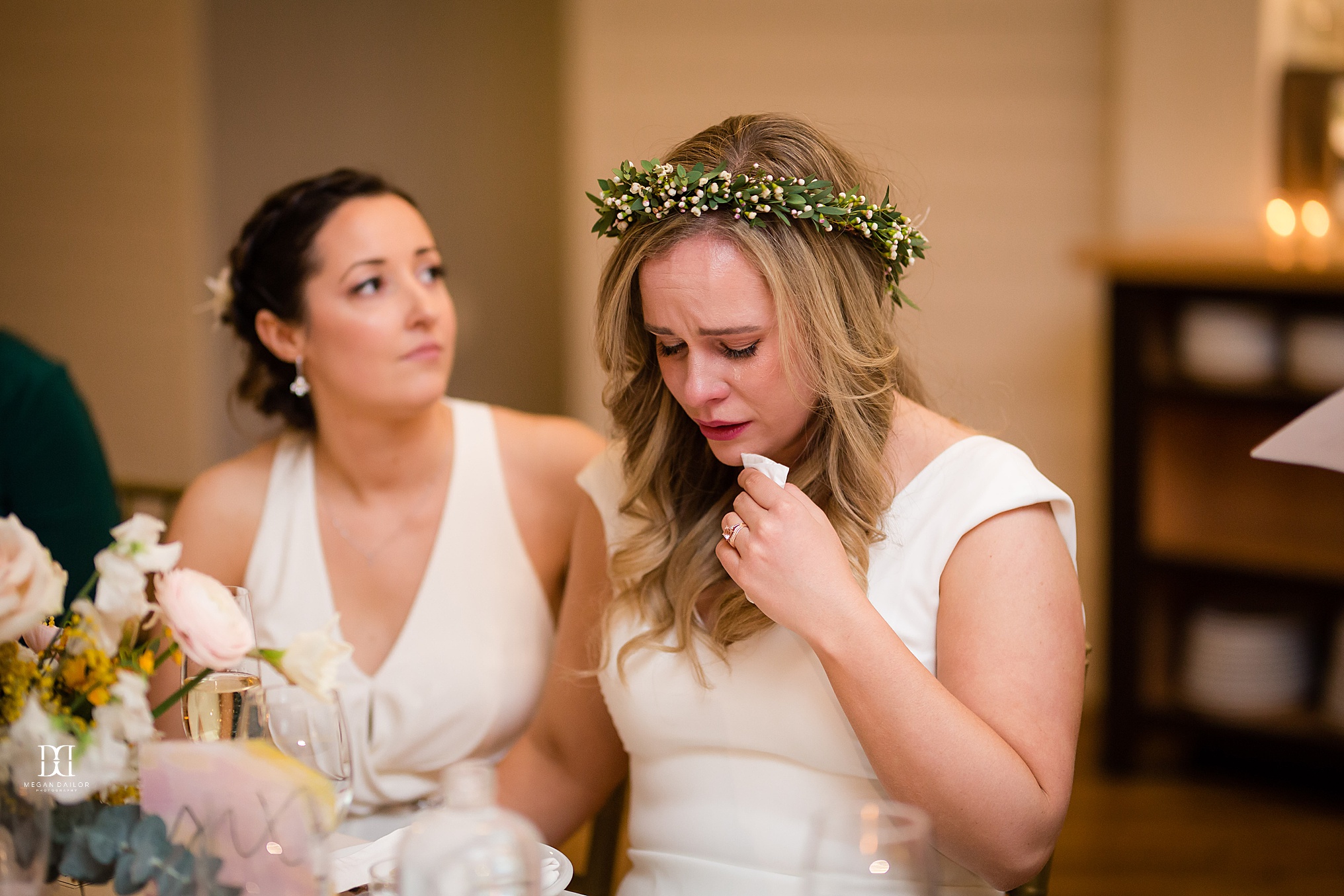 And so full of joy and laughter.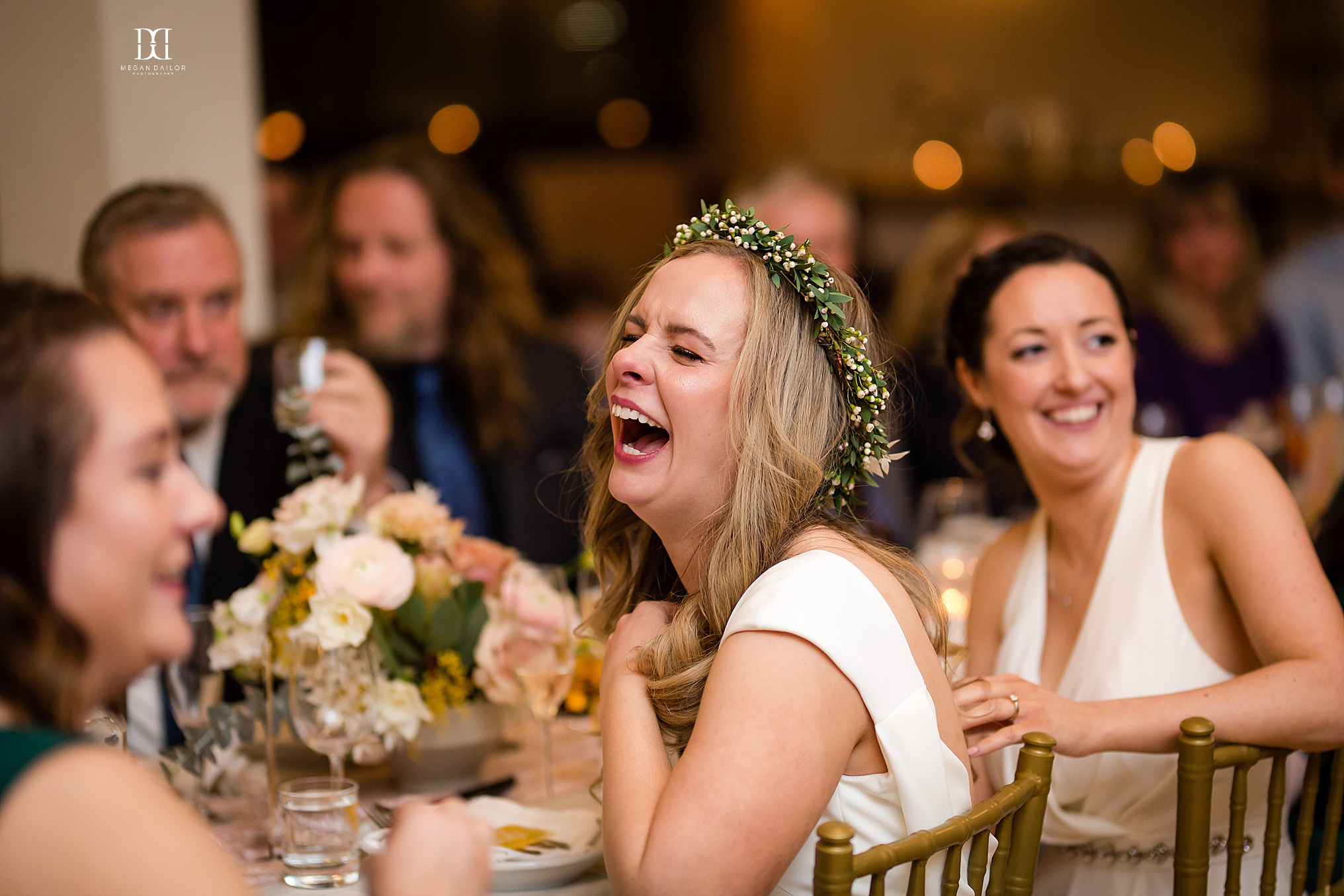 And kids finding adults booooorinngggg and having to entertain themselves because we won't stop talking 😀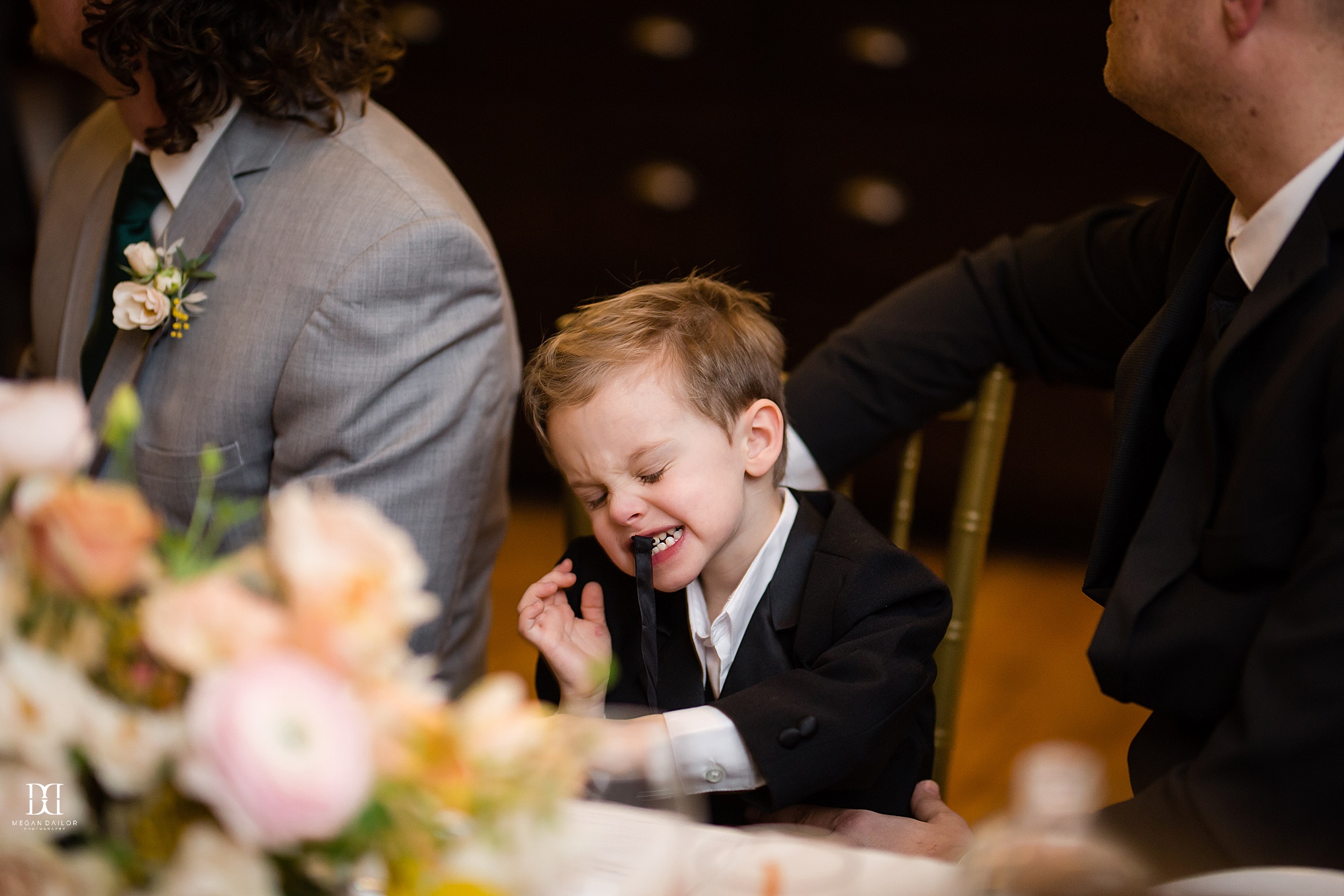 Not only did Erinne create all the signage, she decorated the cake! Skills!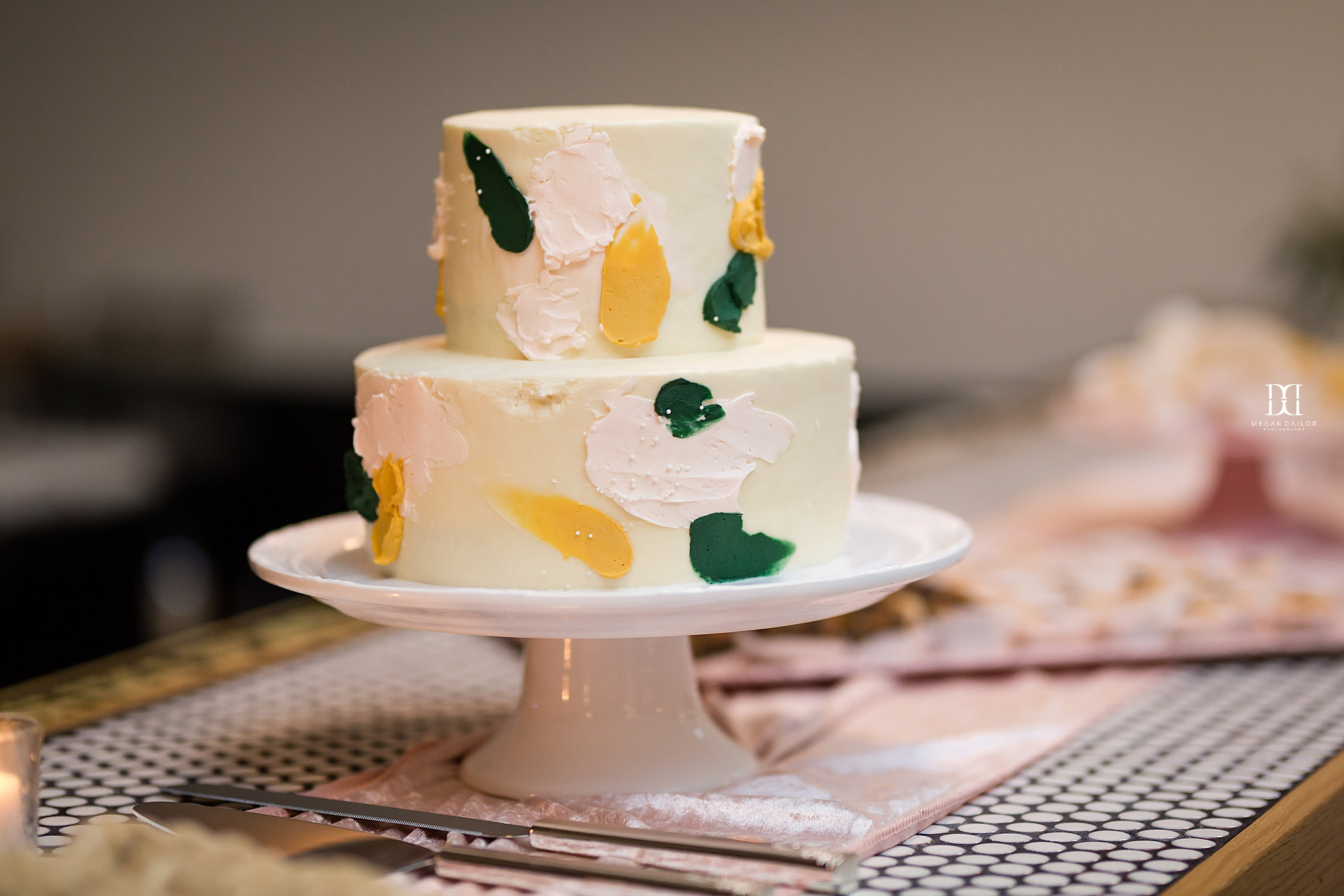 It is love for life when you find someone you have this much fun with.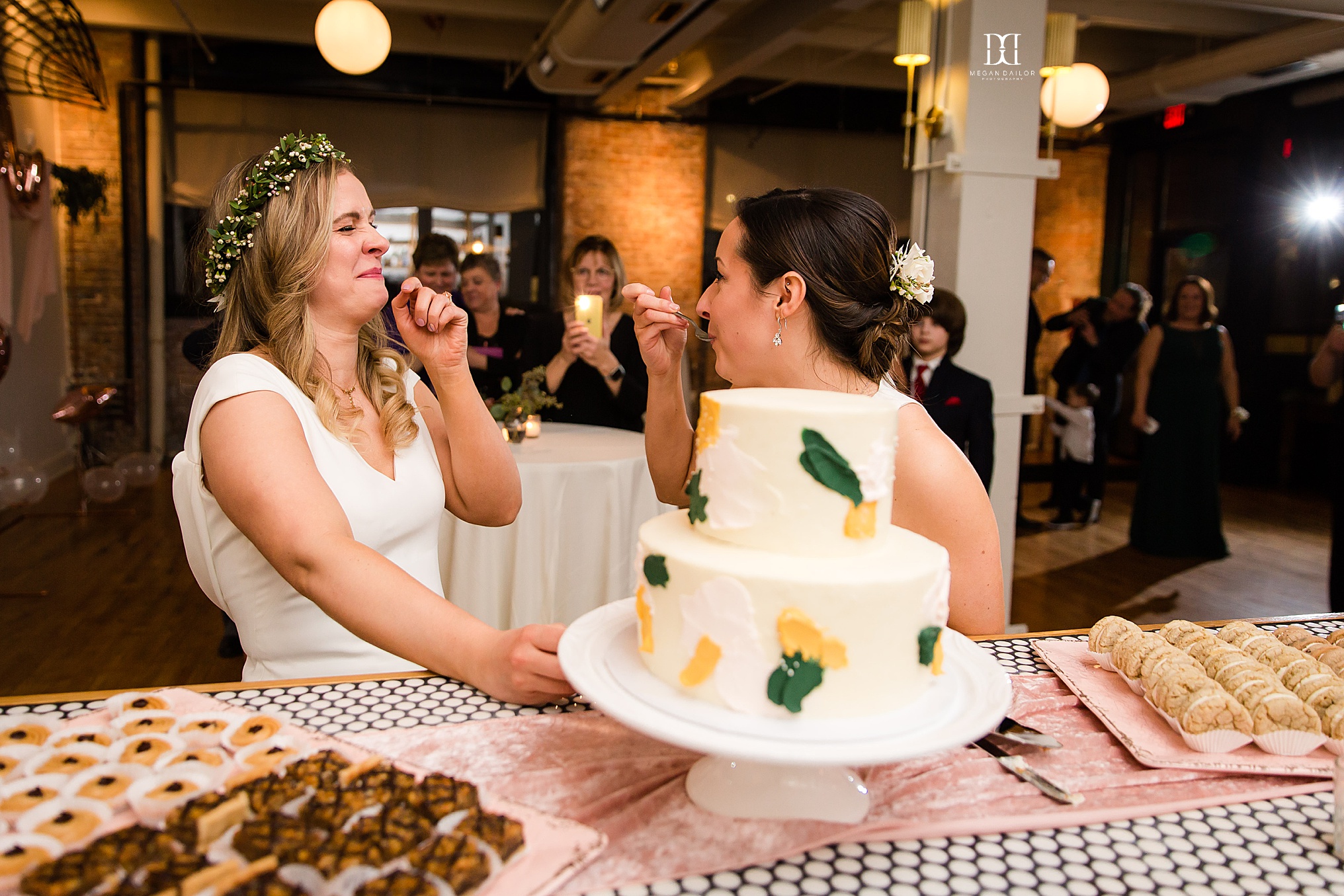 FINALLY. I have been seeing Erinne's epic dance moves in Megan's stories for months now, seeing them in person was everything! She is my instant Wedding MVP. The lovely ladies at Showcase Sound provided the perfect dance tracks for her, too. Always a great party with this crew!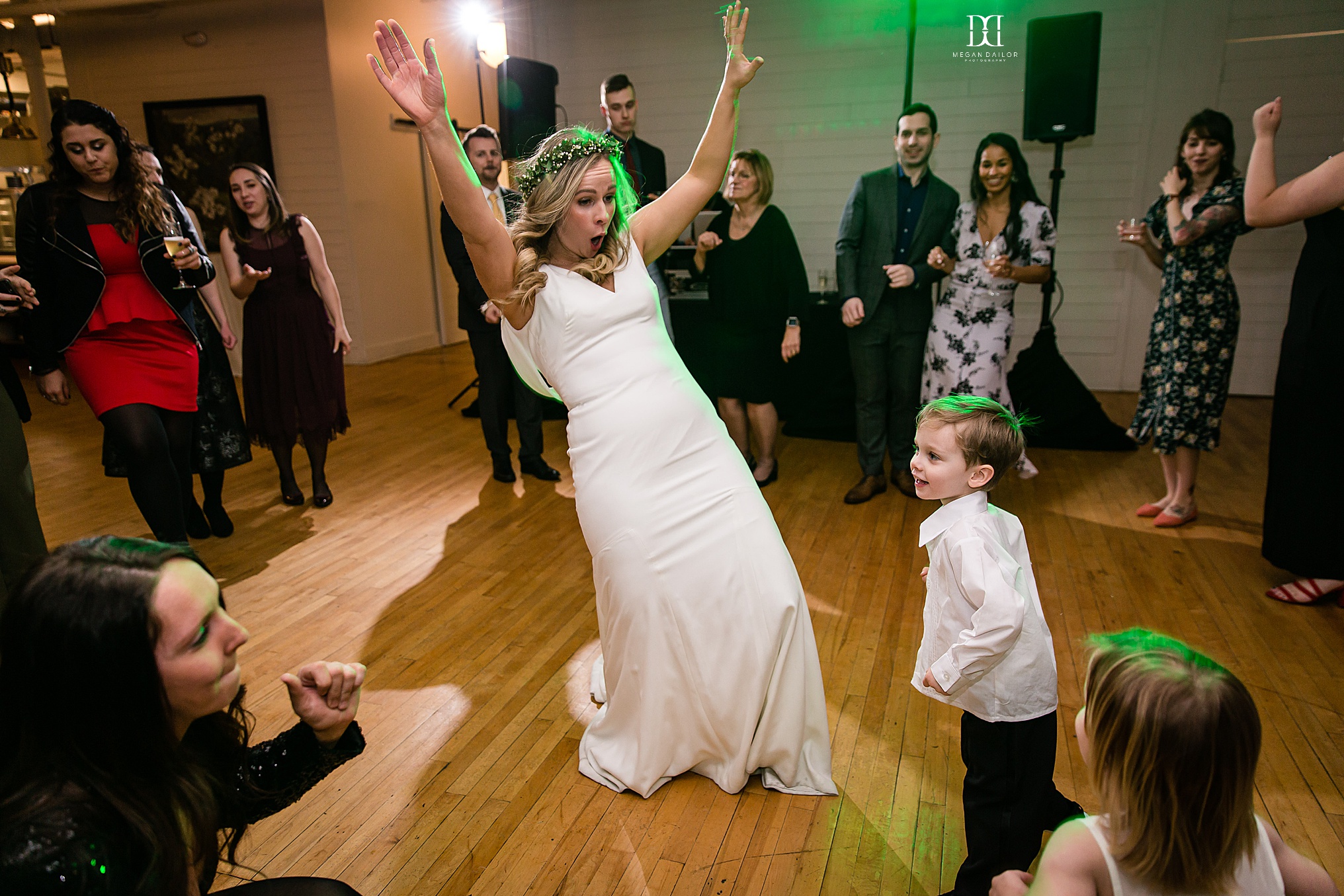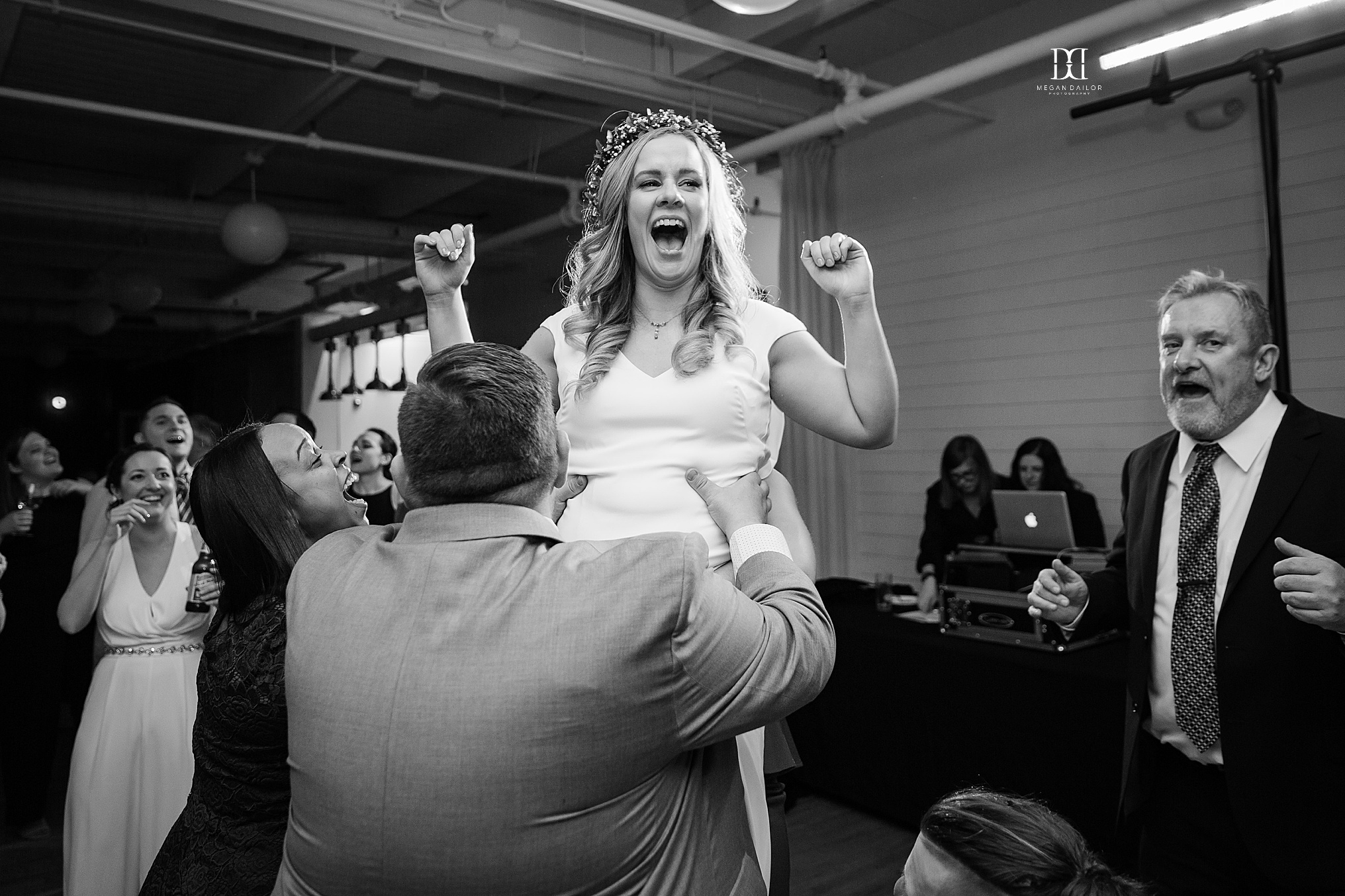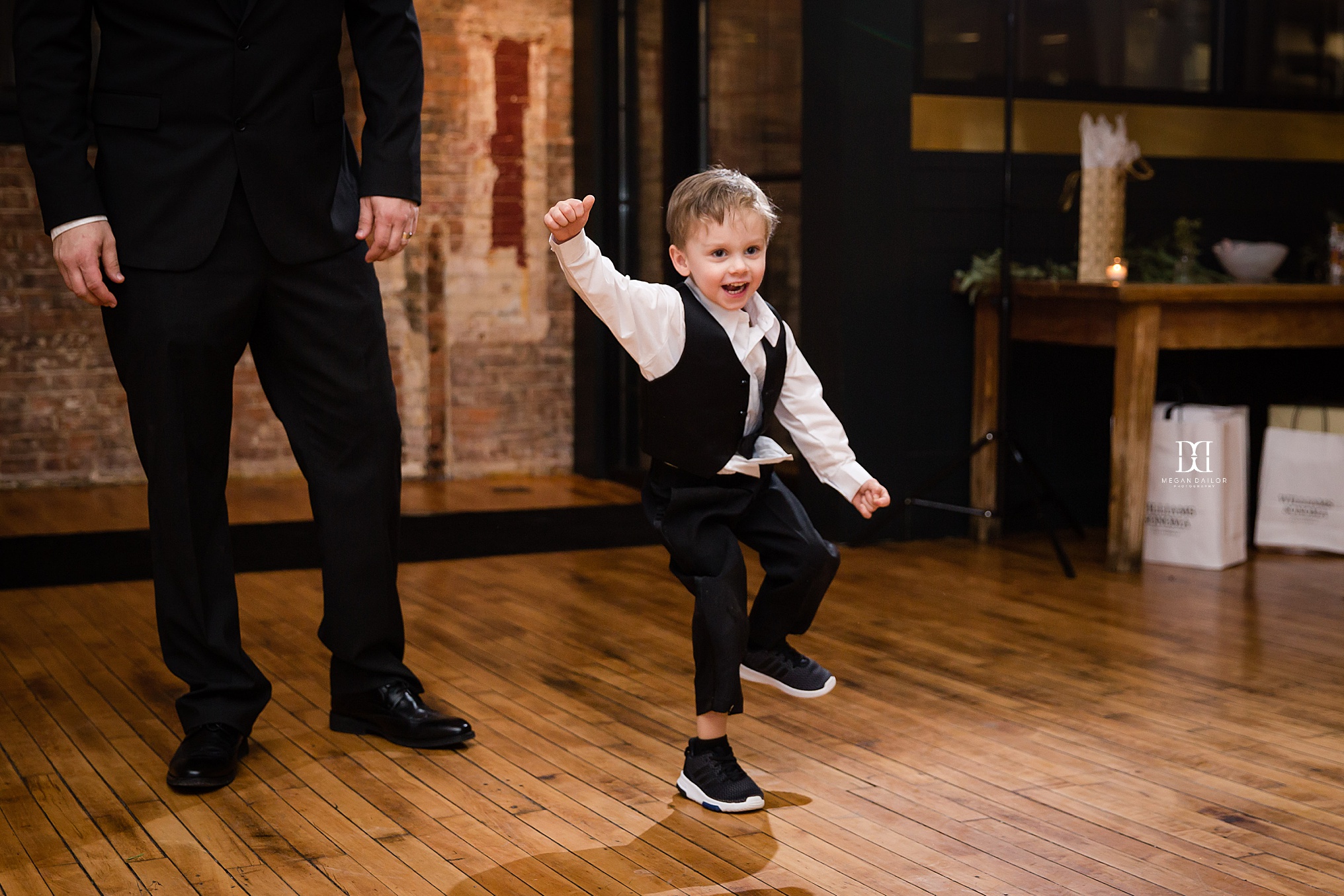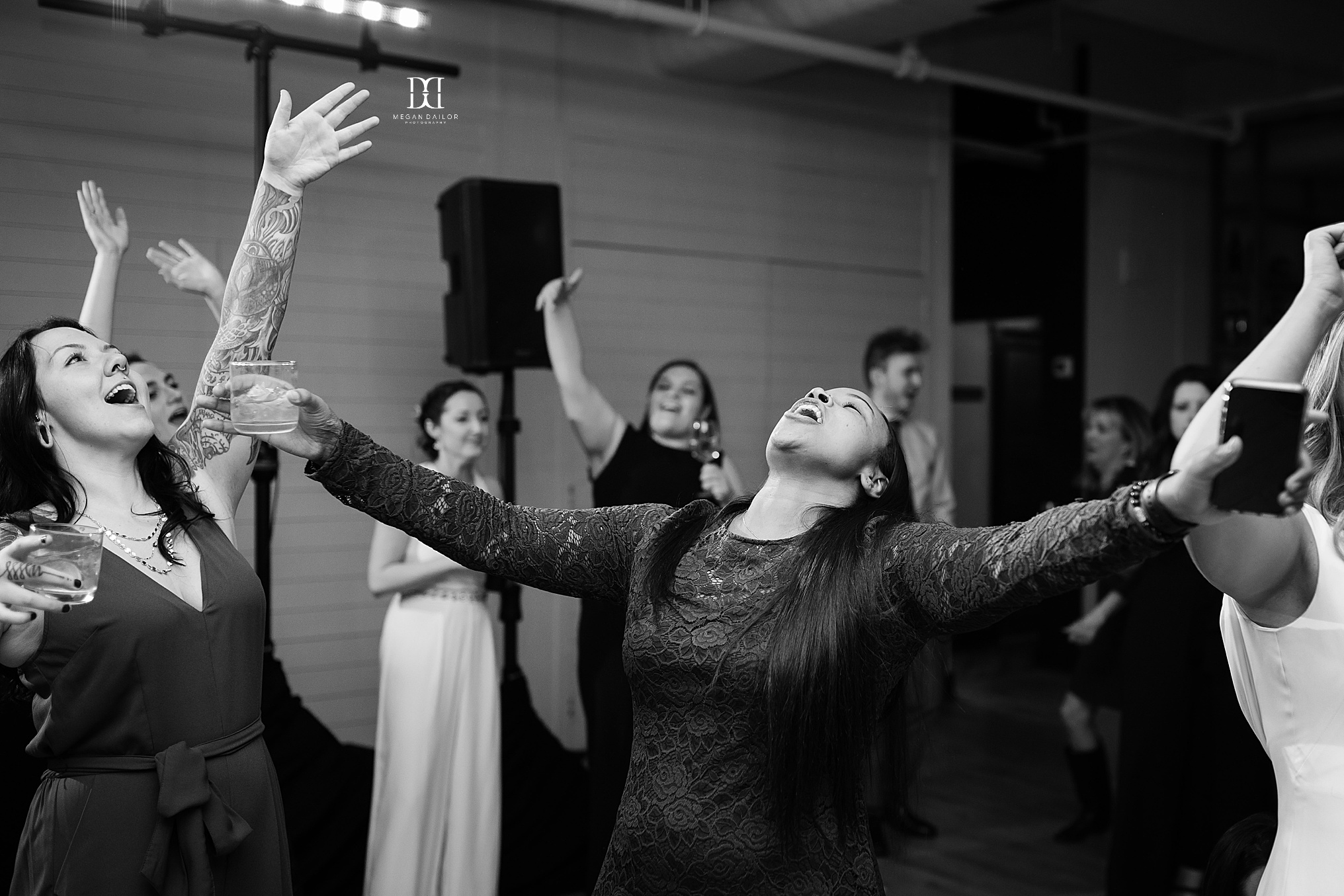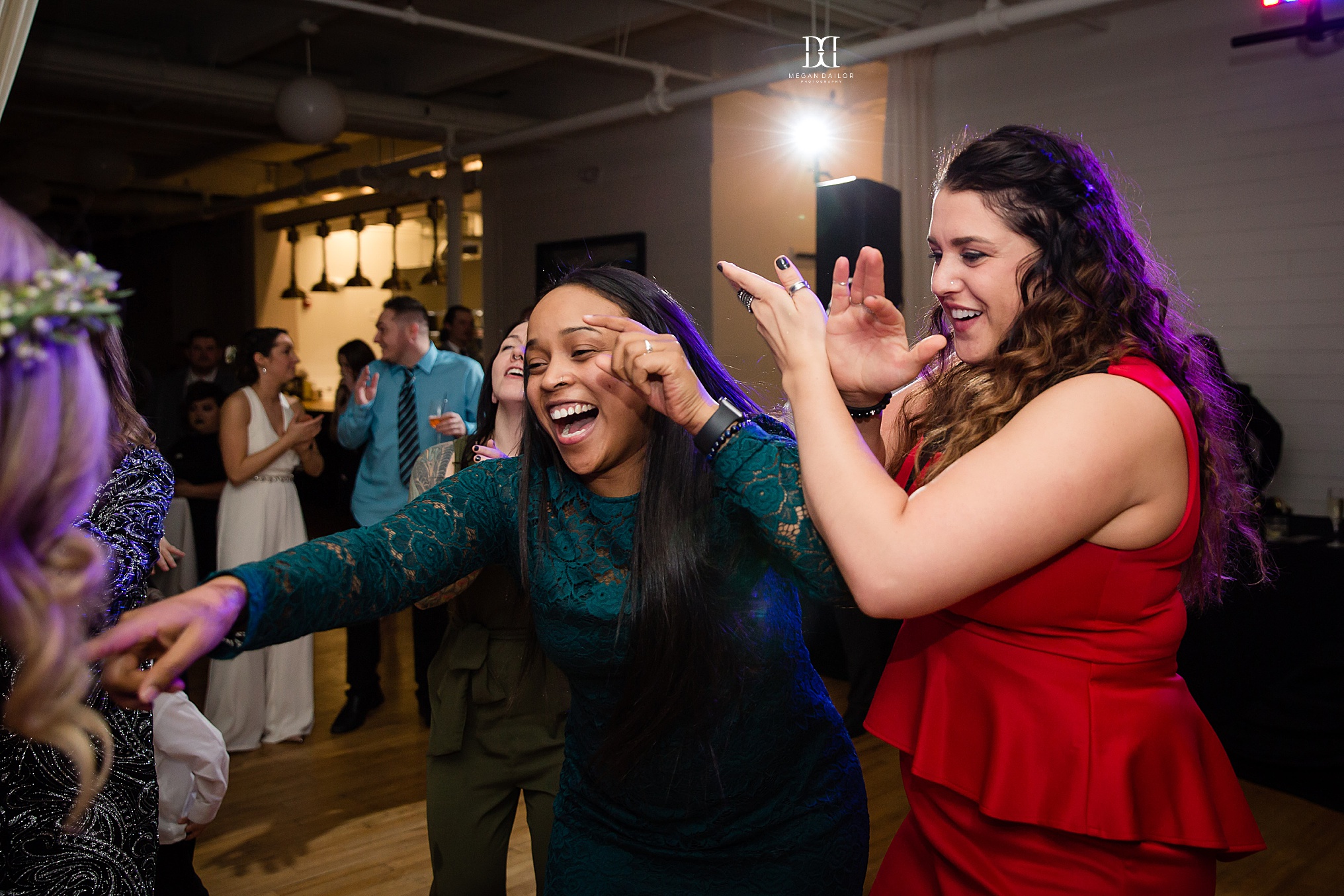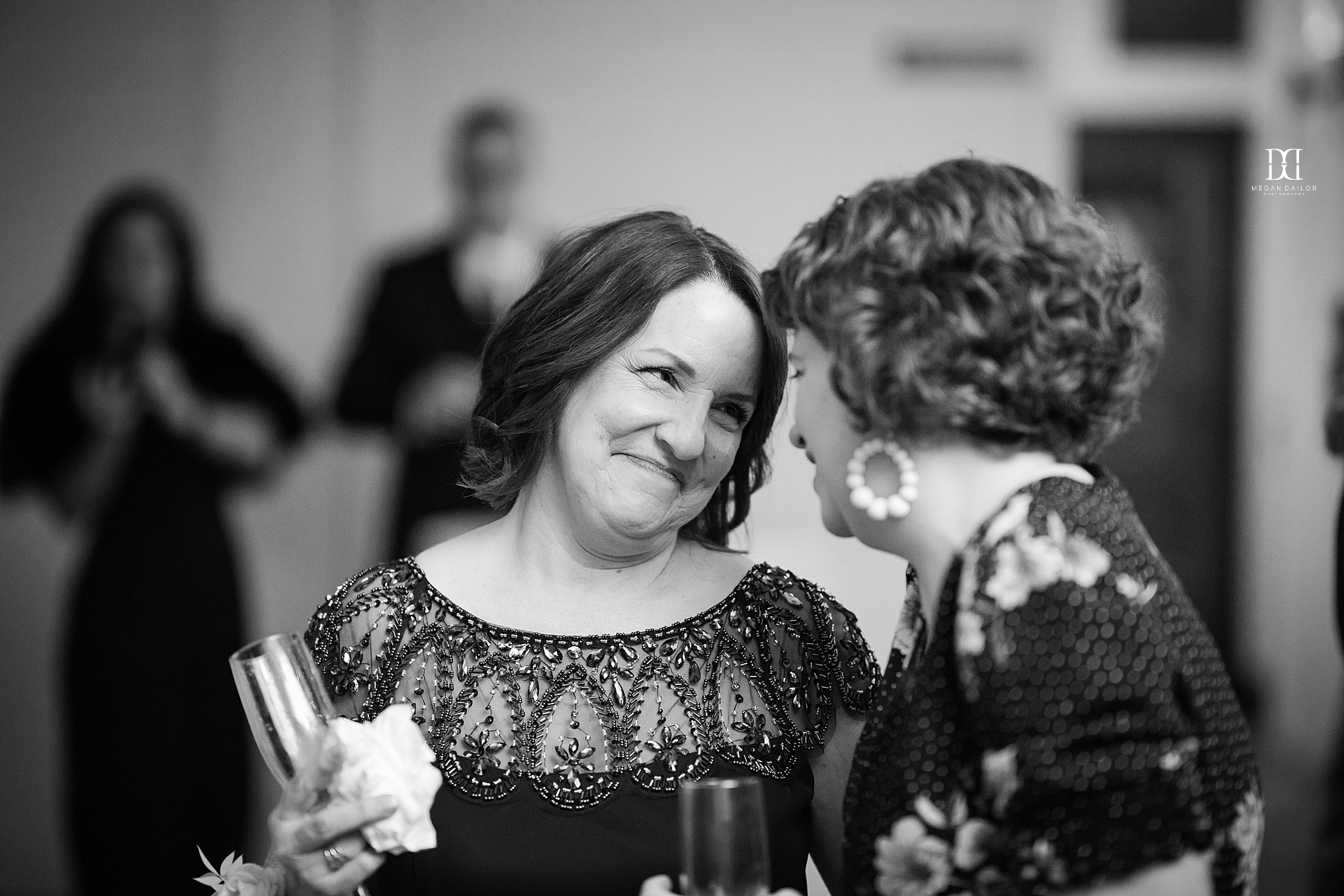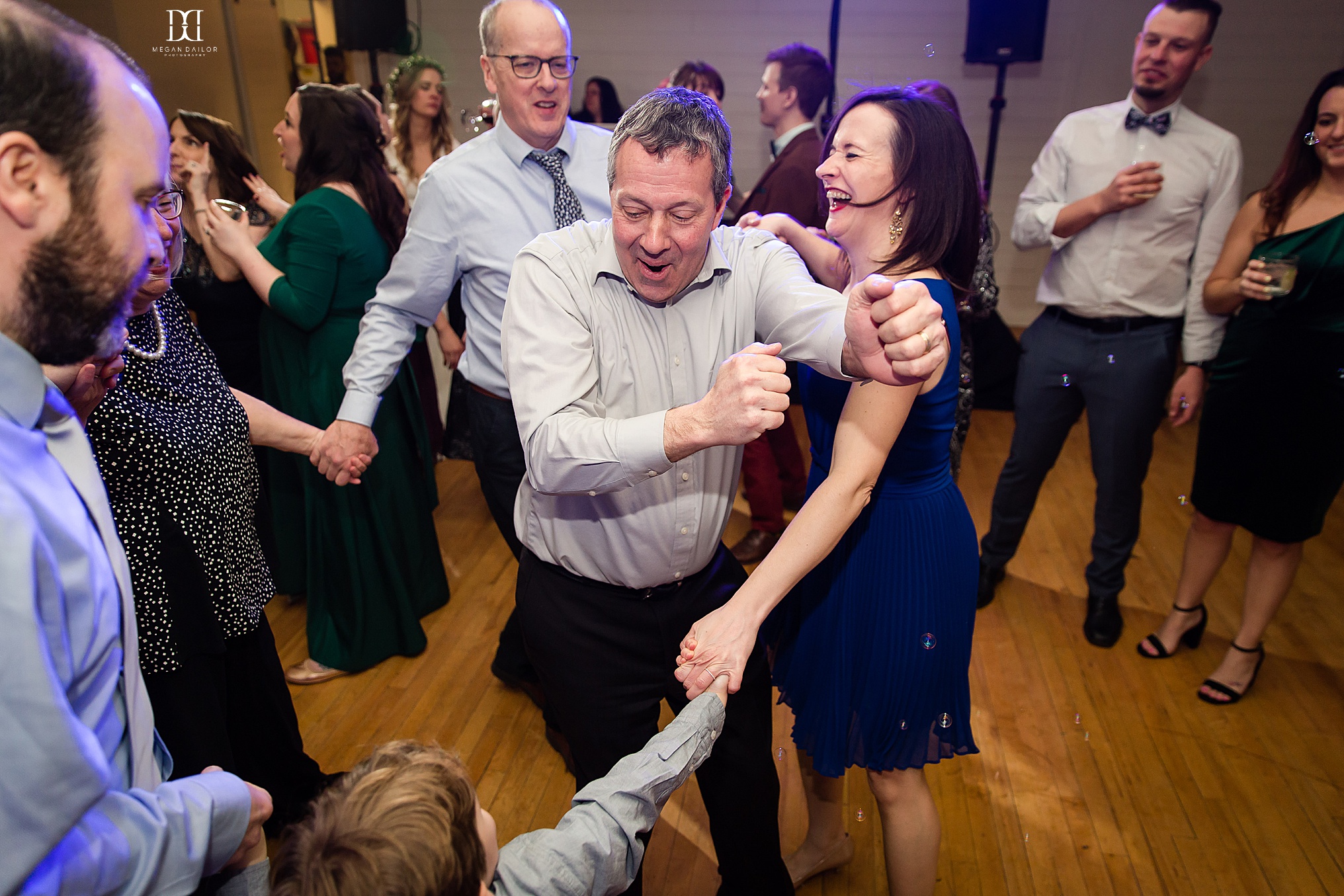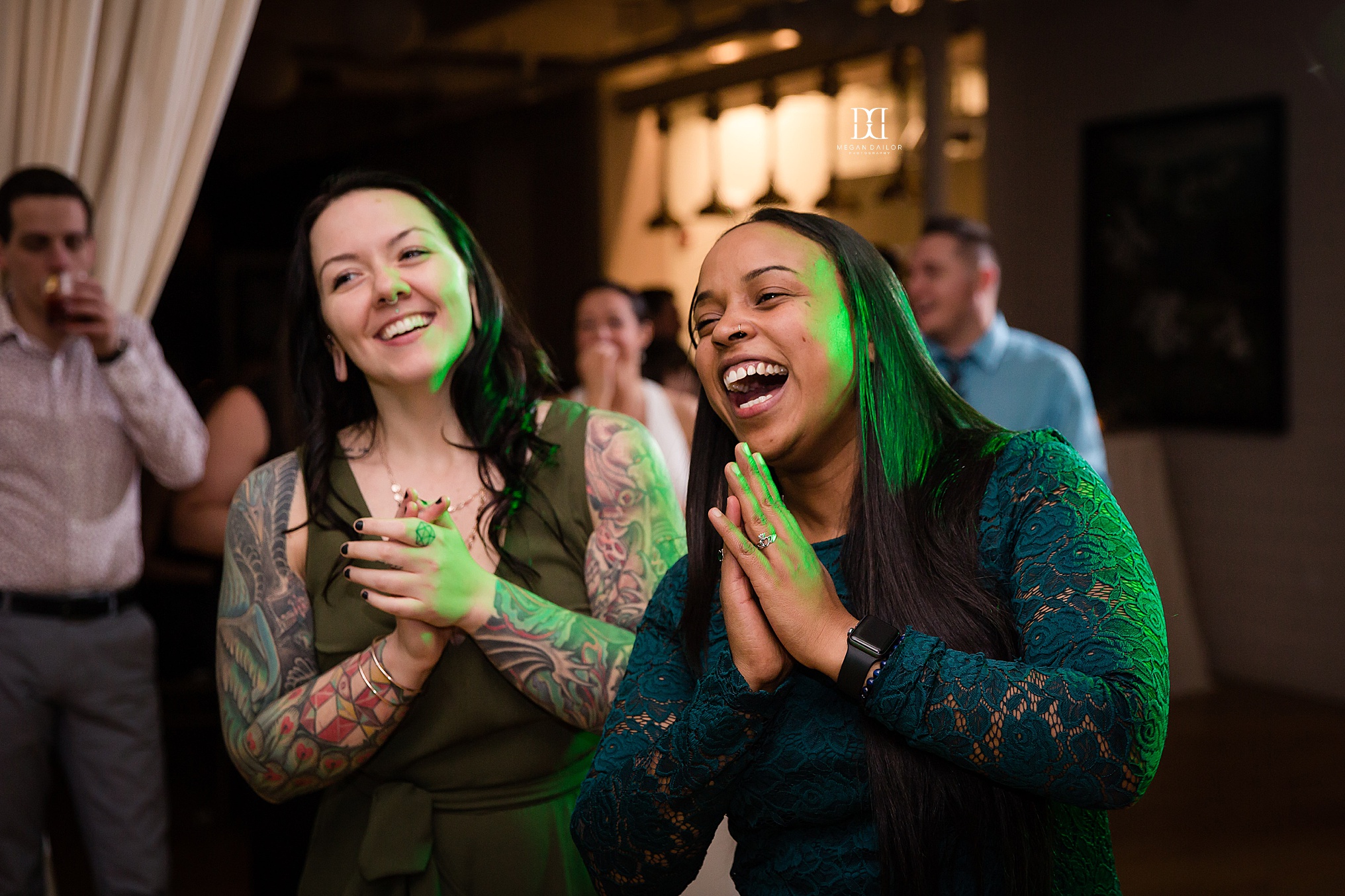 I died at this moment 😀 There were lots of little tubes of bubbles being used on the dance floor. This lovely lady in the black sequins tried to help blow some bubbles for the little one and only after an unsuccessful attempt to blow some bubbles did she realize she was dipping the wand into her cocktail. Dead forev. 😀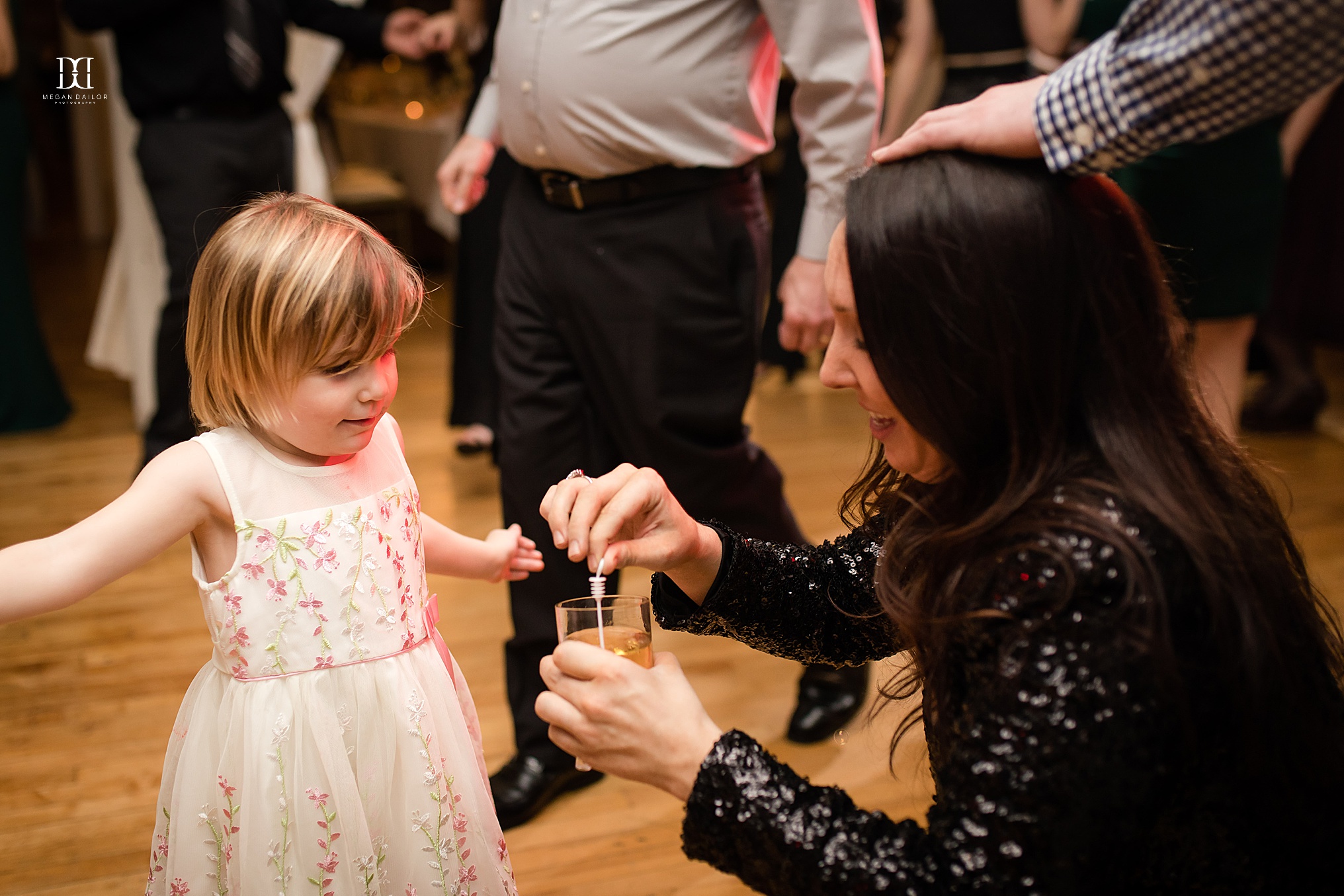 A very meaningful moment on the dance floor...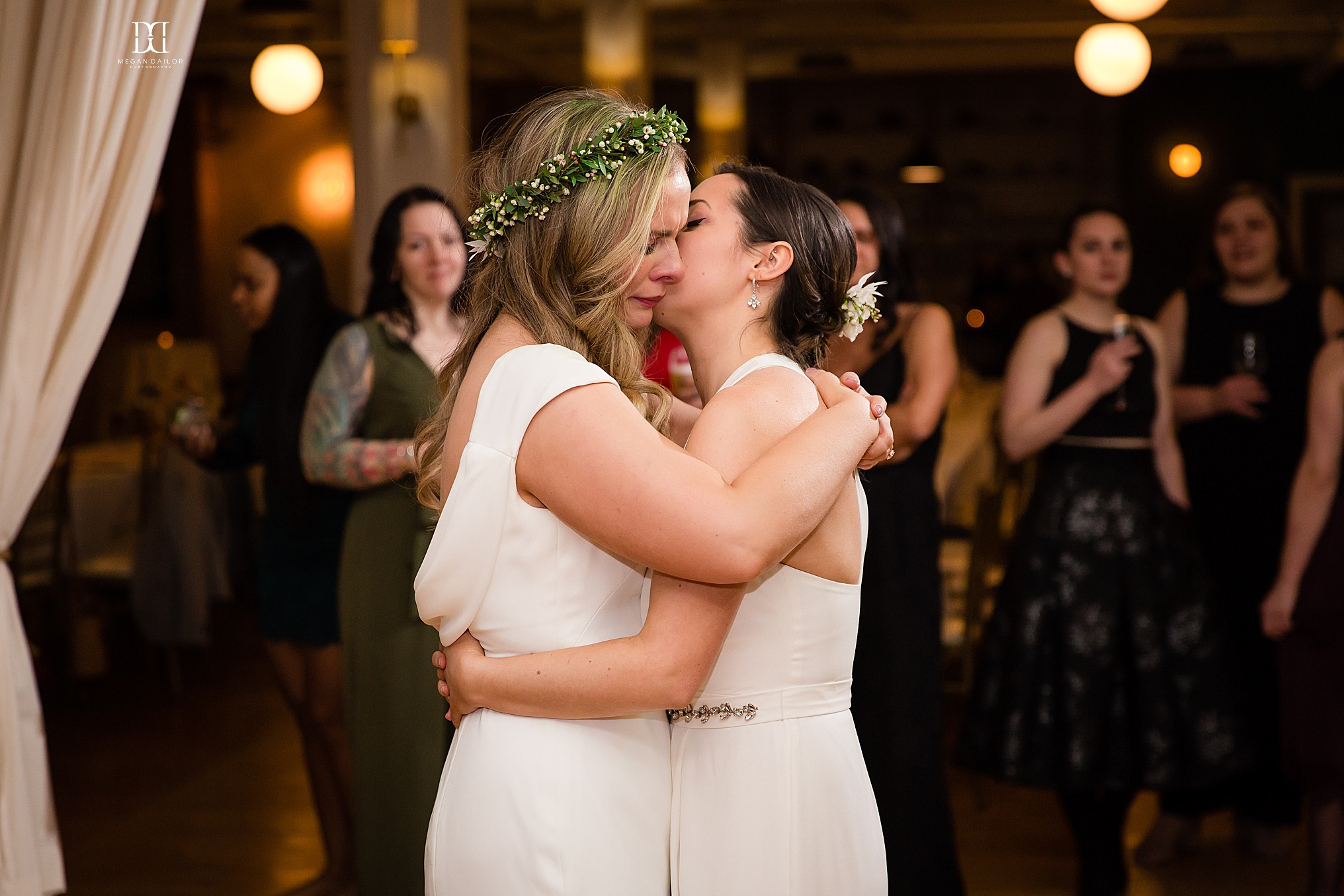 And some sweet comfort from friends.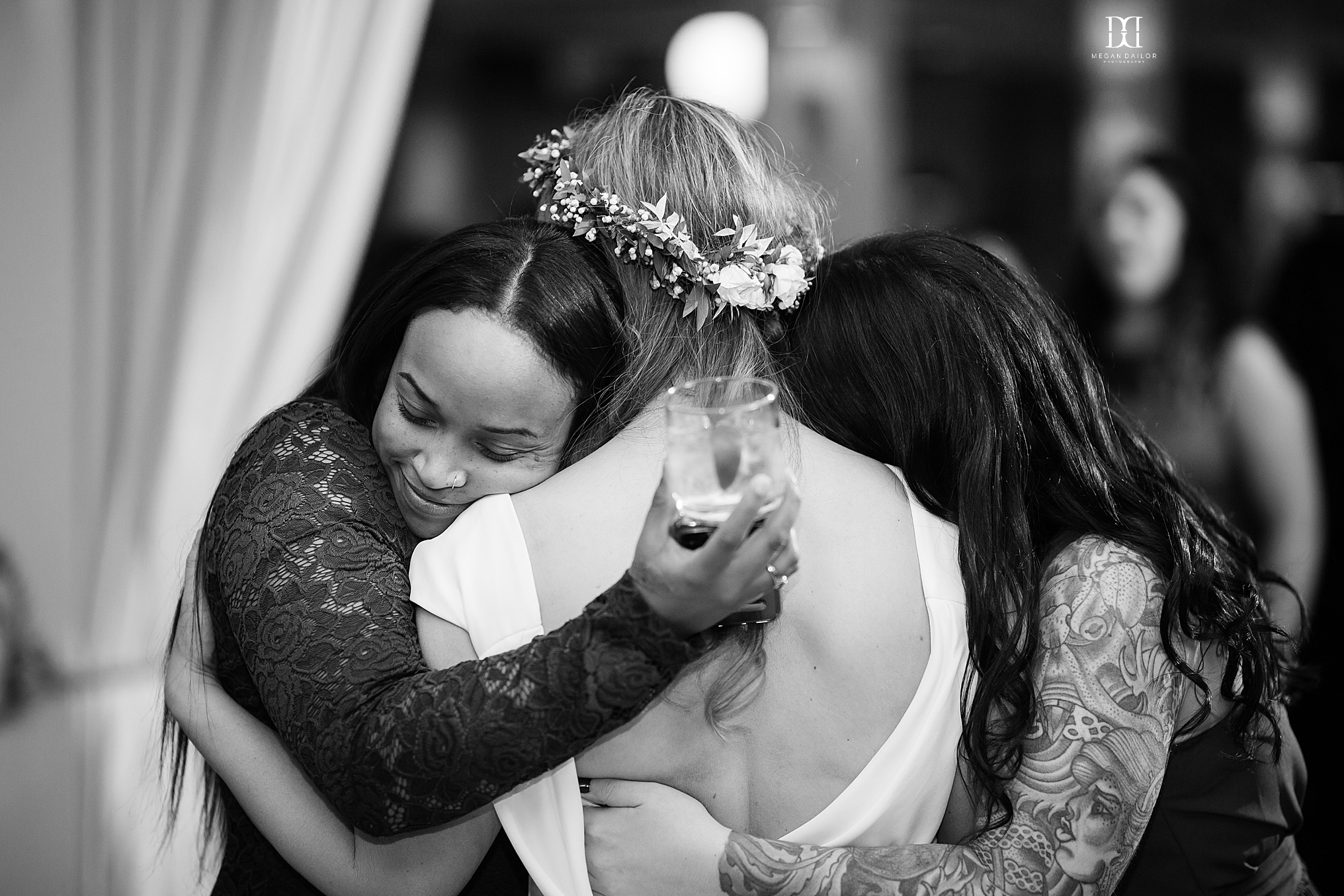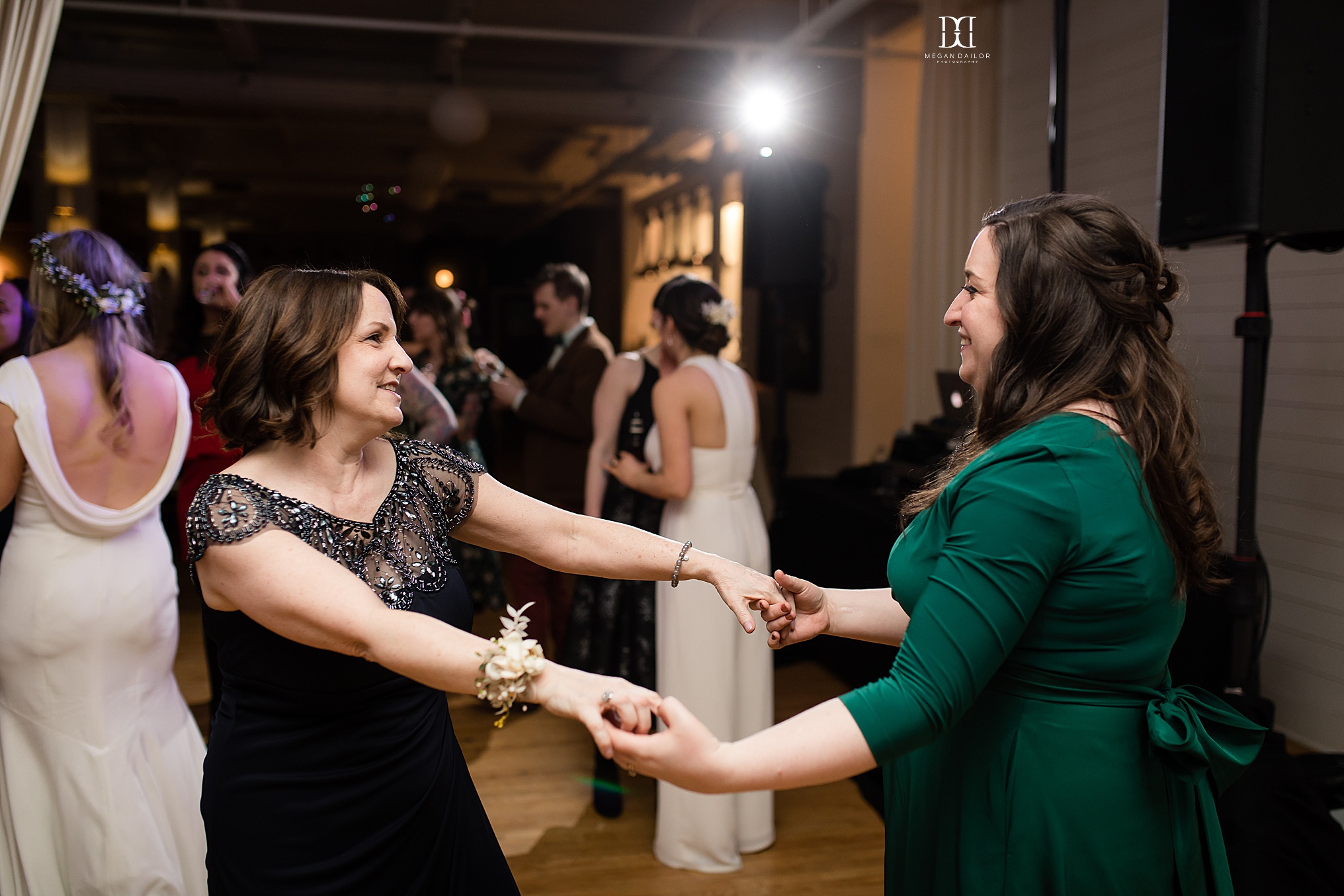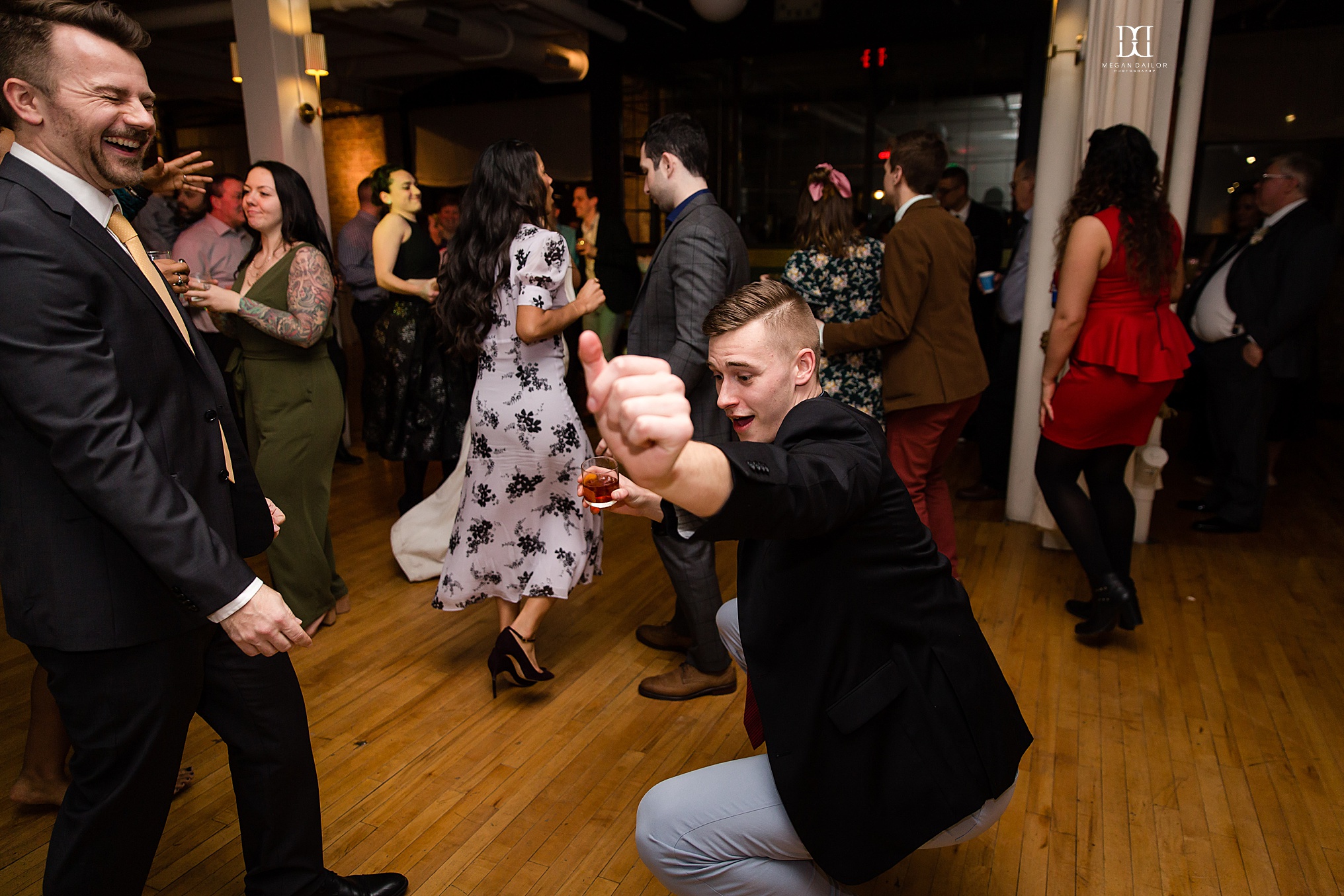 Not yelling, just singing with passion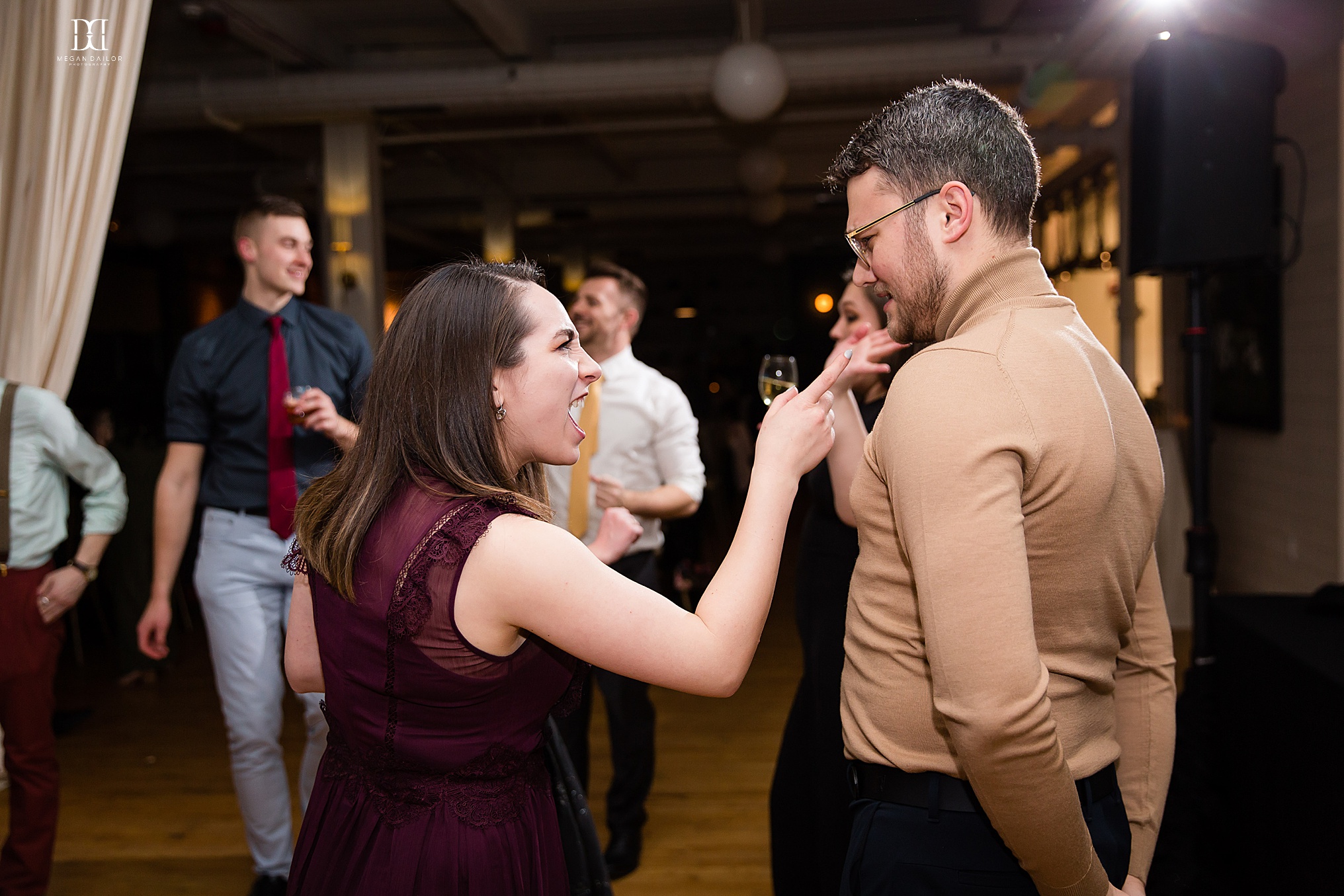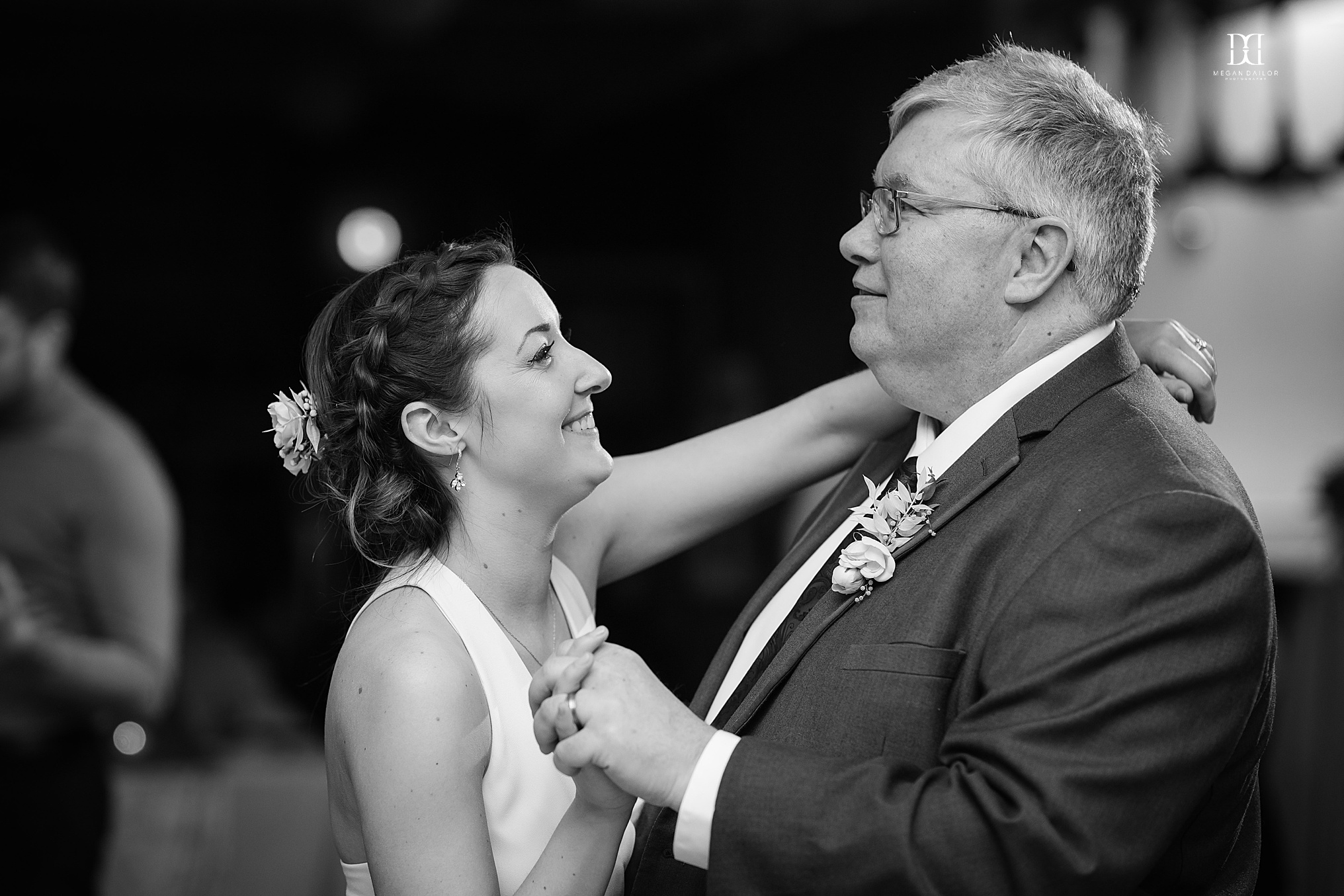 Not only do I love photographing couples in love, but I live for the energy at receptions... seeing how happy guests are for the couple, how hard they celebrate for them... it is just so fun and beautiful.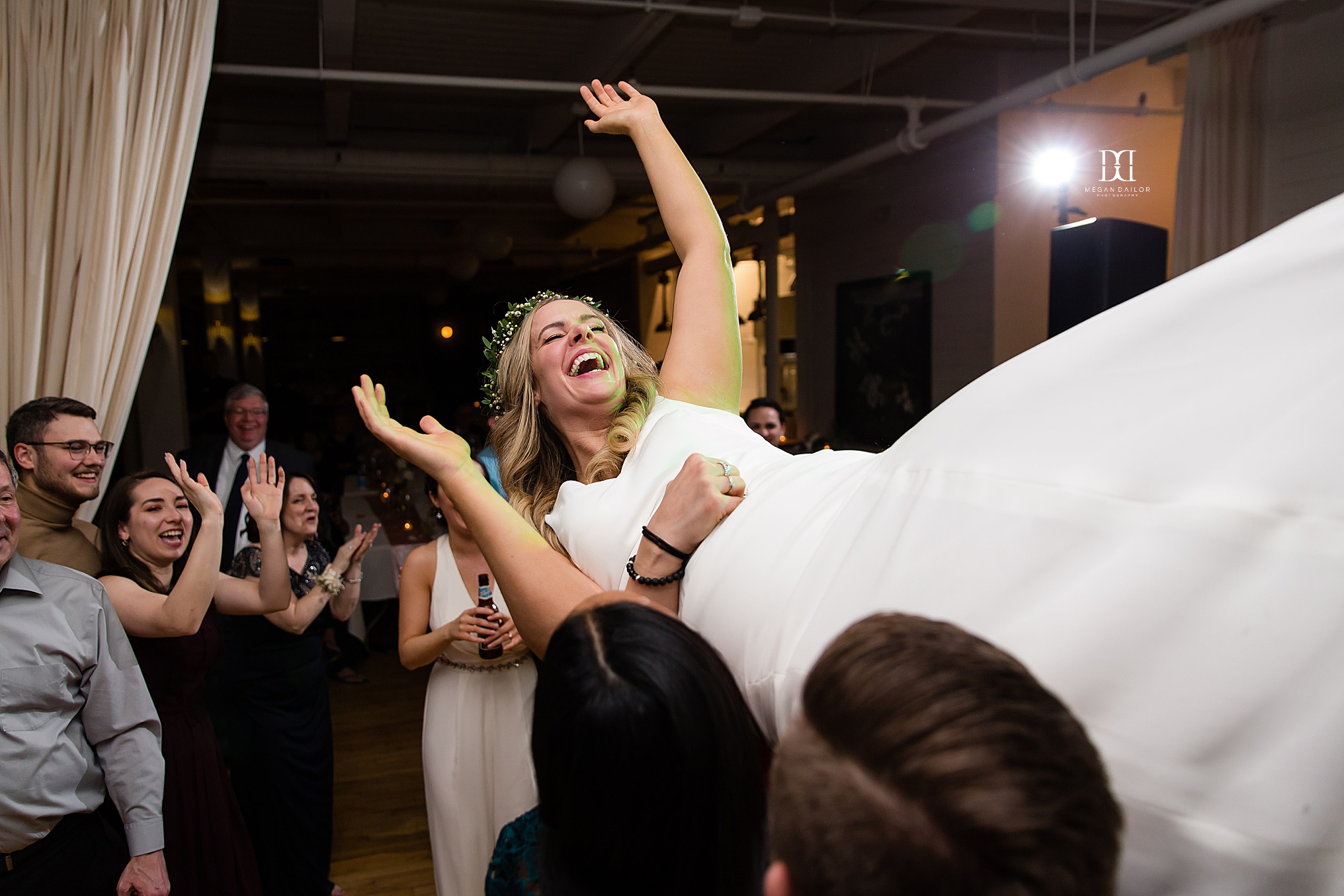 Look at all these facessss, this entire wedding day was just a love fest.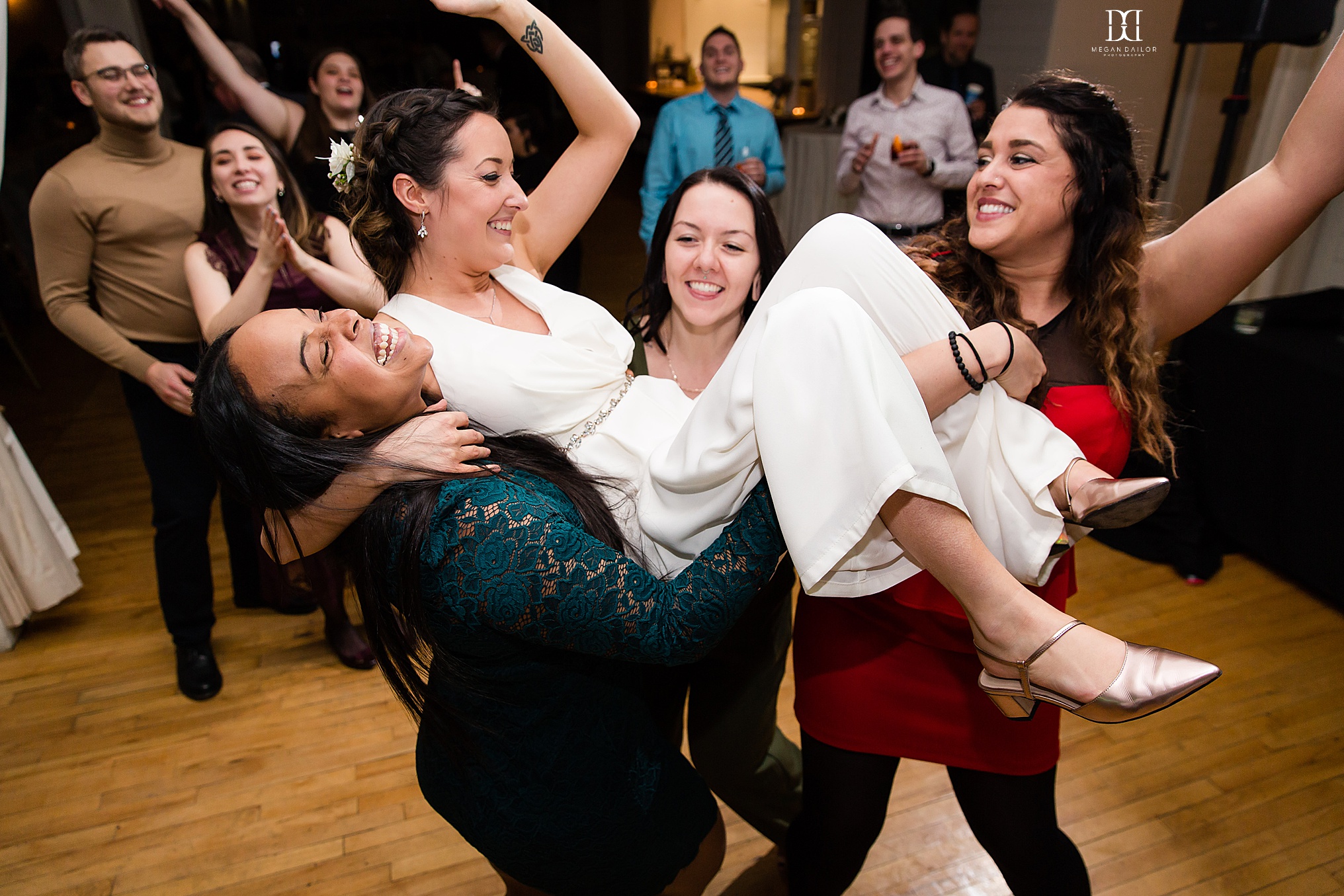 Megan and Erinne enjoyed every single minute of their lovely Jackrabbit Club wedding. And so did I. Congratulations, you two. Thank you so much for having me!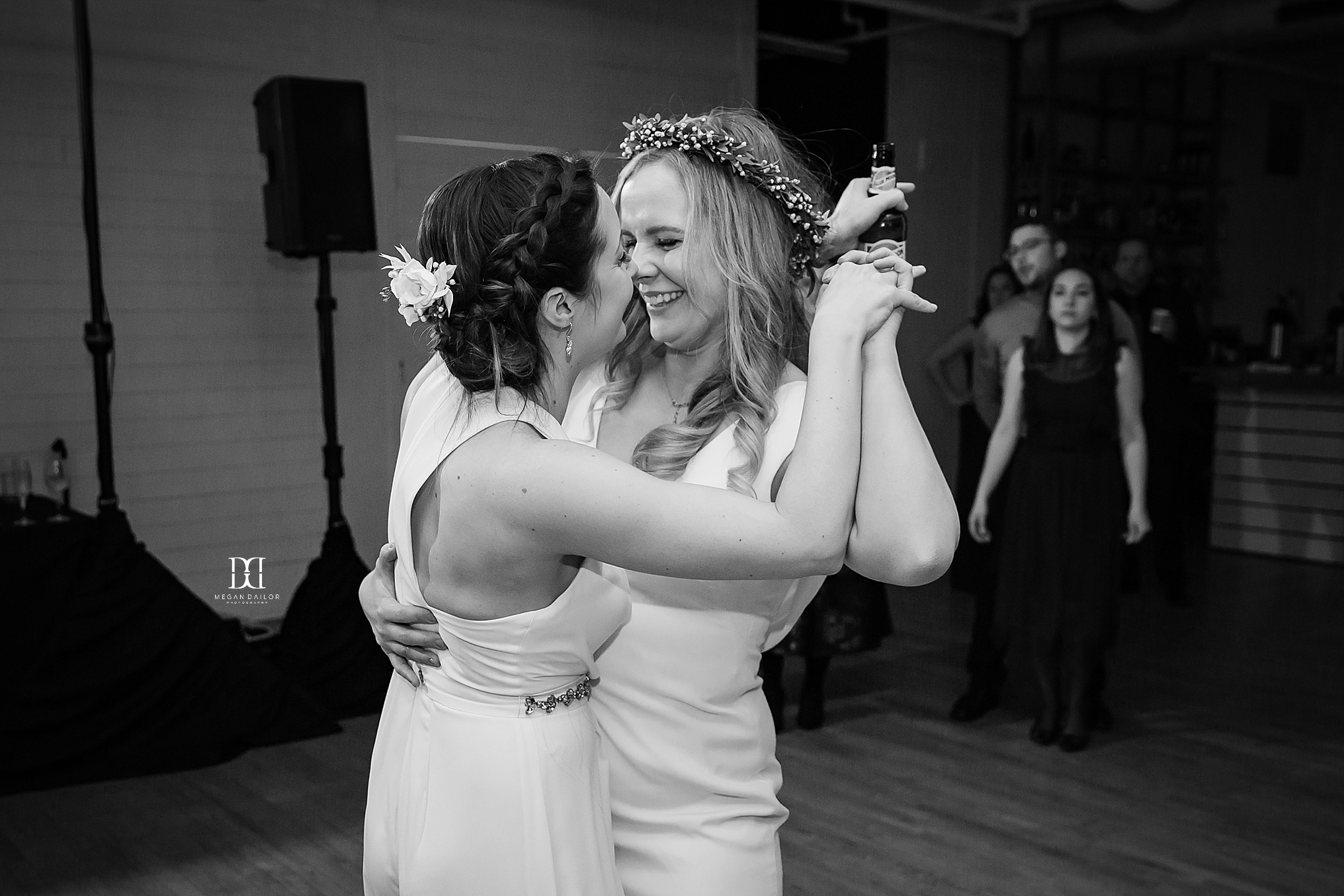 Jackrabbit Club Wedding