Syracuse Wedding Photographers
I'll speak for all Syracuse wedding photographers and say that the Hotel Syracuse is the prettiest venue in the city! The grand ballroom has total Beauty and the Beast vibes and it is just so lovely. I was overjoyed to have another F-M wedding to shoot and see a past couple and some families of other couples whose weddings I have photographed. These folks are just so so delightful and kind and they partyyyy.
Liza and Connor met in 2020, when the doldrums of quarantine and social distancing led us all to expand our horizons. Whether it was baking 4000 loaves of sourdough, learning about the infinitely weird world of big cat enthusiasts, or finally giving dating apps a shot, we were all out there trying to figure out how to get by. Liza and Connor's app adventure thankfully did more than just "get by", they fell for one another and a few years later here we are, celebrating their forever!
Flower girl Maeve is such a cute little sprite!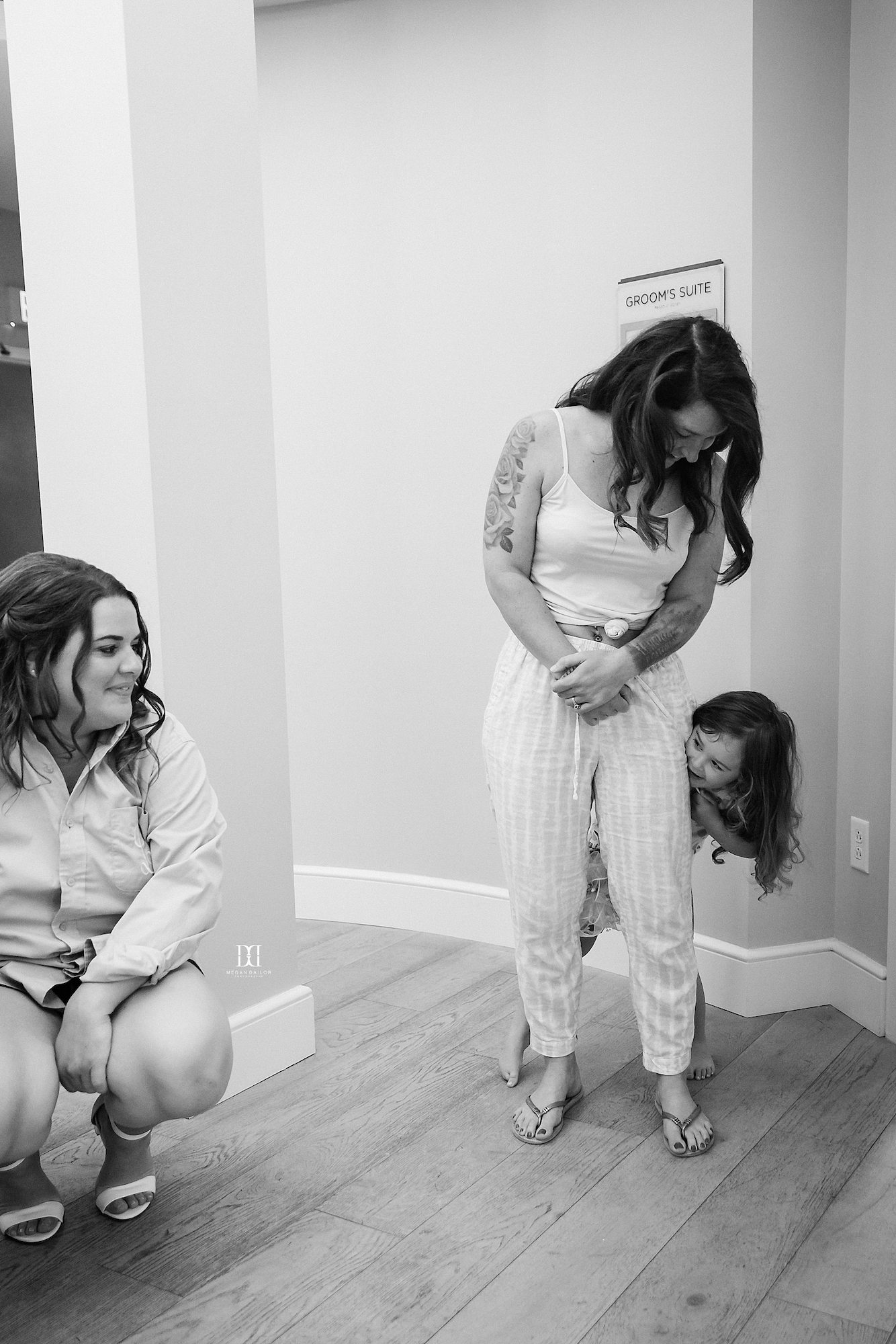 Liza looked so stunning, a perfectly classic style!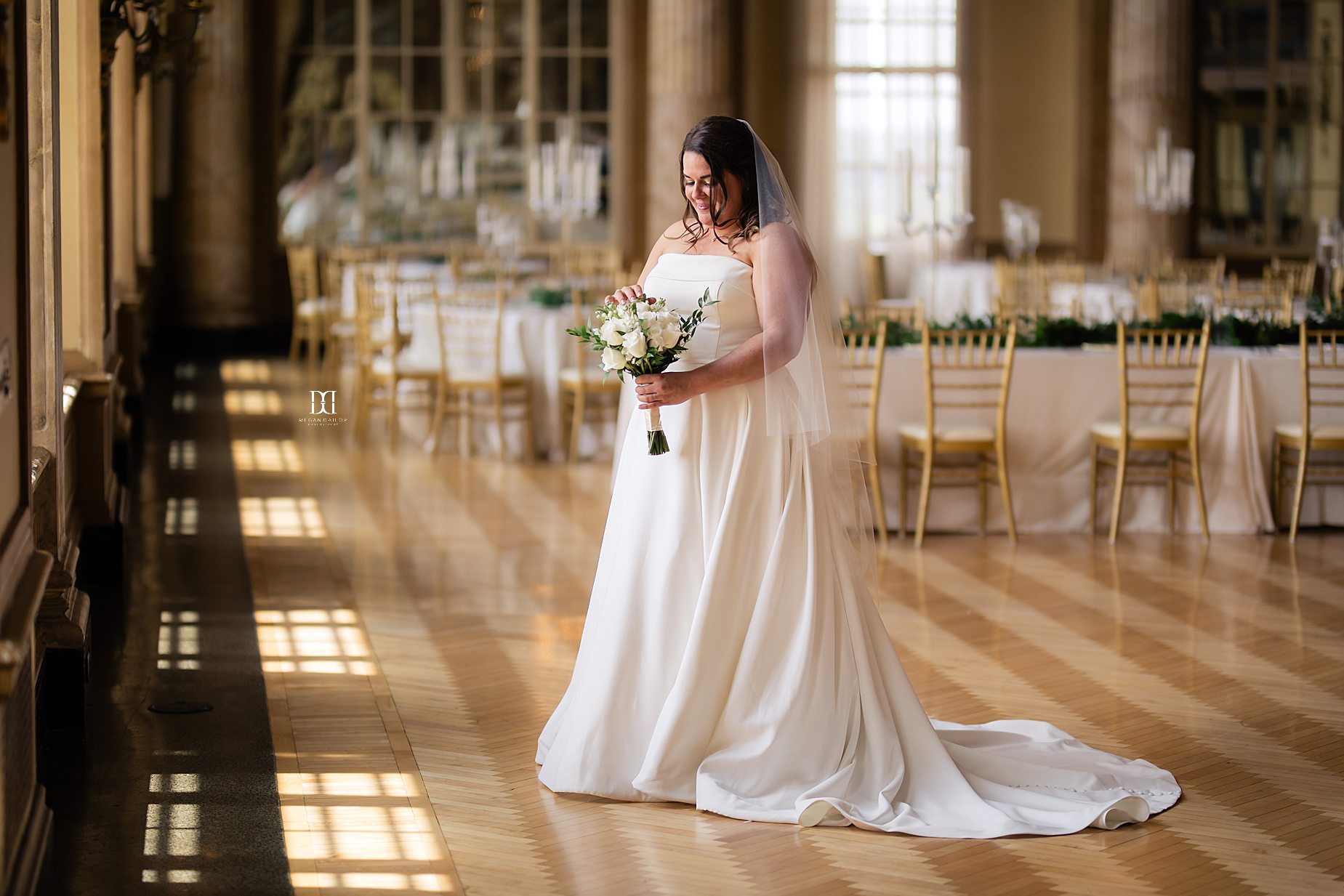 Liza's dad's reaction was so cute.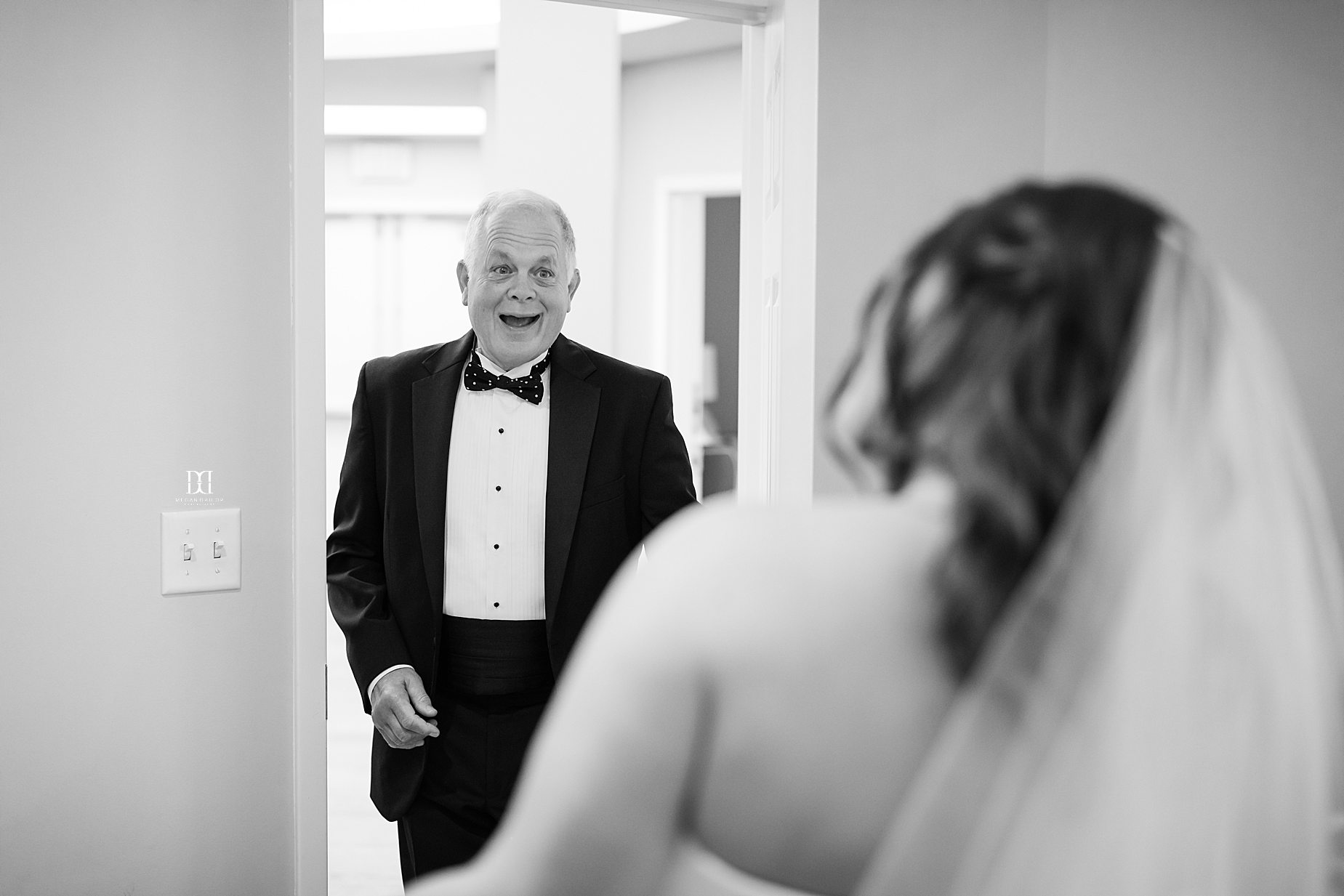 Maeve was excited for her flower girl duties and made the most of the moment with a little dress twirl! So adorable!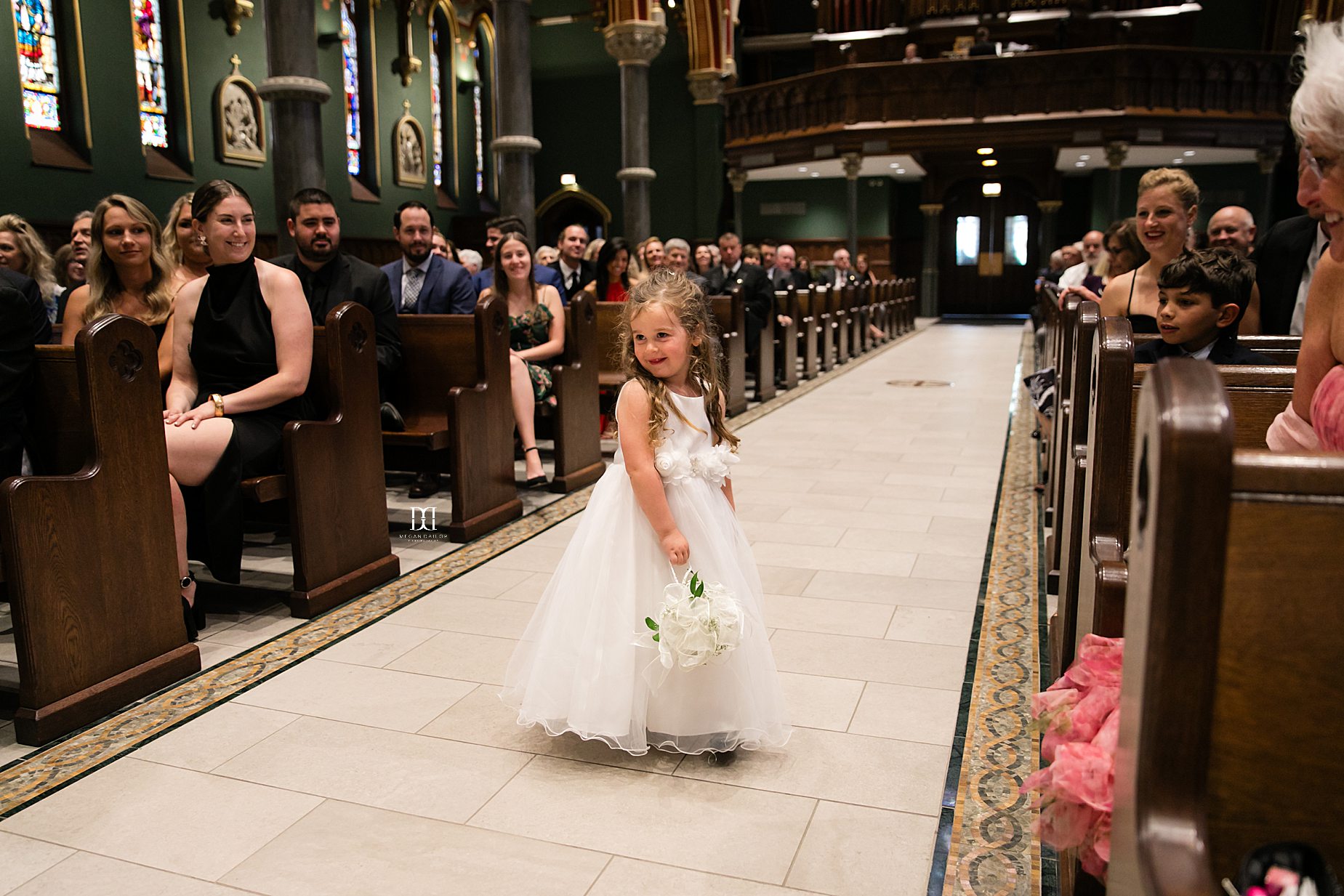 Connor had such a peaceful, happy expression when Liza was coming down the aisle.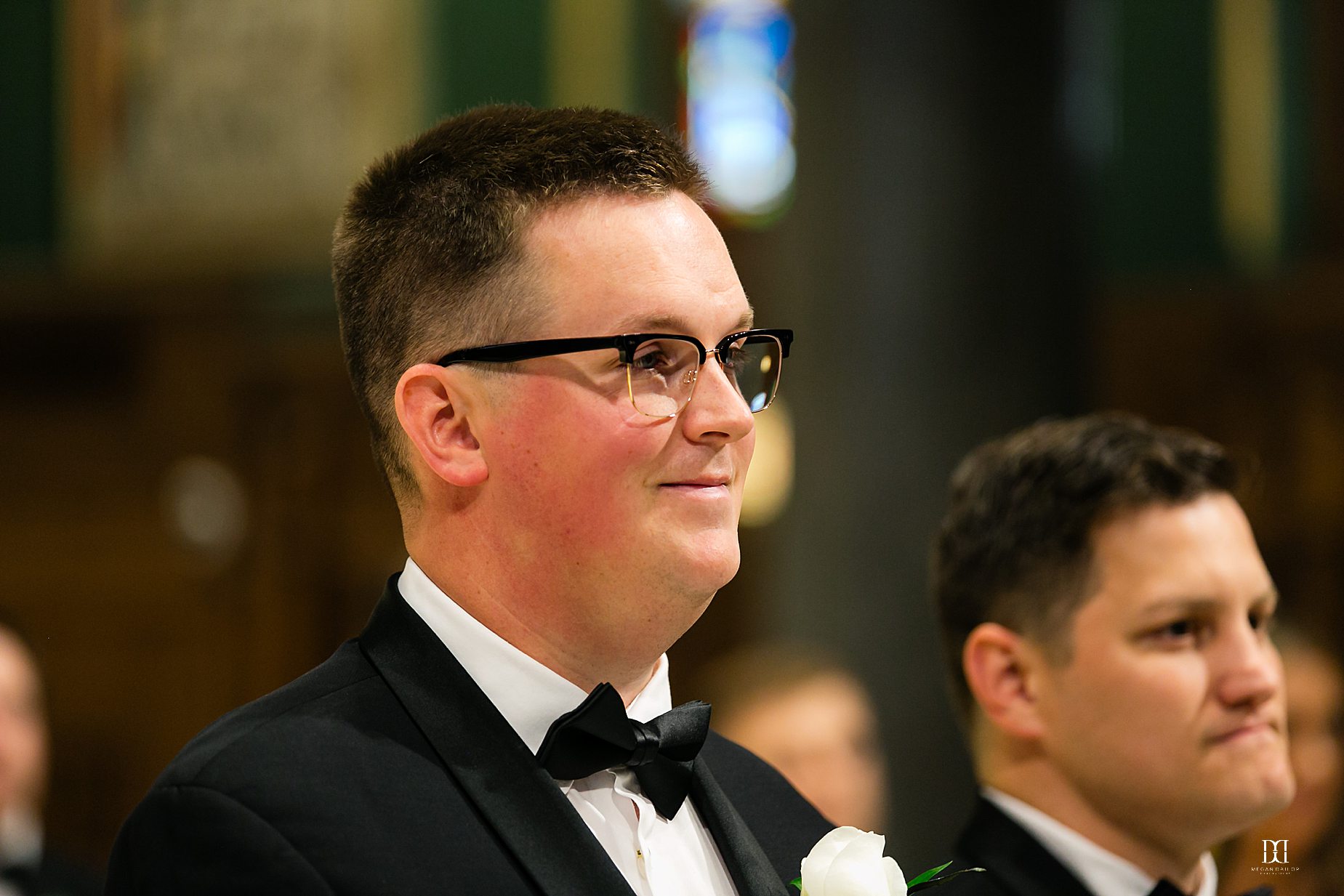 Liza and her parents were all smiles.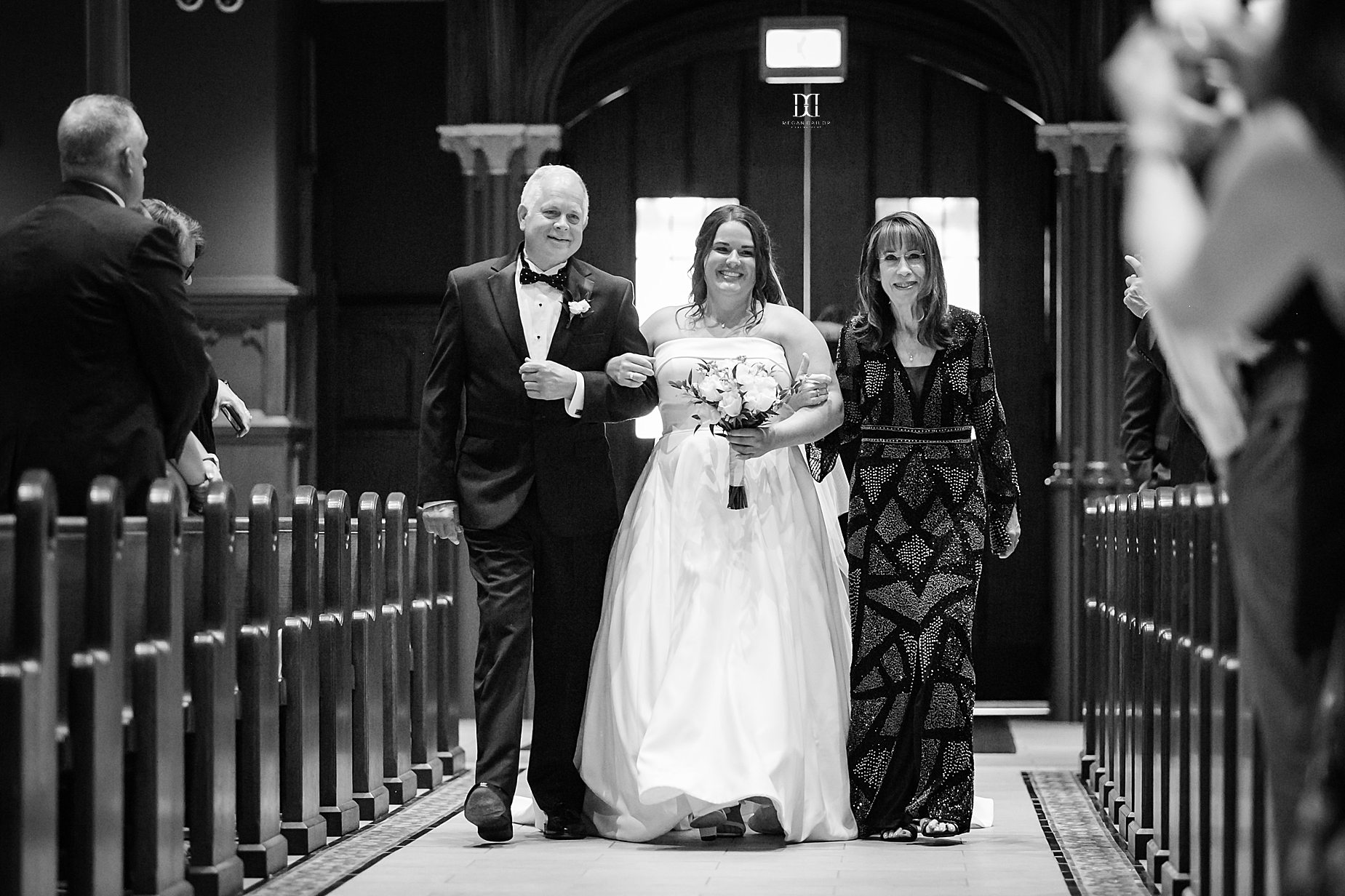 Cathedral of the Immaculate Conception in Syracuse is very beautiful!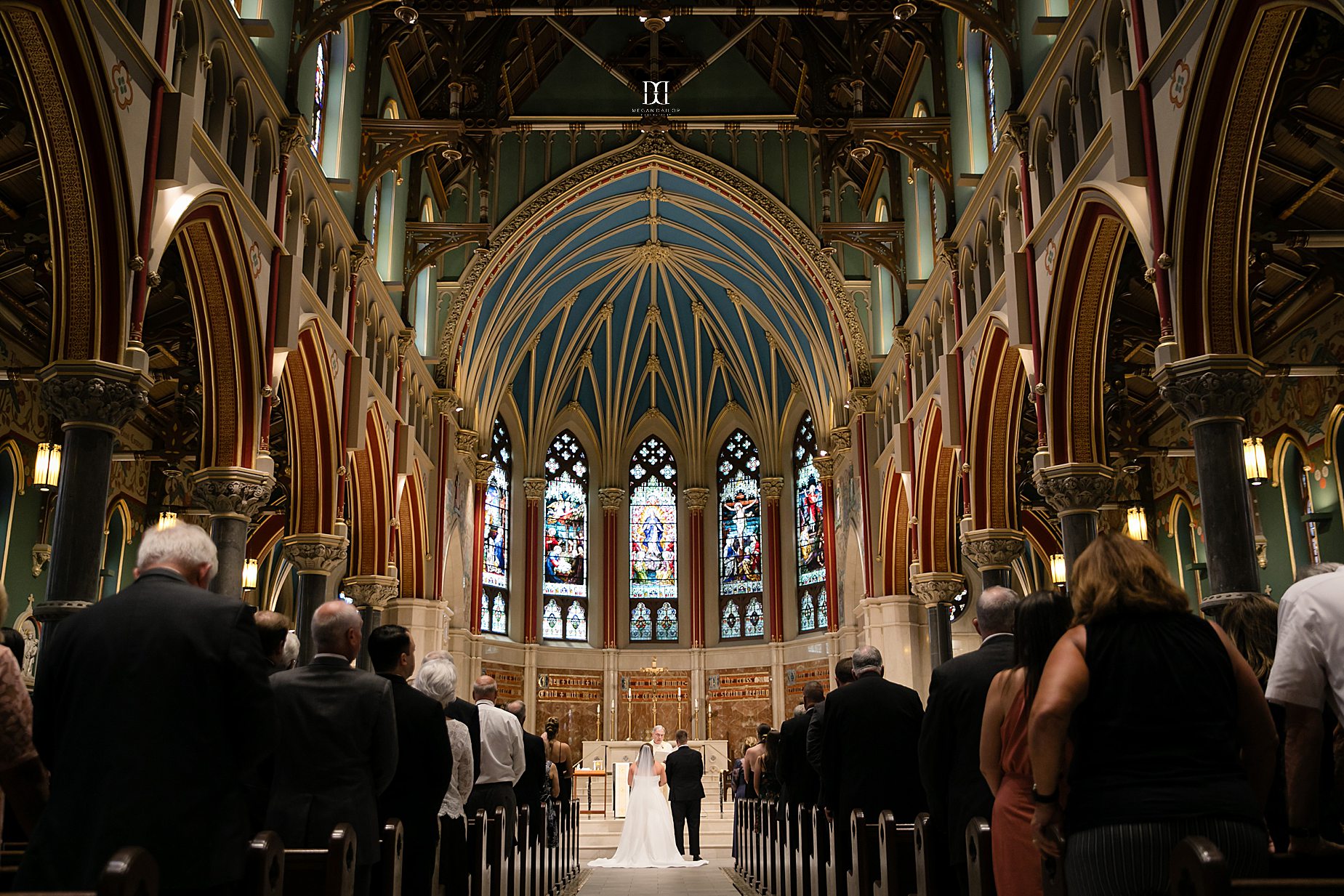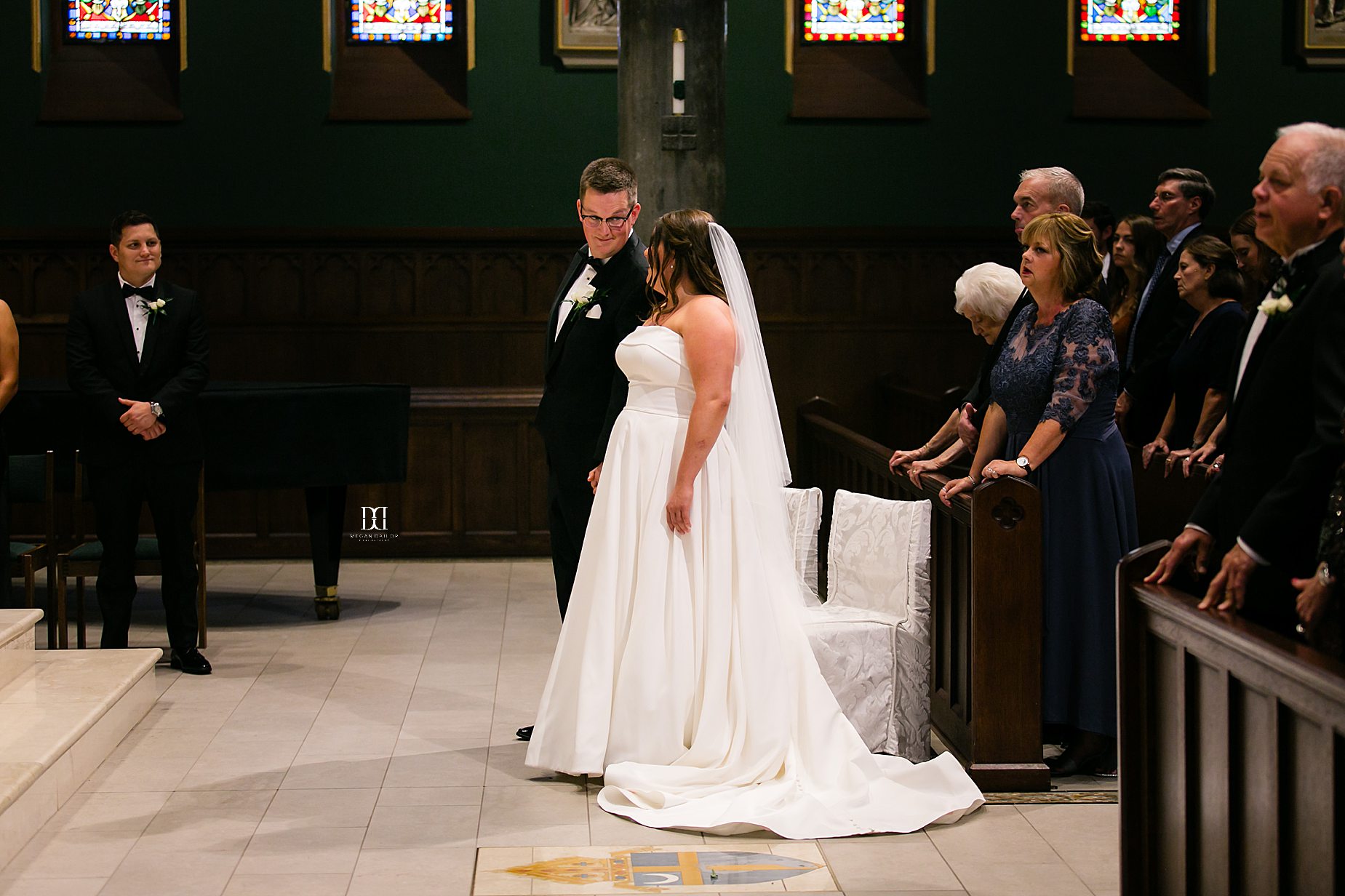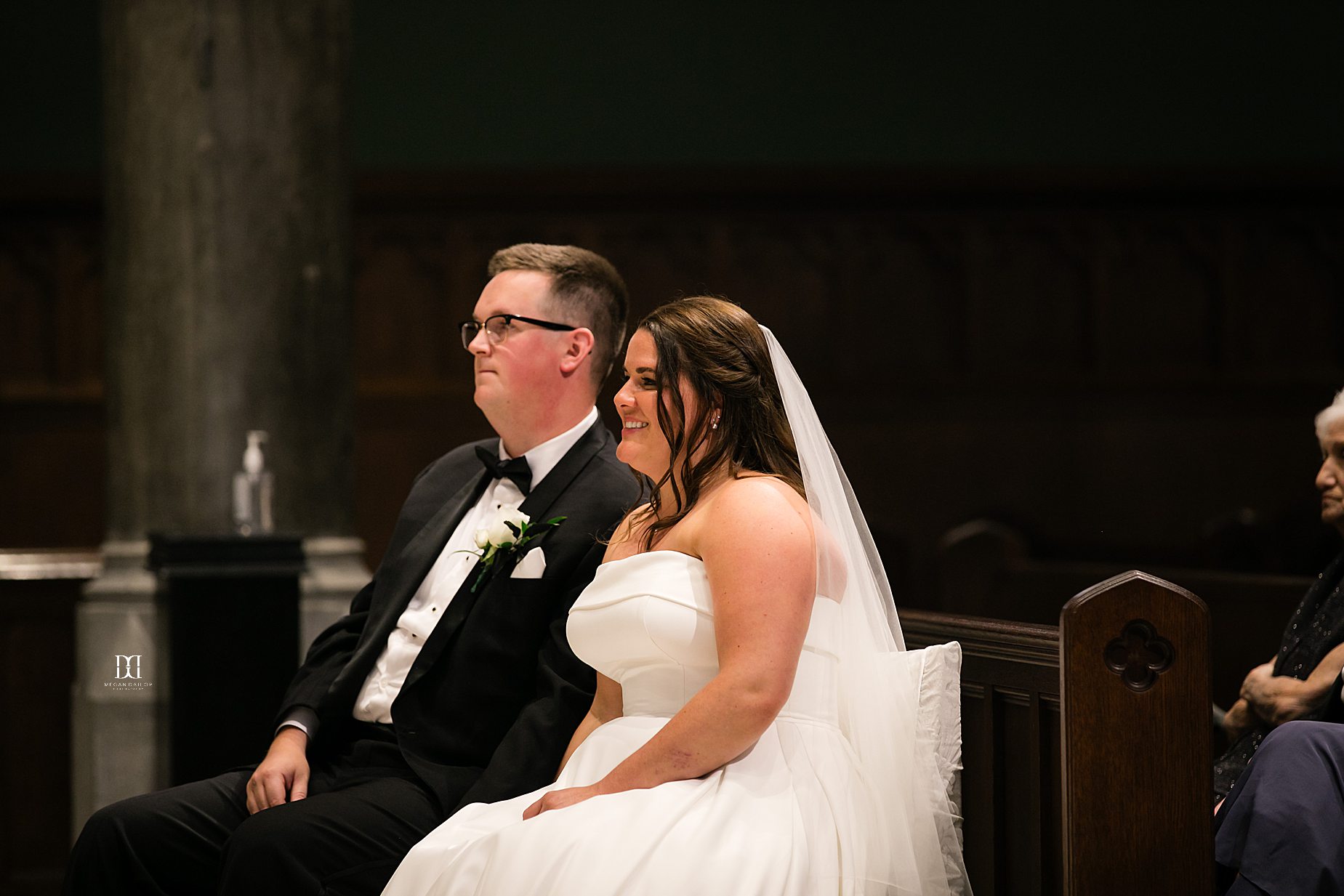 You do what you have to do to keep the flower girl entertained during the ceremony!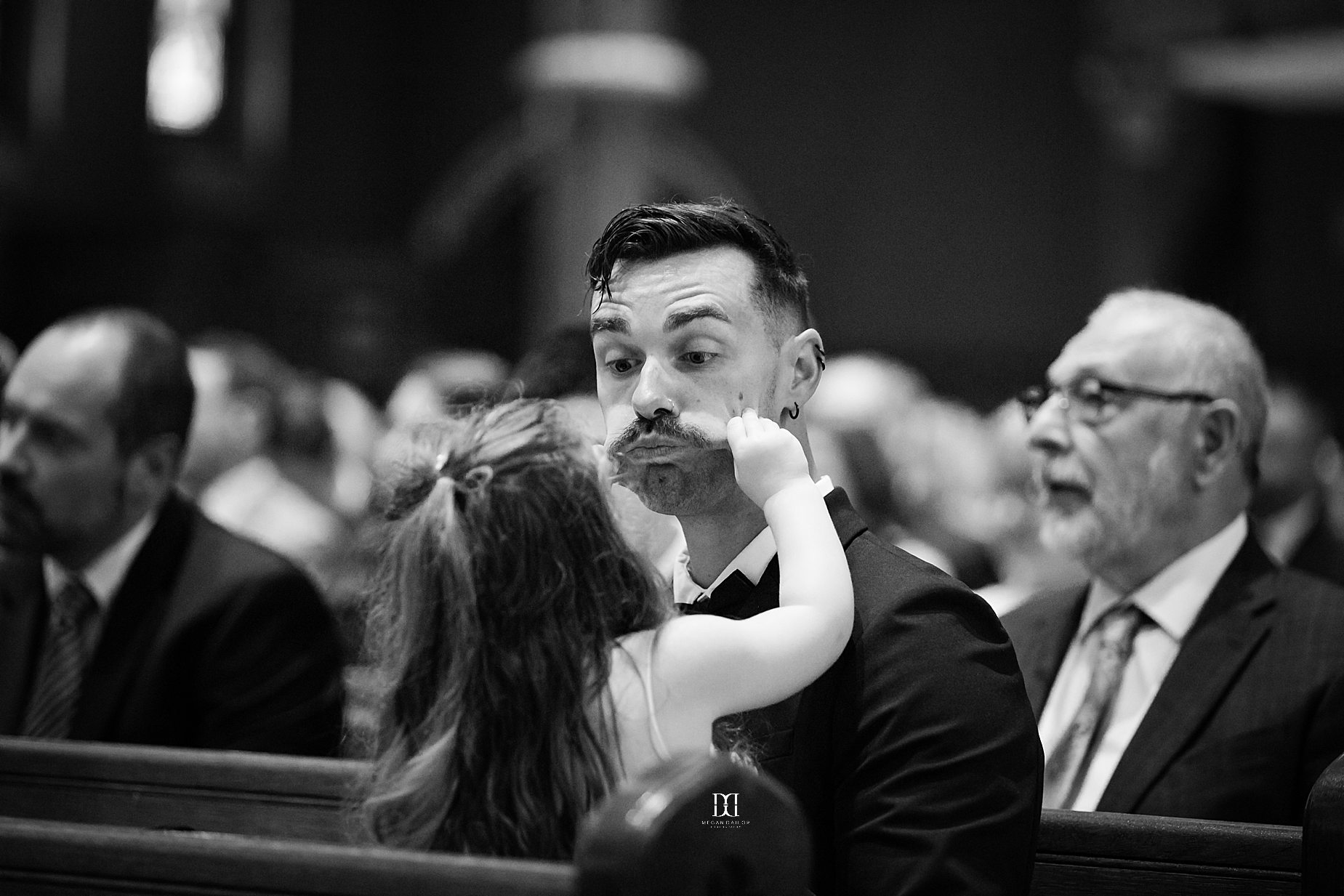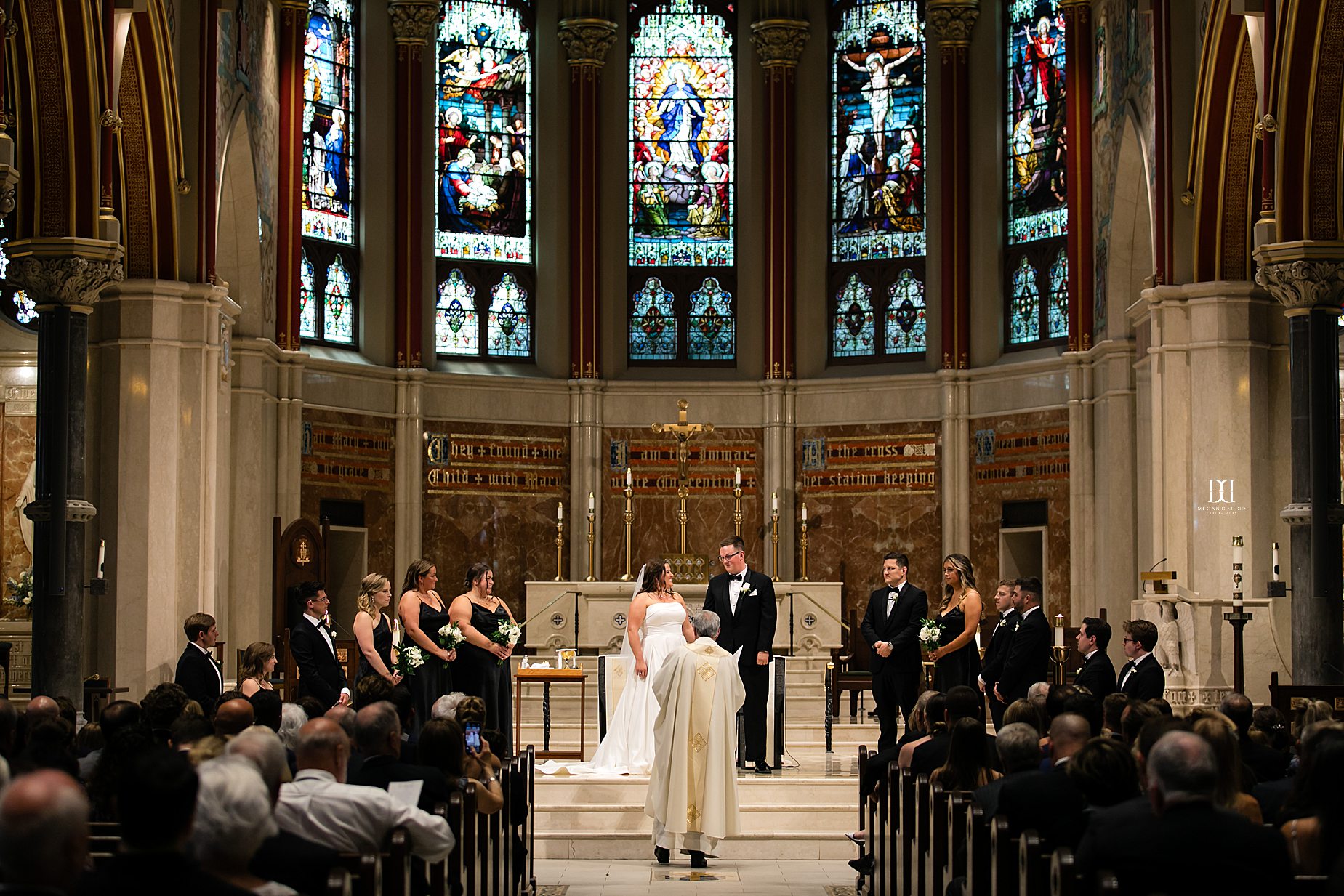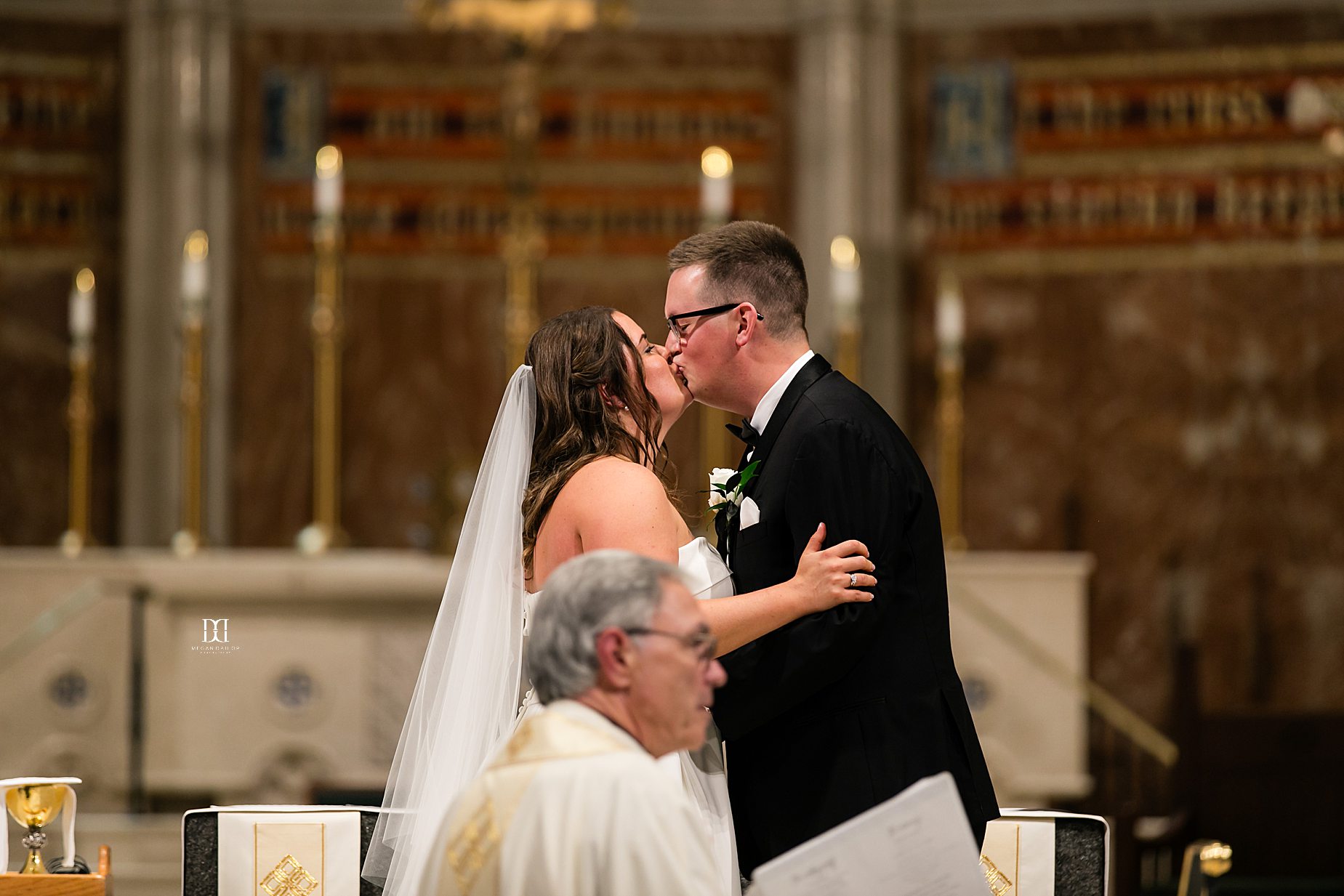 The giggles and laughs as guests received communion were so cute. I love when couples have a moment to themselves during the ceremony.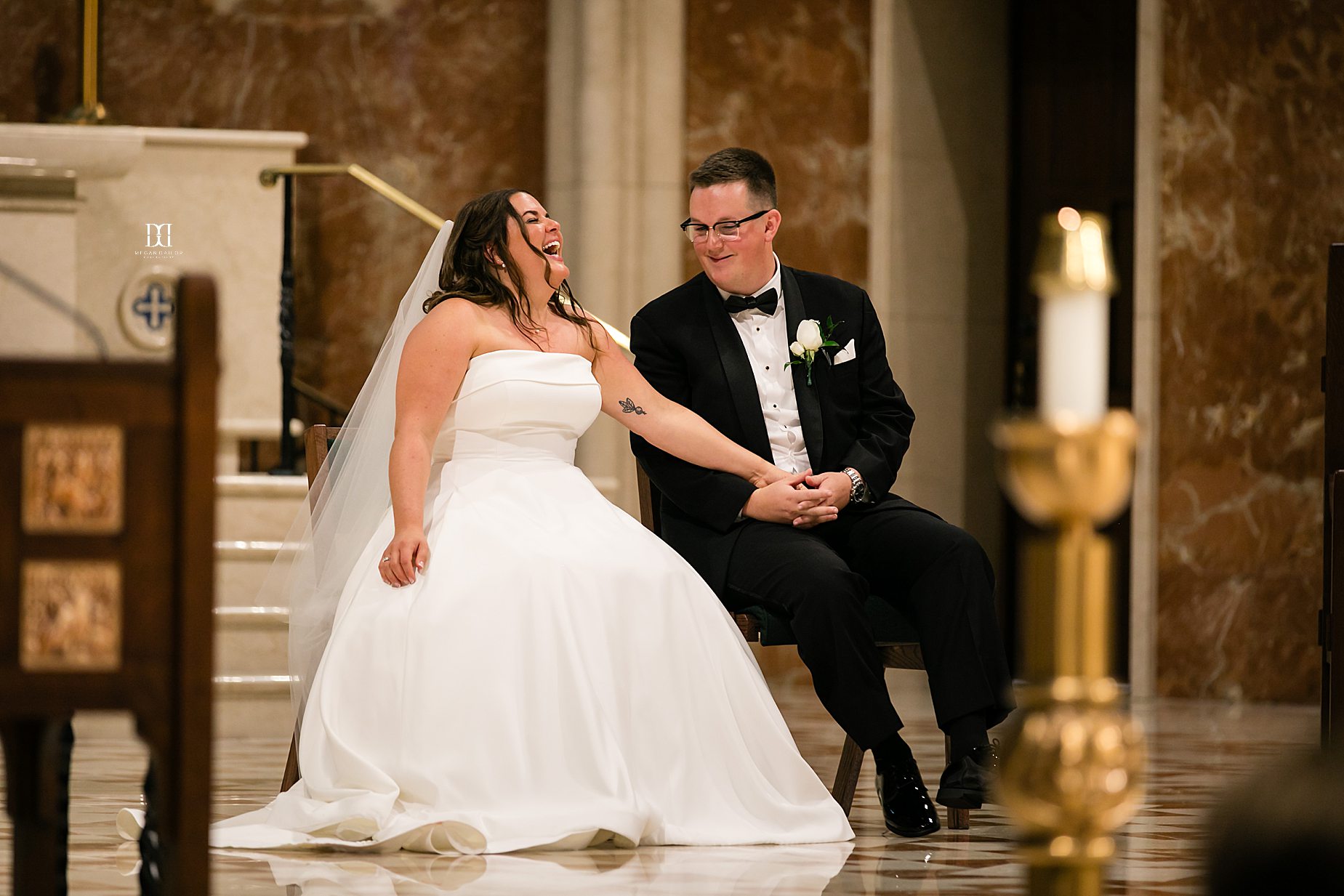 Love how much their families and friends love these two!
Liza and Connor wanted to hit up Salt City Market for the cute murals, what a pretty spot!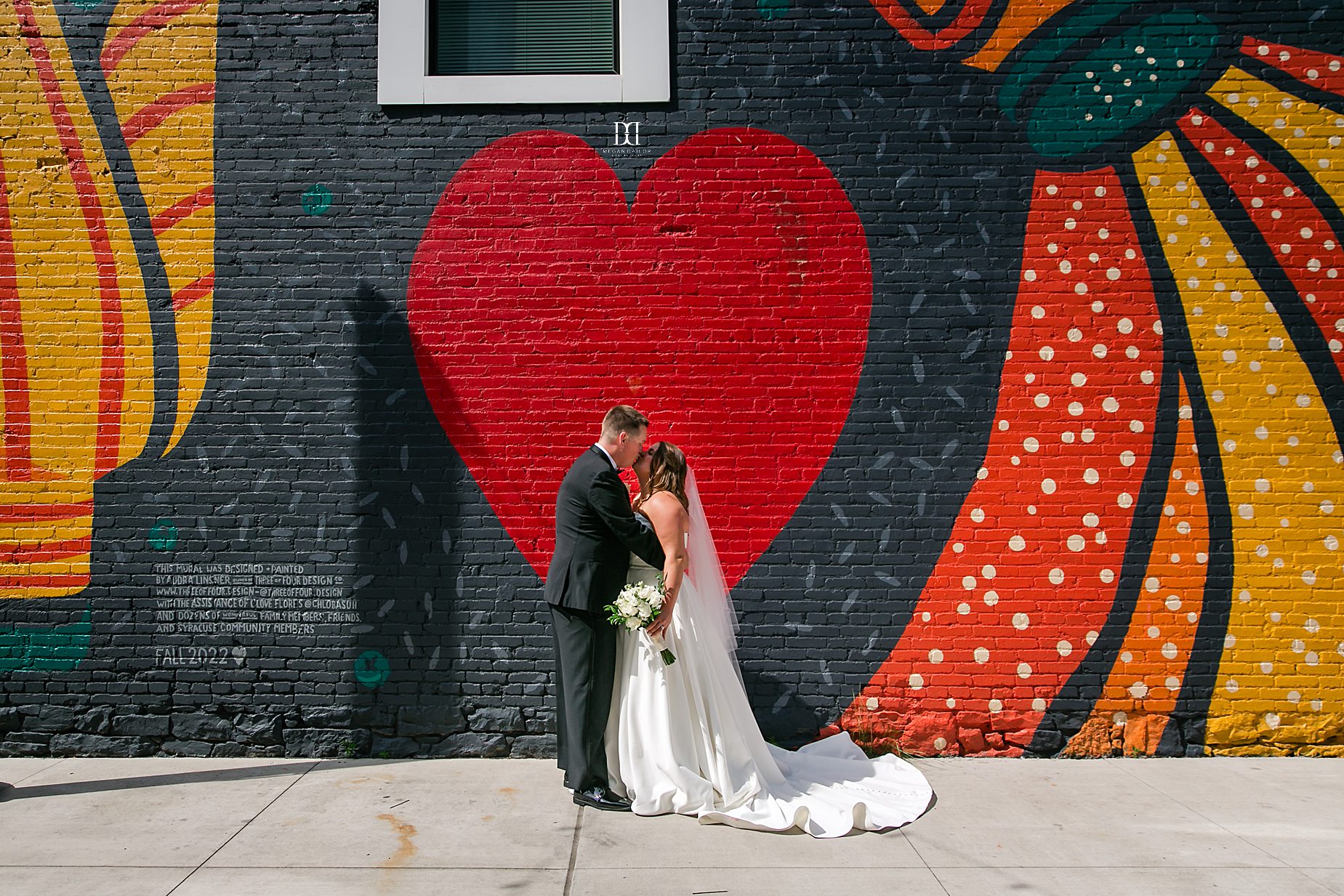 This crew was so ready to throw a party for Liza and Connor!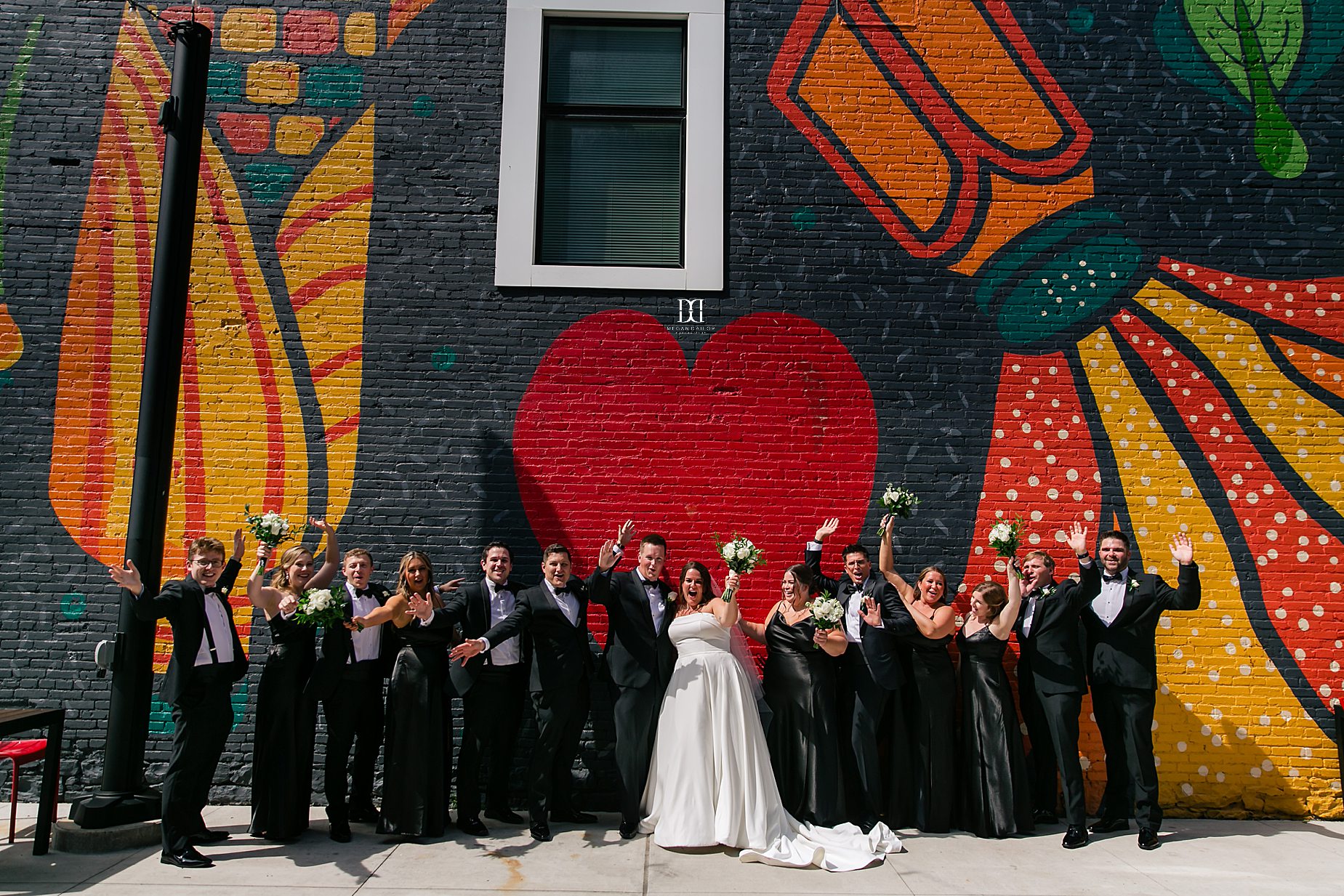 After a few shots with the fun murals, we moved around the corner to some prettier light and a background that looked so good with the classic black wedding party style.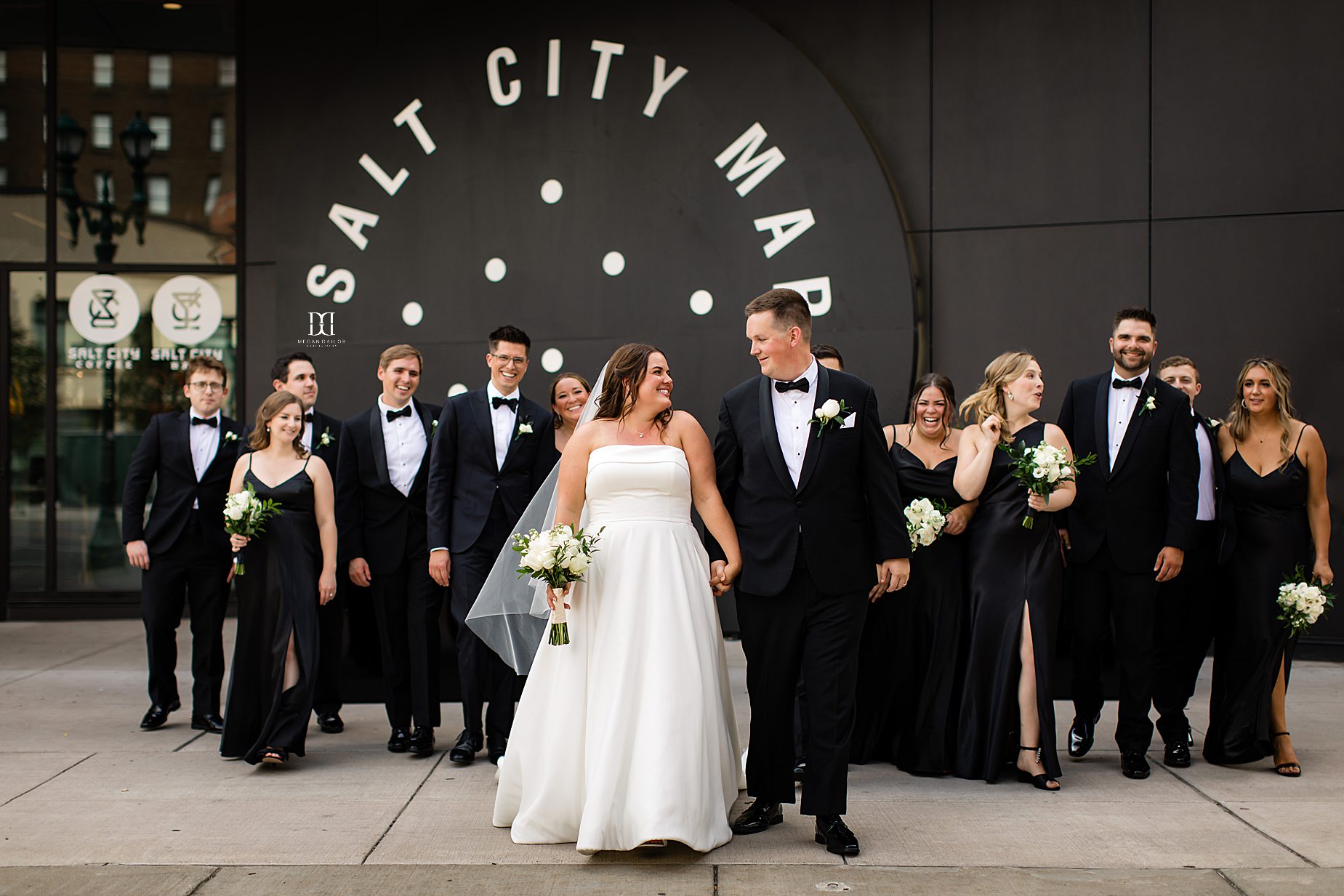 Those smiles!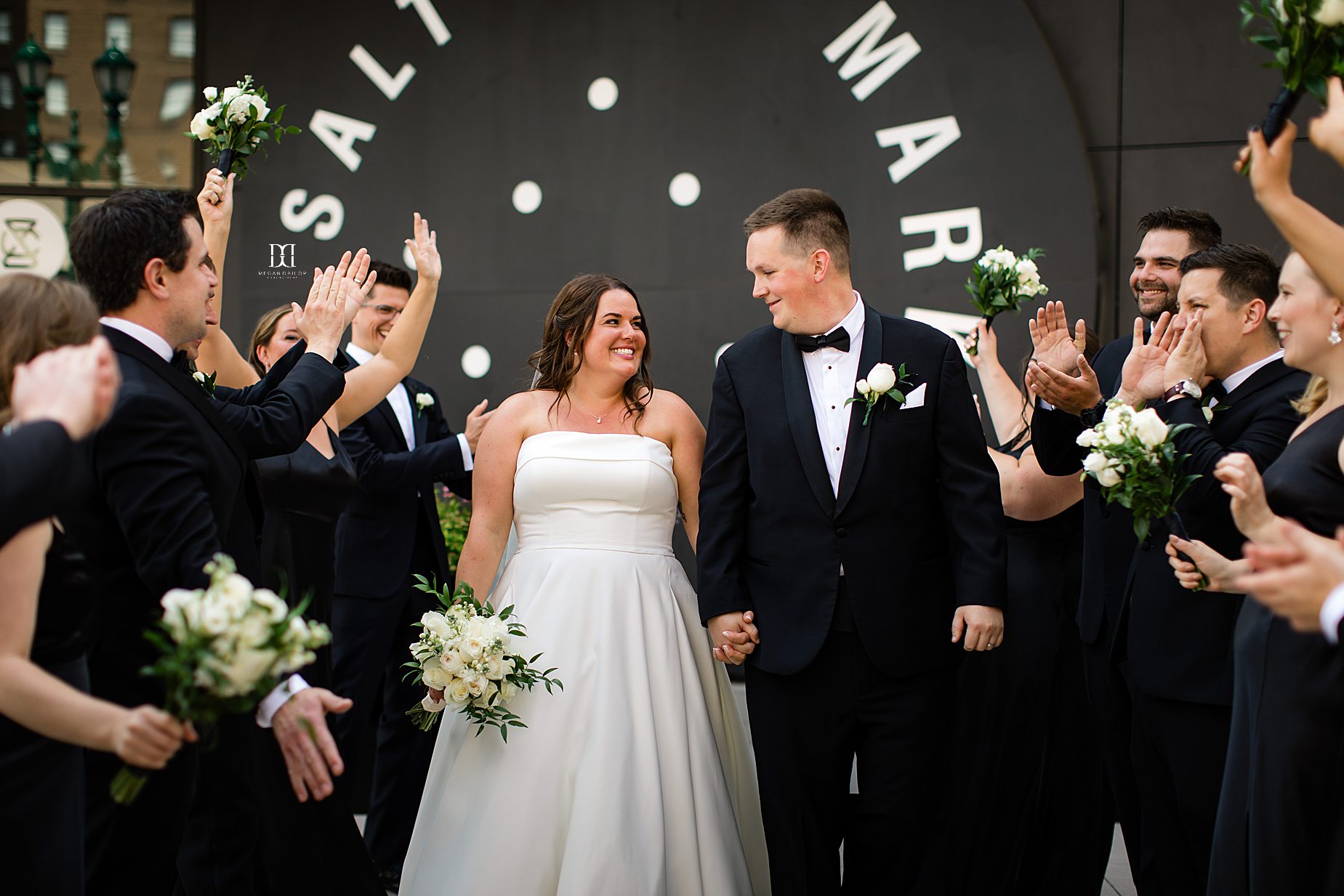 Such a Liza face as her veil blew over everyone lol!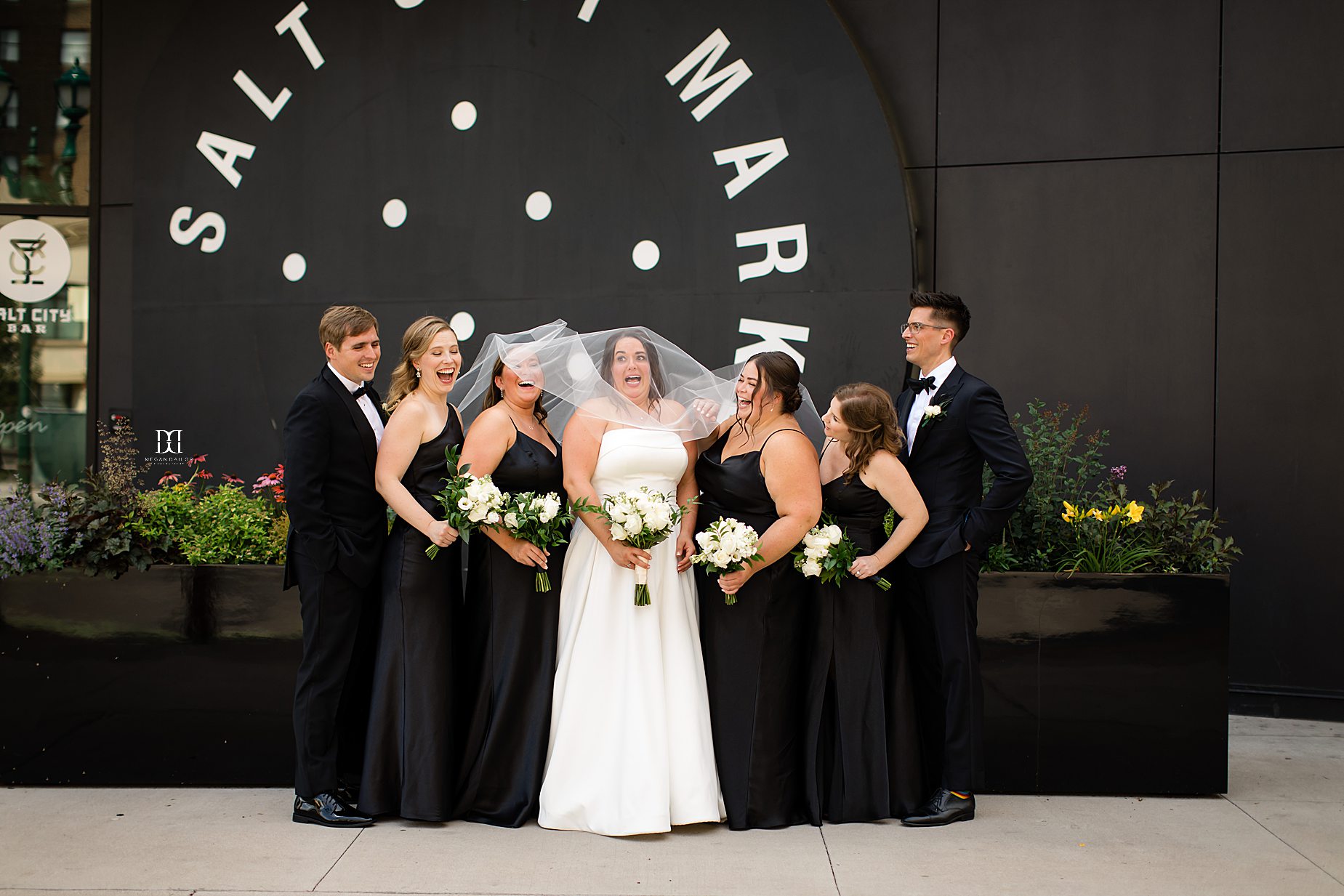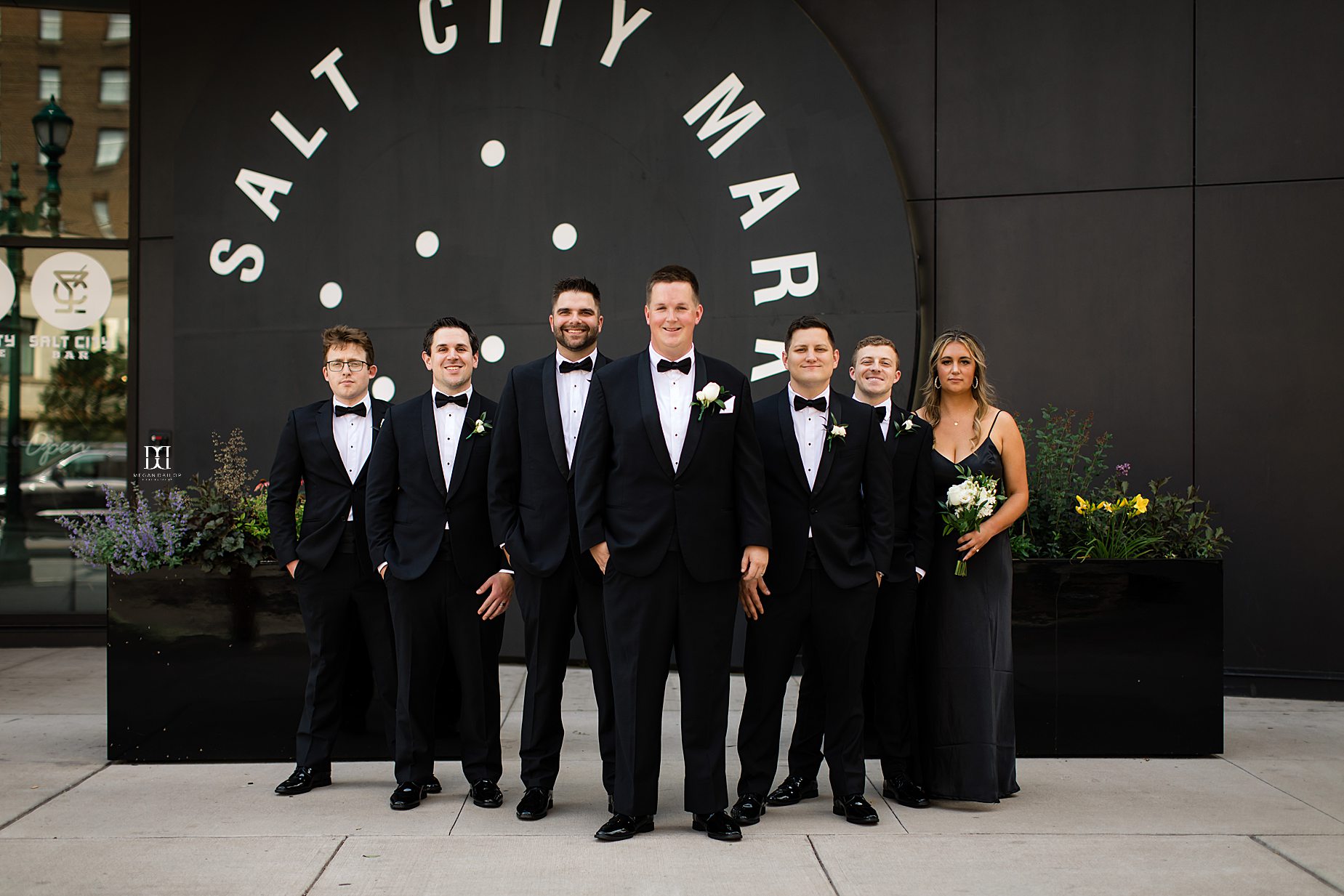 These two were so easy to photograph!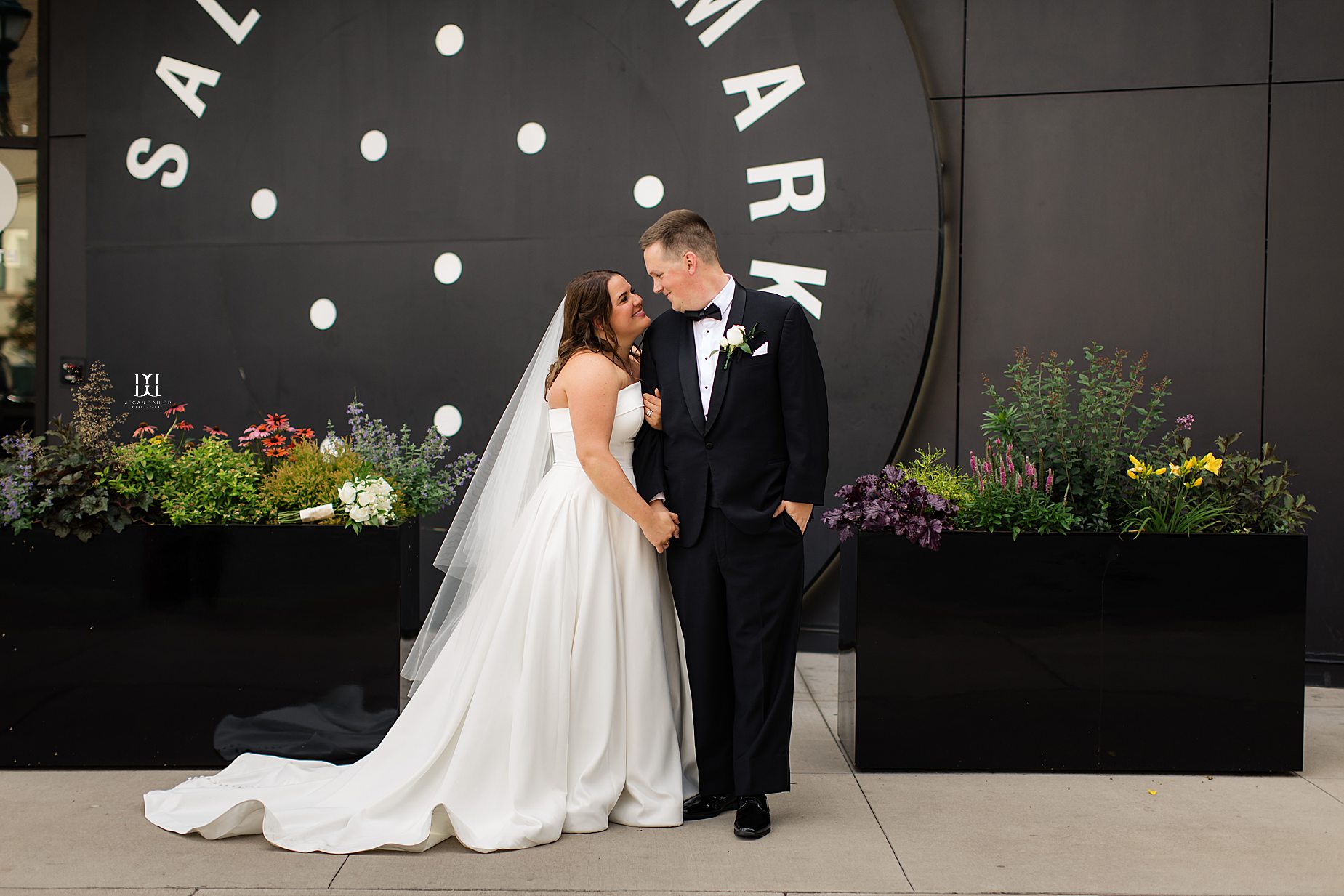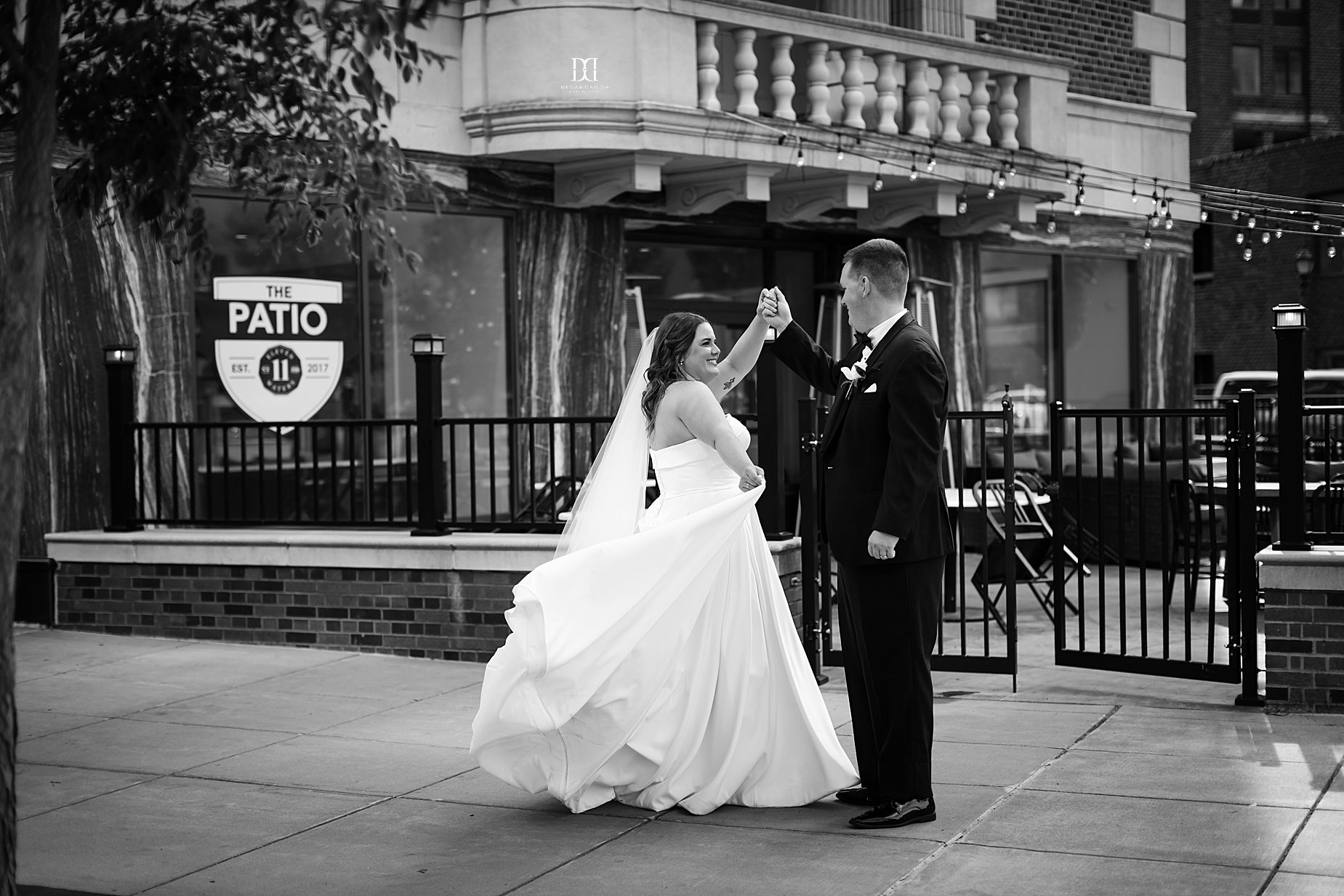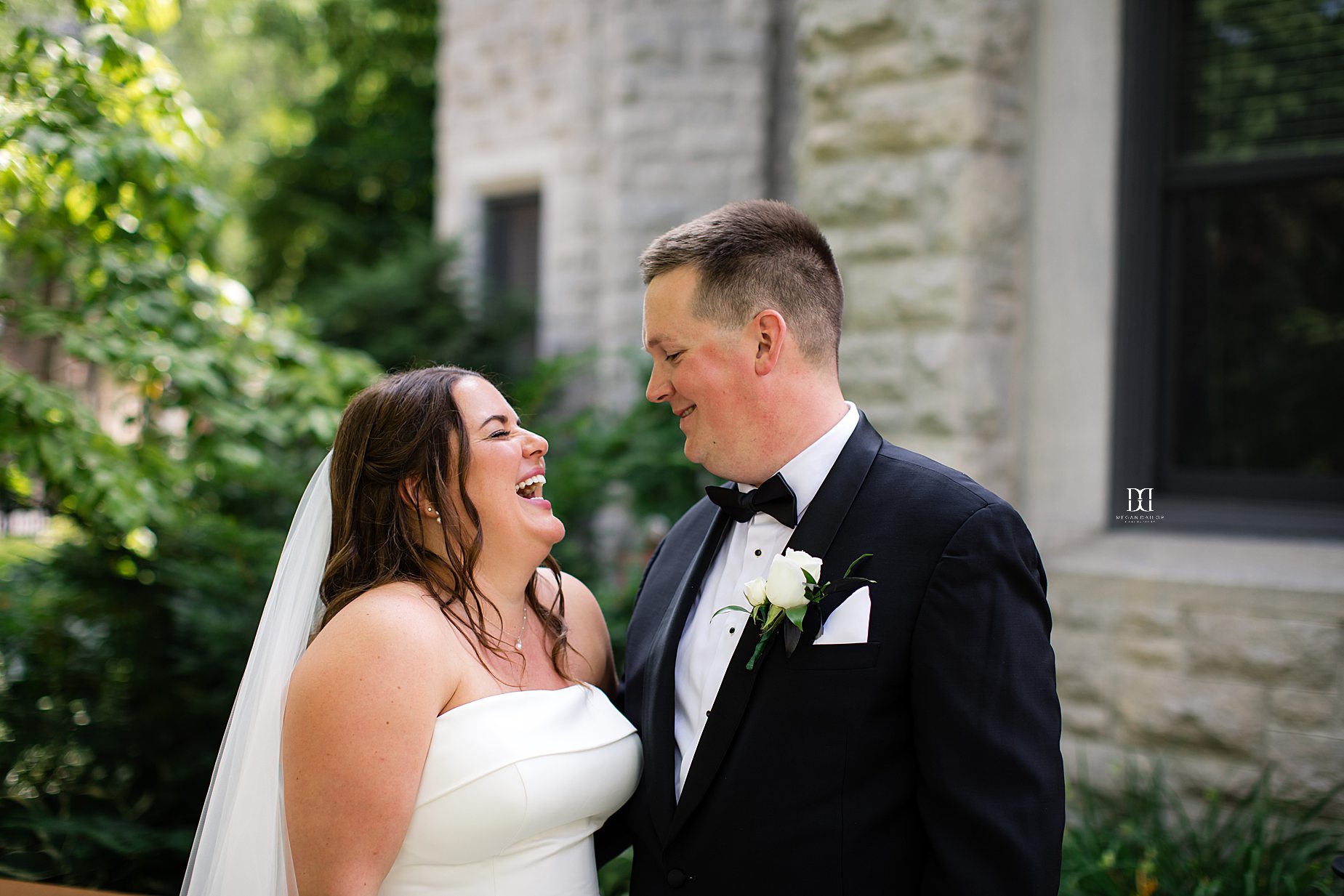 The Marriott Syracuse Downtown has such a classically pretty exterior.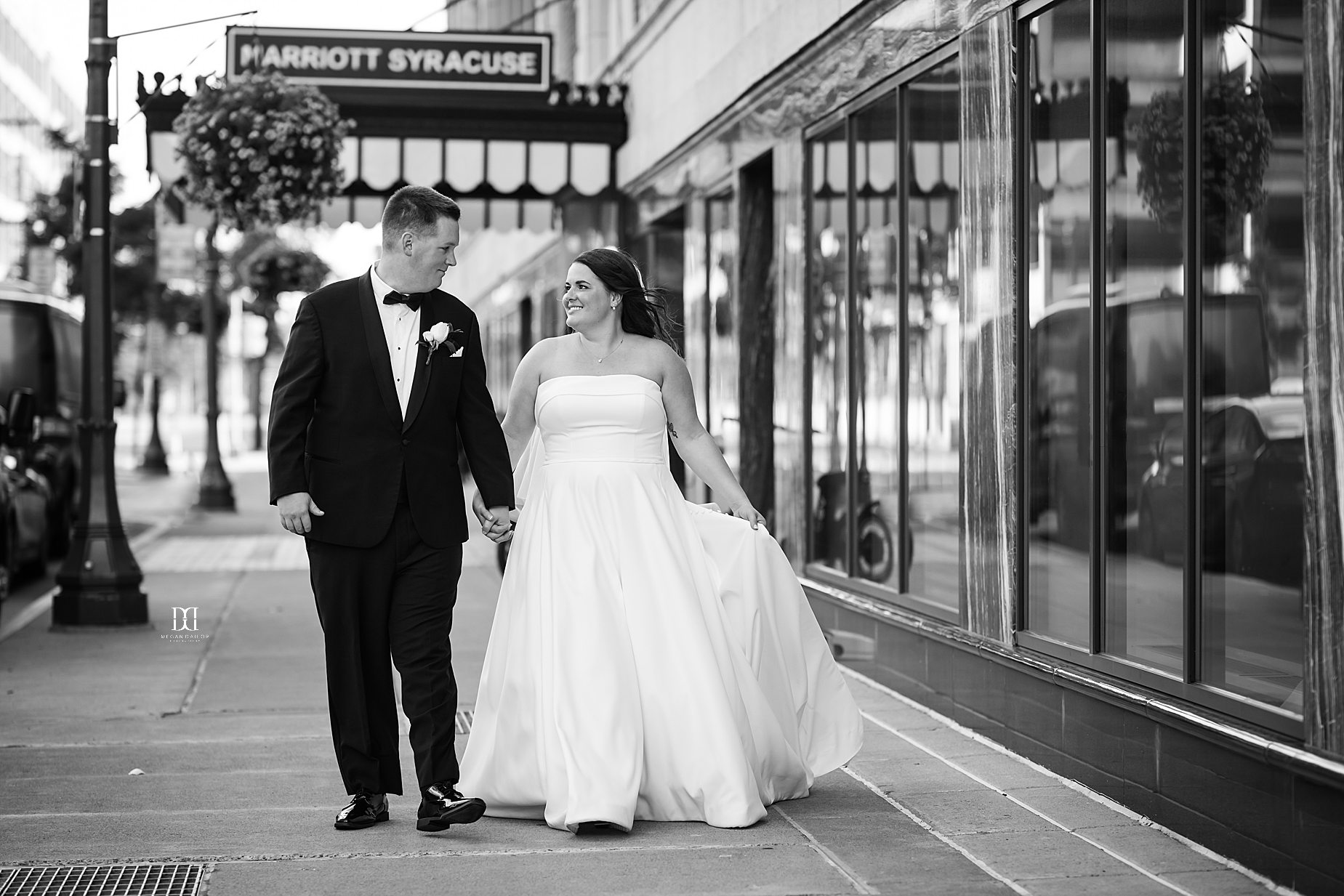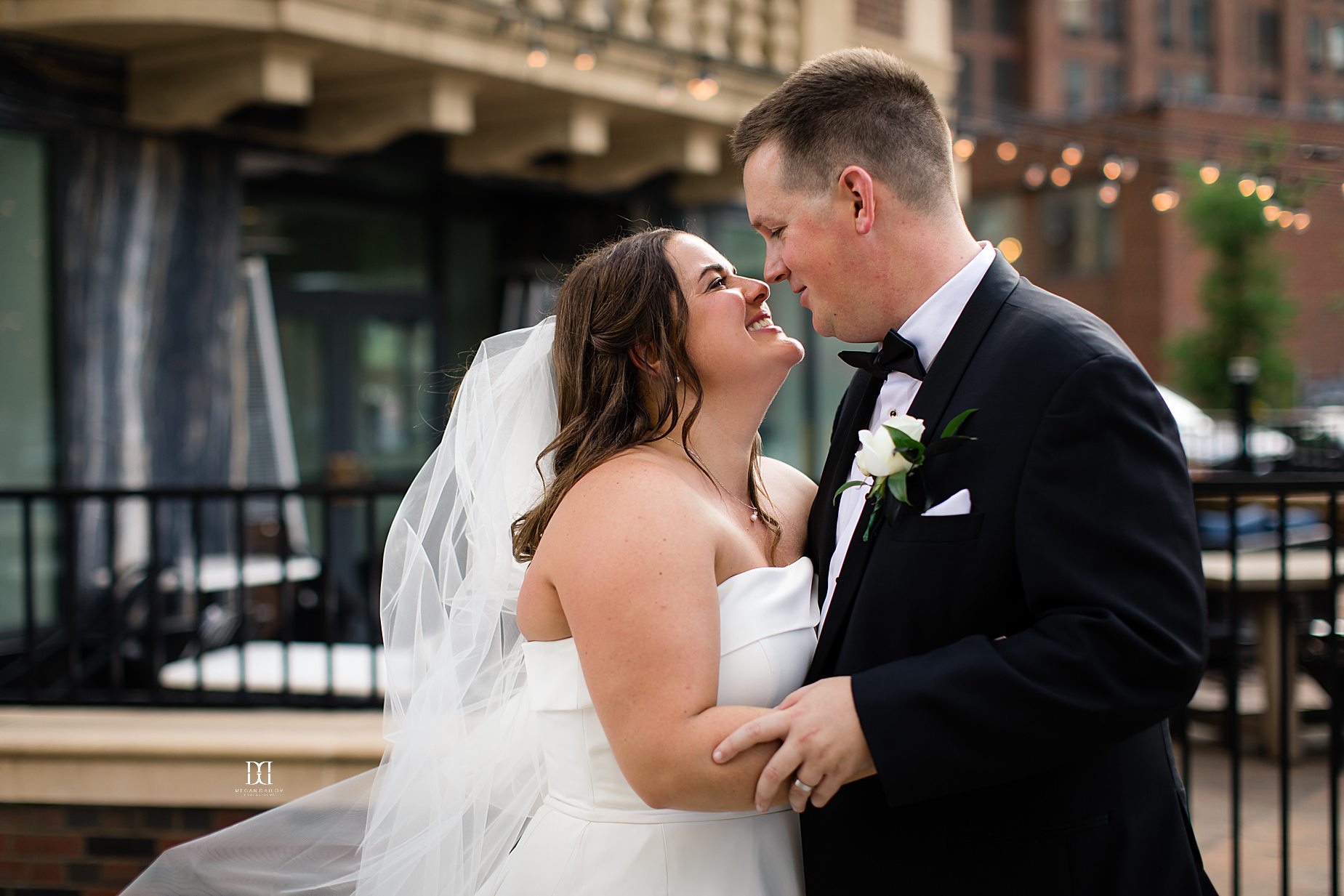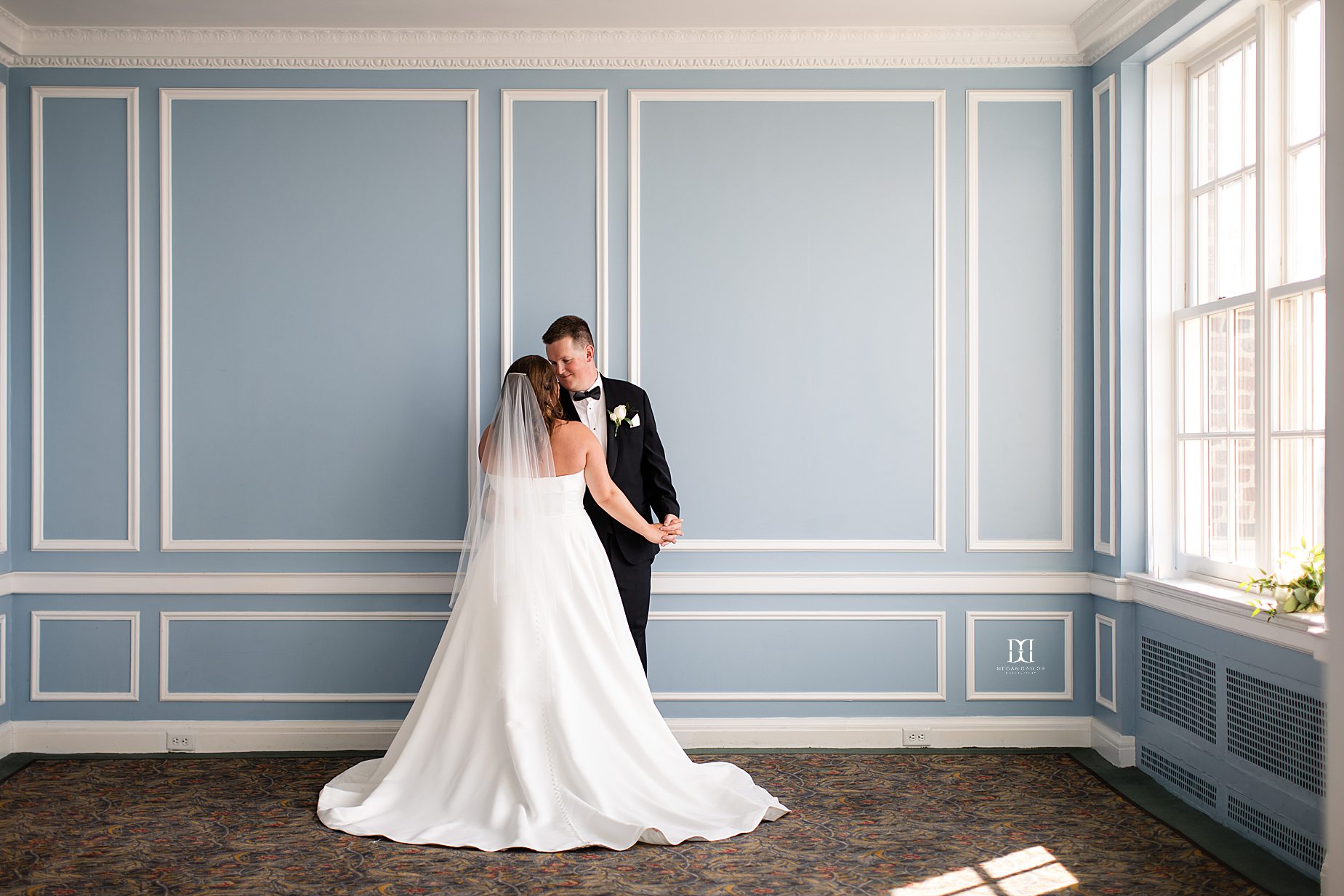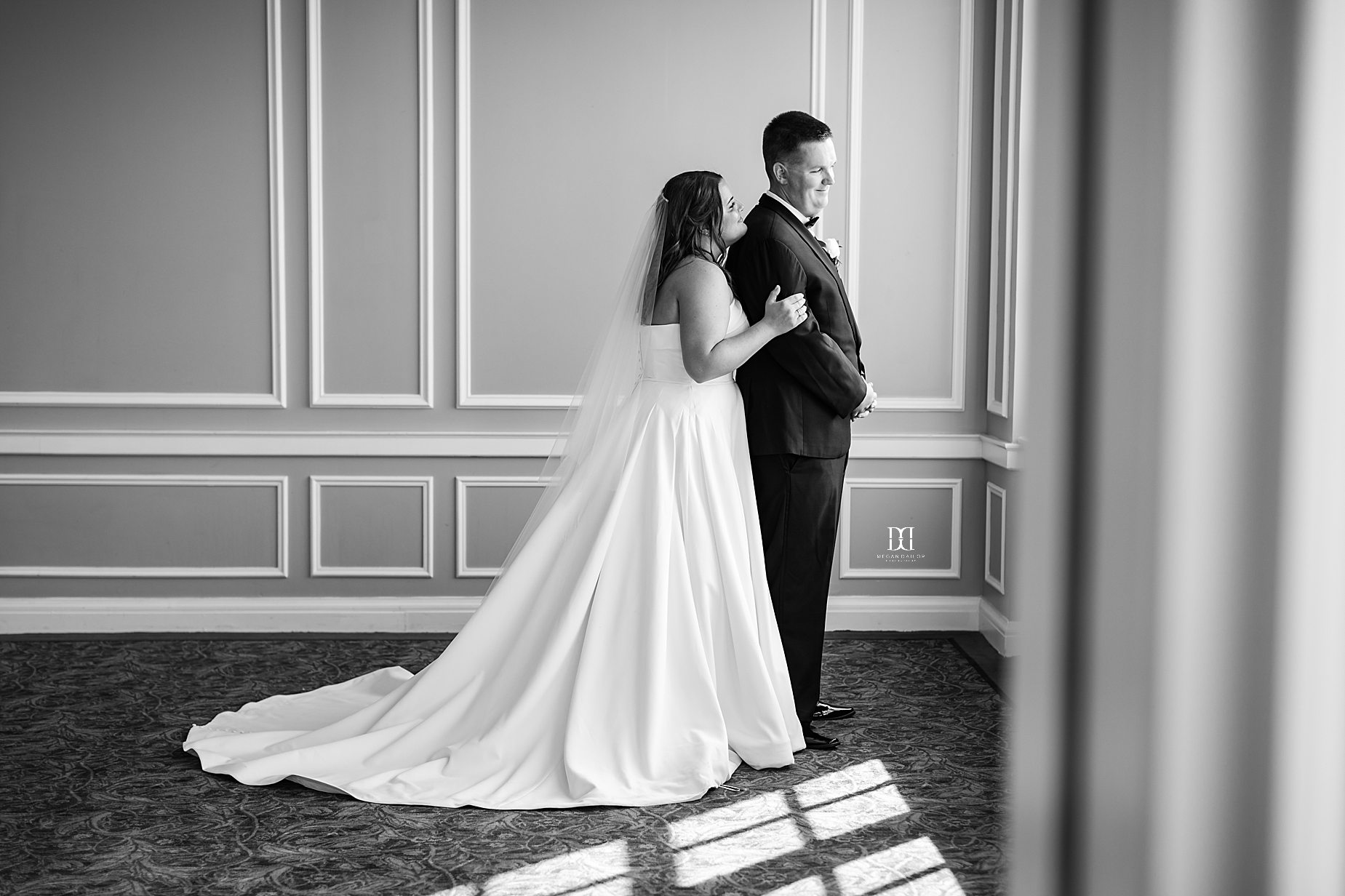 The ballroom looked so gorgeous, and we simply must start with the dessert table. Liza's dad and Connor were the official dessert committee and I am confident in saying they crushed it. Actual sweets and table were done by Gingersnap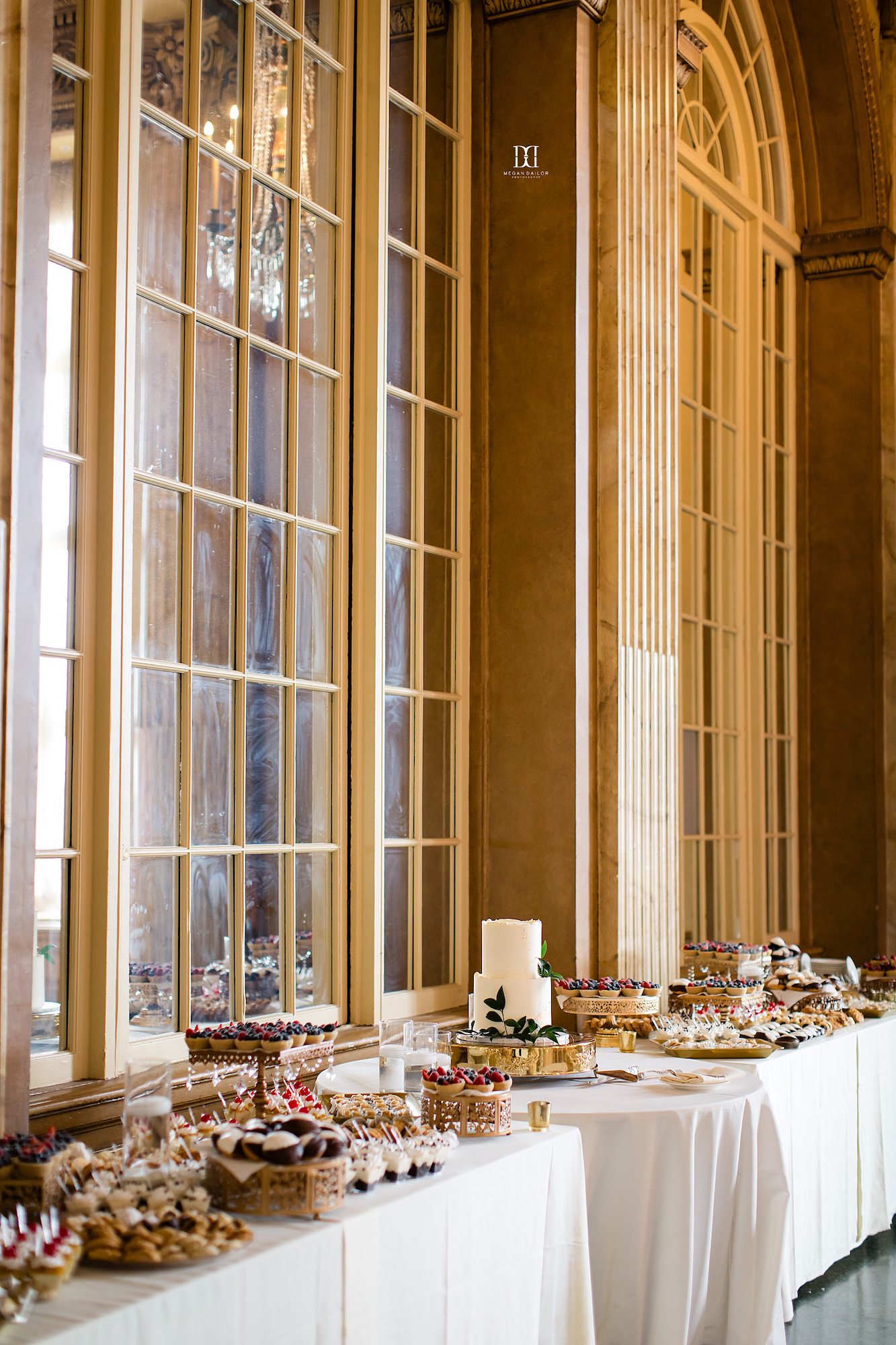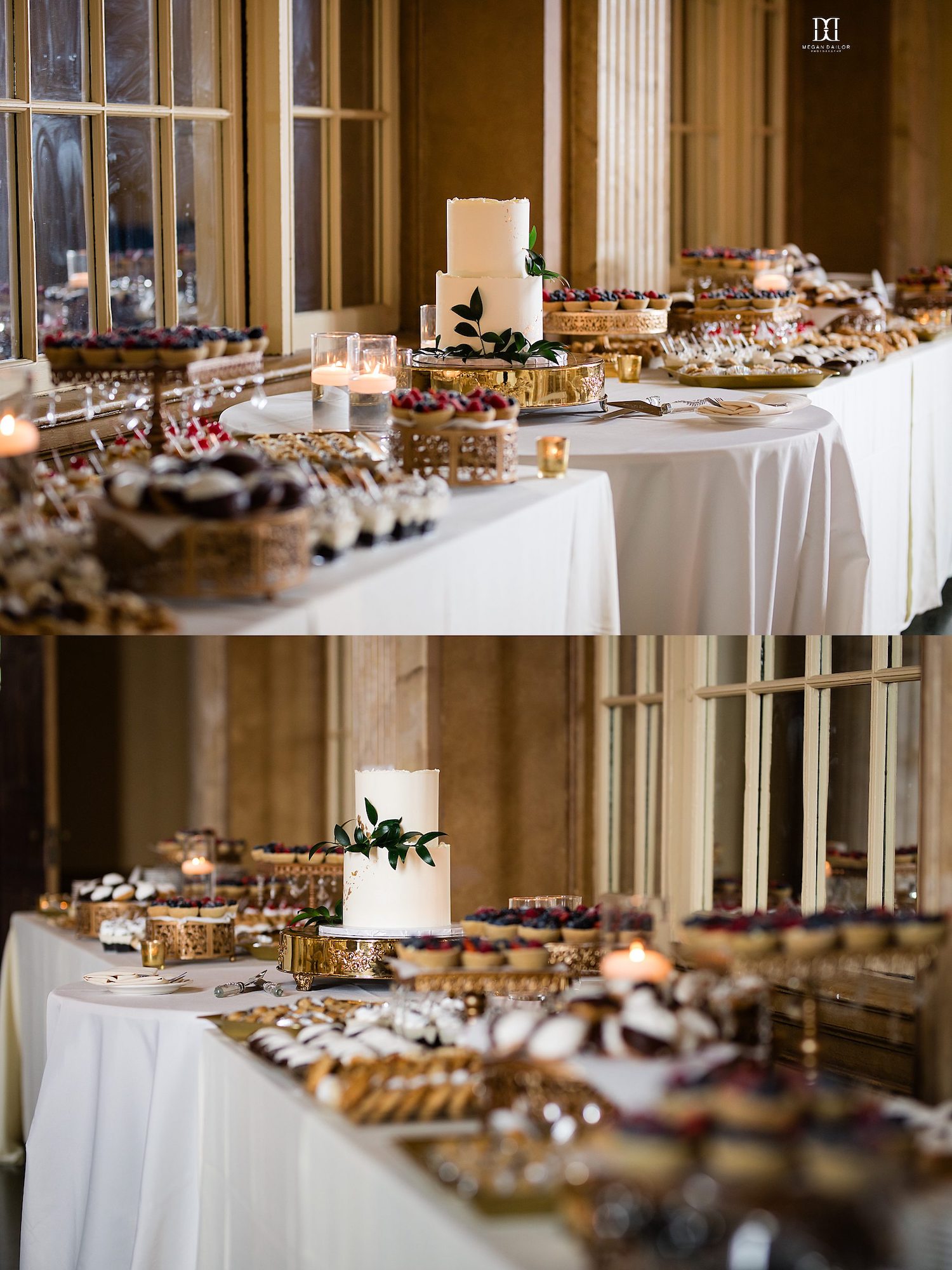 Elizabeth's Chair Cover Rentals and Floral Gardens decked out the ballroom, it looked so lovely!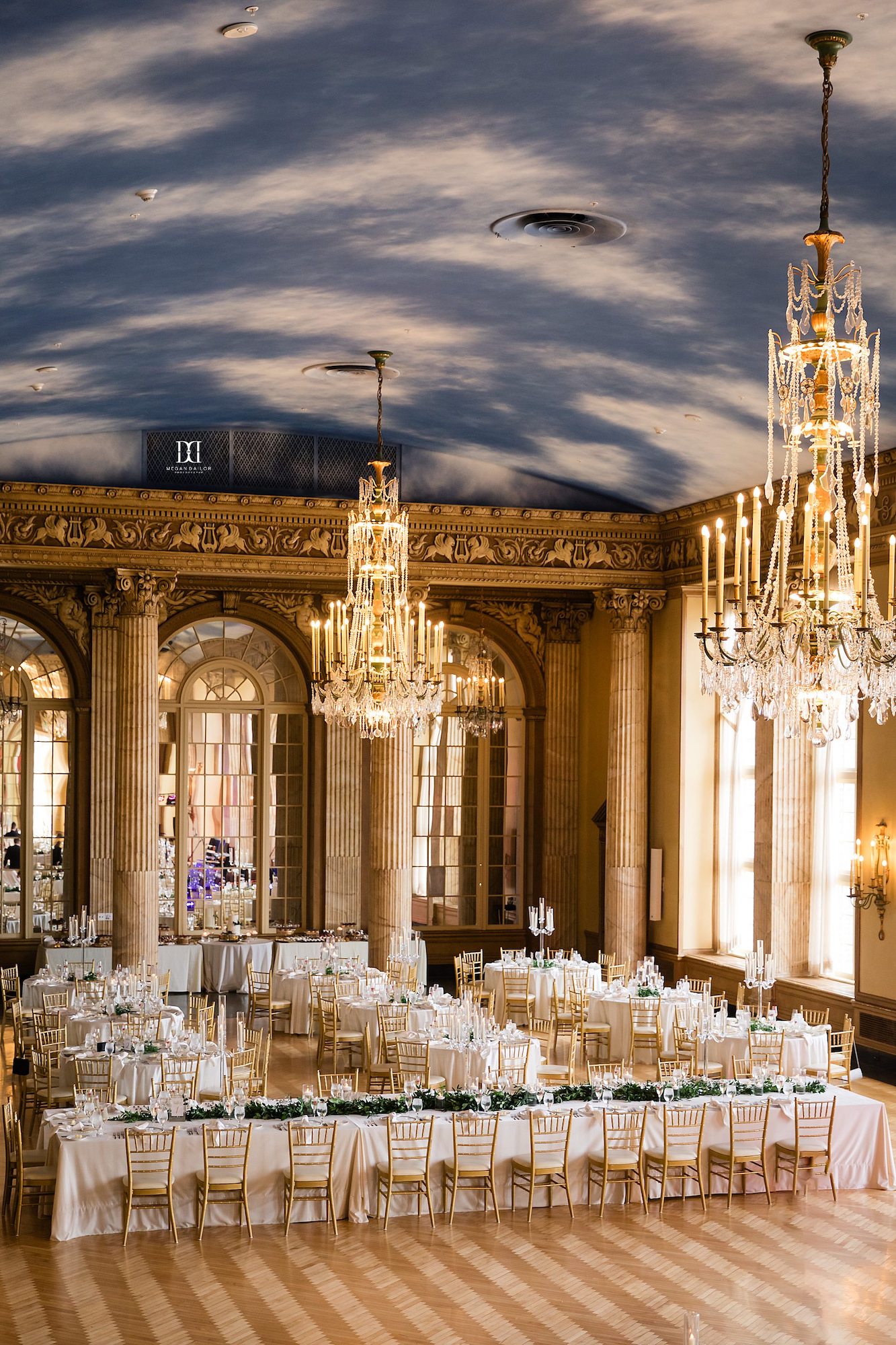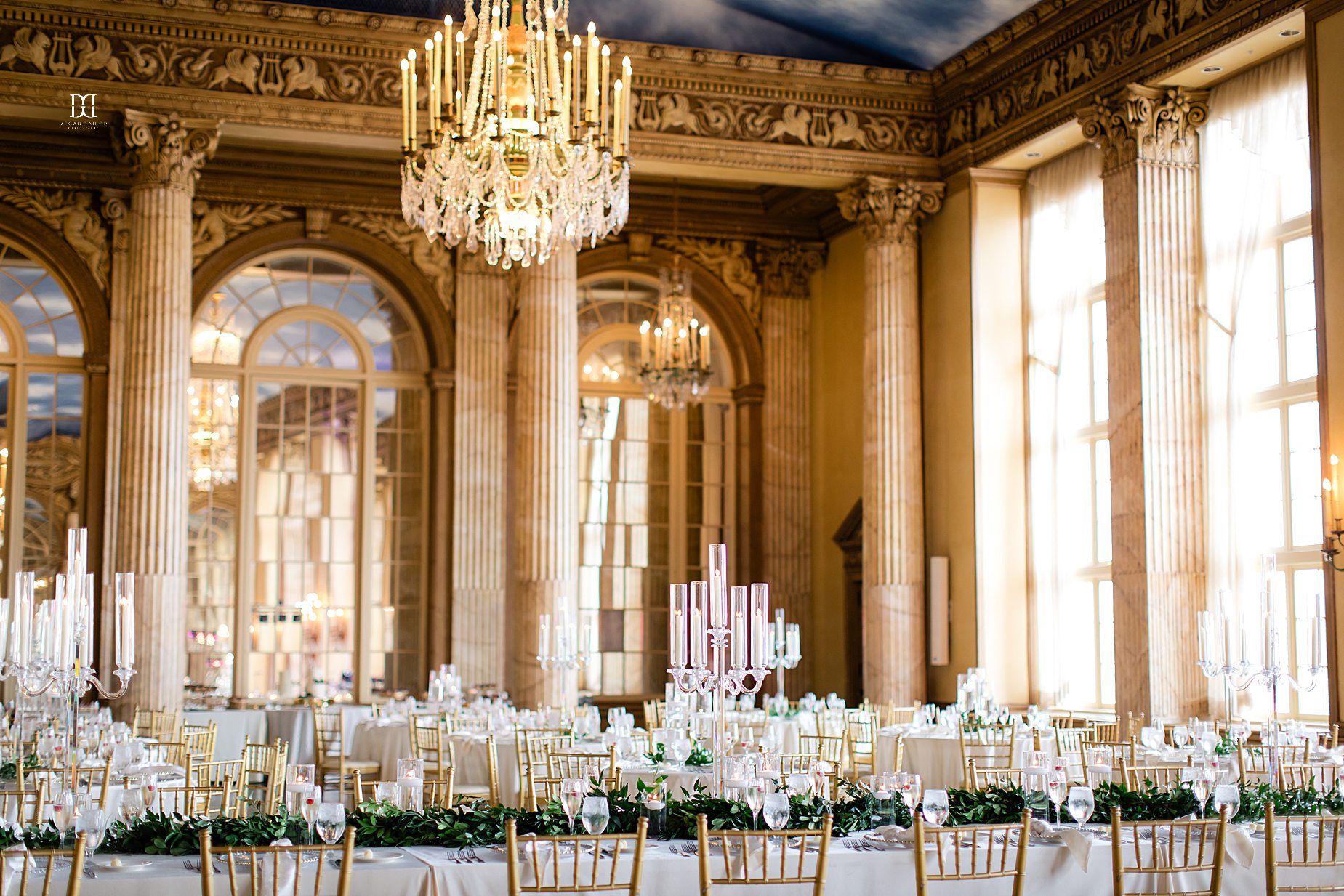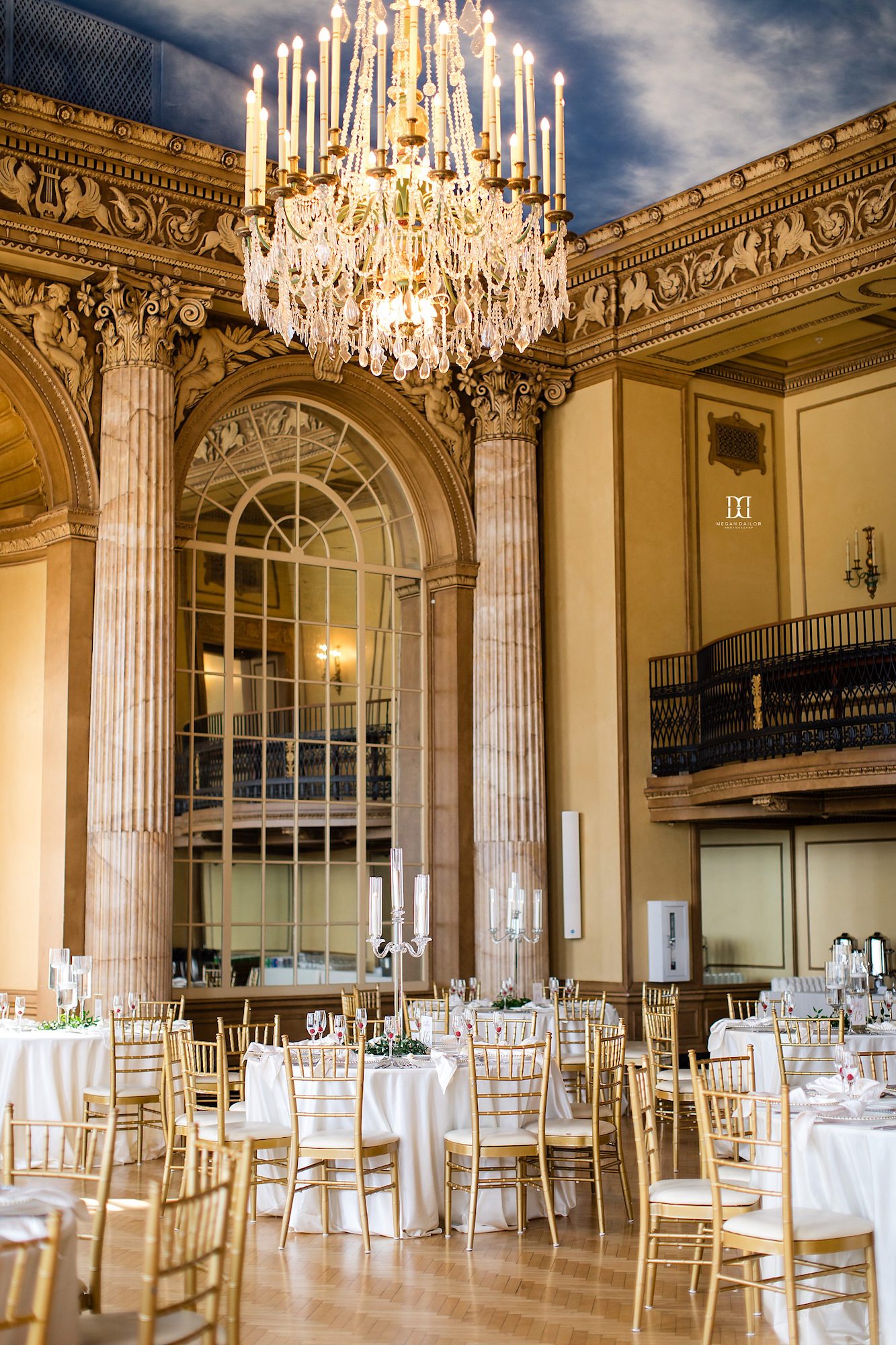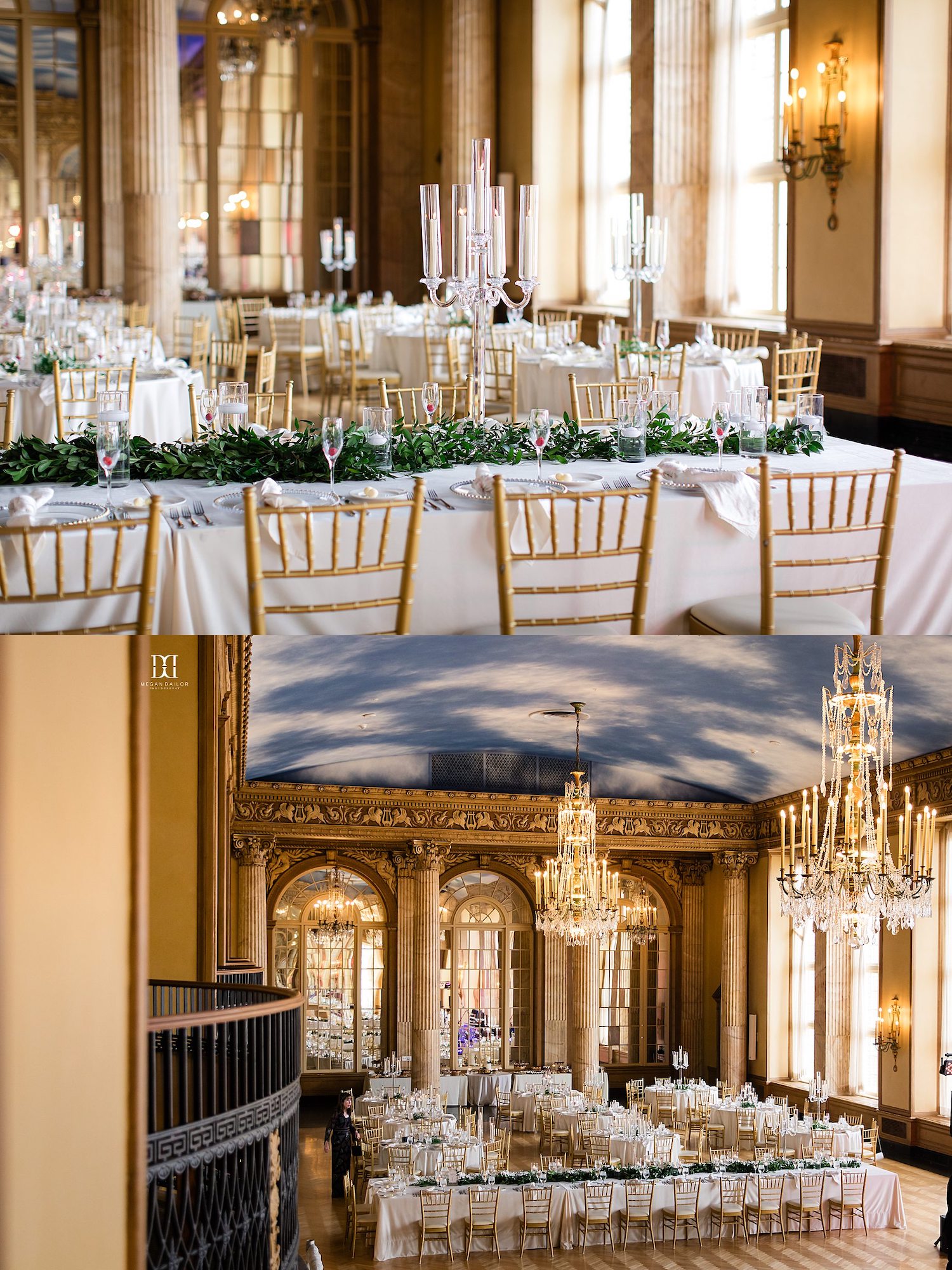 First dance fun with a perfectly twirly dress.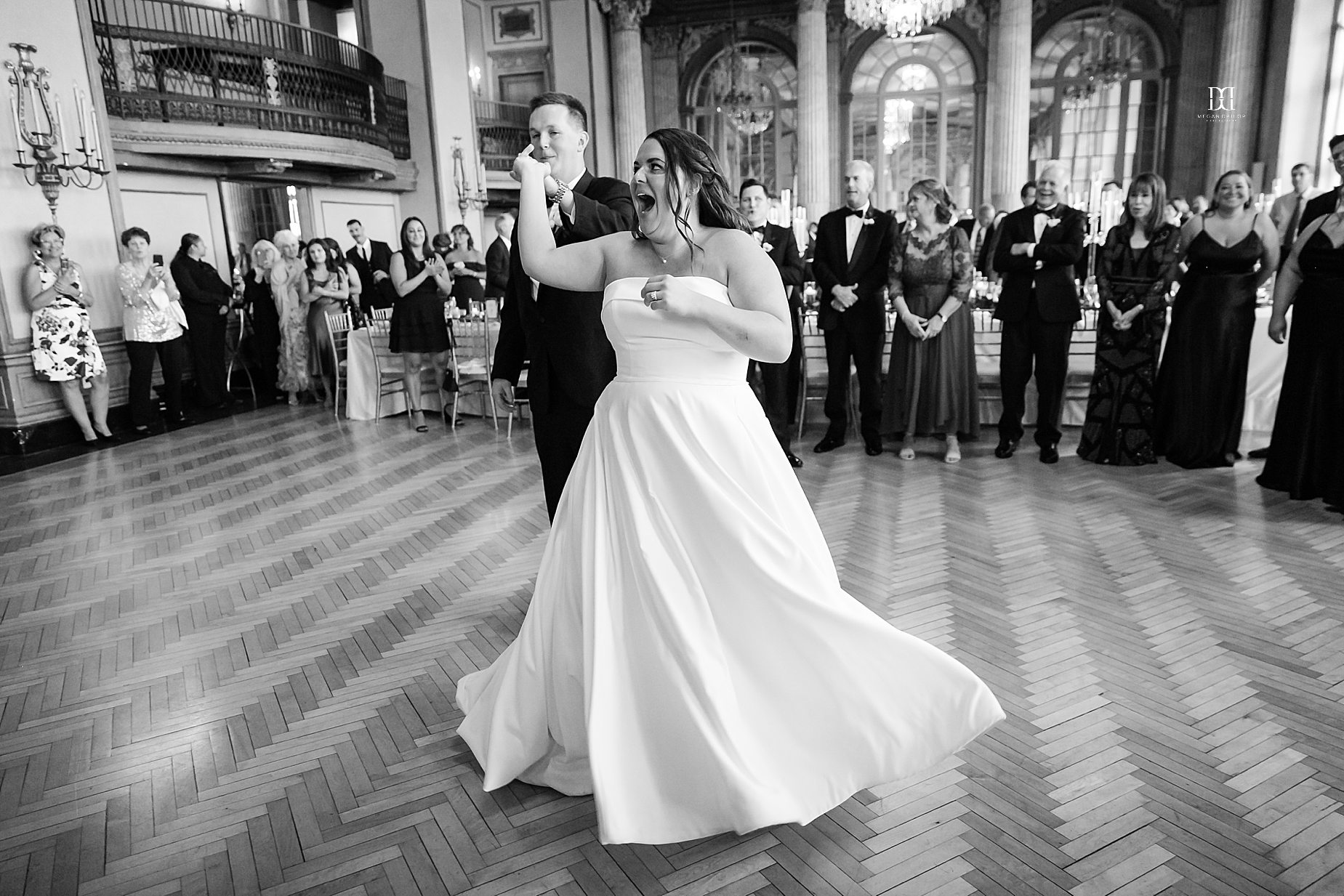 The father daughter dance was fun and ended on a very sweet note.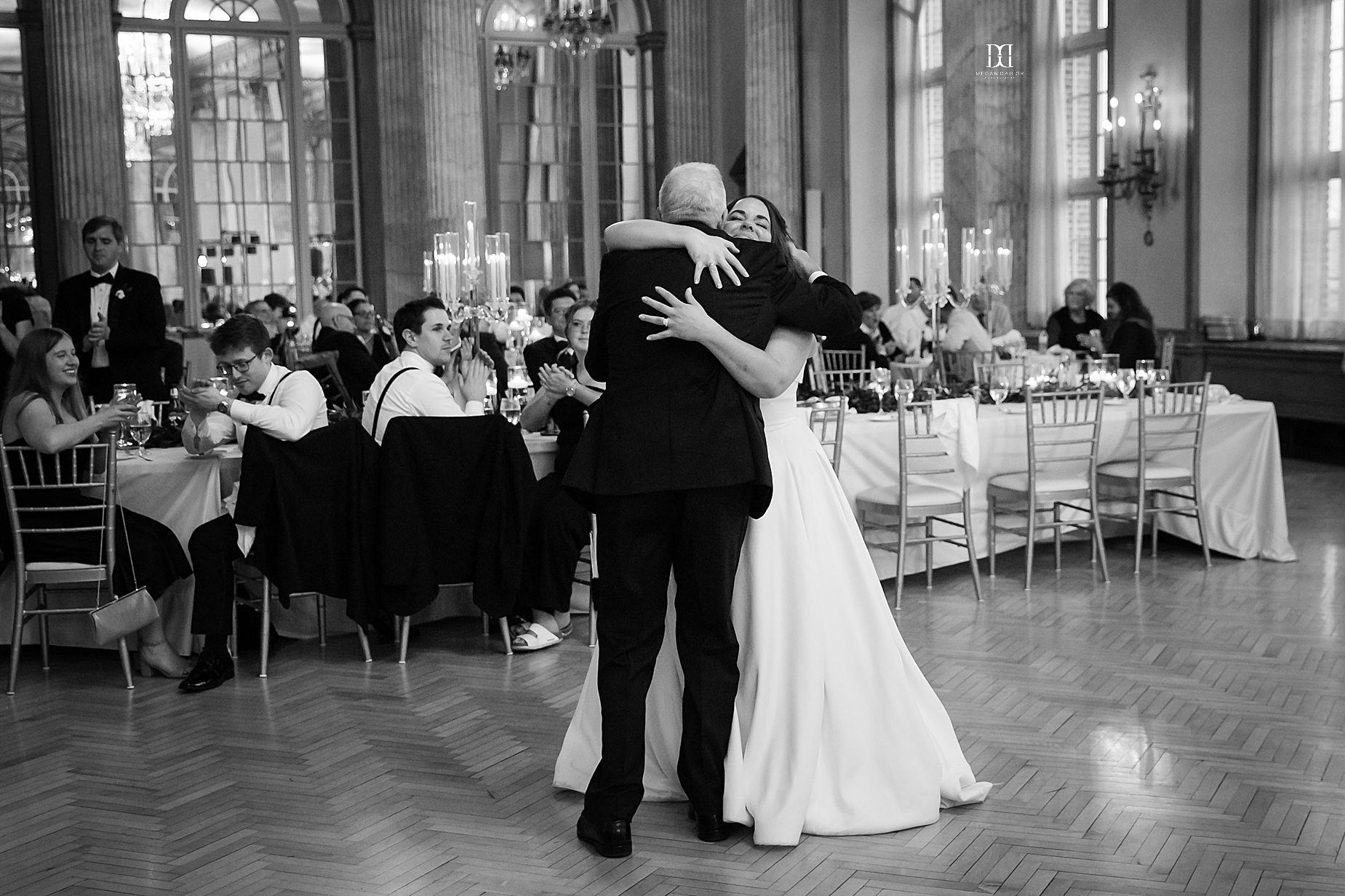 And a very joyful mother daughter dance!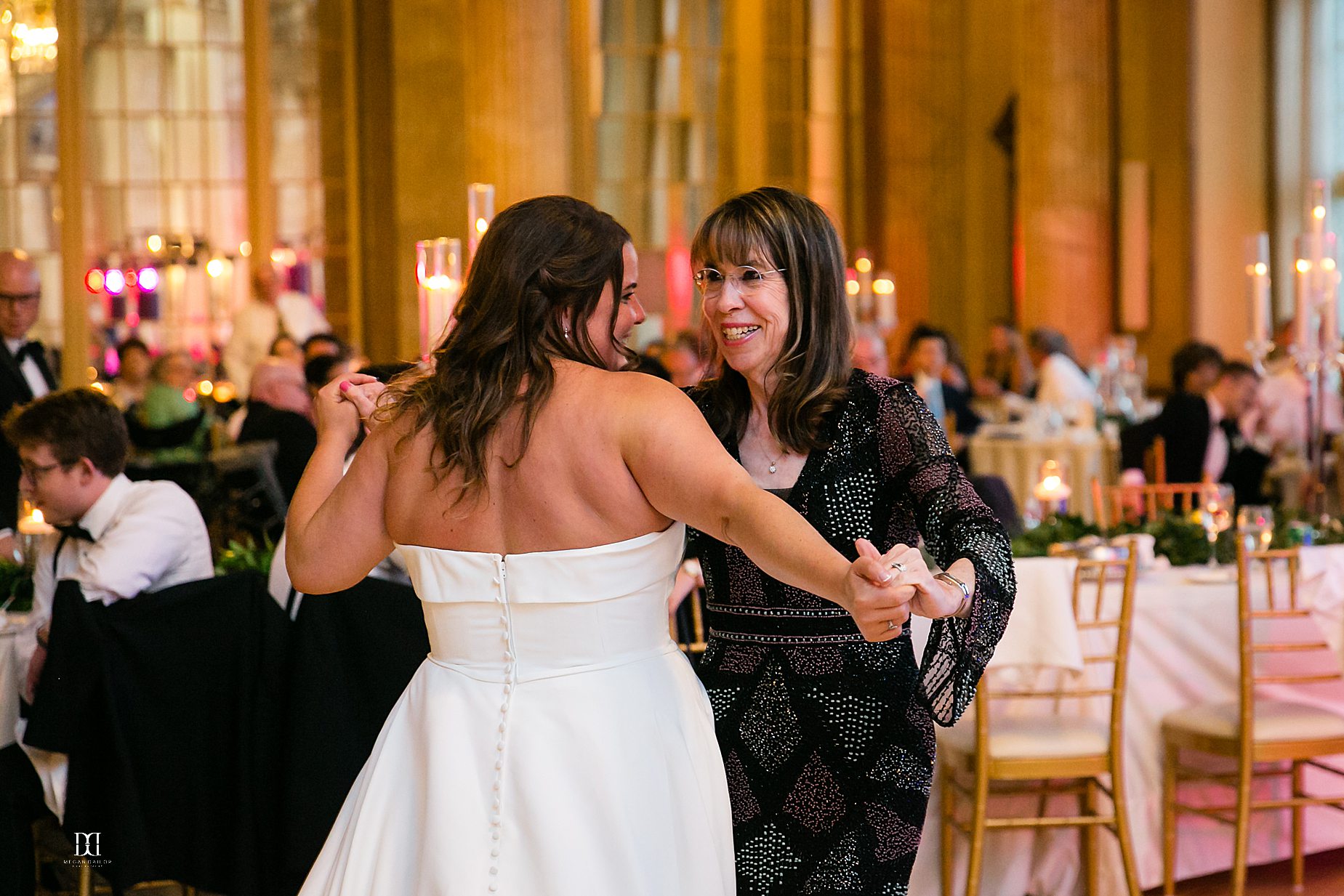 Once the party got started, the F-M party crowd got moving and did not stop! I loved seeing a couple of sets of parents of past couples...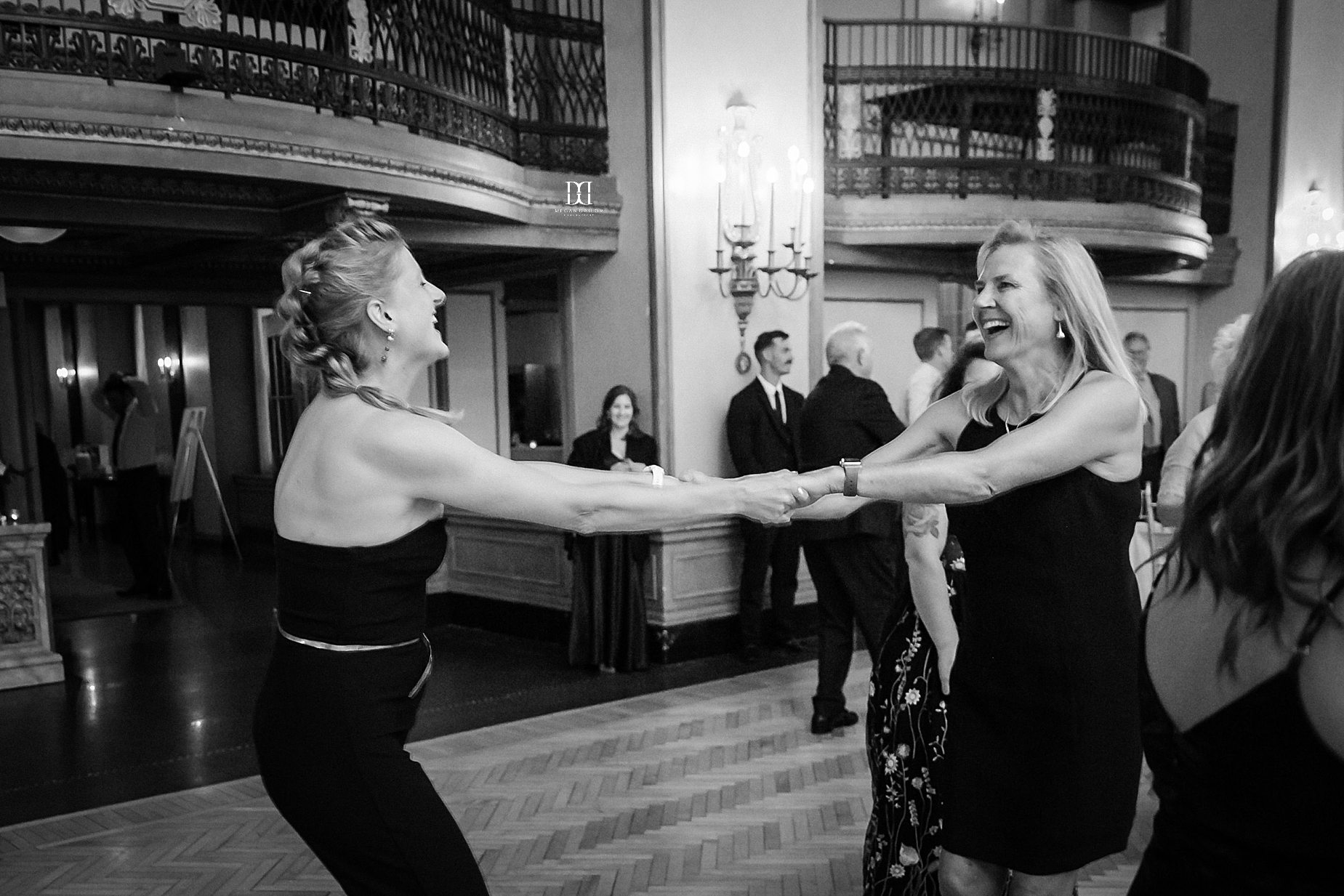 As well as one of last year's brides, the lovely Caroline! She and Jimmy recently welcomed a little one, which makes me endlessly happy to hear!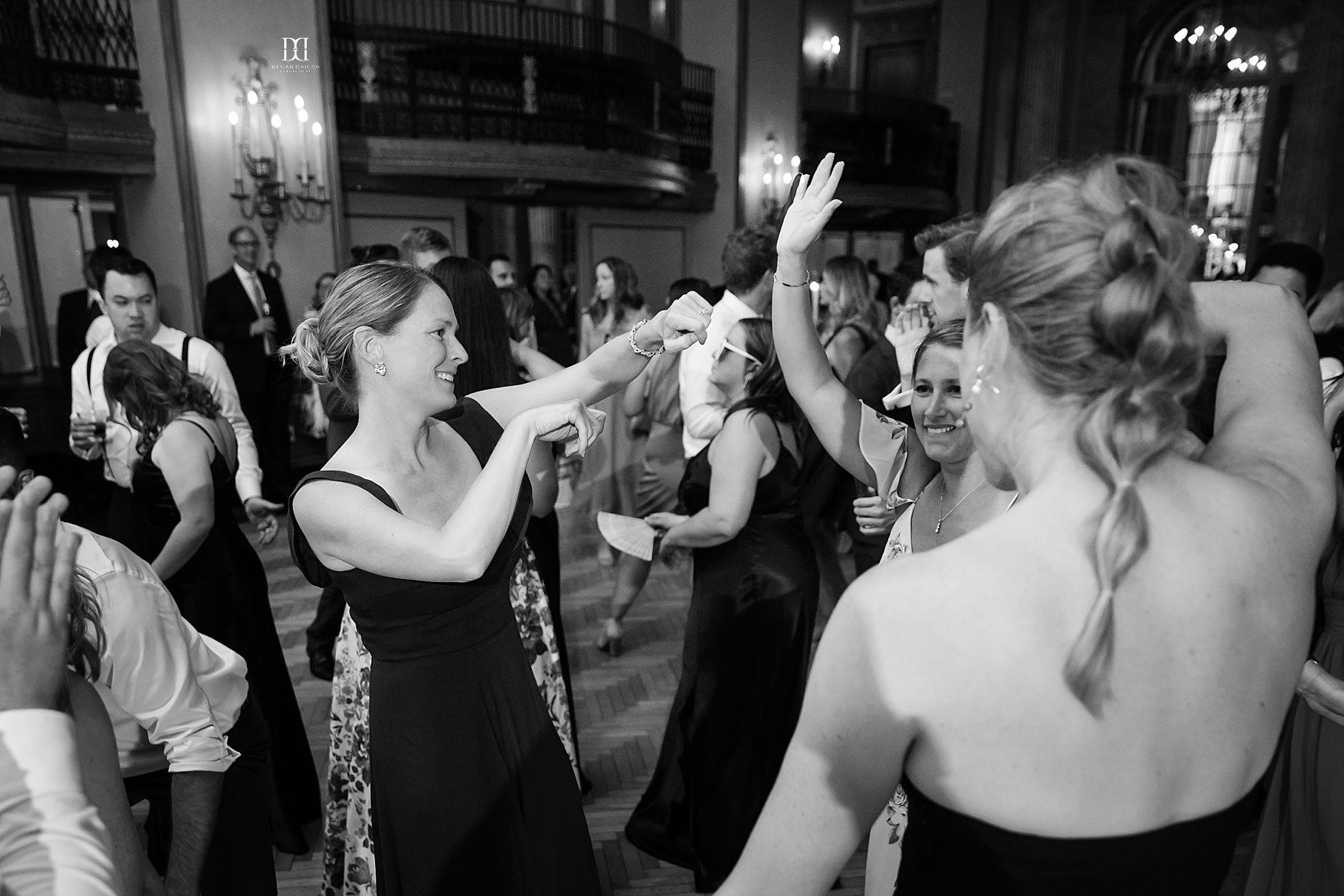 Git. It.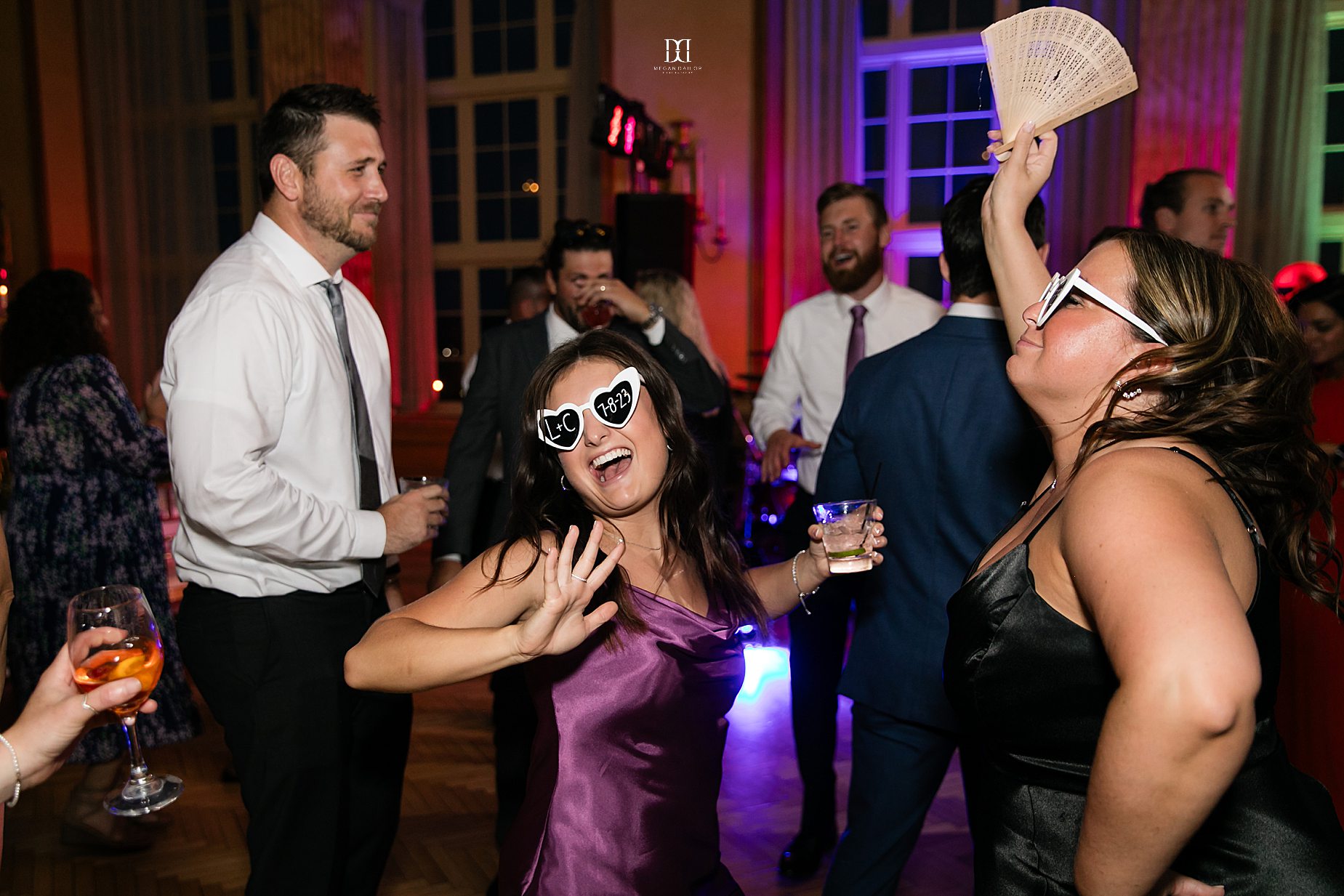 Competition for MVP was fierce as usual, but Bridesman Ryan snatched it with his fab moves.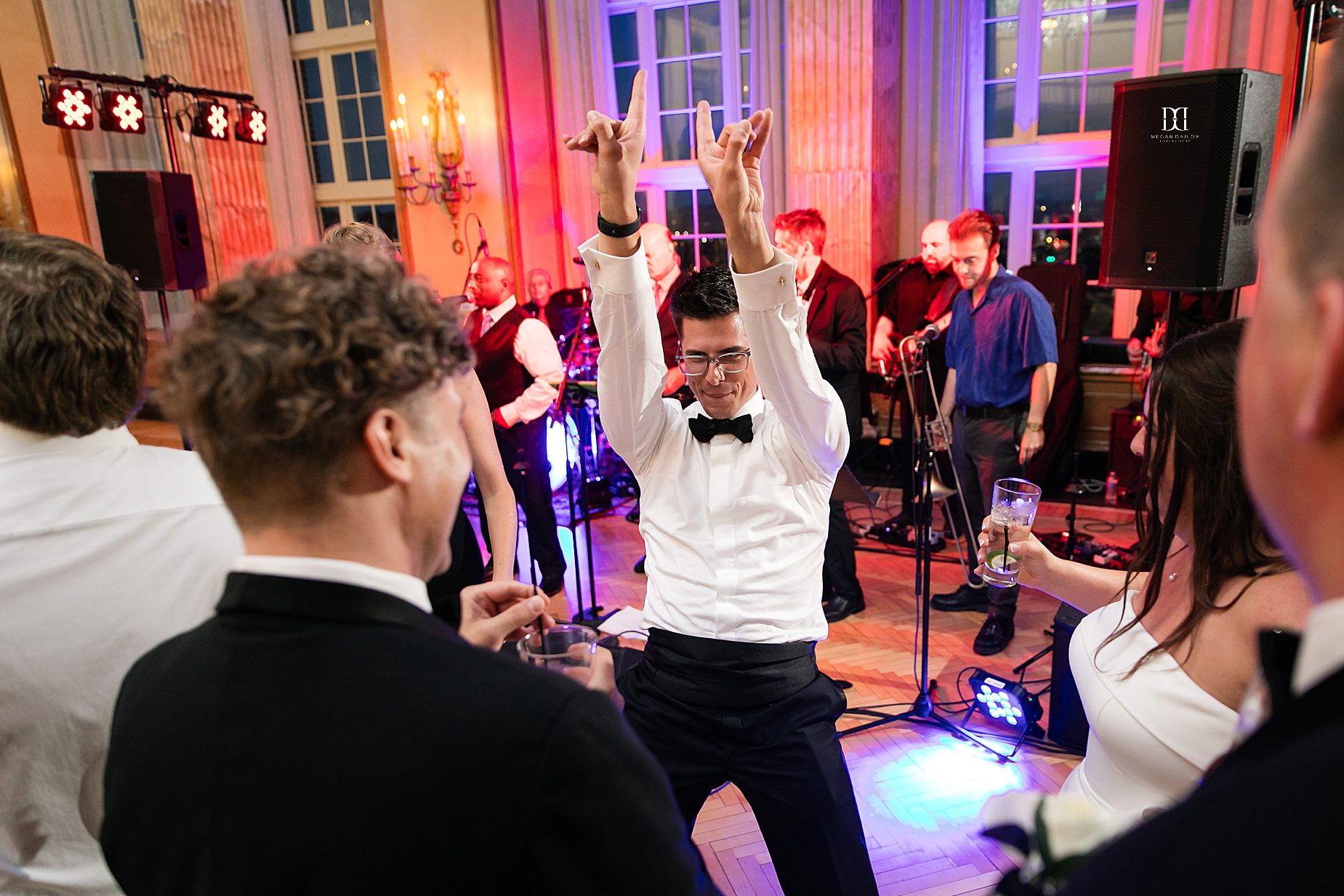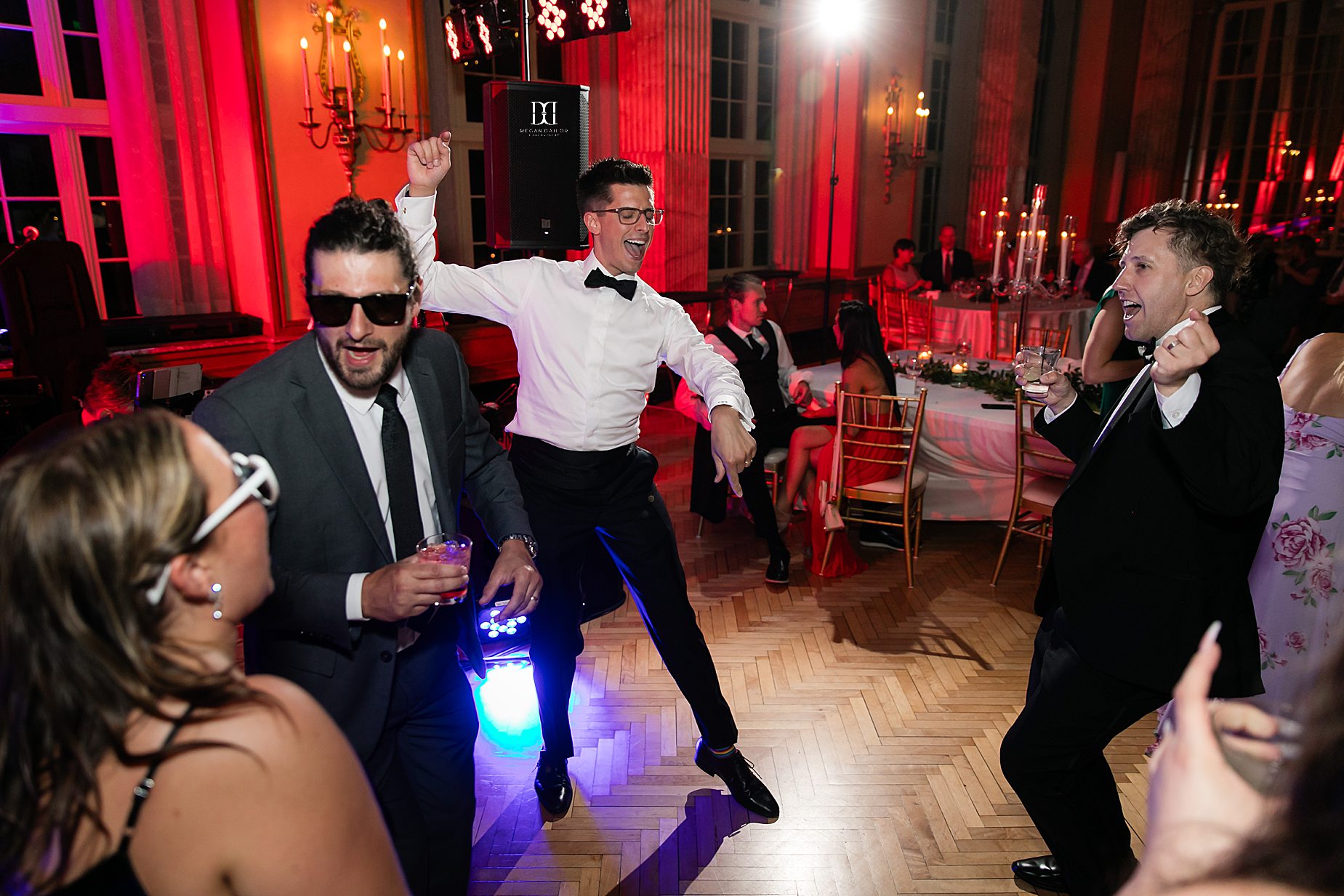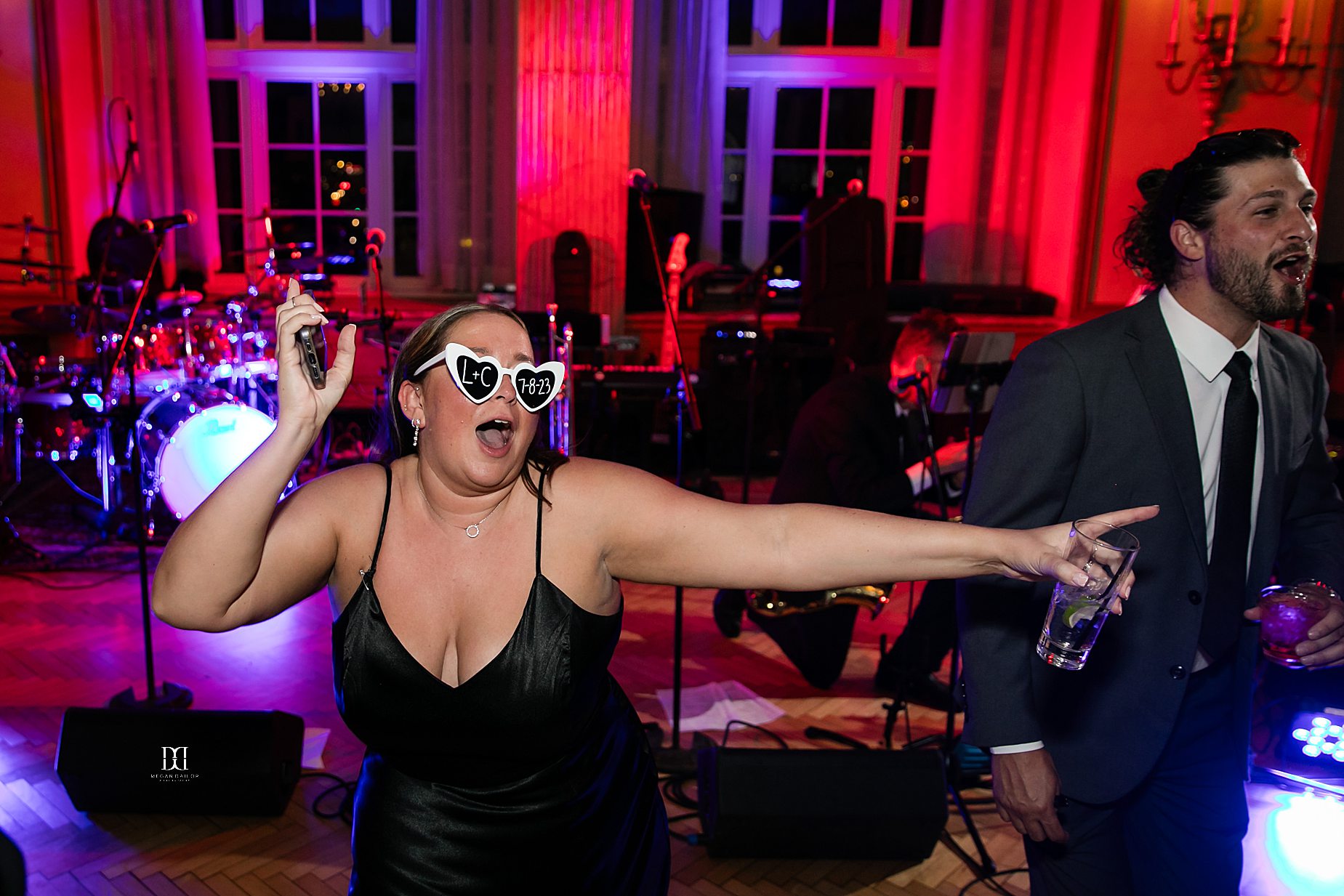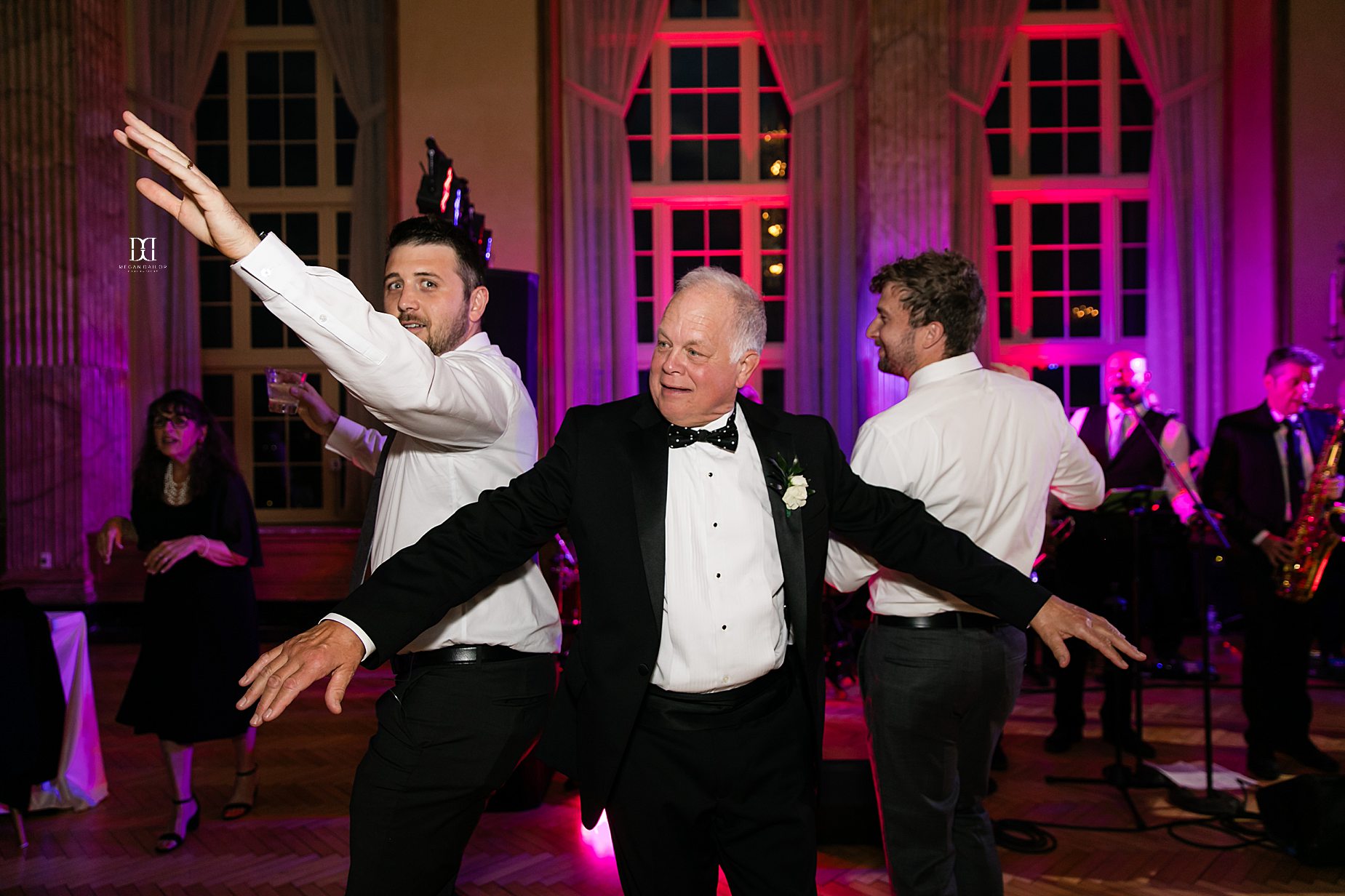 What a great party, I love Atlas band, they are so good!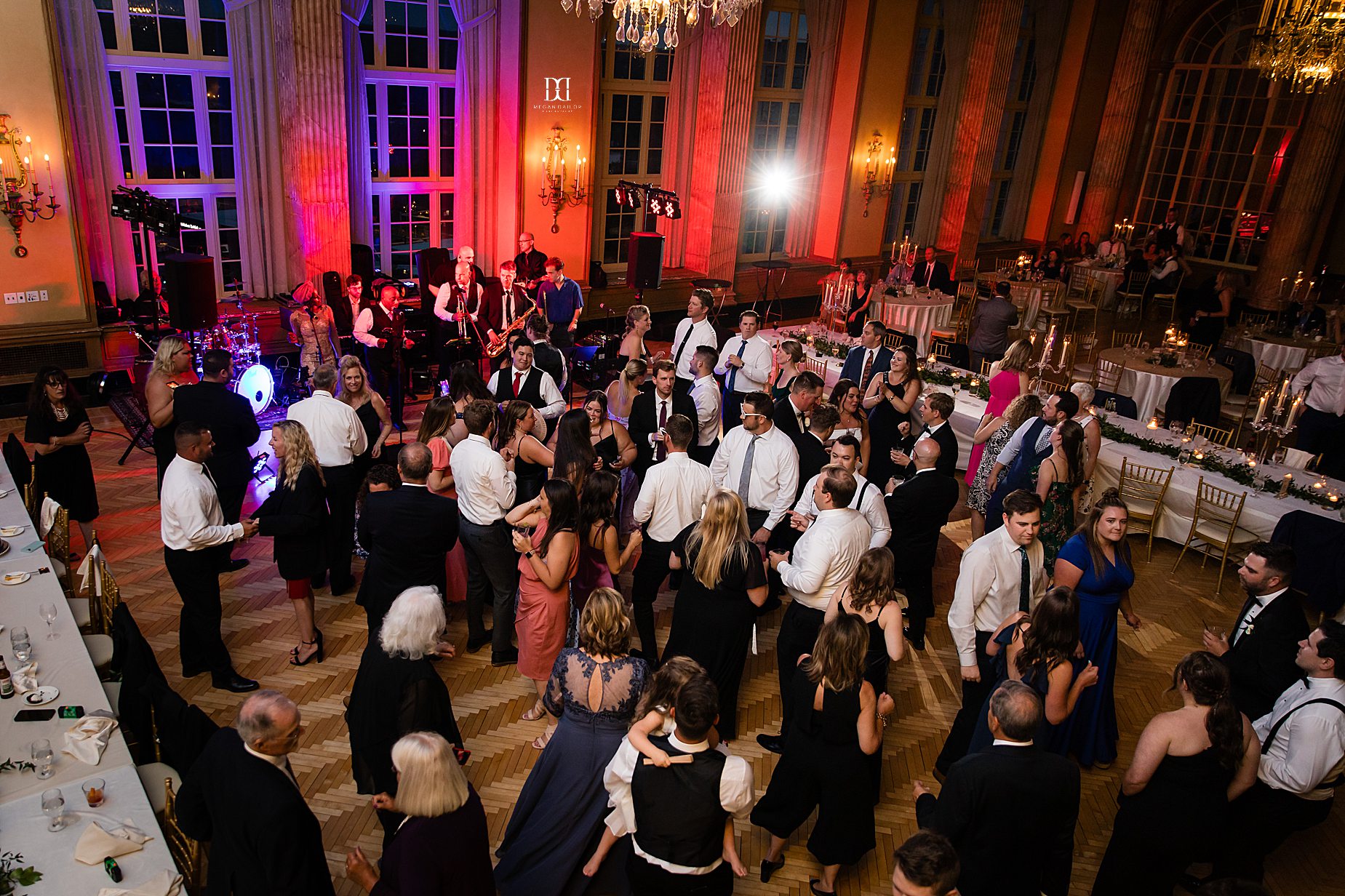 Absolutely perfect day for Liza and Connor, so happy to celebrate with these lighthearted loves!
Syracuse Wedding Photographers